Italy is home to some of the world's oldest and most beautiful cities. From the stunning canals of Venice to the vibrant streets of Rome, each of the major Italian cities has its unique character and charm. 
Here we'll journey through the country to explore 14 of the main historic cities of Italy. We're limiting this list to Italian cities, as in the spots with a larger population and frequently on travelers' must-visit lists. As such, we aren't diving into some of the small towns and villages we treasure, such as Sirmione, Forte Dei Marmi, or Taormina. 
How To Experience Authentic Italy
Before diving into the pros and cons of these most popular Italian cities, a caveat. As we tell our travel planning clients, Italy is a country with different experiences across its cities, towns, and villages. 
You'll find varying histories, landscapes, traditions, cuisines, and dialects across each of its twenty regions. So we suggest (nay, insist) that first-time travelers to Italy plan an itinerary that shows a cross-section of the country. 
Most travelers try to see too much in too short an amount of time. We can, of course, help you figure out the ideal itinerary for your travel pace and your trip length. But, generally, we think you should approach one corner of the country (say, the Northeast) and see a mix of cities, towns, and villages (ie Venice, Trieste, Bassano del Grappa, and Cortina d'Ampezzo).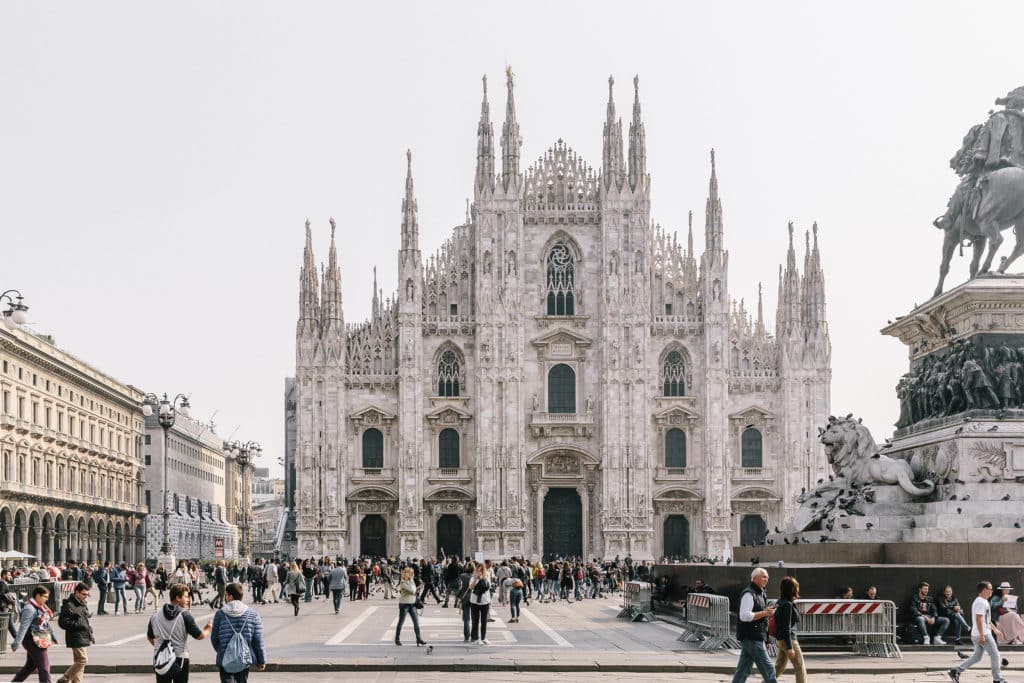 The Most Popular Italian Cities
We focus our work on Italy because it excels at many things we adore: tradition, creativity, craftsmanship, food, wine, and history. Here is a list of the Italian cities that our vacation planning clients head to most, along with insider tips for each.
Northern Italian Cities
Northern Italy extends from the Alps and includes the regions of Val d'Aosta, Piedmont, Lombardy, Liguria, Trentino Alto-Adige, Lombardy, the Veneto, and Friuli-Venezia-Giulia. The culture of the Northern Italian cities is generally more continental European, so the people have a reputation for being more reserved. However, we can attest that this is not always the case as many of our closest friends and most creative people we know are from this area.
Genoa: The Port City
Known as Genova in Italian, this city is home to Italy's largest seaport. It's elusive to most tourists since its transient nature means it can be simultaneously stunning and gritty. As the closest major city to the French border, the French Mediterranean influence is evident everywhere. Genoa is often overlooked but is worth digging deeper to try its legendary street food like focaccia and farinata, explore the winding caruggi (alleyways),  attend a performance in its historic Carlo Felice theater, or see the Renaissance-era villas on Via Garibaldi.
Best For: Those who already know Italy rather well; For seafood and focaccia lovers
Day Trips: The Italian Riviera towns of Portofino, Santa Margherita, and Rapallo are just an hour away. It's also feasible to venture into southern Piedmont, to San Remo, or even into France. The nearby wineries have some of the most interesting natural wines in the country.
Famous Food: Basil pesto, farinata, focaccia, seafood, trofie pasta
Minimum Visit: At least two full days to see the city center
Milan: For Fashion, Innovation, & Risotto
The capital of the northern Italian region of Lombardy, Milan is one of the wealthiest corners of the country yet one of the most misunderstood. It's the city of the future as the Italian center of tech with major green initiatives underway. 
Like New York City is to the U.S.A., Milan is the Italian capital of fashion and finance. And, like New York, the city and its residents can simultaneously inspire and frustrate visitors. This is a city that rewards the traveler who digs a little deeper by exploring hidden gems like Leonardo's vineyards or the chic workshops of Brera.
The city has a laundry list of must-sees such as Leonardo Da Vinci's Last Supper, the esteemed La Scala Theater, the wedding-cake-like Duomo, the Victor Emmanuel gallery, the "Golden Rectangle" shopping district, and the imposing Parco Sempione. But it also has gems only a local can show you like storied gourmet markets, jaw-dropping villas, shops on cobblestoned streets, and a world-class cocktail scene. Our client's favorite activities here include a food crawl with a local food writer or a design and shopping tour with a native Milanese. 
Best For: Those who have seen the 101 cities of Florence, Rome, and Venice; fashion and design lovers; those who want to explore Italy's modern side
Day Trips: Within 90 minutes, you can reach Lake Como, Lake Iseo & Franciacorta wine region, or Lake Garda.
Famous Food: Risotto, polenta, osso bucco, and cocktails
Minimum Visit: Plan to stay at least three full days for a first-time visit but ideally four or five nights
Trento: For Unassuming Alpine Life
As the regional capital of Trentino-Alto Adige, this town of 1 million residents is at the foot of the Alps. It's an unassuming city that's easy to get to know. Locals weave through the historic city center on bicycles as they pass Renaissance fountains and medieval frescoes. Set at the foot of a glacial valley, it's surrounded by vineyards and orchards that wind up to the Dolomites.
Best For: Travelers heading to the Alps, those who like sparkling wine
Day Trips: From here you can easily reach the UNESCO World Heritage site, the Dolomites, and also a day trip to the north side of Lake Garda. Also, one of our favorite styles of Italian sparkling wine, Trento DOC, hails from here. 
Famous Food: Austrian-influenced foods like spätzle and apfelküchel
Minimum Visit: You can day trip here from Verona, the Dolomites, or Lake Garda
Trieste: For Adriatic Sea-Faring Vibes
Tucked in the far northeastern corner against the Slovenian border is the regional capital of Friuli Venezia Giulia: Trieste. The city is geographically isolated from the rest of Italy so it has a distinct border-town culture. Because it was once the seaport of the Hapsburg empire, there is a Viennese feel as evidenced by the stunning seaside Piazza dell'Unita d'Italia. The city became the country's coffee trade capital and, to this day, locals drink twice as much coffee as the average Italian. 
Best For: World War 1 buffs, those heading to Slovenia and Croatia or Austria 
Day Trips: This is the least day trip-friendly city on this list.
Famous Food: Smoked trout, dumplings, Frico, prosciutto cotto in crosta
Minimum Visit: At least two full days to see the city center
Turin: For FIAT, Gianduja, & Cafe Culture
The main capital of Piedmont sits at the foot of the Alps and has a stunning 19th-century elegance with tree-lined streets and a cafe culture reminiscent of Paris. It's best known as the home to the FIAT car company, the legendary Juventus soccer club, and the Mole Antonelliana (home to the fantastic National Cinema museum). There is also a booming live music and contemporary art scene that is well worth exploring. The incredible hazelnut-cocoa combo known as gianduja hails from here so some of the best chocolate shops can be found in Turin. 
Best For: Chocolate lovers; coffee aficionados; car nerds; soccer fans; Alps-bound travelers
Day Trips: To the north is stunning Lago Maggiore (as gorgeous as Lake Como but less touristy) while the south leads to the country's most celebrated wine country. Fall is the best time to visit since that is when wine harvest happens as well as Alba's illustrious Truffle Fair. 
Famous Food: Raw beef, truffles, gianduja chocolate, vitello tonnato, and big red wine
Minimum Visit: You can day trip from the Piedmont countryside or Milan but we suggest at least two full days to see the city center
Venice: For Canals, Fish Markets, & Cicchetti
Once a major maritime capital that bridged the West and East, today the city of Venice is best known for its canals, hand-blown glass production, and jewelry. This is the Italian city that's suffering the most from over-tourism, so plan to spend a couple of nights to give back to the local economy.    
During your stay, see sights like the Grand Canal, St. Mark's Square, the Doge's Palace, the Bridge of Sighs, and the Rialto Bridge, visit Murano island for glass blowing, do a mask-making workshop, go on a Cicchetti (Venetian tapas) tour, ride a gondola, see the fish market, and go to the gorgeous botanical gardens.    
Best For: First-time visitors to Italy, art lovers, honeymooners
Day Trips: Rather than a day trip, we recommend you spend your time in the city as it's not super easy to get to/from Venice.
Famous Food: Risotto, polenta, cicchetti (Venetian tapas), sarde in saor, salt cod
Minimum Visit: You can see it on a day trip but we don't recommend that as it exacerbates overtourism. Ideally, stay two to three nights. 
Verona: For Opera, Amarone Wine, & Lakes
Verona is a city in northern Italy's Veneto region, with a medieval old town built between the meandering Adige River. The setting for Shakespeare's Romeo & Juliet, this smaller city is centrally located and is easy to get to know in a few days' time. During the summer, the historic Verona amphitheater stages massive operas and live music productions. 
Best For: Shakespeare fans, opera-goers, wine lovers
Day Trips: Head to glacial Lake Garda and stunning Sirmione, wine taste in Valpolicella or Lugana, go to Venice, south to or north to Trento
Famous Food: Horse meat, polenta, Amarone risotto, Pandoro, potato gnocchi
Minimum Visit: You can see it on a day trip from Venice but it's worth 2 to 3 nights if you're going to explore the surrounding areas of Lake Garda and Valpolicella.
Central Italian Cities
Central Italy is considered to be extending from Bologna to Rome and encompasses the regions of Emilia-Romagna, Tuscany, Le Marche, Umbria, Abruzzo, Lazio, and the island of Sardinia.. This is part of Italy that most Americans envision when they think of the country, from Tuscany's rolling hills to Rome's ancient ruins. 
Bologna: For Italy's Food & Academic Capital
As the capital of the Emilia Romagna region, the medieval city of Bologna needs no introduction. It is home to the oldest university in Europe, hence the nickname La Dotta or "the educated one." The buildings in the historic city center have a rosé tint, giving it the nickname La Rossa or "the red one." 
But were most drawn to it because it has one of Italy's richest culinary histories earning it the nickname "La Grassa" or the "chubby one." Head to Bologna to visit the famed food markets, do a hands-on cooking class, climb the historic towers, or see the stunning Basilica di Santo Stefano.
Along with Turin and Trento, Bologna is also one of the country's most politically vocal cities as evidenced by its role in the Anni di Piombo or Years of Lead. 
Best For: Fine car lovers, classic Italian food fiends, academic buffs
Day Trips: Day trip to Parma (known for the cheese) or Modena (known for balsamic) to the luxury car factories of Lamborghini, Maserati, and Ferrari (not all open to the public), or head to Lambrusco wine country
Famous Food: Parmigiano-Reggiano cheese, Prosciutto di parma, Balsamic vinegar, Bolognese, Lasagna verde, tortellini, and mortadella
Minimum Visit: You can see it on a day trip from Florence but it's worth two to three nights if you're going to explore the surrounding towns of Modena and Parma too. 
Florence: For Renaissance, Artisans, & Bistecca
The center of the Italian Renaissance, home to the Ferragamo and Cavalli fashion houses (among others), and incredible museums, this small-ish city (fewer than 400,000 residents) is outsized in its impact on Italian culture. We liken Florence to Boston because it is big on history and tradition and, despite its reputation as preppy, has a creative flair.
Visit the Uffizi gallery, see the David at the Galleria dell'Accademia, climb the Florence cathedral, cross the Ponte Vecchio, go to the Boboli gardens, and visit artisan workshops (where they make frescoes, gold jewelry, handmade shoes, and painted stationary among other things), do a progressive dinner crawl, and learn to make gelato in its hometown.
Best For: Renaissance lovers, first-time travelers, fashion lovers, shoppers
Day Trips: Head here for info on classic day trips from Florence.
Famous Food: Rustic soups, bean dishes, roasts, Florentine T-bone steak, cantucci cookies
Minimum Visit: Plan to stay at least three full days for a first-time visit but ideally four or five nights.
Rome: For Ancient Ruins & Classic Pastas
Like a wedding cake, layers upon layers of history reveal themselves in the Eternal City. The biggest city (in population and surface area) in Italy, go here for Roman ruins, classic pasta and pizza, the Vatican, and the larger-than-life loud, chaotic (in a good way) look at Italian life.
But as you explore must-see sights in the historic city center, from the Pantheon to the Trevi fountain, it is easy to get stuck in the tourism traps. Once you've checked off a visit to the Sistine Chapel and Vatican City, the Roman Forum, and the Colosseum, it's worth moving past the ancient ruins to see Rome as it is today. Explore the high fashion boutiques, the winding streets with artisan workshops, the numerous gardens with sweeping views, and the neighborhoods more frequented by locals than travelers. 
As a food lover, you have bold flavors like some of the country's best pizza, authentic cacio e pepe, and local wine mixed in with modern spots serving cutting-edge cuisines and world-class cocktails. 
Our clients' favorite activities include exploring the city with a local in vintage cars, doing market visits and cooking classes with a local chef, meeting local wine experts to learn about natural wine, shopping with a local buyer, or doing a Vespa excursion to see the city's best vistas. 
Best For: Ancient history buffs, first-time travelers, fast-paced travelers
Day Trips: Rome is so enormous that many visitors skip day trips but there are many. You can see the ruins of Ostia, visit the movie sets of Cinecittà, explore the gardens of Tivoli, travel to the summer residence of the Pope, or day trip to Pompeii and Naples. 
Famous Food: Offal, pizza, and classic pasta like carbonara, cacio e pepe, Amatriciana, and gricia
Minimum Visit: Plan to stay at least three full days for a first-time visit but ideally four or five nights.
Siena: For Medieval Vibes & Rustic Food
This central Tuscan town of just over 50,000 full-time residents is one of the smallest Italian cities on this list. But don't let that fool you: it's a place that leaves a big impression. This well-preserved Gothic-era city is centered around the elliptical Piazza del Campo. This is where the city's historic contrade (districts) have competed for centuries in the world-famous horse race known as the Palio. Of the numerous sites, the Torre del Mangia bell tower is the most distinctive but we also insist you visit the medieval Duomo or cathedral. 
Best For: Those wanting to see the Tuscan countryside by train
Day Trips: We suggest you day trip to Siena but you can also stay there and explore surrounding areas like San Gimignano, Chianti, or Val D'Orcia
Famous Food: Capocollo, gnudi senesi, panforte, pici pasta, ribolliita stew, wild boar ragu
Minimum Visit: You can see it on a day trip from Florence but it's worth two to three nights if you're going to explore the surrounding hilltowns and Tuscan wine country.
Southern Italian Cities
Except for Sicily, the Amalfi Coast, and Naples, the area of Southern Italy is the least visited by international tourists. This area includes the regions of Campania, Molise, Calabria, Apulia, Basilicata, and Sicily. This is part of Italy where a large majority of Italian Americans come from, so many Italian recipes and ingredients familiar to Americans (ie Marsala, mozzarella, parmigiana, pizza, or cannoli) hail from this corner of the country.
Naples: For Pompeii, Pizza, & A Storied Historic Center
Tied with Rome for being the most high-energy of the Italian cities, Naples is unapologetically itself. Like Palermo, it has a reputation for being dangerous (it's often overstated and rarely affects tourists), but that means many travelers are surprised by its rich history and sophistication. Though it's home to some of Italy's most dedicated soccer fans and to Neapolitan pizza, that is just scratching the surface. For example, there is a rich tradition of men's tailoring as local artisans have been making suits and shirts since the 14th century.
Best For: Those who want to explore, those who love a big city bustle, street food lovers, ancient history lovers
Day Trips: Head for a day (or multiple days) to the Amalfi Coast, Capri, Herculaneum, Pompeii, or Sorrento
Famous Food: Pizza, buffalo mozzarella, deep-fried street food, and pastries
Minimum Visit: At least two full days to see the city center
Palermo: For Incredible Theater, Markets, & Street Food
As the capital of Sicily, Palermo reflects the region's history as a crossroads of the Mediterranean. Over millennia, invaders (Arabic, Greek, Norman, and Spanish) left their mark on the food, architecture, and culture. The city of Palermo's historic section is one of the least renovated in Italy, making it feel stuck in time. Palermo's legendary markets have some of the best street food in the world and feel more like Middle Eastern bazaars than Italian markets.
Best For: Those wanting a deeper cut
Day Trips: See the sea salt beds of Trapani, visit Corleone (the town of The Godfather), enjoy the sea in Cefalù, or see the mountain town of Castelbuono
Famous Food: Arancini, caponata, cannoli, panelle, seafood, street food
Minimum Visit: At least two full days to see the city center
Have Us Plan Your Italy Trip
Did you know we're also a boutique travel agency specializing in Italy travel planning? If you're looking to plan one of the best trips to Italy, our Italy trip planner services are here to help you plan your perfect itinerary.
---
Photo Credit: Women holding hands and walking on a pier By Mauro Grigollo; Naples photo by Danilo D'Agostino on Unsplash