Enjoying a delicate balsamic vinegar is like sipping on a fine whiskey or a spicy cognac—a little goes a long way.
It's proof that when producers follow an exacting process and use premium ingredients, quality is the result. Even the tiniest amount of Aceto balsamico (pronounced "ah-chet-oh ball-sahm-ee-ko") can transform a dish with its sweet, musty tartness.
You see balsamic vinegar called for in numerous recipes, but how much do you really know about this celebrated vinegar from Italy? If you're wondering what is balsamic vinegar — you've come to the right place.
Where Balsamic Vinegar Is From
First, let's talk geography. Aceto balsamico tradizionale originates in the towns of Modena and nearby Reggio Emilia, both in the Emilia-Romagna region.
Today, you'll find countless types in the store (from traditional to artificially colored), so let's dive into its history and production. Armed with this knowledge, you'll be able to purchase the real-deal, authentic vinegar with confidence.
The History of Balsamic Vinegar
The process used for making balsamic vinegar started in Ancient Rome, but what we know today as balsamic vinegar dates back roughly to the 11th century.
The term "balsamic" first appeared in the 1700s and by the 1800s, people well beyond Italy had heard of balsamic vinegar. Balsamico means "balsam-like," specifically referring to suspected curative properties—people would consume it to soothe aches and pains. These days, of course, we like it for its incredible flavor.
Around the 1800s, production became more standardized and some major producers popped up—some of which operate today, like Acetaia del Cristo and Acetaia Dodi. The cities of Modena and Reggio Emilia became particularly well-known for their balsamic vinegar production.
Fast forward to 2009 when the European Commission designated origin and geographical indicators—both IGP (Protected Geographical Indication) and PDO (Protected Designation of Origin). In other words, they legally recognized that authentic balsamic can only be produced in Modena and Reggio Emilia.
You'll still encounter varieties of balsamic vinegar made elsewhere (more on that in a minute), and products made outside of these regions can use the term "balsamic" in their name. Still, some of the best balsamic vinegar undoubtedly comes from these two destinations that have produced it for centuries.
How Is Balsamic Vinegar Made
Traditional balsamic vinegar contains one ingredient: mosto, or "grape must." The grape must comes from the crushed juice of a grape and still contains the seeds, stems, and skin.
Typically producers use Trebbiano or Lambrusco grapes—both of which you'll commonly find in winemaking in Emilia-Romagna.
The mosto gets reduced to a concentrate, then fermented and acidified, and this product goes into barrels to age anywhere from 12 to 25 years. You'll often find barrels made of woods like oak, juniper, or cherry used for aging and as with other barrel-aged products (think whiskey), the wood itself can influence the color and taste of the final product.
The end goal is a sweet-tart, richly dark, syrupy vinegar.
Balsamic Vinegar Variations
When you head to the store to stock up your pantry with essential Italian ingredients, balsamic vinegar definitely makes the list.
But the search can get a little confusing once you realize what's on the shelf isn't all Aceto balsamico tradizionale di Modena. Made in the USA? And why the price differences?
Tradizionale
The most prized balsamic vinegar has the label tradizionale. This traditional balsamic vinegar hails from either Modena or Reggio Emilia.
Aceto balsamico tradizionale di Modena and aceto balsamico tradizionale di Reggio Emilia both have the D.O.P. stamp ("Denominazione di Origine Protetta"). This certification ensures its place of origin and production process. Both come in 100mL wax-sealed bottles—a bulb-shaped bottle for Modena and an inverted tulip for Reggio Emilia. They also both have a color-coded cap to indicate the aging time, anywhere from twelve to twenty-five years
These two products will look, smell, and taste similar (varying, of course, due to the specific grapes and wood barrels used), although Aceto balsamico tradizionale di Modena has a slightly higher acidity requirement than Aceto balsamico tradizionale di Reggio Emilia
Modena IGP
You also find a balsamic vinegar labeled Modena IGP. While production restrictions aren't as rigorous as for the traditional types, Aceto balsamico di Modena with an IGP seal promises the product was made in Modena with local ingredients.
Condimento
Condimento grade covers any balsamic vinegar made outside of those regions or using other methods. It doesn't necessarily equate to poor quality—but it does mean you'll want to do extra research before you pop it in your grocery cart. Some condimento use food coloring or added sugars to mimic the good stuff, so look for something made only from grape must and, preferably, aged.
Balsamic Glazes And More
Finally, you'll encounter heaps of balsamic-inspired products out there—balsamic glazes, syrups, white balsamic, etc.—but if you crave that thick, rich flavor, look for one of the options above.
How To Use Balsamic Vinegar
If you've splurged for some of the best balsamic vinegar (like D.O.P. grade), you'll want to let that flavor shine. Rather than add it in during the cooking process, use it as a garnish
It tastes outstanding on crudites, fruit (especially strawberries, peaches, and figs), steak, or even over gelato.
Meanwhile, the IGP or condimento grades work well to round out the flavors in a dish—like as an addition to a delicate risotto or a summer salad.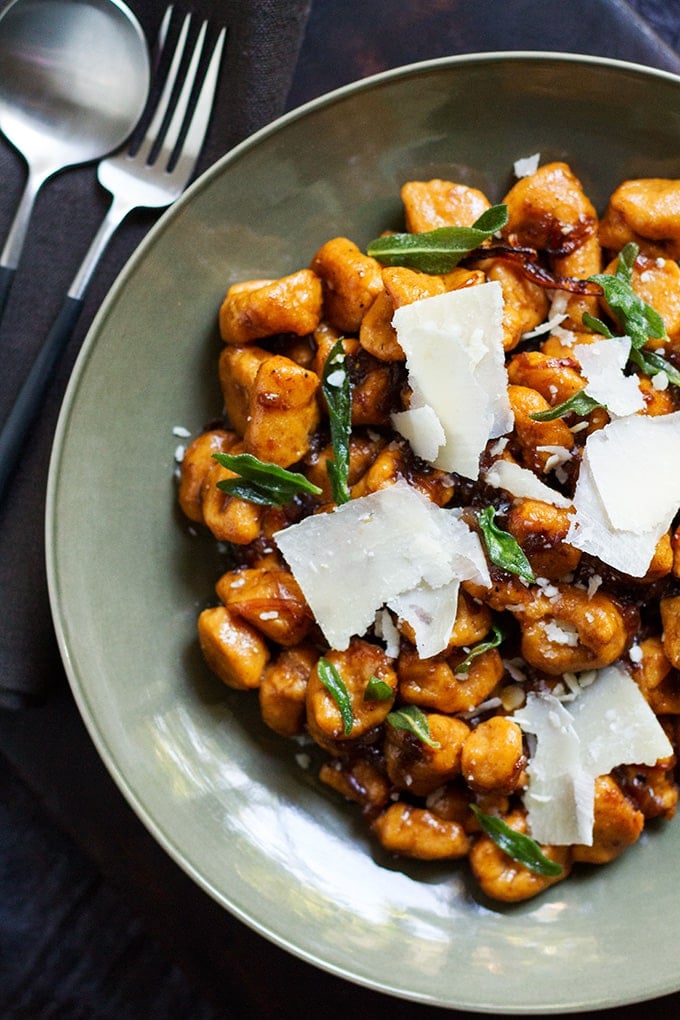 Recipes Using Balsamic Vinegar
Ready to put some Aceto balsamico to work in the kitchen?
For a salad recipe, try this Pistachio Feta Watermelon number. The pomegranate balsamic drizzle perfectly complements the sweetness of the watermelon and the salty feta cheese. Alternatively, whip up this Tuna and Arugula Salad recipe inspired by a classic cold dish in Italy.
Looking for some savory main dishes? This Sweet Potato Gnocchi comes with a balsamic-sage brown butter sauce, highlighting the sweetness in the dish without overpowering it. Drizzle some balsamic vinegar on this mouthwatering Truffled Mushroom Prosciutto Pizza. With melted Parmesan, crisp prosciutto, and roasted mushrooms, it's one of our go-to fall recipes.
How do you like to enjoy balsamic vinegar? In a salad, drizzled on fruit, or combined into a pasta or pizza? Let us know your favorite balsamic dishes below!
Have Us Plan Your Italy Trip
Did you know we're also a boutique travel agency that specializes in Italy travel planning? If you're looking to plan one of the best trips to Italy, our Italy trip planner services are here to help you plan your perfect itinerary.
---
Photo Credit: Susan Brooks-Dammann