I first stepped foot in Turin, Italy a few months after the Winter Olympics and just in time for Fall.
If there's anywhere you want to be travel in Italy in the fall, it's Turin because, as the biggest city in Piedmont, everywhere you go people are celebrating the seasonal cuisine with loads of truffles, mushrooms, and chestnuts.
Of everything I ate, the chestnut gnocchi at Al Garamond stuck with me as the most quintessential yet unexpected fall dish. The hazelnut-y flavor of the gnocchi with the buttery, mushroomy flavor of the cheese sauce was somehow both totally indulgent and surprisingly light.
So, as I often do, I reverse-engineered the recipe once I returned home. Al Garamond serves its gnocchi with a fontina sauce, but I switched things up by topping them with another cheese from the area, the creamy "due latte" or two milk cheese known as Robiola Bosina, which is made with both cow and sheep's milk cheese.
Oh, and if you're traveling to Piedmont soon, go ahead and reach out because we can help you arrange everything!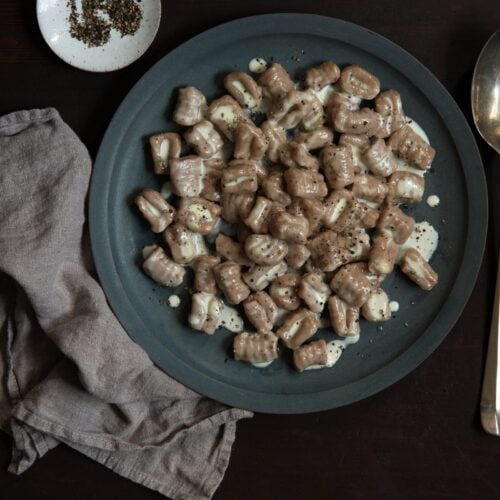 Chestnut Gnocchi with Robiola Bosina Cheese Sauce Recipe
One of our all time favorite pastas to make from scratch? Gnocchi! This twist made with chestnut flour and a creamy cheese sauce is inspired by one of our favorite restuarants in Turin, Italy.
Ingredients
2

pounds

Russet potatoes

scrubbed (about 4 medium potatoes)

1

cup

all-purpose flour

1/2

cup

chestnut flour

1

large

egg

beaten

2

teaspoons

kosher salt

1/4

teaspoon

ground white pepper

1/4

teaspoon

ground nutmeg

6

ounces

soft-ripened cheese, such as Explorateur, Reblochon, Robiola Bosina, or Taleggio

3/4

cup

heavy cream
Instructions
Bake The Potatoes: Heat the oven to 400°F and arrange a rack in the middle. Pierce the potatoes all over and place in the oven; bake until tender when pierced with a fork, about 55 minutes. While the potatoes are baking, combine flours in a bowl and whisk to break up any lumps. Set aside.

Rice The Potatoes: When the potatoes are ready, remove from the oven and set aside until cool enough to handle. Meanwhile, combine egg, salt, pepper, and nutmeg and whisk until thoroughly mixed. Scoop out potato flesh and immediately pass through a ricer.

1 large egg,

2 teaspoons kosher salt,

1/4 teaspoon ground white pepper,

1/4 teaspoon ground nutmeg

Make The Chestnut Gnocchi Dough: Mound riced potatoes on a clean, dry surface and form a well in the middle. Add egg mixture to the well and, using your hands, mix just until evenly incorporated, about 2 minutes. Add flour in two parts and mix just until incorporated, about 2 to 3 minutes total. (Don't overmix or you'll end up with tough pasta.)

Shape dough into a flat disk, cover with plastic wrap, and let rest 15 minutes.

1 cup all-purpose flour,

1/2 cup chestnut flour

Form The Gnocchi Pasta: Divide dough into 8 even pieces and lightly roll hands back and forth over each piece to form a long rope 1/2 inch in diameter. Cut ropes crosswise into 1-inch gnocchi. Lightly flour your forefinger, your thumb, and the tines of a salad fork.

Using your thumb, lightly press the cut side of the gnocchi into the back of the fork tines, then roll/flick it off with your forefinger; your thumb will leave a concave impression that's handy for holding sauce. Place the gnocchi on a parchment-lined baking sheet and keep at room temperature until ready to cook.

Cook The Gnocchi: Bring a large pot of heavily salted water (it should taste like sea water) to a boil over high heat. Add gnocchi (make sure the pot isn't crowded—you'll need to do this in batches) and cook until they float to the surface, about 30 seconds. Continue to cook until al dente and the raw flour flavor is gone, about another 30 seconds. Remove gnocchi with a slotted spoon and set aside. Repeat with remaining gnocchi.

Make The Robiola Bosina Cheese Sauce: Meanwhile, combine cheese and cream in a medium saucepan over medium-low heat. Cook, whisking frequently, until cheese is melted and smooth, about 10 minutes. Reduce heat to low to keep the sauce warm while the gnocchi cook.

Once all the gnocchi aree cooked, add them to the cheese sauce and gently stir to coat. Serve immediately.

6 ounces soft-ripened cheese, such as Explorateur, Reblochon, Robiola Bosina, or Taleggio,

3/4 cup heavy cream
PERSONAL NOTES
Nutrition
Calories:
477
kcal
Carbohydrates:
60
g
Protein:
14
g
Fat:
20
g
Saturated Fat:
12
g
Polyunsaturated Fat:
1
g
Monounsaturated Fat:
6
g
Trans Fat:
1
g
Cholesterol:
93
mg
Sodium:
986
mg
Potassium:
736
mg
Fiber:
4
g
Sugar:
6
g
Vitamin A:
663
IU
Vitamin C:
16
mg
Calcium:
107
mg
Iron:
3
mg