We're the first to admit that comfort food preferences are as personal as it gets.
Many crave mac and cheese, others their grandfather's pot pie, and others still their mother's tortilla soup.
The Ultimate Comfort Food
As an Italian American, my ultimate comfort food has always been some form of carbs (especially pasta), and, right now, my comfort food of choice would have to be gnocchi.
Sure the comfort comes from the ethereally fluffy pillowy texture of soft-baked potato that the perfect best gnocchi recipes have. But also there's a comfort in the actual making of a homemade gnocchi recipe. The rhythm of the mixing, rolling, cutting, and shaping? It's a choreography that's intrinsically cathartic.
Some people shirk away from recipes that require a lot of effort and time to make (ahem, tamales, gougeres, casoncelli pasta, we're looking at you!) but we're just the opposite. In our opinion, one of the best ways to unplug is to make a recipe from scratch, preferably with some friends or family who are willing to make it along with you.
The bottom line is this is the sort of recipe that's ripe for a weekend cooking project or for a special occasion dinner.
What Is Gnocchi?
Before we go any further we should clarify a few things about this dish. First of all, let's go over pronunciation — gnocchi is pronounced "nyoh-key" and may just be one of the most mispronounced Italian food words out there.
Also, we feel it necessary to clarify that gnocchi are a whole family of dumpling-like pasta recipes and you can find a whole assortment of classic gnocchi recipes as you travel across Italy.
That said, this sweet potato gnocchi is not a traditional Italian gnocchi recipe. Sure, the technique is classic, the sauce is a twist on the classic burro e salvia (butter and sage) sauce that is ubiquitous in Northern Italy, and the recipe is akin to the pumpkin gnocchi you come across in Italy. However, this version of sweet potato gnocchi is a creation all its own.
About This Sweet Potato Gnocchi Recipe
I didn't grow up eating this style of gnocchi as we were quite the potato gnocchi traditionalists in my house. Whenever my grandmother would come to town we'd make at least one batch of potato gnocchi and serve them with a classic Pomodoro or pesto sauce.
But for the last few years, this comfort food recipe for sweet potato gnocchi with balsamic brown butter sauce has been a cold-weather staple of mine.
The recipe consists of a pretty traditional vegetarian gnocchi recipe but is made with a mix of sweet potatoes and Russet potatoes. By the way, the reason there is a mix of two potatoes is that if it's all sweet potatoes, they'll be too wet and too heavy while the mix helps keep things light!
Sauces To Serve With Sweet Potato Gnocchi
The sweet potato gnocchi is, of course, sweet so the key is to serve it with a sauce that will pair well and cut down on the sweetness. In other words, don't serve these with a tomato sauce but rather with something with acid like the balsamic reduction sauce we have here.
A few other great pairings would be a mushroom ragu, a sausage and kale sauce, or even just tossed with butter and loads of herbs.
There you have it. Try your hand at making this, one of our most popular recipes on the whole site. Made with sweet potatoes and topped with a balsamic reduction and brown butter sauce, it's sure to become your go-to fall pasta recipe. 
Now go stock up on all your cooking essentials then share your creation with us by tagging @saltandwind and #swsociety on social!
Pin It For Later!
Want to remember this recipe for a future dinner party? Go ahead and save it to your Pinterest board so you can access it later!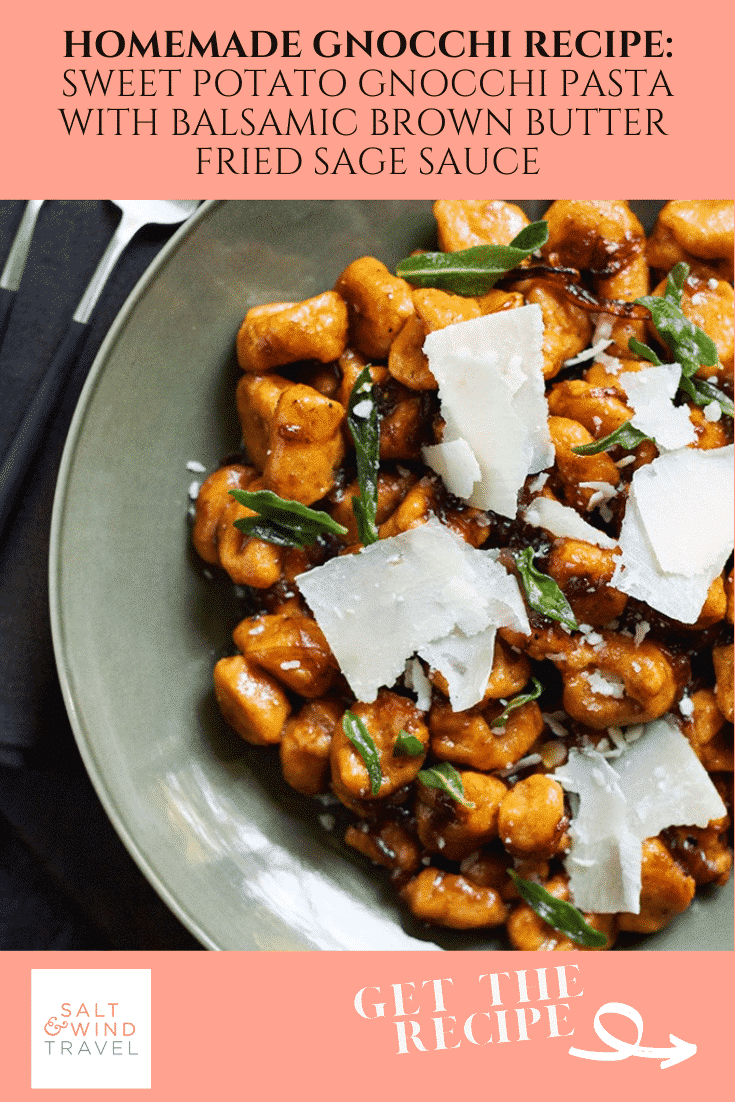 Sweet Potato Gnocchi with Balsamic-Sage Brown Butter Sauce Recipe
One of our most popular recipes on the whole site is this twist on traditional gnocchi. Made with sweet potatoes instead of white potatoes and topped with a balsamic reduction and brown butter sauce, it's sure to become your go-to fall pasta recipe.
Ingredients
1 1/2

pounds

sweet potatoes (yams)

halved lengthwise

1/2

pound

Russet potatoes

halved lengthwise

1

tablespoon

olive oil

2

teaspoons

kosher salt

plus more to taste

Freshly ground black pepper

as needed, plus more for garnish

1/4

cup

Parmigiano Reggiano cheese

plus more for garnish

1

large

egg

lightly beaten

3

tablespoons

honey

1 1/2

cups

all purpose or white whole wheat flour

4

tablespoons

unsalted butter

12 to 15

fresh sage leaves

2

medium

shallots

quartered and thinly sliced

3

tablespoons

balsamic vinegar
Instructions
Bake The Potatoes: Heat an oven to 425°F and arrange a rack in the middle. Drizzle both the Russet and sweet potatoes with olive oil and season with a few good pinches of salt and a few cranks of pepper.Pierce them all over with a fork, then place them cut-side down on a rimmed baking sheet (lined with a silicone baking mat or aluminum foil for easier cleanup) and roast until they're fork-tender, 30 to 40 minutes

1 1/2 pounds sweet potatoes (yams),

1/2 pound Russet potatoes,

1 tablespoon olive oil,

2 teaspoons kosher salt,

Freshly ground black pepper

Make The Sweet Potato Gnocchi Pasta Dough: When the potatoes are fork-tender, set them aside until they're just cool enough to handle but not completely room temperature.Use a spoon to scoop the potato flesh out of the skins and immediately pass it through a potato ricer (or mash with the back of a fork). Stir in cheese, egg, honey, and 2 teaspoons of salt.

Mix in the flour, about 1/2 cup at a time, until a soft dough forms. Taste and add additional salt, as needed. You've added enough flour when you touch the back of the dough, and it is damp but not sticking to your hand.

1/4 cup Parmigiano Reggiano cheese,

1 large egg,

3 tablespoons honey,

1 1/2 cups all purpose or white whole wheat flour

Shape The Gnocchi: Turn dough out onto the floured surface and shape it into a square. Use a bench scraper to divide the dough into 16 equal pieces.

Rolling between palms and floured work surface, form each piece into a rope (about 1/2 inch in diameter), sprinkling with flour as needed if sticky. (However, don't add too much additional flour, as too much will make for heavy gnocchi.)

Cut each rope into 1/2 -inch pieces. Stop here or, as desired, using your thumb, roll each piece down over the tines of a fork to indent.

Cook The Sweet Potato Gnocchi: Bring a large pot of heavily salted water to a slow boil over medium-high heat. Working in batches, simmer gnocchi until they float, then cook an additional 30 (if fresh) to 60 seconds (if frozen).Using a slotted spoon, transfer gnocchi to a clean rimmed baking sheet—reserve 2/3 cups of the pasta cooking water and drain the remaining water.

Make The Fried Sage Brown Butter Sauce: Meanwhile, in a large frying pan, melt the butter over medium heat. Once it foams, add sage and cook until crisp and fragrant. Remove sage to a plate and return the frying pan to the stove.

Add the shallot and, watching it carefully and often stirring, allow the milk solids to begin to brown and the butter to become fragrant and nutty. Scrape along the bottom to prevent the solids from sticking and burning.

4 tablespoons unsalted butter,

12 to 15 fresh sage leaves,

2 medium shallots

Serve The Sweet Potato Gnocchi: When the butter is brown, immediately remove from heat and carefully stir in the vinegar (otherwise, it may sting your eyes).

Stir in about half of the pasta and half of the reserved pasta water, return to heat, and cook until just coated in the sauce. Add a lot of freshly ground black pepper, taste for seasoning, and finish with additional pasta water, salt, black pepper, the crisp sage, and freshly shaved Parmigiano-Reggiano.

3 tablespoons balsamic vinegar
PERSONAL NOTES
Nutrition
Calories:
181
kcal
Carbohydrates:
23
g
Protein:
3
g
Fat:
9
g
Saturated Fat:
5
g
Polyunsaturated Fat:
1
g
Monounsaturated Fat:
3
g
Trans Fat:
1
g
Cholesterol:
40
mg
Sodium:
668
mg
Potassium:
309
mg
Fiber:
2
g
Sugar:
10
g
Vitamin A:
6245
IU
Vitamin C:
3
mg
Calcium:
67
mg
Iron:
1
mg