Ah, the Italian Lakes District—it's pretty much the go-to place for anyone looking to experience the most beautiful lakes in Italy. Tucked against the foothills of the Alps, they stretch across the regions of Piedmont, Lombardy, Trentino-Alto Adige, and South Tyrol in Northern Italy. The Italian Lakes are a food and adventure lover's playground and have captured the hearts of many over the years — from literary greats like Goethe and Hemingway to modern-day travelers. 
Why Visit The Northern Italian Lakes?
Whether you're drawn to the bucolic beauty of Lake Iseo, the numerous adventures on Lake Garda, or the hidden gem that is Lake Orta, the Northern Italian Lakes has something for everyone. Each lake, with its unique attractions and activities, makes the region one of the best places for any traveler to explore. Many of our travel clients who head to Northern Italy plan on a day trip to Lake Como but we really feel spending a few days on at least one lake is key.
Italian Lakes Itinerary
In our mind, an ideal trip would include a visit to a few lakes so you can get the full spectrum. As in, perhaps, some chic luxe vibes on Lake Como, some Franciacorta wine exploration on Lake Iseo, and some adventure and spa time on Lake Garda. In this quick guide to the Italian Lakes District, we'll go over seven of these Italian alpine lakes to help you decide if you should visit one, two, or all of them!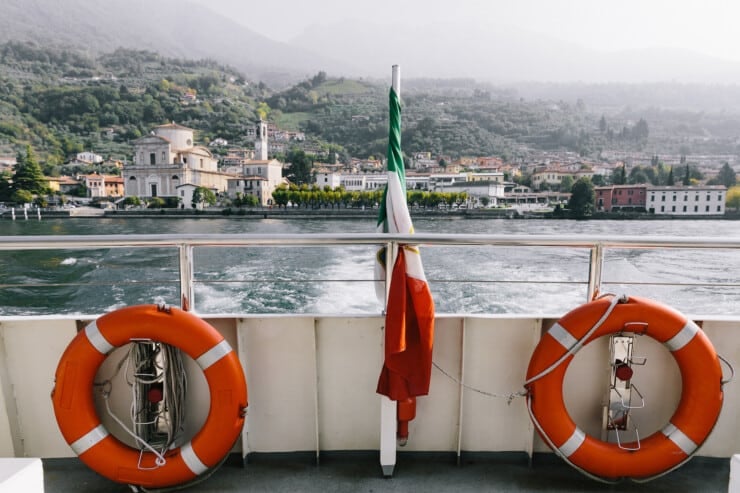 Which Italian Lake Is Right For You?
Which Italian Lake you should visit depends on what you want to do, how long you want to stay, and your travel priorities. Do you want to relax after weeks of crisscrossing the continent? Do a romantic weekend lakeside? Or dive into some of Italy's lesser-known food and wine regions?
Take Lake Maggiore: it's a stretch of deep blue water surrounded by mountains and home to the enchanting Borromean Islands that are straight out of a fairy tale. And speaking of fairy tales, let's not forget Lake Como. This isn't just a lake; it's the Hollywood of lakes as A-listers like George Clooney have pads here. It's about extravagant villas, palm trees, and panoramic views that'll make your Instagram feed sing.
Families looking for fun should head straight to Lake Garda's southern shores where you'll find amusement parks, a Mediterranean climate, and explorations among olive orchards and vineyards. If it's adrenaline you're after, the north of Lake Garda has got you covered with its wind-favored spots ideal for kite surfing and other water sports.
If you're in need of relaxation while amongst nature's grandeur, check out Lake Iseo. Surrounded by soaring slopes, this lake is also the spot for some of the best Italian sparkling wine. And don't overlook Lake Orta. It might not always be on everyone's radar, but its charming villages and islands are an absolute must-see.
How did these Northern Italian Lake come into being? 
The Northern Italian Lakes are the result of glaciers that decided to pack up and retreat after the last Ice Age. The glaciers carved out extreme terrain and eventually gave way to stunning alpine lakes. Each one is a glacial masterpiece that has something unique to offer. Whether you're into history, adventure, or just some plain old relaxing, these lakes have something for everyone.
​7 Northern Italy Lakes To Visit
The seven main lakes that travelers visit when they're in Northern Italy are Lake Orta, Lake Maggiore, Lago di Varese, Lake Lugano, Lake Como, Lake Iseo, and Lake Garda. Our travel clients spend the most amount of time on Lake Como and Lake Garda followed by Lake Maggiore and Lake Iseo. Among them you'll find what many consider the best lakes in Europe with a mix of small towns, loads of outdoor adventure, and stunning landscapes. From west to east, we'll dive into each lake and the best things to do at each:
Lake Orta
Lago di Orta (aka Lago di Cusio) is found in Piedmont between Lago Maggiore and the Domodossola wine region. This is where many of our Milanese and Piedmontese friends travel when they want lake time without the crowds. The lake is smaller compared to its neighbors but, because it's relatively inhabited and ringed by dense, dark-green woodlands, it feels more remote than it actually is. 
The lake is best known for the one of the best-preserved Medieval towns anywhere, the picturesque Orta San Giulio (often just called "Orta"). Just 1,500 feet from the shores of Orta San Giulio, is the lake's Island of San Giulio, which is dominated by the 12th-century Basilica di San Giulio. Don't miss the nearby Sacro Monte di Orta. This UNESCO World Heritage Site is a testament to the lake's rich history, dating back to the Roman Empire. FYI, during the high season, there can be tour buses coming into the area but if you go in the shoulder season or during the weekdays, it will be quieter.
Best For: Escaping crowds and wandering cobblestoned streets
Lake Maggiore
Lago Maggiore (aka Verbano) is the second largest lake in Italy. The lake is split between Italy and Switzerland and, within Italy, it's shared between the Piedmont Region and Lombardy Region. Most visitors head to the towns along the western shore which are home to historic hotels and usually get more sunlight. On the Swiss side you'll want to stop by (or overnight!) at chic Ascona, whose candy-colored buildings and Mediterranean climate feel like the Swiss answer to Portofino. 
The most-visited town on the Italian side is Stresa, from which you can visit the famed Borromean Islands: Isola Bella, Isola Madre, and Isola dei Pescatori. Isola Bella houses beautiful gardens and a palace worth visiting, while Isola Madre is more low-key but equally beautiful. Our guests enjoy staying north of Stresa in Pallanza where there are fewer tourists and one of the most charming towns on the lake. 
Best For: Stunning islands and a more understated charm
Lake Lugano
Straddling the border between Italy and Switzerland, Lake Lugano offers a unique blend of Swiss precision and Italian flair. The majority of the lake is in the Ticino canton of Switzerland and most locals call Italian their first language. The Monte San Giorgio, another UNESCO World Heritage Site, provides some of the best views of the entire lake.
The city of Lugano is first and foremost a banking center and we don't as charming as the other towns along the lakes. However, it makes an ideal stop if you're venturing between Italy and Switzerland. 
Best For: Stunning islands and a day trip to Switzerland
Lago di Varese
This small, shallow lake to the southeast of Lago Maggiore is known for being the shape of a shoe and as the site of some of the most prestigious rowing championships in Italy. Locals often head here for cycling, hiking, and, of course, rowing.
Best For: Rowing and boating
Lake Como
Considered by many to be the best Italian lake, Lago di Como (aka Lario) needs no introduction. Across the internet, you'll find all sorts of info about doing a day trip to Lake Como from Milan, but we highly encourage you to spend more time if you can budget it. The lake is best known to Americans for its glitzy reputation and chichi hotels.
But also worth visiting are the charming town of Como (which has a history dating back to Roman times), the gardens and historic villas along the western shore, and the town of Dogno, which played an important role in World War II. If boat trips are the thing your vacation dreams are made of, Lake Como is great place to do just that. We spend a few days on Lake Como during our Italy small group trips and our clients are always happy to get more time there. Check out our guide of things to do in Lake Como for much more intel. 
Best For: Glitz and glam with dolce vita flair
Lake Iseo
Lago Iseo (also known as Sebino) is one of the most under-the-radar spots in the north of Italy but one of the most beloved by our travelers when they head there. 
The lake is smaller than Como, Maggiore, or Garda but just as beautiful. It's known for its natural beauty, including Monte Isola, the biggest lake island in Europe. But also? This is the lake that the Milanese frequent for weekend trips and wine tasting without the tourists you'll find on Lake Como.
That's because it not only has some stunning luxury hotels and sophisticated restaurants, but also it's home to Franciacorta, which is one of the most prized sparkling wine regions in Italy. While there be sure to also visit the towns of Brescia (with some lowkey Roman ruins in the middle of town!) and Bergamo (a hill town that has charm, good food, and great shopping)!
Best For: Wine tasting lakeside
FAQs About The Italian Alpine Lakes
What are the most famous Italian lakes?
There are seven main lakes that travelers visit when they're in Northern Italy: namely, Lake Orta, Lake Maggiore, Lago di Varese, Lake Lugano, Lake Como, Lake Iseo, and Lake Garda. Our travel clients spend the most amount of time on Lake Como and Lake Garda followed by Lake Maggiore and Lake Iseo.
What is the best time to visit the Italian Lakes District?
The best time to visit the Italian Lakes District varies depending on your interests. Spring (April-June) is ideal for outdoor activities, while summer (July-September) is great for water sports and a Mediterranean climate. Autumn (October-November) offers a quieter experience, and winter (December-February) is well-suited for winter sports and Christmas markets.
What are the unique culinary traditions of the Italian Lakes region?
Each area surrounding the Italian Lakes has its unique culinary traditions. In Piedmont, you'll find truffles, rich pastas, and cheeses. Lombardy is known for Risotto alla Milanese and Franciacorta wines. Lake Maggiore offers freshwater fish dishes, and Lake Iseo's Franciacorta region is a haven for sparkling wine aficionados.
Lake Garda: The All-Rounder
Straddling the Lombardy and Veneto regions, Lago di Garda (aka Benaco) is the biggest lake in Italy, and as such, offers something for everyone. The north of the lake is a hotspot for water activities like kitesurfing and windsurfing, thanks in part to its near constant wind. Base yourself in Riva del Garda for water sports and easy access to alpine hiking. For a more relaxed experience, the southern part of the lake has a Mediterranean climate, with olive groves and lemon trees adorning the lake shore.
Places like Peschiera del Garda and Castelnuovo del Garda are popular spot for families on a budget heading to the nearby amusement park known as Gardaland while luxury travelers head to the thermal baths and luxury resorts in the lovely town of Sirmione. And, of course, a major plus is that you can wine taste in the Lugana area or the Valpolicella wine region or go on day trips to Trento, Verona, or Venice. We head here on our Northern Italy group trips and travelers love often feel like it offers the best of all worlds with wine tasting rooms, luxury hotels, Michelin meals, adventure, and interesting history.
Best For: The traveler who wants taste of it all. 
Regional Culinary Influences
The Italian Lakes aren't just about the water. They're gateways to the diverse regions of Lombardy, Piedmont, and Trentino-Alto Adige. As food and wine lovers, one reason we enjoy them is that each region has its unique culinary traditions. In Piedmont, you'll get to try the classic Piedmont foods like truffles, rich pastas, and some of Italy's best cheeses.
Over in Lombardy, you'll want to try the rich Risotto alla Milanese and the Franciacorta wines. Lake Maggiore is famous for its freshwater fish dishes like Risotto con Persico (risotto with perch). Lake Iseo's Franciacorta region is a haven for sparkling wine aficionados, offering an alternative to the more well-known Prosecco and you can try dishes like Torta Sbrisolona. In the region around Lake Garda, you can visit the Lugana or Valpolicella wine regions or as well as delicious apple strudel if you head north toward Trento.
Best Time to Visit
The Lakes District is a popular place, attracting both domestic and international tourists throughout the year. The best time to visit depends on what you're looking to do; however, the best weather and the high season runs from Easter until the end of September. While you can visit outside of these times, know that some areas will be rather sleepy and many hotels and restaurants will be closed.
If you have questions about a specific time and place, go ahead and reach out. And, of course, if you want us to help personalize your Italy travel experience, our team of expert travel planners is here to help!