The Italians have it right: they not only have some of the best food but also some of the best wines. But in leading our boutique group trips and wine tours to Italy it's evident that there is a lot of confusion around Italian sparkling wine.
It's no surprise seeing as the country has the largest number of known native grapes anywhere (roughly 2,000!).
About Italian Sparkling Wines
So let's dive in and start with Italian sparkling wines. Yes, pretty much everyone knows prosecco wine as its popularity has grown by leaps and bounds in just a few years' time.
But how about Franciacorta? Lambrusco? Asti? Yup, there are many types of sparkling wines in Italy and a lot of it isn't readily available in the United States.
Here is the essential info so you know what to look for on your next trip to Italy:
A Note On Italy's Protected Designation Of Origin
Italy has twenty administrative regions and wine is produced in every last one. Add to it those thousands of grapes and the confusing labels and it quickly becomes a cluster.
To help yourself out, categorize the wine by which grapes they're made with, which style they're made in, where they're made, and which geographical indication (GI) category they fit into.
A geographic indication is a legally defined wine-growing area within a country. In the EU they not only identify where the grapes were grown but also how the wines should be made.
Italian wines are arranged into three different rankings: Indicazione Geografica Tipica (IGT), Denominazione di Origine Controllata (DOC), and Denominazione di Origine Controllata e Garantita (DOCG). IGT wines are commonly known as table wines while DOC and DOCG wines are more prestigious because they have more tightly defined regulations.
Italian Sparkling Wine Terms
Before we proceed, we should talk about the words you'll come when you drink Italian sparkling wine.
The first is bollicine (pronounced "bowl-eh-chee-neh"). It literally translates to bubbles but is an informal term for sparkling wines.
Next are spumante and frizzante. Use the term spumante (pronounced "spoo-mahn-teh") when talking about sparkling wines in general and frizzante (pronounced "free-zahn-teh") specifically when referring to lightly sparkling wines.
Where Do Most Italian Sparkling Wines Come From?
You can find sparkling wine in nearly every region of Italy but the majority are from Northern and Central Italy. This is due to the fact that the more mild climates allow the grapes to ripen so they have an ideal balance of ripeness, sweetness, and acidity.
So, How Are Italian Sparkling Wines Made?
Throughout Italy you'll find sparkling wine made in all six different ways; each producing wines with varying levels of carbonation level, mouthfeel, and taste. However, the traditional and tank methods are the most common methods seen in Italy.
Tank Method
Also known as the "Charmat" method the tank method is when the wine is combined with sugar and yeast in a large tank in order to become carbonated. This method results in medium-size bubbles under about 2 to 4 atmospheres of pressure. Both Lambrusco and Prosecco are made via the tank method.
Traditional Method
Known as the metodo classico (pronounced "meh-toe-doe class-ee-koh"), this makes for a wine with small persistent bubbles that are about 6 to 7 atmospheres of pressure. So, instead of getting bubbles from the tank, these wines become carbonated during an in-bottle secondary fermentation, resulting in a drier, more yeasty taste. Franciacorta and TrentoDOC are the two most revered Italian wines made in this method.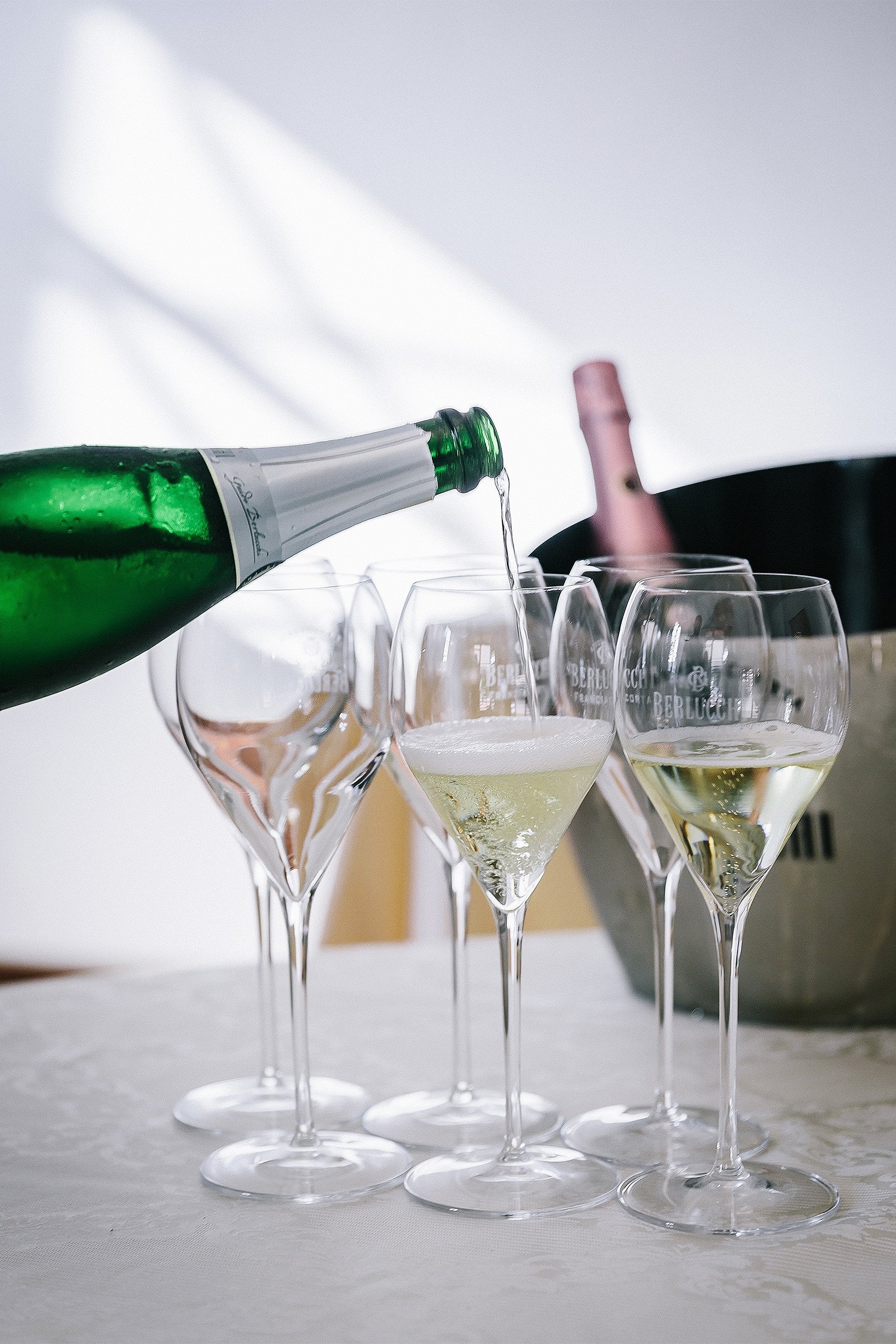 The Main Types of Italian Sparkling Wines
There are five major types of sparkling wines that you'll come across when you travel in Italy: Prosecco, Lambrusco, Asti Spumante, Franciacorta, and TrentoDOC.
Prosecco
The best-known Italian sparkling wine is prosecco. Made via the tank method and produced in Northern Italy's Veneto and Friuli regions, this is a fruit-forward, highly acidic, light-bodied white wine. It's a fresh and crisp wine with notes of green apple, pear, and melon and is best-served ice cold.
Most commonly made with the glera grape, you can find prosecco in brut, extra dry, or dry styles. And there are three main quality levels: prosecco, then prosecco superiore, and the highest quality level are Conegliano Valdobbiadene DOCG and Colli Asolani DOCG.
We adore prosecco with classic appetizers like prosciutto-wrapped melon or peach Caprese.
Lambrusco
For a sparkling red option, look no further than Lambrusco. Grown in the Emilia-Romagna and Lombardy regions, it's a fruity, high acid wine with notes of strawberry, cherry, and rhubarb and is best drank young.
Lambrusco is the name of the wine and a family of indigenous grapes though you'll most commonly find wines made with Lambrusco Salamino or Lambrusco Grasparossa grapes. Back in the day, Lambrusco was only known as a low-quality sweet wine but these days a lot of producers are making noteworthy dry (aka "secco") and off-dry (aka "semisecco) styles. This wine is a dream with charcuterie like prosciutto, coppa, or even Culatello di Zibello.
Asti Spumante
Another popular sparkling wine is Asti Spumante which can be made in various ways but is most commonly made via the tank method. Spumante wine is a sweet wine made with Moscato grapes from Piedmont.
Despite this wine being within the highly-ranked DOCG classification, some think is as being not made as well as other Italian sparkling wines. Don't let that deter you — this is a perfect wine to accompany dessert. 
Note that this is not the same as Moscato D'Asti which is lower alcohol, less effervescent wine that also comes from the same area.
Franciacorta
Finally, there are metodo classico sparkling wines. Similar to classic Champagne, these wines tend to have a taste like brioche, citrus, and biscuit.
One of our favorite sparkling wines made by metodo classico is from Franciacorta. This Italian wine region set along Lake Iseo makes for premium quality and has a dry, yeasty taste. You can read all about Franciacorta here or taste it in person on our group trips.
TrentoDOC
If Franciacorta is not very well known in the United States, TrentoDOC wines are even less known. Coming from the Northern alpine region of Trentino Alto Adige, these white sparkling wines are made with Chardonnay, Pinot Noir, Pinot Meunier, and Pinot Blanc.
The most widely available high-quality TrentoDOC wine is Ferrari Trento and we particularly like the Ferrari Perlé and, for special occasions, the Giulio Ferrari Rosé.
Italian Sparkling Wine Tasting
Now that you know the basics, it's time to dive deep into all things Italian sparkling wine on your next trip to Italy. 
Have Us Plan Your Italy Trip
Did you know we're also a boutique travel agency that specializes in Italy travel planning? If you're looking to plan one of the best trips to Italy, our Italy trip planner services are here to help you plan your perfect itinerary.
---
Photo Credit: Kristen Kellogg and Christine Davis