Designer stores, shopping malls, fish markets, leather stalls, artisan workshops, vintage shops, fruit and vegetable stands, supermarkets, and street vendors: shopping in Italy is as legendary as a plate of pasta alla bolognese. 
However, each shopping experience has its nuances and there are a few things to know before heading out on your shopping adventure. Read on for our best tips to make the most of every euro spent in Italy (and avoid standing out as a tourist).
More Than 19 Tips For Shopping In Italy
Here we will break down what you need to know to shop like a local, and where to go, no matter where you're doing the shopping.
Food Market Shopping In Italy
Few things are more idyllic than an Italian fruit and vegetable stand or fruttivendolo (froo-tee-ven-doh-low). It often looks like something out of a movie, with prices handwritten on small squares of cardboard and little elderly ladies lined up with their trolley carts in tow. Despite that, it can also be intimidating, especially if you don't speak Italian. 
To be successful, and confident, when shopping at a produce stand, remember: only the vendor touches the produce. Your job is to indicate what you want and the amount. This also takes away some of the nerves while shopping as you can point and indicate an amount, no need to worry about handling or bagging the goods.
Measures: Kilos vs. Pounds
Now that you've identified what you want, it's time to explain how much. This is easy for things like oranges or arance (ah-rahn-chay) or apples or mele (meh-leh) (hold up a number using your fingers), but what about stuff like spinach, onions, or beef? 
In Italy, food is measured in kilos, which can confuse those of us used to dealing in pounds. To avoid buying 10 lbs of herbs, or only getting enough ground meat for one single meatball, remember that one pound is about 2.2 kilos. 
To make it easier, round it to 1:2 as in one pound is approximately two kilograms. Therefore, if you want one pound, ask for half a kilo, or if you want half a pound to ask for a quarter kilo. Memorizing this basic conversion will take a lot of the stress out of market shopping.
Useful Italian Phrases For Shopping
Here is some Italian vocabulary that will help you at the market:
Vorrei (vor-EY) I would like
Un chilo (oon, kee-low) – One kilo
Un mezzochilo (met-zo, kee-low) – Half a kilo
Un quartochilo (kew-ar-to, kee-low): ¼ kilo 
Un etto (oon, eht-toe): 100 grams
Supermarket Shopping In Italy
Supermarkets or supermercati (soup-air-mer-cah-tee) simultaneously give a taste of the local culture and allow you to stock your Italian pantry since they usually offer both local specialties and regional goods.
Bag Your Own Produce
But nothing screams tourist like making this classic mistake: as opposed to a fruit and vegetable stand you bag your own produce at a supermarket. But, be warned, it is expected that besides bagging your own produce, you can't simply just pick what you want and go.
Weigh And Tag The Produce
Next to the produce, you'll likely see a stand with gloves and bags. The first step is to be sure to head there and put on a glove before touching anything.
Once you've grabbed your fruit with your gloved hand, you will put it in a bag and then head over to the scale. In Italy, you weigh and tag your own produce. It's a simple process, you simply press the number corresponding to produce and a sticker will print out. Stick this on your fruit bag and close it. 
Have Produce Bagged, Weighed, And Tagged Before You Pay
When you get to the register they will weigh it again to be sure the calculation is correct and then scan it so you can pay. Failure to do this will mean they will not allow you to buy the item because they have no way of scanning the fruit if it's not first bagged and tagged in the produce area.
The rest of the supermarket functions just like American supermarkets. They will usually have a meat counter, bakery, spirits, wine, beer, and more.
FAQs About Shopping In Italy
Why is Italy famous for shopping?
Italy is renowned for its high-quality goods, particularly fashion items, leather goods, food products, and glassware.
What should I buy in Italy?
Italy is famous for its leather goods, ceramics (especially in Sicily and the South), tabletop design, food items (including olive oil, wine, and pasta), fashion items,  and glassware.
What are some shopping tips for Italy?
Some tips include understanding store hours (including break times), learning some basic Italian phrases, respecting shopping etiquette (like not touching produce), looking for quality, and being aware of VAT nad how to get a refund.
Permanent Market Shopping In Italy
An outdoor market known as a mercato all'aperto (mer-cah-toe, all-ah-pair-toe), is a great place to buy artisanal products of every variety. You can hunt down classic finds like jewelry (gioielli, joy-ee-ell-ee) in Naples, glass (vetro, veh-trow) in Venice, vintage and antique markets in Milan, leather (vera pelle, veh-rah, pel-lay) in Florence, and marble (marmo, mahr-mo) in Rome. 
Sometimes, these markets aren't artisanal at all, but just weekly markets that the locals count on as a way to get their necessities. From the regular flea market in Forte dei Marmi to the weekly market in Florence's Cascine park or the Monday market in Milan's Brera district, across Italy you'll find markets that occur on a weekly basis. If you're in search of these, reach out and we'll help you sort it out.
Negotiating Price At An Italian Market
Outdoor markets are perhaps less intimidating than indoor markets, with one big caveat: to negotiate prices or not? In general, outdoor non-food markets would be the only acceptable place to haggle a price. At an outdoor market, you probably have a 50% chance of getting the prices down, depending on the specific vendor. 
For example, in Florence, at the outdoor market, Mercato di San Lorenzo, vendors will pretty much negotiate for any item. However, it might not be the haggling you'd expect. For example, you might find instead of a price reduction, they offer a deal if you buy more than one.  
Understanding Prezzo Fisso
Additionally, in some markets, vendors recently have decided to not allow haggling at all, and they usually post a sign that says "fixed price" (prezzo fisso) with their goods. If you don't see that sign, you can always try to knock a few euros off the total. However, beware that negotiations aren't usually dramatic price cuts. At best, you'll save a few euros, at worst, you'll leave empty-handed.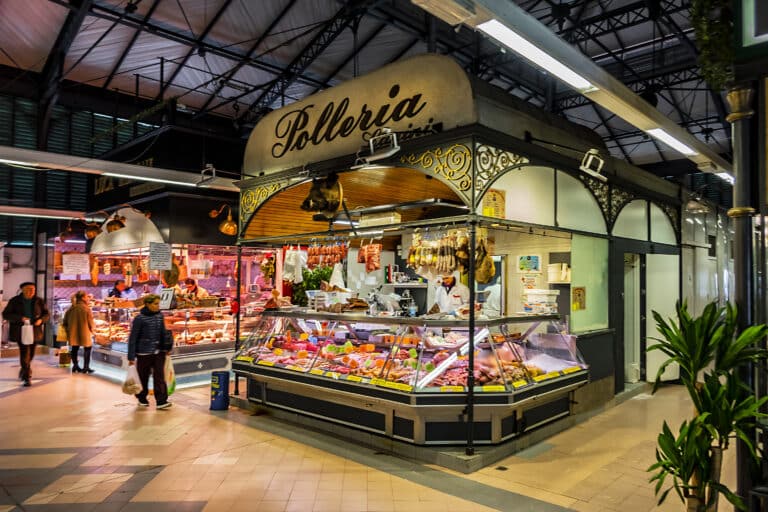 Market Shopping in Florence, Venice and Rome
If you are excited to shop on your trip to Italy, you're not alone. Markets are some of the busiest spots and each city has their can't miss places. From the covered market of Livorno to the fish market of Catania, almost every corner of Italy has a market to explore. If you're heading to any of these places, these markets are not to be missed.
Florence Markets
Florence has three main markets, Mercato Centrale, San Lorenzo, and Sant'Ambrogio. 
Mercato Centrale
This market is made up of an indoor market on two levels. The indoor market has two levels, the bottom level is produce, meat, bread and other comestible goods, while upstairs instead is a place to eat and socialize. This market is heavily touristed, and for good reason. It's still one of the major shopping spots for Florentines and a great place to pick up souvenirs and treats. If you're looking for a fast, but delicious lunch, head up to the second floor and you'll have an almost endless amount of local food vendors to choose from.
To be clear, this market was renovated in 2014 to preserve the ground floor food and meat market and to fill the until-then abandoned second floor with artisan food spots. The team behind this has since launched similar projects in, in Rome (at the Central Station), and in Milan (also at the main train station) and they all now go by "mercato centrale."
Mercato di San Lorenzo
Outside of the Mercato Centrale is the San Lorenzo market. It's composed of street vendors of all kinds, leather, home goods, clothing, and more. Unfortunately, in recent years the amount of "made in Italy" products in this market has decreased, and has been replaced by foreign goods. 
It's much harder than it once was to find quality Italian artisans and items for sale. Your money is often better spent inside a shop, but it can be fun to browse around and look at everything they offer.
Mercato di Sant'Ambrogio 
The most historic market in Florence, Sant'Ambrogio market is named for its location in the Sant'ambrogio neighborhood on the opposite side of the city from the Mercato Centrale. It's a single-story market that has some lunch places worth checking out, but mostly it's a place to buy meat, produce, cheese, and other food items.
After 12 years in Italy, this market is one of my favorites because it's a local gem, with the majority of the shoppers being Florentines doing their daily market trip. Occasionally, around the outside of the market, there will be a pop-up market for buying non-food items. This is a fun place to shop if you need things like clothes or other items for your accommodation in Italy. Additionally, I never miss a stop inside to pick up my favorite truffle cheese and sometimes a pasta dish on the go. 
Milan
While the city of Milan is best known for the high-end fashion area known as the "Quadrilatero della Moda" or the Via Montenapoleone shopping district, the city also has some incredible vintage shopping, antiques, concept shops (see 10 Corso Como or Spazio Rossana Orlandi), and gourmet groceries.   
Mercatone dell'Antiquariato
But the most prized of the open-air markets is the Mercatone dell'Antiquariato, which as the name suggests is an antique market and takes place on the last Sunday of the month. This scenic market hugs the canal known as Naviglio Grande and you can find everything from used books to vintage jewelry among the almost 400 stands. 
Naples
To see this famed city at its loudest and most chaotic, head to one of its many shopping streets or markets. Some of the gaudiest souvenir shopping can be done on Via San Gregorio Armeno, a narrow street renowned across Italy for its pastori or nativity scenes (be sure to stop by the famous Ferrigno workshop). While many heads to Mercato di Porta Nolana for anything and everything from fresh mozzarella to cheap luggage, we suggest you spend time instead at Mercato Pignasecca, which is Naples' oldest market.
Palermo
The capital of Sicily has chic shopping in its modern quarter and many a workshop to explore in its old town but really its most famous for its food markets. There are three main standing markets in Palermo and they are legendary for their rich offerings and because they reflect the region's many historical influences.
While Mercato Ballarò and Mercato Vucciria are worth a visit, the equally-impressive Mercato del Capo is the easiest to navigate for visitors. From Sicilian street food to some of the most prime local produce (oranges! sundried tomatoes! pistachios!), going to one of these markets is a crash course in Sicilian food. 
Venice
Mercato di Rialto
This market in Venice is probably the most well-known, and most frequented market in the city. It's located to the northwest of the Rialto bridge in the San Polo neighborhood, a short walk from the train station, San Marco, and many of Venice's most visited areas. 
It's the perfect place to see and sample delicacies from Venetian cuisine as well as watch locals doing their daily shopping. It boasts both a legendary fresh market and a seafood market next door so there is truly something for everyone here. With Venice's ideal location along the Adriatic sea, the seafood specialties should not be missed.
Rome
Compared to Venice and Florence, Rome is a massive city with many markets. Almost every quarter has its own weekly or daily market such as the Testaccio and Esquilino markets. Wandering Rome, you're sure to run into a market or two, by nature of the size of the city. However, if you want to check out a few popular options, don't miss the Campo de' Fiori market, one of the oldest in the city, and Mercato di Campagna Amica.
Mercato Campo de' Fiori
This market is located exactly from where it takes its name, Campo de' Fiori, in this historic old center of Rome. It's a part of Rome that has in recent years given way to tourism and nowadays it's harder to find locals here than it once was. 
However, the beauty of this market is that it has been there for so long that it's become a true part of Rome. If you arrive early in the morning, you'll see that it still serves as the main market for the remaining locals in the area. It's a place to find groceries of every kind and still hear an authentic Roman accent or two while shopping. 
Mercato di Campagna Amica
If instead, if you're looking for edible goodies and food souvenirs, try exploring the more modern Mercato di Campagna Amica. Located near Circus Maximus, this hyperlocal only sells products made and grown in Lazio (the region where Rome is located). It's a great place to find local honey, prosciutto, and other foodstuffs, plus a large number of sauces and other delicacies already jarred and ready for transport.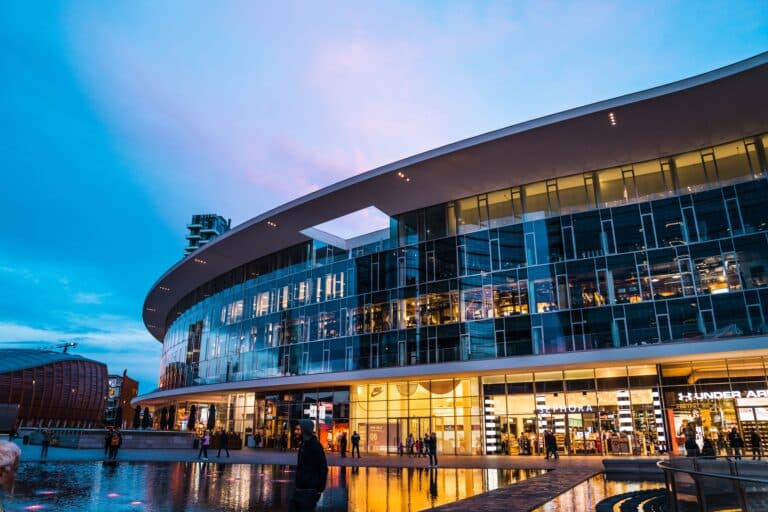 Other Shopping In Italy
Besides food, there are other types of shopping worth exploring in Italy.
Vintage and Antique Shopping
In particular, for the vintage lover, you can find phenomenal boutiques with high-quality vintage clothing and accessories in almost all major Italian cities (search "vintage" in Google Maps).
Shopping Malls
You can also find regular shopping malls with mainstream stores like Zara, if you prefer strolling indoors (look for a centro commerciale (chen-trow, coh-mer-chal-ay) on the map). Most are modern Milan's Gae Aulenti plaza (pictured here).
Department Stores
Right at the heart of many downtowns, you can also visit Italian department stores such as COIN and Rinascente to find everything from makeup to clothes to homewares.
High Fashion Shopping Streets
Instead, if you're more of a high-end luxury brand lover, you can also hit up the famous shopping streets in places like Rome (Via Condotti and Via del Corso), Milan (Via Montenapoleone), Turin (Via Roma), and Firenze (Via Tornabuoni).
Outlet Stores
Discounted designer lovers should head to the outlet malls for discounts. The Tuscany designer outlet mall outside of Florence, called The Mall, has high-end Italian brands like Giorgio Armani, Gucci, Versace, Valentino, and more.
Bi-Annual Sales
And lastly, if you're truly a fashion die-hard, your best shopping in Italy will be during the twice-yearly sales seasons happen. The first is in January, and the second is in July. Each sales cycle lasts about 6 weeks, and it is the perfect time to go on a shopping spree and benefit from prices that just can't be found the rest of the year.
No matter your preference, from fettuccini to Fendi, shopping in Italy will always have something to please everyone. So, If you're looking for a specific type of shopping in Italy, don't hesitate to get in touch.
When providing our travel planning services, we've shared our recommendations be it to buy truffles in Alba, chocolate in Turin, ceramics in Sicily, limoncello on the Amalfi Coast, vintage shopping in Milan, or our pick of artisans everywhere from Bergamo to Rome.
Have Us Plan Your Italy Trip
Did you know we're also a boutique travel agency that specializes in Italy travel planning? If you're looking to plan one of the best trips to Italy, our Italy trip planner services are here to help you plan your perfect itinerary.
---
Photo Credit: Opening photo by Simone Pellegrini on Unsplash; fruit stand photo by Gabriella Clare Marino on Unsplash ; Florence covered market photo by Kiev.Victor; Mall in milan photo by Zac Wolff on Unsplash