When it comes to dessert, there are times you have to go 100% classic.
I'm talking chocolate chip cookies, peach ice cream, pecan pie kind of classic. Another time you have to go classic is when you make tiramisu.
We're always fans of classic Italian desserts because, whether it's biscotti, gelato, or granita, they're usually not too sweet and pretty easy to make. But, of them all, we love a super traditional tiramisu.
We're talking a mix of airy, light texture, sweet and bittersweet flavors, and a creamy, richness that transports you to Italy in one bite.
The Origin Of Classic Tiramisu
It's no doubt that this dessert is from Italy but the precise region and it's exact origin are debated. It's generally accepted that the dessert comes from Northeastern Italy.
But it isn't clear whether it hails from the Veneto or the neighboring region of Friuli-Venezia-Giulia. No matter the source when you travel to Italy you'll find tiramisu served across the country.
Similar to a trifle, tiramisu is most commonly made by layering Savoiardi sponge cookies (aka ladyfingers) that are dipped in espresso with a light-as-air cream that's a mixture of mascarpone cream, sugar, and eggs.
Pronounced "teer-ah-mee-sue" the dessert's name translates to "pick-me-up" most likely about the jolt of energy you get from the one-two combo of sugar and espresso.
So, What Is Classic Tiramisu?
You're thinking, "I've had a ton of tiramisu and want something new!"
But here's the thing: are you sure you've had the classic version? I ask because many versions of this recipe call for steps or ingredients (ahem, ricotta, cream cheese, heavy cream) that frankly aren't traditional.
Look, we're all for twists and turns to make recipes more accessible but these tweaks are unnecessary if the recipe is made well.
Even so there's just a lot of bad tiramisu out there. Yes, this is one of those desserts where even a bad version is usually still pretty tasty. But a few common culprits make the recipe just not great. Often times it's too sweet, the raw egg flavor dominates and it's too "eggy" tasting, or the coffee soak is too aggressive and the whole thing ends up a soggy mess.
I think what's happened is that, over the years, people have wanted to make it easier or faster or cheaper and the result is a direct sacrifice in quality.
So, How Do You Make A Great Tiramisu?
Here's the deal: this recipe is all about balance. In terms of flavor, you want to taste both the mascarpone cheese and the espresso. As for texture, you want the soaked ladyfingers to dip long enough that they're soft but not so long that they're falling apart. 
After years of making it, I figured it was time to share my classic tiramisu recipe. Here are tips to make sure it's a success each time you make it:
Don't Use Cream: A traditional tiramisu doesn't include cream. By cooking the eggs slightly you not only get rid of an "eggy" flavor that some tiramisu recipes have but also make a sort of custard base that allows you to get a nice thick mascarpone cream without adding in heavy cream.
Don't Over Soak The Ladyfingers: Often times tiramisu has ladyfingers that are so soaked that they're disintegrating as you bite into them. In this recipe, we achieve that by only dipping one side of the ladyfingers!
Keep Things Super Clean: Make sure the mixing bowl is super clean before you whip the egg whites, or they may not increase in volume. After cleaning with soapy water, go ahead and rinse everything with distilled white vinegar to ensure it's clean. Just dry it thoroughly so you don't have a major vinegar flavor in the recipe.
Mascarpone Cheese: To be clear, mascarpone and cream cheese are similar but not the same thing. Mascarpone is a sort of Italian cream cheese made with whole milk so it is richer and creamier than the cream cheese you find in the United States. In a pinch, you can use good quality cream cheese in place of the mascarpone but try to hunt down mascarpone because it adds a sweet richness that really makes the dessert.
The key is that you buy the best quality ingredients and cook the egg yolks just a touch so the whole mixture is less about the egg flavor and puts the spotlight on the mascarpone. Now when I said I like to go classic, I meant in terms of technique and ingredients, but not necessarily in presentation.
Tiramisu In Cake Form
Okay, so, to be honest, this recipe isn't 100% classic. The first twist on the classic recipe that we do here? We layer it in a springform pan so it has more of a cake or charlotte look to the final product. Also, it has the addition of salt, vanilla, and alcohol for better depth of flavor. 
True, laying the tiramisu in a glass baking dish is the most common way you'll see tiramisu served when you travel to Italy, but I love the unexpected look of it here.
I took the technique for making a Charlotte (as in stacking the ladyfingers on the inside of a round dish in a circle, and that one extra step gives a modern look to this otherwise super classic Italian dessert!
Now go stock up on all your cooking essentials, head into the kitchen, make this, and share it with us by tagging @saltandwind and #swsociety on social!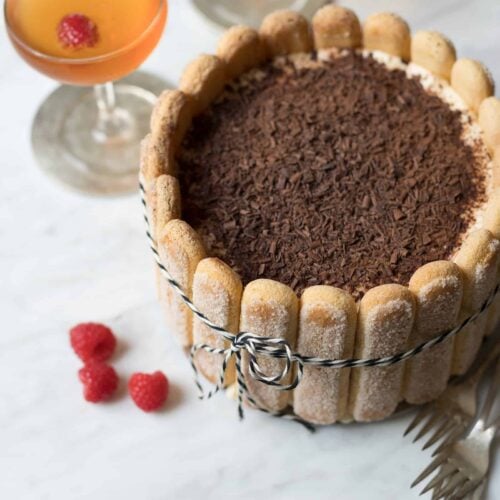 Classic Italian Tiramisu Cake Recipe
There are times you gotta go 100% classic. Like when it comes to making tiramisu. A few quality ingredients and a little extra effort means the difference between a recipe that is subpar or, like this one, the Classic Italian Tiramisu Cake recipe is total perfection!
Ingredients
For The Tiramisu:
4

large

very fresh, high-quality eggs

divided

3/4

cup

granulated sugar

8

ounces

Mascarpone cheese

1

tablespoon

pure vanilla extract

or the inside bits from a vanilla bean (optional)

1

pinch

kosher salt

1

cup

espresso or strong coffee

2

tablespoons

dark rum

or kahlúa (optional)

3

(7 ounce) packages

ladyfingers (aka Savoiardi)
For Garnish:
1/4

cup

dutch-process cocoa powder

for garnish

Dark chocolate (about 72%),

for garnish (optional)
Instructions
Make The Tiramisu Base: Prepare a 6-inch or 8-inch springform pan by lining the bottom with a round of parchment or wax paper. Set aside.

Meanwhile, carefully separate the eggs and set the whites in the refrigerator until ready to use. Combine the egg yolks and sugar in the bowl of a stand mixer fitted with a whisk attachment. Beat on medium speed until the mixture is well combined and thicker, about 3 minutes. 

Transfer the egg yolk mixture to a double boiler or to a heatproof (glass or metallic) bowl and set it over a small pan of simmering water. Constantly whisk the mixture until it reaches 160°F then immediately remove from the heat and pour it back in the stand mixer bowl.

Add the mascarpone cream then, scraping down the sides of the bowl periodically, beat the mixture on medium speed until it's thoroughly combined. If using, add the vanilla then stir to incorporate. Remove the mascarpone mixture to a bowl and set aside to cool. 

Whip The Egg Whites: Thoroughly clean the stand mixer bowl and whisk attachment, dry the mixing bowl, then return it to the stand mixer and add the egg whites.

Beat on medium speed until frothy then add a pinch of salt. Keep beating the mixture until the egg whites are stiff peaks (the egg whites won't move when you turn the mixing bowl upside down). Add 1/3 of the egg whites to the mascarpone mixture and stir well to combine. Then gently fold in the remaining egg whites. 

Dip The Ladyfingers: Brew 1 cup of very strong coffee or espresso and add in dark rum or kahlúa, if using. Place coffee mixture in a shallow dish then begin to assemble the tiramisu.

To assemble, arrange some dry (undipped) ladyfingers one next to the other into an upright border around the inside edge of the springform pan. You should be able to fit enough so they are snug and hold each other in place by the time you're finished. 

Assemble The Tiramisu: Dip the top (the sugared side) of a ladyfinger in the coffee mixture then arrange in dipped-side up in the bottom of the pan. Continue until you have a tight layer of ladyfingers on the bottom of the pan (you will need to trim some to fit into the random holes).

Add about 1-inch of the mascarpone cream mixture (about 1 1/3 cups) then smooth into an even layer with a rubber spatula. Sift a spoonful of cocoa powder even over the layer. Repeat two more times to make three layers in total (you should use up all the mascarpone cream by the end) to assemble the tiramisu cake. Do not put on the last layer of cocoa until ready to serve. 

Lightly cover the tiramisu cake with plastic wrap and transfer to the refrigerator until set, at least 6 hours and preferably 12 hours. 

Serve The Tiramisu: Take the tiramisu out of the refrigerator just before you're ready to eat it. To serve the tiramisu, carefully remove the springform pan ring then garnish the top with a last layer of cocoa powder and, if desired, some chocolate curls. Use a very sharp knife to cut the tiramisu cake into wedges and serve immediately.
PERSONAL NOTES
Nutrition
Serving:
1
serving
Calories:
173
kcal
Carbohydrates:
15
g
Protein:
4
g
Fat:
10
g
Saturated Fat:
6
g
Polyunsaturated Fat:
0.3
g
Monounsaturated Fat:
1
g
Trans Fat:
0.01
g
Cholesterol:
81
mg
Sodium:
41
mg
Potassium:
75
mg
Fiber:
1
g
Sugar:
13
g
Vitamin A:
356
IU
Vitamin C:
0.04
mg
Calcium:
39
mg
Iron:
1
mg