There is possibly no greater skill than that of mastering the Italian aperitivo.
Ok, that's probably embellishing, but a few things are more enjoyable when you travel to Italy. Aperitivo is that time of day where you sit at a sidewalk cafe to people watch and reflect on the day's adventures.
The Origin Of Italian Aperitivo
Wondering if 'aperitivo' is Italian for happy hour? Yes and no. Aperitivo happens around the same time as happy hour, but that would be like calling a Ferrari a car — accurate but not the whole story.
Historically aperitivo hails from the Northern Italian city of Turin, and it started as a pre-dinner cocktail hour. And some of the most classic Italian cocktails like the Negroni, the Bellini, and the Spritz come from this tradition.
How To Do Aperitivo
These days you'll see Italians across the country practicing the art of aperitivo, and the cocktails served are both traditional and modern.
Along with your cocktails, some will give you traditional nibbles like potato chips and olives. Meanwhile, other places will serve up an array of small bites from arancini to focaccia and risotto.
Did we mention it's often just for the price of a cocktail?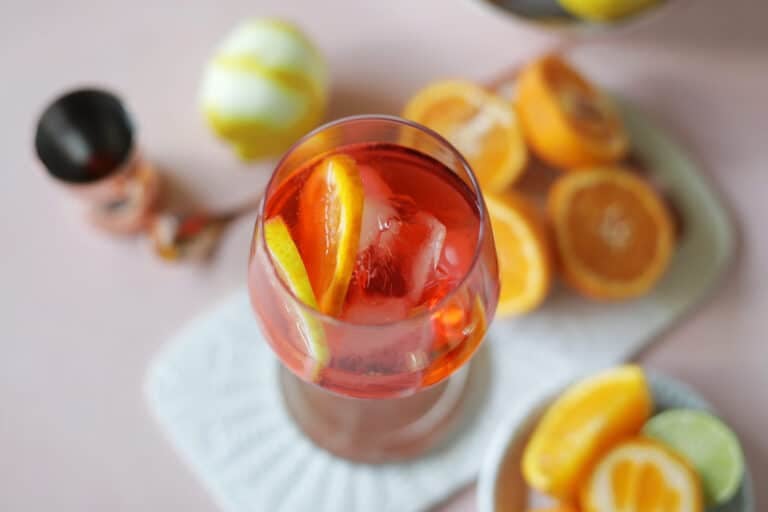 What Is An Aperol Spritz Cocktail?
Regardless of where or how you aperitivo, there are a few cocktails that you'll see time and again. They are the classic Italian cocktails that are said to whet your appetite before dinner.
One of our favorite drinks at aperitivo is the Spritz. It's a cocktail served throughout the Northeast part of Italy, with a variation in almost every town from Milan to Verona to Venice. The best part is that the Spritz is a low alcohol cocktail, so you can enjoy happy hour without overdoing it.
Classic Variations On Spritz Cocktails
Depending on where you travel in Italy, a Spritz cocktail will have a different style. You'll find the cocktail served in a variety of glasses, made with a variety of wines and various bitter liquors.
About now, you're probably wondering what makes an Aperol spritz classic? The truth is it's one of the more recent versions of the drink, but now the Aperol Spritz is probably the most common take on the cocktail you'll find. But the cocktail could be made with Amari ranging from the artichoke flavored liquor known a Cynar to the classic Campari.
Amaro And Wine Are Key
The Aperol Spritz is one of the most popular drinks in Italy, has recently become a sort of icon for classic Italian cocktails as of late.
To clarify, the Spritz is not so much one cocktail as it is a family of drinks. All Spritzes are made by combining wine, club soda or sparkling water, and a bitter liquor known as Amari.
The reason a Spritz cocktail is so beloved? The bitter and bubbly combine to make a slightly sweet and super refreshing drink during hot Italian summer days. And the lower alcohol content means you can sip a few without regret.
As for the taste, Aperol has slight bitterness compared to other Amari. And that fact makes it a sort of the gateway to the whole family of liqueurs. Also, the hint of rhubarb and citrus flavor makes it really food-friendly and pretty perfect for a happy hour drink.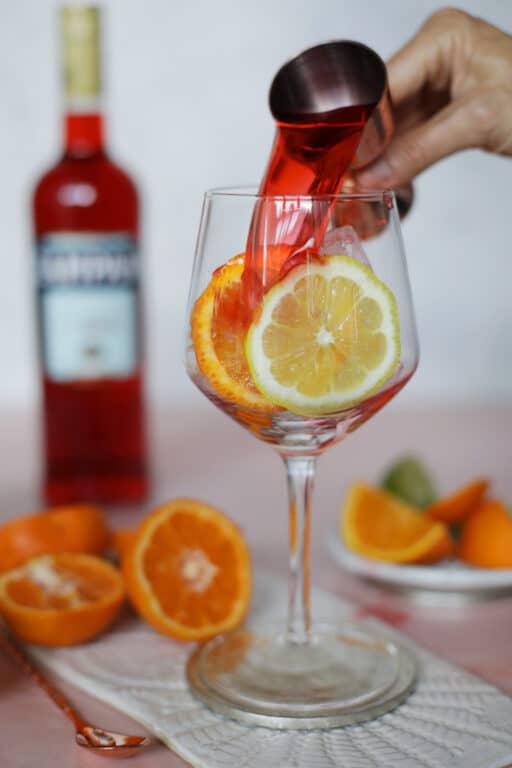 How To Make An Aperol Spritz
This is one of those classic cocktails because it's easy to make and easy to remember! Even so, a few tips help make it amazing:
Quality Ice
We're sticklers for quality ingredients around here, so make sure the water for the ice and the sparkling water are tiptop. That will ensure you have the cleanest, best-tasting cocktail.
Find Your Ratio
The classic ratio for an Aperol Spritz is 3-2-1 as in 3 parts dry prosecco to 2 parts Aperol and one splash of sparkling water. However, some people like equal parts Aperol to Prosecco while others like it watered down. Start with the ratio below and alter it to your taste.
Garnish With A Lemon Or Orange Slice
The slice of lemon or orange isn't just for looks — it gives a lot of flavor to the drink, so don't forget it!
Variations On The Spritz To Try
There are all sorts of modern twists on the classic Aperol Spritz, from making a White Spritz to varying the alcohol, as we mentioned above. These are some more modern takes on the Aperol Spritz, from adding in mezcal to making it frozen!
Okay, your turn to mix it up and try it out. Go stock up on all your bar essentials, then head into the kitchen, make this, and share it with us by tagging @saltandwind and #swsociety on social!
Classic Aperol Spritz Cocktail Recipe
A simple recipe for the most popular Italian cocktail of them all: Classic Aperol Spritz Cocktail. This wine-based cocktail from Northern Italy has a slightly bitter and sweet flavor with hints of orange, herbs, and rhubarb. Here is our recipe and tips for making a great Aperol Spritz every time.
Ingredients
3

ounces

chilled Prosecco

2

ounces

Aperol

ice

1

ounce

sparkling water

1

medium

orange

or lemon, sliced for garnish
Instructions
Make The Cocktail: Fill a white wine glass with ice, pour in the Prosecco or sparkling wine, add the Aperol and the orange slice. Pour in a splash of soda, give it a brief stir, and serve immediately.
PERSONAL NOTES
Nutrition
Serving:
1
drink
Calories:
255
kcal
Carbohydrates:
32
g
Protein:
1
g
Fat:
1
g
Saturated Fat:
1
g
Polyunsaturated Fat:
1
g
Monounsaturated Fat:
1
g
Sodium:
6
mg
Potassium:
312
mg
Fiber:
3
g
Sugar:
13
g
Vitamin A:
295
IU
Vitamin C:
70
mg
Calcium:
60
mg
Iron:
1
mg