Sooner or later, it'll happen. If you travel to Lake Garda, someone will suggest you visit the historic city of Sirmione, Italy. And, well, we couldn't agree more. Yes, Sirmione is that town. As in the town they visited in Call Me By Your Name, where there are Roman ruins and a castle set along impossibly clear turquoise waters.
There are a lot of stunning historic villages to visit when you travel to Italy. But few have the combos of looks, history, geography, gorgeous water, and charm of Sirmione.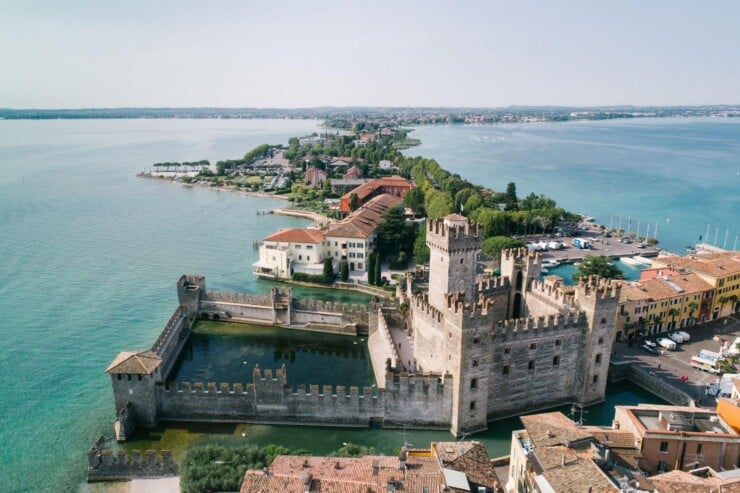 Get To Know Sirmione
You must know that this town is not unknown. And while we always try to introduce you to places that are a deeper cut, and we're all about avoiding classic touristy mistakes and skipping the uber-crowded spots, sometimes the best-known places deserve their recognition. And that's very much the case.
Naysayers will tell you there are touristy crowds in midsummer (and they're right), but we don't think that's a reason to 100% skip it. Rather it just requires you're strategic when you travel there!
The History Of Sirmione
This isn't merely a quaint Italian town on the southern shore of Lake Garda. It's also historically and geographically significant, thanks to its location on the border of Lombardy and Veneto provinces and because it's on a narrow, long peninsula that juts into the lake.
Over the centuries, Sirmione has drawn everyone from intellectuals to nobles, including the likes of the poet Catullus and the opera diva Maria Callas. These days visitors flock to visit the old town, which, in our opinion, is one of Lake Garda's prettiest historic villages.
Why You Should Travel To Sirmione
One of the things that surprised us most on our first visit? For a town so small, there's a lot to do.
Yes, you could easily day trip and do nothing more than walk the town, stroll the lakeside, and grab a bite. But, if we had the means, we'd spend a long weekend at the luxury hotels pampering ourselves with spa services.
Our advice for a first-time visit would be to make an extended day trip. Your itinerary could be to arrive early in the morning and visit the historic sites, escape the daytime crowds with a midday spa service and wrap up the day with a classic Italian aperitivo cocktail on the square!
If visiting outside the shoulder season, consider staying a few days. It's a great launching pad for exploring Lake Garda, from Salò to Riva del Garda. And you can take a day trip to nearby destinations, such as Verona, Valpolicella wine region, Gardaland amusement park, and Santuario Madonna della Corona, to name a few.
More Than 9 Things To Do In Sirmione
Give yourself time to explore the historic town center and wander the narrow streets for everything from a meal to shopping and some history. If you're into the beach and wellness, you could spend all day walking the lakeside trails and dipping in the thermal baths.
Or, if history and culture are a must for you, you can visit the Scaligero Castle, the Roman ruins, or even peek into the house where Maria Callas used to get some R&R. We say do a mix of it all. Here are more than 9 things to do in Sirmione:
For Gorgeous Views: Sirmione's Castle
The Scaliger Castle is a 13th-century fortress and castle surrounded by water that stands at attention on the southern tip of the historic city center. The castle is known for being one of the best-conserved castles in Italy, but we love it because a turquoise moat surrounds it, and you can climb the steep steps for an incredible panorama of Lake Garda.
For Roman Ruins: The Grottoes Of Catullus
Speaking of "Call Me By Your Name," this is where they filmed the archaeological dig scenes. The Roman ruins are situated at the end of the oh-so-skinny peninsula known as "Grotte di Catullo." The Roman villa dates back to the 1st century B.C. and is one of the best-preserved ancient sites in Northern Italy.
For History: Church of San Pietro In Mavino
From the Grotta di Catullo, you can walk to Sirmione's oldest church, San Pietro in Mavino. The interior frescoes date back to the 12th century, while the bell tower is dated to 1070 AD. 
For Relaxation: Thermal Baths "Terme di Sirmione"
One of the reasons people have hung out here since Roman times? The thermal baths! Sirmione has two main thermal baths – the Terme di Catullo in the town and the Terme di Virgilio in Colombare. So, if you have time, spend some at a thermal spa or book massages.
For Exploration: Boat The Lake
The ferry system on Lake Garda is extensive and provides regular service in the high season. So, many of our clients hop on the ferry to explore the lake by boat. However, we can also help you arrange a private boat tour to explore as far afield as the Isola del Garda, where you can visit the beautiful gardens known as the "Giardino dell'Isola del Garda."
For Exploration: Wine Tasting
There are some lesser-known but very much worth your time wine regions nearby. Within an hour, you could sip white wines of the Lugana DOC or even head north to the historic reds of Valpolicella. If you're willing to make a full-day trip, you could even drive to Trento or to Franciacorta to try premium sparkling wine. Of course, if you need help arranging that, we're here to help!
For Exploration: Day Trips
Its location on the shores of Lake Garda means that you could make many a day trip from Sirmione. To the west, you could head to the walled city of Bergamo (we love the local shops there!) or head into storied Verona for an opera.
It's worth it to circumvent the lake by ferry or car to see the nearby towns like Saló, Bardolino, and Lazise. If you have kids in tow, you'll want to visit the beloved amusement park, Gardaland, and its aquarium.
For Relaxation: Aperitivo On Piaza Carducci
Hang around Salt & Wind long enough, and you probably start to notice that we love ourselves a good aperitivo cocktail. When you visit, the place to do aperitivo is Caffe Grand Italia on the quaint Piazza Carducci. Full disclosure: we go here more for the people-watching and the piazza-side tables than for the drinks or food, but it's a fun place to relax for a second.
Where To Eat In Sirmione
Many of our travel planning clients eat in the historic city center. You can find places as varied as the Michelin-starred La Rucola 2.0, the lakefront dining at Tancredi, or classic Italian food at Tavernetta Maria Callas. If you're staying longer than a few nights, we encourage you to head to nearby Desenzano del Garda, Salò, or San Felice del Benaco for a meal to see a different side of this area. Contact us if you want to help to decide where to eat in Sirmione or to make restaurant reservations.

Where To Stay In Sirmione
Sometimes you gotta go big and grand and over-the-top, we get it. In the case of Sirmione's historic city center, that's when you book a room at the 5-star luxury property, the Villa Cortine Palace Hotel. As the name suggests, this hotel was first a villa and then converted into a hotel in the 1950s.
Its location at the end of the Sirmione peninsula means it has gorgeous views of Lake Garda that provide direct access to the famous thermal waters and a private beach. We're fans of it not only for the service and old-world charm but because the grounds of the sprawling 12-acre property are jaw-dropping.
Chic and Central Hotel: Hotel Eden
This 4-star hotel is the easiest hotel to get to in the historic center of Sirmione because it's just a few strides inside the walled city center. But that alone is not a reason to stay here! Its lakefront terrace, gorgeous views, easy beach access, and central location, however, very much are!
If small, chic, and boutique are your deal, you'll want to check out this modern 18-room hotel. Its location just outside the historic city center means the Aqva Boutique Hotel is quieter than the other hotels. Add to it that they have a cute library, a private dock, a gorgeous pool, and free bikes for riding around, and, well, we're fans!

How do you pronounce Sirmione?
Great question! Sirmione is pronounced, "Sear-me-oh-neh."
Is Sirmione worth going to?
We certainly think so! Many travelers visit small towns in Central Italy but don't do so in Northern Italy, and we think it's a shame. There is a mix of hill towns, some historical, and some lakeside (like Sirmione!) — that really help you get a feel for the area's beauty and history.
What is the best time to visit Sirmione?
Look, the historic core of Sirmione can get very busy during the high season (July and August) as tons of visitors pour in for day visits. Lake Garda is a playground for Italians and many Northern Europeans (especially Austrians, Swiss, Germans, and Dutch). That's not to say that this historic town on Lake Garda isn't worth a visit, but, like so many uber-popular spots these days, it can feel like Disneyland if you visit amid the high season.
If you want to visit during the high season, we recommend going very early or late in the day, as most visitors seem to visit between 10 AM and 4 PM.
Like many smaller towns in Northern Italy, many of the main attractions are open seasonally from Easter through October. We suggest you avoid the height of summer and visit in May, June, September, or October when crowds are gone, but the weather is still nice (ie, late Spring and early Fall as we do on our Salt & Wind Italy trips).
How long should I visit Sirmione?
Most of our travel clients take day trips to Sirmione from Verona, other parts of Lake Garda, Franciacorta, or Milan. At a minimum, plan to spend a half day eating, shopping, and exploring. However, with everything from wine tasting and ruins nearby, it also makes for a great long weekend getaway.
How To Get To Sirmione
By Train
The nearest train stations are just under 10 miles in Peschiera del Garda and Desenzano del Garda. From either train station, you can hop on a local bus or grab a taxi to get to the historic center of Sirmione.
By Ferry
If you're staying on Lake Garda, the local ferry is likely the easiest way to get to Sirmione – especially if you only plan on staying for a few hours.
By Car
If you're arriving by car from the west or east (i.e., Milan or Verona, or Venice), you'll want to hop on the A4/E70 highway and then follow the signs for Sirmione Centro Storico (as in the historical part and not the modern town of Sirmione). If you're staying on Lake Garda and driving over, it's easy to get to though it could take a while if there is traffic or weather. There is a ton of parking just outside the historic city center, so try to drive as close as possible to the historic city center entrance before parking.
Have Us Plan Your Italy Trip
Did you know we're also a boutique travel agency that specializes in Italy travel planning? If you're looking to plan one of the best trips to Italy, our Italy trip planner services are here to help you plan your perfect itinerary.
---
Photo Credit: Salt & Wind and Dreamwood