When in Venice, eat as the Venetians do. That's how the saying goes, right?
In Italy, eating is living. So when you travel to Italy, adopting some of the culinary ways of life and trying local delicacies will enhance your experience. Maybe you'll become accustomed to Italian aperitivo or adjust your dinnertime to later in the evening when most Italians sit down to eat.
And. when you visit Venice, you absolutely must try cicchetti. If you've never heard of these traditional Venetian small dishes before, then this guide will tell you everything you need to know—from what types of foods you can expect to how to order cicchetti in Venice. Soon enough, you'll dine like a local!
What Is Cicchetti?
You may see the word written as ciccheti or cichetti, but the sentiment is the same: mini dishes similar to Spanish tapas. Cicchetti—pronounced "chee-KET-eeh"—will give you a range of fresh, in-season foods to nibble on, allowing you to sample a wide range of traditional Italian specialties.
Cicchetti's meaning is believed to derive from the Latin word ciccus, meaning "little" or "nothing." Other theories imply the name comes from the Spanish word chico, for "small."
Note that cicchetti is the plural of cicchetto, although you'll pretty much never see it written in the singular form. When it comes to these tasty, tiny bites, it's impossible to have just one!
The History of Venetian Cicchetti 
The concept behind cicchetti most likely originated as fast, easy meals for the merchants of Venice. Imagine throngs of people gathering in a bustling Piazza San Marco or Rialto Market hundreds of years ago, selling and buying wares. 
For wine sellers, having a few small bites helped customers soak up some of the alcohol; for others, business deals may have been sealed with a glass and a toast of cin cin, along with a snack.
Cicchetti Culture Today
Today, you can find hip places that sell innovative takes on these bites, but the most authentic spot to enjoy them is at a bàcaro (pronounced "BAH-kah-roe"). Bacari in Italy are the Venetian take on taverns—they're no fuss, usually on the smaller side, and oftentimes standing room only.
Classic Cicchetti Dishes To Order
Some might consider grabbing cicchetti a kind of aperitivo Venice has to offer. But aperitivo in Italy happens later in the day while eating cicchetti can happen anytime.
Most will be finger food and small enough to consume in a couple of bites (or even whole). You can expect to pay around €1 to €2 per cicchetto, although the price will go up based on the ingredients. Their price and size make it easy to mix and match, making your ideal meal.
Offerings range from simple and straightforward items like olives or hard-boiled eggs to tiny sandwiches or fried foods. Considering Venice's location in the Adriatic Sea, some of the most traditional cicchetti dishes involve seafood, ranging from anchovies to tuna.
Examples of what you might find at a cicchetti bar include baccalà mantecato (whipped salt cod that's usually on top of slices of grilled polenta), polpette (fried meatballs), insalata di polpo (marinated octopus salad), or sarde in saor (sardines in a sweet and sour vinegar sauce).
Sandwiches make for excellent cicchetti fare—paninis skewered with a toothpick are easy to grab and enjoy, or tramezzini, triangular-cut white bread sandwiches filled with things like tuna or prosciutto. Many bàcaro will also have simple yet satisfying finger foods, like olives, pickled vegetables, or crostini.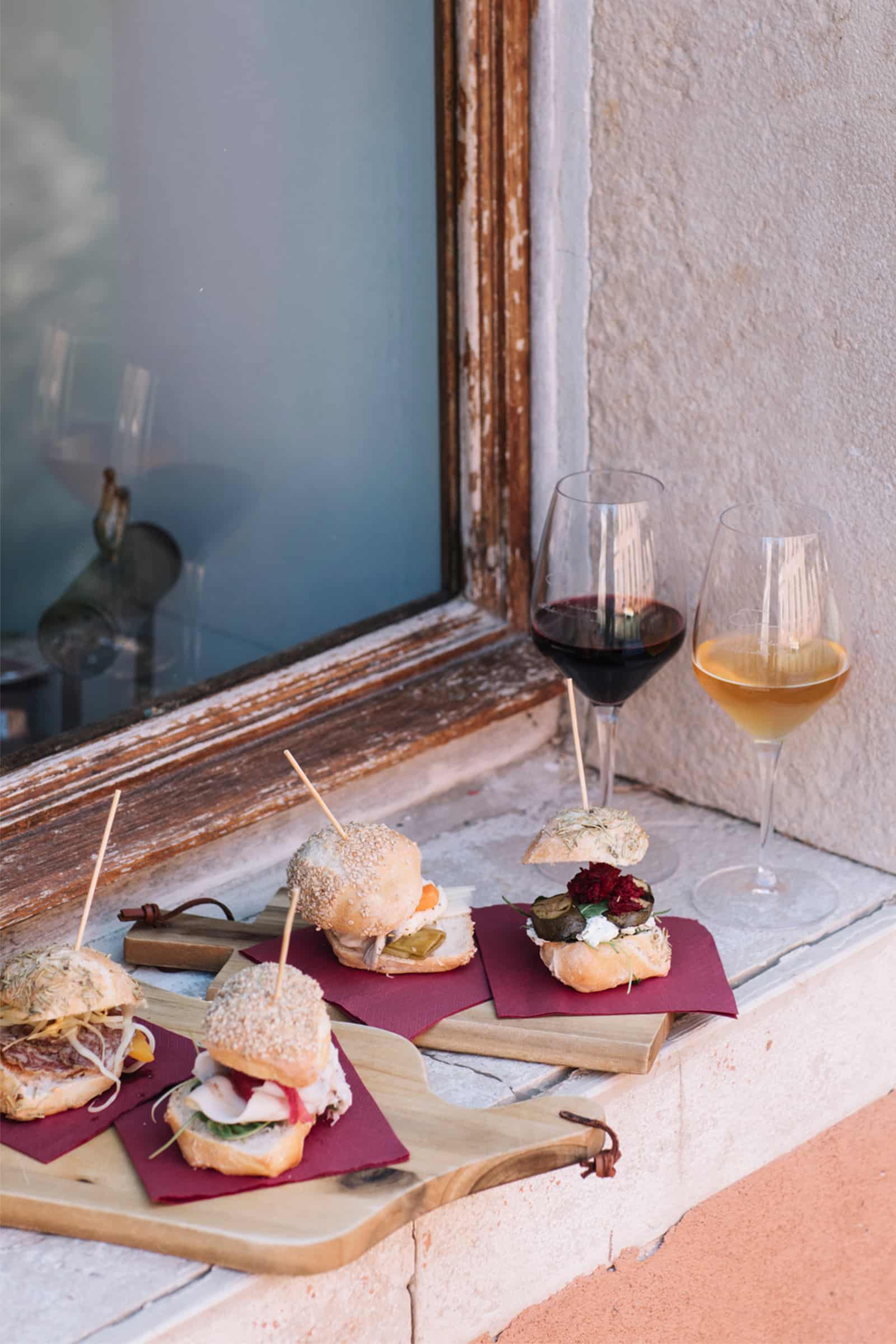 Tips for Going to Bacari in Venice
To get some of the best (and most authentic) cicchetti Venice has, you'll want to visit one of Venice's traditional bars. This experience will differ from sitting down in a restaurant for a meal, so here are some tips to give you the best bacaro experience.
Go Off The Beaten Path: 

Because locals love their bacari, expect to go off the beaten path to find some delicious cicchetti. Some popular spots include I Rusteghi, Cantina Do Mori, and Bar All'Arco Venezia—but part of the charm of Venice is getting lost, so feel free to venture down the city's streets and see where they may take you.

Look For Crowds: 

Have you discovered a bacaro that's jam-packed? Good! If a place has plenty of patrons then the quality is probably top-notch. Heading out for some cicchetti won't be like an ultra-quiet, relaxed sit-down dinner (most wouldn't take reservations even if you wanted), but this kind of meal will give you a literal taste of local life.

Standing Room:


Speaking of seating, many bacari don't have any chairs or tables. Luckily cicchetti don't require big plates or utensils! If seating is available, keep in mind you will pay a small service fee should you choose to dine and drink at a table.

Eat Early: 

If you want to venture out for an evening cicchetti tour in Venice, start early since many bacari close by 8 PM or 9 PM. These morsels make a great snack or meal for breakfast, lunch, or dinner, so you could actually spend the whole day sourcing cicchetti around the city.

Opt For Wine: 

Want a small portion of wine to go with your food? Ask for un'ombra di vino. When merchants sold wine in Piazza San Marco, they would move barrels of wine around to the shady spots to avoid their goods spoiling in the sun. People referred to going for a few glasses of wine as grabbing some shade (or ombra), and Venetians still use the term today.

Super Fresh Fare: 


Expect the freshest of ingredients with these little dishes. Because bacari use ripe ingredients from the region, what's on the menu can change hour by hour.

Affordable Eats: 

A cicchetti meal won't break the bank at only €1 to €2 a pop, but bring cash—some bacari are old-school and don't accept credit card payments.

Manners, Per Piacere: 

When you'd like to place your order, all you really have to do is point to the cicchetti in the display case that you'd like. While this doesn't require any Italian language, people will always appreciate a per favore and grazie!
Planning Your Dream Italian Vacation
At Salt & Wind Travel, we're here to help lovers of food and wine travel to the world's best locations. Our travel planning services are ideal if you want to see the real destinations when you arrive rather than just landing in another tourist trap, if you don't have the time to plan your trip, or if you're unfamiliar with your planned destination. 
Let us help you plan your Italian vacation so that you can have the trip of a lifetime. You can learn more about our travel planning services here.
---
Photo Credit: Alberto Bogo