Cue the pool time, bbq-ing, and fireworks — the 4th of July is on the horizon. Of course we want to enjoy it all, but, in attempts to be an hostess extraordinaire, we sometimes get caught up prepping and miss the fun.
Make-Ahead Recipes for July 4th
Our solution: make as much as possible ahead of time. This list of foolproof recipes can all be prepared ahead of time, so that whether you're entertaining a crowd or just bringing a dish or two to a potluck, you can spend minimal time cooking the day-of, and maximum time enjoying your Independence Day.
Small Bites and Appetizers
dairy free, gluten free, vegan, vegetarian The combination of chiles, garlic, and lime makes these peanuts possibly the most perfect make-ahead bar snack.
dairy free, gluten free, vegan, vegetarian The ultimate in set-it-and-forget-it snacks, these spiced boiled peanuts are no-fuss but full of flavor.
dairy free, gluten free, nut free One of our favorite classic American appetizers is the Southern staple of pickled shrimp. Loaded with herbs, lemons, and chiles, the only work required is to find the best shrimp you can then mix and marinate.
dairy free, gluten free, nut free We had this shrimp ceviche on a trip to Todos Santos, Mexico and insisted they share the recipe with us! It's refreshing, easy to make, and filled with summery flavors.
dairy free, gluten free, nut free, vegetarian If you're serving any sort of spicy drinks or making real-deal
Bloody Mary Cocktails
, make sure you serve these along with!
dairy free, gluten free, vegan, vegetarian How to really bring the fireworks on 4th of July? Make a batch of this homemade pumpkin seed and chile salsa. This classic snack is a crowd-pleaser and is that much better when the salsa is homemade!
dairy free, gluten free, vegan, vegetarian The classic Spanish sauce become a dip in this make-ahead recipe that's a major crowd pleaser!
nut free, vegan, vegetarian This show stopping starter takes a bit of prep but can be done the morning of your party and it gets tastier as it sits.

Summer Salads
nut free, vegan, vegetarian The oh-so perfect combination watermelon and tomatoes gets leveled up and turned into a full meal with the addition of tomatoes, farro, arugula, and an herbed dressing.
dairy free, gluten free, nut free Cooking for a crowd on the holiday calls for a hearty salad that could be a meal in itself and this steak with tomato-sherry vinaigrette fits that bill. Prepping the vinaigrette and veggies first cuts out cooking time day-of, so it's as simple as grilling the steak: effortless independence day dinner served!
gluten free, vegetarian Grain-based salads are all the rage and, when it comes to summer, we are partial to one that's a modern twist on Caprese salad. What's better? The entire recipe keeps in the fridge for up to four days which means an easy breezy 4th of July entertaining plan.
gluten free, vegetarian Salad in a puffy, fried
taco
shell? That's so 90s! Here we wrap a summery salad in a tortilla for a welcome makeover.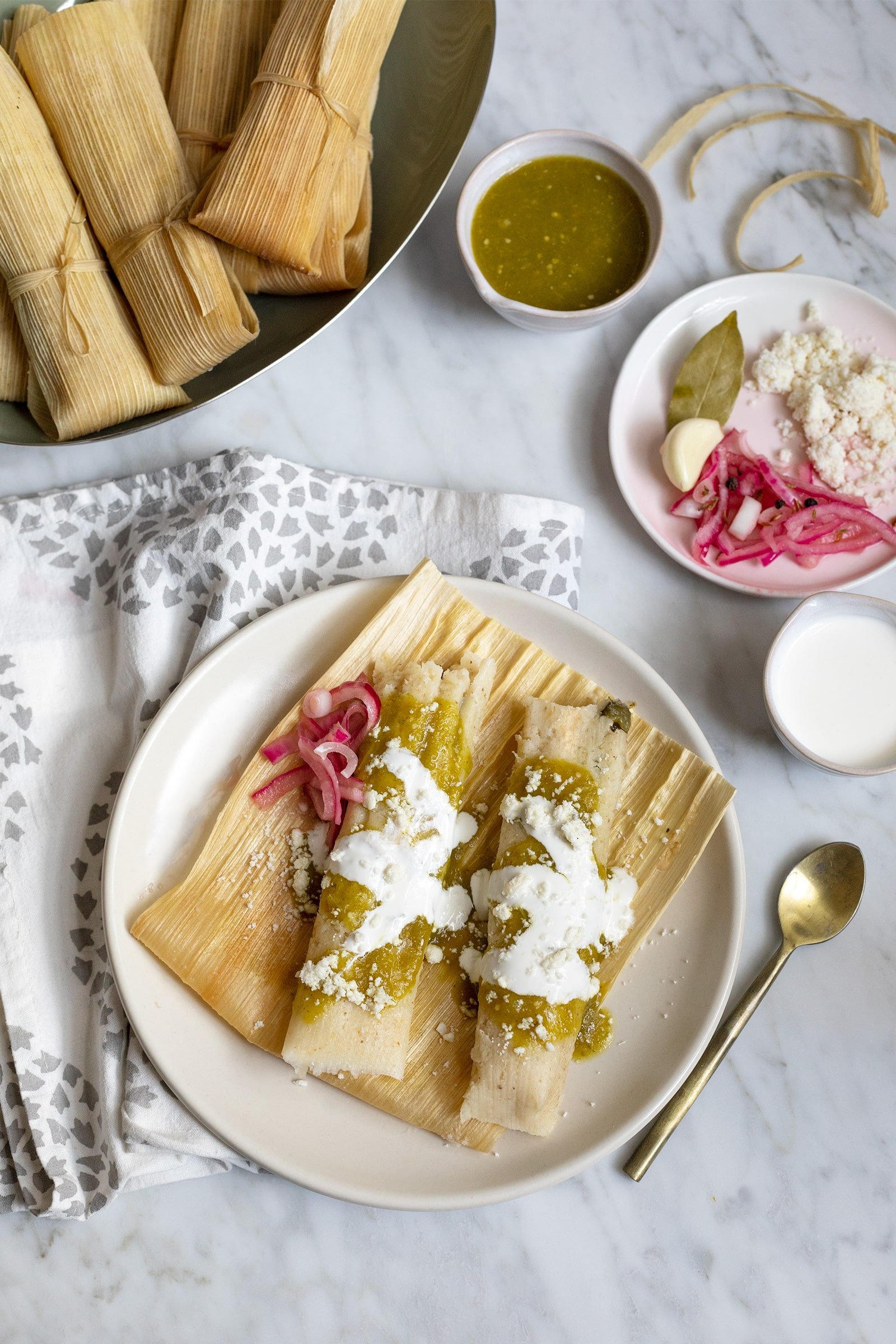 All-American Main Dishes
nut free As far as summertime sandwiches are concerned, it's hard to top the classic BLT. We like to make ours with super simple, super old-school cream biscuits, some sweet, salty brown sugar bacon, and the best tomatoes we can find.
dairy free, nut free Like a cousin to Teriyaki Chicken but less work and slow-simmered instead of broiled or grilled, Shoyu Chicken is one of our favorite
recipes from Hawaii
.
gluten free, nut free, vegetarian Yes, making tamales from scratch take some time; however, you can make a ton at once and they're always a hit. This vegetarian version is make with sauteed chile peppers and cheese.
Desserts
nut free, vegetarian There is something so satisfying and All-American about this pie, we cannot deny it a spot on our list. Showcase summer's favorite berry and pay homage to the USA with this timeless classic!
gluten free, nut free, vegetarian These boozy popsicles are the perfect sweet indulgence for your BBQ, Adulting has never felt SO right!
nut free, vegetarian There are a lot of recipes for tiramisu out there but we're going to claim it and say few are this good. There are no shortcuts here yet it's still easy to make and the updated presentation as a cake means it's gorgeous too!
gluten free, vegetarian We'll take all the berries we can get when they're in season and blueberries are no exception. This recipe for a classic Icelandic dessert combines tart skyr, sugar, and berries for an easy delicious dessert.
nut free, vegetarian In that perfect early summer moment where you still have late Spring ingredients like rhubarb and the first peaches, promise us that you'll make this
polenta cake
.
nut free, vegetarian Sometimes we don't want to have to choose between
desserts
and this recipe solves that by combining two of our favorite All-American treats, cheesecake and brownies.
Cocktails & Drinks
gluten free, vegetarian Sangria is the ultimate summer libation and we think that we finally cracked the code to the perfect one. It's portable and versatile enough to be enjoyed poolside in the daytime and later under the nighttime fireworks show because, hey, Sangria is acceptable at any hour! We'll just let the cherries and the Rose do the rest of the talking.
dairy free, gluten free, nut free, vegetarian We've got the ultimate cocktail for a crowd here, and it's a grown-up fruit punch. Strawberries and
blood oranges
make this summery drink a festive choice that is a must-serve for the 4th of July!
dairy free, gluten free, nut free, vegetarian Mint and lime brighten up this southern staple, and with temperatures spiking, it's is the perfect refreshment to cool you down. For those not wishing to imbibe on the Fourth, we insist your give this sweet tea a try.
dairy free, gluten free, nut free, vegetarian Slices of watermelon are so expected — we like to blend it up with lemon, honey, and berries for this twist on lemonade.
dairy free, gluten free, vegetarian If you're making anything spicy, you'll definitely want (no need!) some horchata to serve with it. This Mexican version on classic horchata is creamy, cool and just as good as it is (or spiked with some reposado tequila)!
dairy free, gluten free, nut free, vegetarian Also known as a White Spritz, this cocktail with elderflower and bubbles is very popular throughout Europe in the summertime!
Have Us Plan Your Next Trip
Did you know we're also a boutique travel agency specializing in vacation planning? If you're looking to plan a trip, our trip planner services are here to help you plan your perfect itinerary.
---
Photo Credit:
Opening photo by Alondra Olivas; all other photos by Salt & Wind Travel