In case you missed it, Salt & Wind is a pro-chocolate territory which means we love us some good chocolate recipes.
When we travel, we expect to return to the office with chocolate from wherever they journeyed. Whenever we check out the scene in a new city, searching for the best chocolate will be a significant part of that r&d. 
Some work cultures revolve around a lunch break – ours is a chocolate break – aka a moment each afternoon when we sit around and have a coffee and a little chocolate. We show restraint and have a square or two of our favorite chocolate bars most of the time.
Must-Make Chocolate Recipes
But then there's the chocolate season: that magical stretch from Halloween to Easter where almost every food holiday involves some chocolate.
That time of year when we can let our chocolate freak flag fly with abandon. That's when we cook these, our favorite chocolate recipes from around the world. Some of these chocolate recipes are as classic as they come, while others are inspired by a travel experience we had.
From Austria to Italy and Mexico to Brazil, here are more than 15 of our favorite chocolate recipes from around the world: 
gluten free, grain free, vegetarian
One of the most classic American chocolate recipes, these brownies are fudgy, super chocolatey, and, thanks to the addition of prunes and almonds, healthyish!
nut free, vegetarian
The classic chocolate chip cookie gets a chic overhaul thanks to a straightforward step: rolling the chocolate into the cookie dough almost like you're making croissants. It makes for a cookie with layers and layers of chocolate and is our hands-down all-time favorite chocolate chip cookie recipe. 

dairy free, gluten free, grain free, nut free, vegetarian
Arguably the most straightforward of these chocolate recipes, all you need to know how to make chocolate bark is to melt chocolate and then spread it in an even layer.
Though you could top it with any combination of ingredients you'd like, we opt for flavors we associate with Hawaii's Big Island, namely, toasted coconut, locally-grown coffee, and red Alaea sea salt. Is this traditional to Hawaii? No, not at all. But we're sure one bite will have you dreaming of jetting off to the Aloha state!
gluten free, grain free, vegetarian
One of the biggest dessert debates around here is whether chocolate and nut butter or chocolate and caramel is a better combo. Rather than fight it out, we decided to combine all those flavors in one of our favorite chocolate recipes.
It's made with a salty-sweet graham crust, a salted caramel swirled with almond butter and a silky chocolate ganache. This tart has a few parts to make but isn't that complicated and is oh-so-worth the effort. 
gluten free, grain free, nut free, vegetarian
Speaking of, the key to the most incredible hot chocolate you'll ever have is to make it out of chocolate ganache. Here we take that further by adding in grated cinnamon and tequila for a Mexican-inspired twist.
gluten free, nut free, vegetarian
Okay, this isn't Mexican in a sense, and it's by no means traditional. However, it is inspired by the seriously classic Mexican hot chocolate that's so good we'd travel to Mexico just to drink it. Here a chocolate cream pie gets a modern twist thanks to cinnamon and chile spiced chocolate filling and a spiked whipped cream topping. 
gluten free, grain free, vegetarian
Here in the United States, you don't come across sweet tamales as often as you do savory ones. Still, it's one of our favorite things to order when we travel to Mexico. Even if you've never made tamales before, you can make these because you simply mix mashed sweet potatoes with spices, and you're ready to go.
But what makes it is the Chocolate Sauce that's a bit sweet, a bit bitter, and a tad spicy. This is by no means a traditional tamale recipe, but it sure is delicious!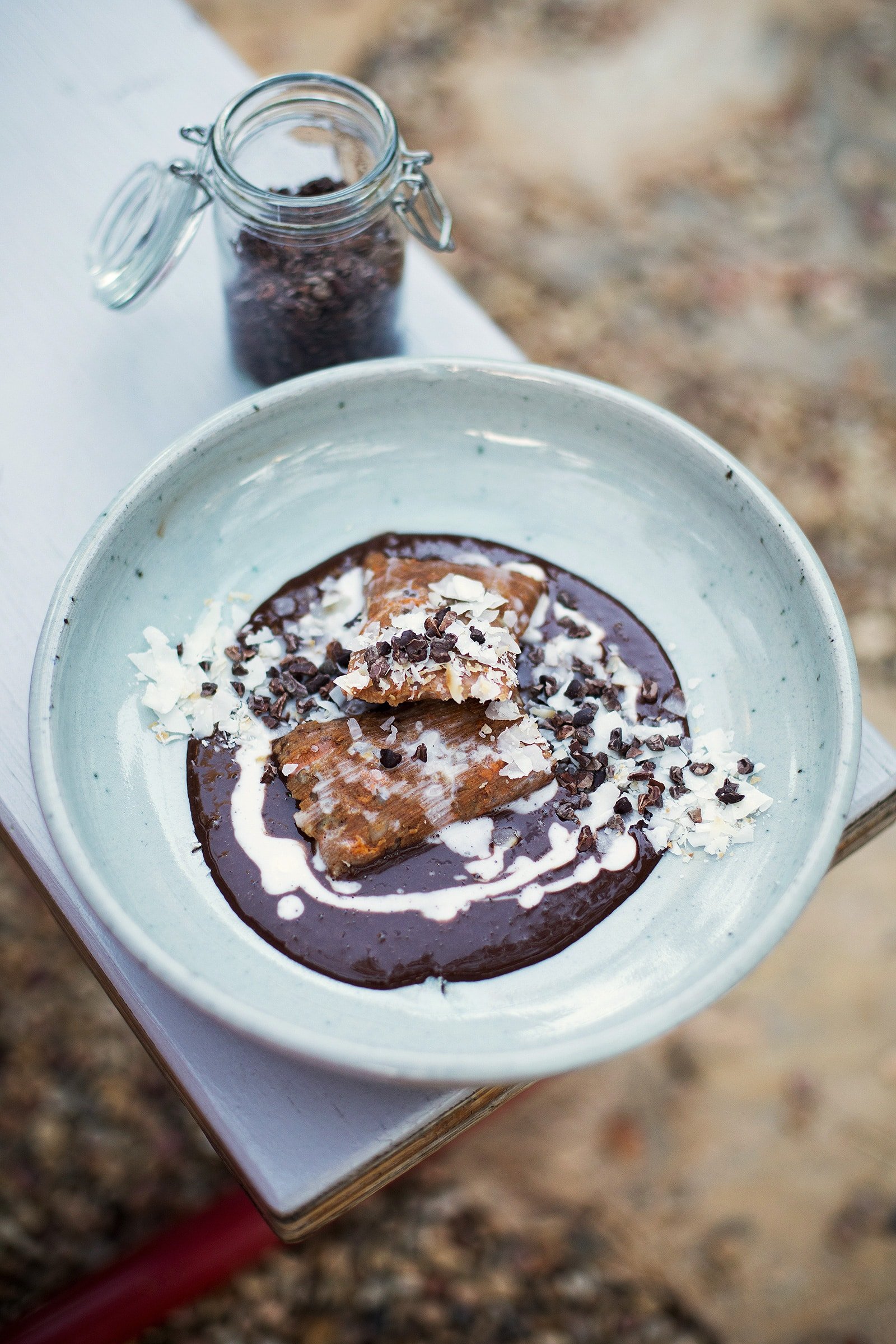 dairy free, gluten free, grain free, nut free, vegetarian
What we don't know: how common this drink is in Cuba, but what we do know: is that we liked it so much when we visited Cuba. A blended, iced version of hot chocolate is the kind of drink you could get obsessed with.
nut free, vegetarian
Think sweets and Brazil and the fudgy cocoa-y truffle-like treat that is the brigadiero comes to mind. In this fudgy brownie recipe, those flavors get baked and layered for a twist on the tradition that's just as good as the original (if not better).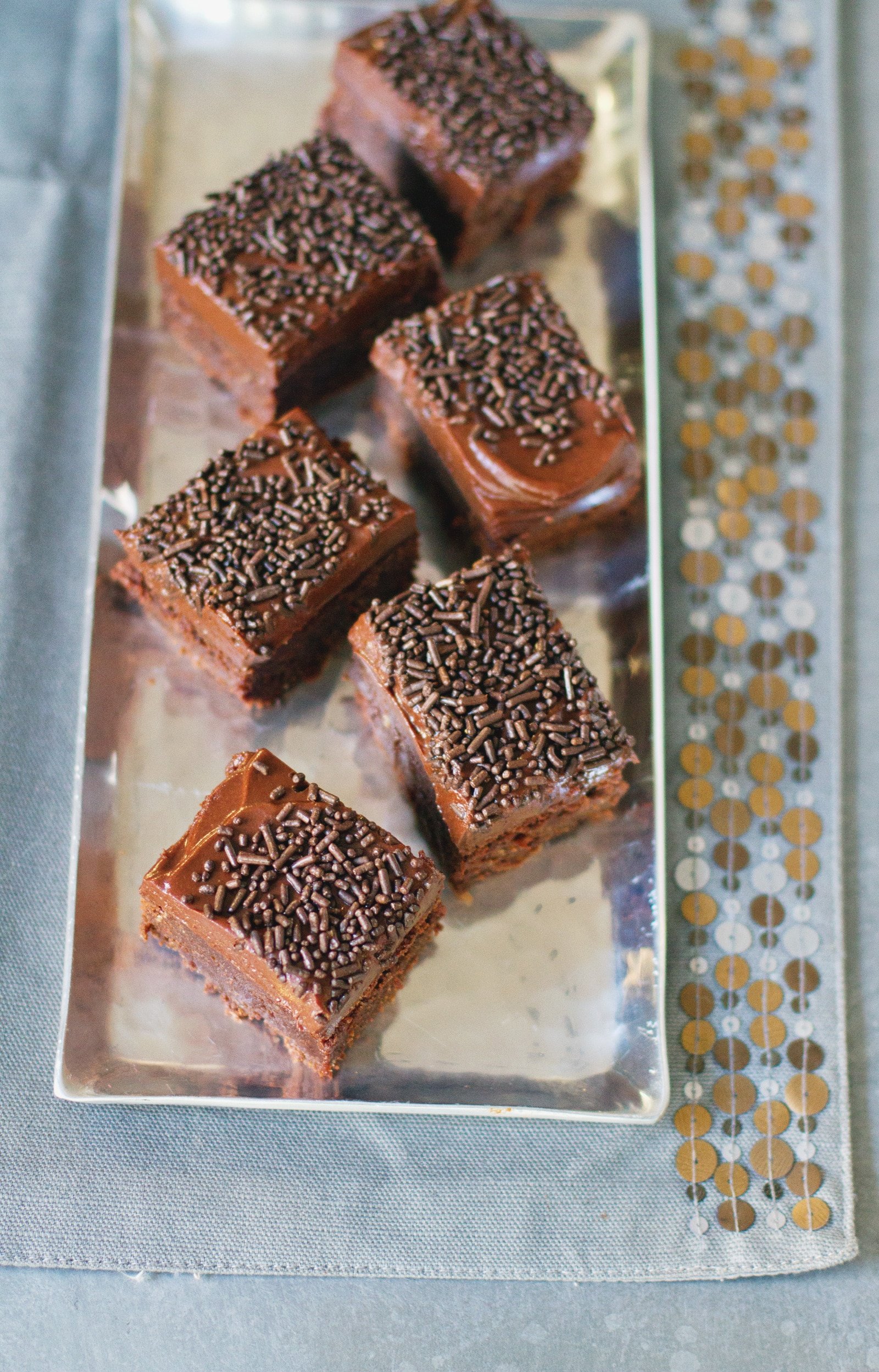 gluten free, grain free, nut free, vegetarian
Okay, this is not a recipe you'd EVER find in a classic Irish book. But what is it? A milkshake version of Irish coffee with chunks of chocolate, a little coffee flavor, and a good dose of whisky. 

nut free, vegetarian
If we were to bet, we'd say the best-known Italian cookie is the biscotti, and our favorite version of the iconic recipe is this one loaded with orange zest, vanilla, and chunks of chocolate. 
gluten free, grain free, vegetarian
If we had to pick one chocolate flavor combo to which we'd pledge allegiance? It'd be that chocolate hazelnut flavor that hails from Turin, Italy, and that you find in Italian sweets as typical as Nutella or Baci candies to the classic gianduja truffle.
This double chocolate ice cream gets swirled with hazelnut chocolate spread and topped with Baci candies for four times the chocolate flavor!
gluten free, grain free, nut free, vegetarian
Yes, this is insanely over-the-top as a coffee drink, but that's why we love it. Made by layering liquid chocolate ganache with espresso, and whipped cream, the bicerin is a coffee drink from Turin, Italy, that, in our minds, should be wayyyyy more popular!
dairy free, gluten free, nut free, vegetarian
When it comes to chocolate recipes, there might not exist a more straightforward recipe than these three-ingredient cornflake clusters. So simple they look like a bake sale recipe; the reality is these bites are a classic French treat that you'll find in numerous chocolate shops around the country. We say to make them yourself because they're absurdly easy to make and take just a few minutes. 
dairy free, gluten free, grain free, vegetarian
Another simple chocolate recipe that proves French food doesn't have to be complicated? These classic chocolate coins are known as mendiants, and our version is topped with superfood ingredients like coconut, flax, cacao, and goji, so you can feel good about treating yourself. 


vegetarian
Inspired by the lattice-crusted fruit tart from Austria, Linzer cookies are some of our favorite classic cookies around. Here that recipe gets a hazelnut twist because, well, we already told you how much we love that flavor and because it makes these super classic cookies suddenly feel thoroughly modern. 
nut free, vegetarian
In a tie for the most traditional sweet from Austria is Sachertorte. This decadent chocolate cake goes all in with a topping of silky dark chocolate ganache. Proof that sometimes the classics are perfect as is. 
More Chocolate On Salt & Wind Travel
Have Us Plan Your Next Trip
Did you know we're also a boutique travel agency specializing in vacation planning? If you're looking to plan a trip, our trip planner services are here to help you plan your perfect itinerary.
Opening Photo Credit: NordWood Themes