Kona coffee may not be native to Hawai'i, but these days it's just as local as malasadas and butter mochi. 
See, coffee (and what would become Kona coffee) was planted in Hawai'i in 1817. It even outlasted the sugar industry that dominated Hawai'i's economy from the mid-1800s till the 1980s and 90s, when sugar plantations began to shutter rapidly.
So if you're into eating and drinking local like we are at Salt & Wind Travel, we're diving deep into all things Kona coffee specifically because mention Hawaiian coffee anywhere, and the first thing that probably comes to mind is Kona coffee. 
We'll cover the history of Kona coffee, its rise to fame through the centuries, how it's made, where to buy Kona coffee in Hawai'i, and more. But first, let's answer the question, What is Kona coffee?
What Is Kona Coffee?
In Hawai'i, Kona Coffee is a regulated term. Only coffee grown within a twenty-mile length of Mamalahoa Highway in Hawai'i Island's Kona district can be labeled Kona Coffee. This area is known as the "Kona Coffee Belt."
Yes, coffee exists elsewhere around the Big Island of Hawaii, and other Hawaiian islands, including Kaua'i and Maui, but Big Island coffee makes up 90 percent of the state's coffee production.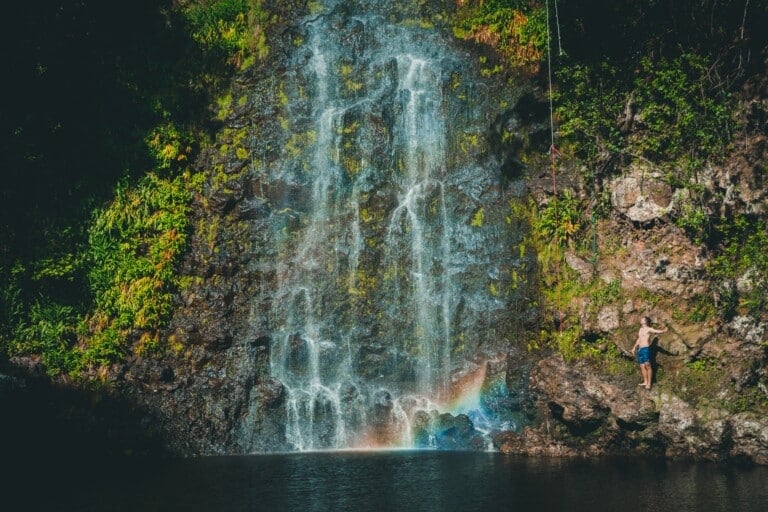 Brief History Of Kona Coffee In Hawai'i
As for how coffee originally got to the Island of Hawai'i, the missionary Samuel Ruggles is widely credited. He is said to have brought coffee to the Island of Hawai'i in 1828, where it took well to the unique environment of volcanic soil rich in nutrients, high elevation, and cooling cloud cover.
A handful of coffee plantations and farms established themselves in the next decade, like Greenwell Farms in 1850. Founded by English businessman Henry Nicholas Greenwell, today it is one of the area's largest and oldest Kona coffee farms.
Between 1840 and 1945, most of Kona's coffee farming and production was done primarily by Japanese, Chinese, and Filipino laborers searching for work after their sugar contracts expired. Americans, Europeans, and Hawaiians owned the land.
Many laborers leased small acreages of land to grow coffee, gain financial independence, and build a life. That's why many of today's coffee farms in the Kona region are multi-generational operations.
Today, more than 600 farms produce Kona coffee within the narrow "Kona Coffee Belt" on the western slopes of Mauna Loa and Hualālai volcanoes on the island's western side. Ka'ū, Puna, Hilo, and Hāmākua also grow coffee.
How Did Kona Coffee Become Famous?
So how exactly did Kona coffee become a thing? Kona coffee's popularity is attributed to several events. One is that in 1842, the Hawaiian government encouraged coffee production by allowing coffee beans as a tax payment.
There was also a brief boom during the California Gold Rush (1848-1855), where Kona coffee found a market in the Golden State. In later years Greenwell Farms' Kona coffee gained recognition at the 1873 World's Fair in Vienna, Austria, which attracted international investment. 
Though Kona coffee got going in the 1980s when the islands' sugar industry began to decline.
How Is Kona Coffee Made?
Before Kona coffee makes it to your cup, most coffee cherries are first hand-picked from coffee trees and pulped to remove skins and expose the beans. At this point, Kona beans are left with a parchment encasing. Beans at this stage are then typically sun-dried for up to a week, then hulled, roasted, and cooled.
During the harvesting process, sometimes a coffee bean or seed will reveal one bean instead of the typical two. This is rare; it's considered Kona peaberry coffee when enough of it is harvested.
Kona coffee is made from arabica beans, and while it's its variety today (Kona Typica), it evolved from the Guatemalan Typica variety.
What Does Kona Coffee Taste Like?
Like wine, tequila, and mezcal, coffee's taste is informed by its growing conditions like climate and soil content. A good cup of Kona brew, therefore, has a unique taste.
Typically Kona coffee has a light, smooth, and mildly sweet flavor profile with a somewhat floral aroma. It's also described as complex as Kona coffee grows at elevation due to the minerals in the rich volcanic soil. 
Since it's cooler in the highlands of Hualalai and Mauna Loa volcanoes, coffee cherries mature slower than coffee grown at lower elevations and, as such, give beans more time to develop nuances to their flavor profile.
Why Is Kona Coffee Special (And Expensive)?
Another way to answer the 'What is Kona coffee' question is to look at its unique attributes. From its distinct growing conditions to its small batch production compared to coffee production in other parts of the world like Brazil, Ethiopia, and Colombia, Kona coffee isn't your average cup of coffee.
The thing is, legit Kona coffee is quite rare and why it's often considered a premium coffee. It accounts for 1 percent of global coffee production, and Hawai'i is the only U.S. state producing coffee commercially. California recently began cultivating coffee, but it's still experimental.
Speaking of legitimacy, as mentioned previously, the term "Kona Coffee" is tightly regulated by the state of Hawai'i, similar to how Italy's Parmigiano Reggiano is a Protected Designation of Origin (PDO) product. What this means for Kona coffee is that coffee beans must have been grown within the borders of the North and South Kona district.
And if we're talking coffee blends (labeled "Kona Coffee Blend"), the product must contain a minimum of 10 percent Kona coffee beans to use the term on a label. But that's changing as pending legislation would increase percentage minimums to 51 percent. On the other hand pure Kona coffee will be labeled 100% Kona.
And the fact that Kona coffee is produced in the United States—where labor costs are higher than in other coffee-producing countries—is mostly why it's so expensive. Shipping costs from the islands to the mainland are another factor.
Where To Buy Kona Coffee
But we're all about supporting local at Salt & Wind, and as such, one of the best ways to buy 100 percent Kona coffee is to purchase it directly from coffee farms.
For example, the Kona Coffee Farmers Association lists its 63 member farms—most of which are small, family-run operations. And when it comes to the best Kona coffee farm, farms in Kona range from long-established farms from the plantation days to newer operations.
Most farms host Kona coffee tours if you're on the Big Island and want to dive deeper. Local Hawai'i roasters sell Kona coffee, too, like Big Island Coffee Roasters and Royal Kona Coffee (if you're uber-familiar with the islands, they make Lion Coffee).
More Hawai'i Food Tips
Want to dive deeper into all things Hawai'i food and drink?
Have Us Plan Your Hawaiʻi Trip
Did you know we're also a boutique travel agency specializing in Hawaiʻi vacation planning? If you're looking to plan a trip to Hawaiʻi, our Hawaii trip planner services are here to help you plan your perfect itinerary.
---
Photo Credit: Opening photo by Blake Wisz; Waterfall photo by Jakob Owens on Unsplash; Coffee berry photo by Katya Ross on Unsplash; Young Man Sitting In Lawn Chair Sips From A Coffee Cup Near A Grove Of Palms by Luke Mattson
Hawaiian Diacritical Marks: In an effort to be accurate and respectful of the Hawaiian language, we use diacritical marks in our articles on the region. For more about which marks are used in the language and how to find proper spelling, refer to this Hawai'i Magazine article.