A Hawaiian getaway is as enchanting as it gets, with stunning landscapes, a laid back pace, and a multicultural mix. But deciding which Hawai'i islands to visit is a big choice.
Lucky for food lovers like us, Hawai'i – specifically the main islands of Hawai'i, O'ahu, Maui, and Kaua'i – boasts food cultures that are just as unique as each island's character.
With everything from farm-fresh eats to elevated fusion, omnivore and vegetarian lovers can find a Hawaiian island to match their food preferences no matter if they're in search of shoyu chicken or a perfect Mai Tai.
The question then becomes not whether you should book a flight to Hawai'i but which Hawai'i islands to visit. Our advice is to let your tastebuds lead the way, and here is our guide to the best Hawaiian island for your food personality.
For Modern Fusion Food: O'ahu Island
Salt & Wind Travel founder Aida Mollenkamp has described O'ahu as the Hawaiian island with the most mature food and drink scene, and that is very much the case.
Honolulu, the state's largest city, is home to upscale food courts, chef-driven dinner destinations, and chic – but never pretentious– brunch cafes serving up the classics with a regional twist. 
In the Instagram-worthy Surfjack Hotel in Waikīkī, Mahina & Suns restaurant is the hip place to be for brunch (and lunch and dinner, to be honest). Every first Sunday of the month – you can eat avo toast and chocolate mochi waffles in the presence of a live DJ set.
Speaking of Waikīkī, upscale food halls like The Street Food Hall by Chef Michael Mina host a carousel of flavors. You can find everything from ramen, and burgers on Hawaiian sweet potato rolls to Mediterranean-inspired wrap filled with roasted salmon and fennel or harissa-grilled chicken and pickled vegetables.
For a culinary splurge, snag a reservation for Senia's tasting menu. This spot is helmed by Anthony Rush, who hails from the celebrated NYC restaurant Per Se. The constantly evolving menu means dishes starring scratch pasta or oysters may or may not be in the rotation on a given season.
And let's not forget about cocktails at go-to spots, including sleek Bar Leather Apron (nominated for a James Beard Award) for crafted libations and the patio at Tchin Tchin wine bar in Chinatown for an atmospheric evening.
For Meat Lovers: The Island of Hawai'i 
As the youngest yet geographically largest Hawaiian island, dramatic black sand beaches or the natural wonders of Hawai'i Volcanoes National Park are apparent reasons to have it be top of your list of which Hawai'i islands to visit.
Though as travelers keen on tasting the world, scouting the best spots to sample prized local grass-fed beef tops our list of must-dos, which is a food find many don't know much about.
Wondering what's the deal with the beef? Well, the explanation requires a look back at Hawai'i Island's history.
On Hawaii Island, paniolo (a word of Spanish origin used to refer to cowboys in Hawaii) culture runs deep. In the late 18th century, cattle arrived as gifts for King Kamehameha I, who placed a kapu – aka a law, meaning forbidden – on killing the animals.
As a result, the cattle population grew until Mexican vaqueros arrived to teach Hawaiians how to wrangle and manage them. Thus, they were born into a vibrant (and very much alive today) cowboy culture.
Today, Big Island beef features prominently on restaurant menus across the state of Hawai'i, including on the island at Four Seasons Hualalai, Village Burger in Waimea, and Foster's in Kailua-Kona. That means Hawai'i Island produces most of the beef in Hawai'i, with most of it from large ranches like Parker Ranch, which, fun fact, is one of the oldest and largest cattle ranches in the United States.
With all that history, it's no surprise that Hawai'i Island – specifically, Cafe 100 in Hilo – is the de facto birthplace of the local dish known as the Loco Moco. The classic preparation of a loco moco is a cooked beef patty on a scoop of rice, drenched in gravy and topped with an egg.
Another good bet for Loco Moco is Ken's House of Pancakes. They offer a Keiki Moco, meaning a smaller portion – as you know from our local Hawaii food terms glossary, Keiki means child in Hawaiian – as many plates at local diners and cafes are large enough to feed two people.
For Farm Fresh Eats: Island Of Maui
Food lovers craving authentic farm-to-table eats should add Maui to the list of which Hawai'i islands to visit. Detour from the famous road to Hana and venture into the island's interior, to the area known as Maui's Upcountry. The Upcountry region includes Pā'ia, Kula, Makawao, and the area encompassing Haleakalā Crater.
Thanks to higher elevations along the slopes of Haleakalā, the Upcountry vibe is more chill – think low-key rustic charm, just like the region.
To taste upcountry eats, visit Kula Upcountry Farmers Market, opening every Saturday morning. Family-run Oko'a Farms sells organically grown produce from bunches of radishes to giant avocados, ginger to citrus fruits, and colorful string beans. Stroll through the rest of the market to find ono prepared foods, too, from vegan miso ramen and mushroom omelets over a bed of sprouts and a side of sweet potato hash.
To feed our cheese cravings, Surfing Goat Dairy is the perfect pit stop to pick up local chevre. They have options for days, including chevre, made with sun-dried tomatoes or Maui lavender – and is quite possibly from their neighbor, Ali'i Lavender.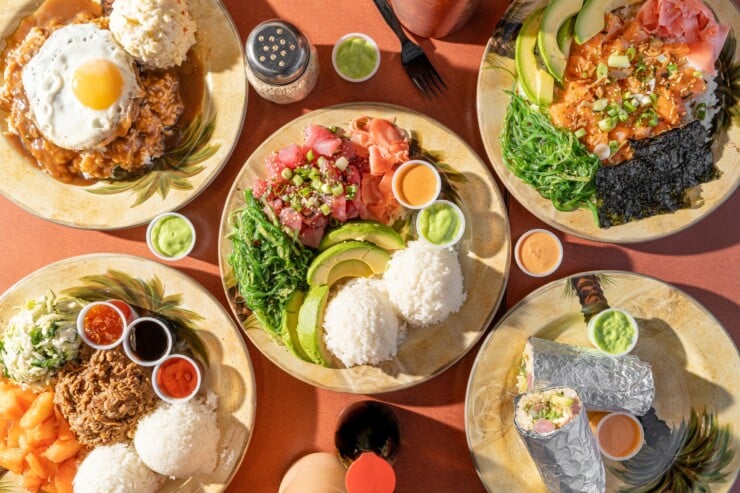 For Plant-Based Eaters: Kaua'i Island
Also known as the garden isle, Kaua'i island is the greenest (and the oldest) of the islands. From the woodsy mountains of Koke'e to the working taro fields in Hanalei, there's a lot of nature packed into one of the minor islands in the chain.
That said, it's no wonder plant-forward finds are easy to come by on Kaua'i. You'll see them at newer restaurants like Mermaids Cafe, next to Java Kai – a great spot to caffeinate.
On the south side of the island, the established eatery Kalaheo Cafe just off Kaumuali'i way makes an array of salads with Kalāheo greens and dressings like roasted garlic and basil and fresh papaya seed.
In Līhu'e, family-run The Greenery Cafe whips up organic soups, salads, and plates, including a coconut-ginger mung bean soup and an avocado wrap with mint, basil, and lemon aioli.
Other Hawai'i Travel Tips
Need other Hawai'i travel advice? Read these articles as well!
Have Us Plan Your Hawai'i Trip
Did you know we're also a boutique travel agency that specializes in Hawai'i vacation planning? If you're looking to plan a trip to Hawai'i, our Hawai'i trip planner services are here to help you plan your perfect itinerary.
---
Photo Credit: Opening photo by Emmanuel Hidalgo
Hawaiian Diacritical Marks: In an effort to be accurate and respectful of the Hawaiian language, we use diacritical marks in our articles on the region. For more about which marks are used in the language and how to find proper spelling, refer to this Hawai'i Magazine article.