It's pretty much impossible to spend any real time in Hawaii without coming across Hawaiian-style boiled peanuts.
They're a classic happy hour pupu (appetizer) along with poke, and I can never seem to get enough of them. When I'm on Oahu, I stop by Tamura's, where there's an awesome selection of booze, poke, and of course, spiced Hawaiian boiled peanuts. 
But I started getting annoyed that I was spending so much money on them since they require nothing more than a few ingredients and a few hours.
What Are Hawaiian Boiled Peanuts? 
A word about boiled peanuts: they have a long history as a snack in the Southern US, in China, and, in Hawaii (likely brought over by Chinese immigrants), yet each region is slightly different. Southerners boil their peanuts in salt and sometimes add in a ham hock, some chiles, or some Cajun spices.
Chinese-style peanuts have star anise, which lends an exotic taste that I way prefer. Hawaiian boiled peanuts are similar to the Chinese style but made with Hawaiian sea salt, which gives them a unique taste. Go ahead and make a big batch because they are totally crave-worthy!
What To Serve With Hawaiian Boiled Peanuts 
This traditional Hawaiian-Style Spiced Boiled Peanuts recipe goes down great with a Spicy Ahi Poke Tostadas and a chilled Mai Tai Cocktail. With the simplicity of this snack dish, any type of beverage and the main dish will go perfectly with it. 
Okay, that's all there is to it! Now go stock up on all your cooking essentials, then share your creation with us by tagging @saltandwind and #swsociety on social!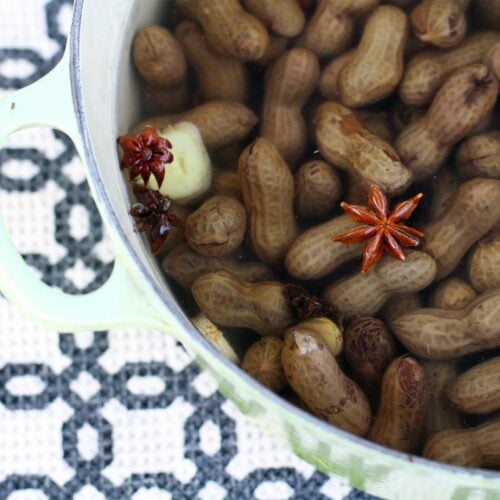 Spiced Hawaiian Boiled Peanuts Recipe
A make-ahead recipe for the style of boiled peanuts you'll find served as a pupu or appetizer in Hawaii, these are made with ginger, star anise, and peppercorns.
Ingredients
1 1/2

pounds

raw peanuts

1/3

cup

Hawaiian red alaea sea salt

16

cups

cold water

6 to 8

whole

star anise

pods

2

inch

ginger

piece, thinly sliced

Pinch

black peppercorns
Instructions
Prepare the Peanuts: Rinse the peanuts then place them in a large pot cover with water and soak for 30 minutes to 12 hours (you may need to use a pot top, plate, or resealable plastic bag filled with water to help keep the peanuts submerged). The longer you soak the peanuts, the less time they'll need to simmer so I'd recommend going longer if you have the time.

Cook The Peanuts: Drain the soaking water, cover the peanuts with fresh water, add the remaining ingredients, and stir. Bring to a boil over medium heat. When it boils, reduce the heat to medium-low and simmer, stirring every 15 minutes.

1/3 cup Hawaiian red alaea sea salt,

16 cups cold water,

6 to 8 whole star anise,

2 inch ginger,

Pinch black peppercorns

Start checking the peanuts after 1 hour of cooking. Remove one peanut from the liquid, let it cool slightly, then peel it open and taste the peanut. It's done when it has the texture of a cooked bean. You may need up to 2 hours total. You're only going for the cooked texture at this point, so don't worry too much about flavor.

Refrigerate The Peanuts: Remove the peanuts from the heat and cool them in cooking water for 30 minutes to 2 hours. Drain and store refrigerated until ready to eat.
PERSONAL NOTES
Nutrition
Calories:
403
kcal
Carbohydrates:
15
g
Protein:
17
g
Fat:
34
g
Saturated Fat:
5
g
Polyunsaturated Fat:
7
g
Monounsaturated Fat:
18
g
Sodium:
3796
mg
Potassium:
447
mg
Fiber:
6
g
Sugar:
3
g
Vitamin A:
2
IU
Vitamin C:
1
mg
Calcium:
57
mg
Iron:
1
mg