Many food lovers aren't fans of winter because they think there aren't as many fresh ingredients to cook. But, living in California, we anticipate winter.
You see, winter is the time of year where some of our favorite locally-grown ingredients — dark greens, fresh olive oil, citrus — are at their peak. And it's when we can bake this cake on repeat!
Recently we were invited on a virtual agriculture tour of California by our friends at California Grown, which meant we got to travel (by computer, of course) across the state. Over the day, we met lettuce farmers at the Southern border, sweet potato farmers in the Central Valley, dairy farmers and cheesemakers, and learned about tons of local produce.
It made us realize we hadn't shared this cake, which is a staple around here. It's not too sweet with a texture, kind of like if cornbread meets pound cake. We consider it a "snack cake" in the same way that coffee cake is — meaning you could have it with coffee for breakfast, as a snack, or dessert.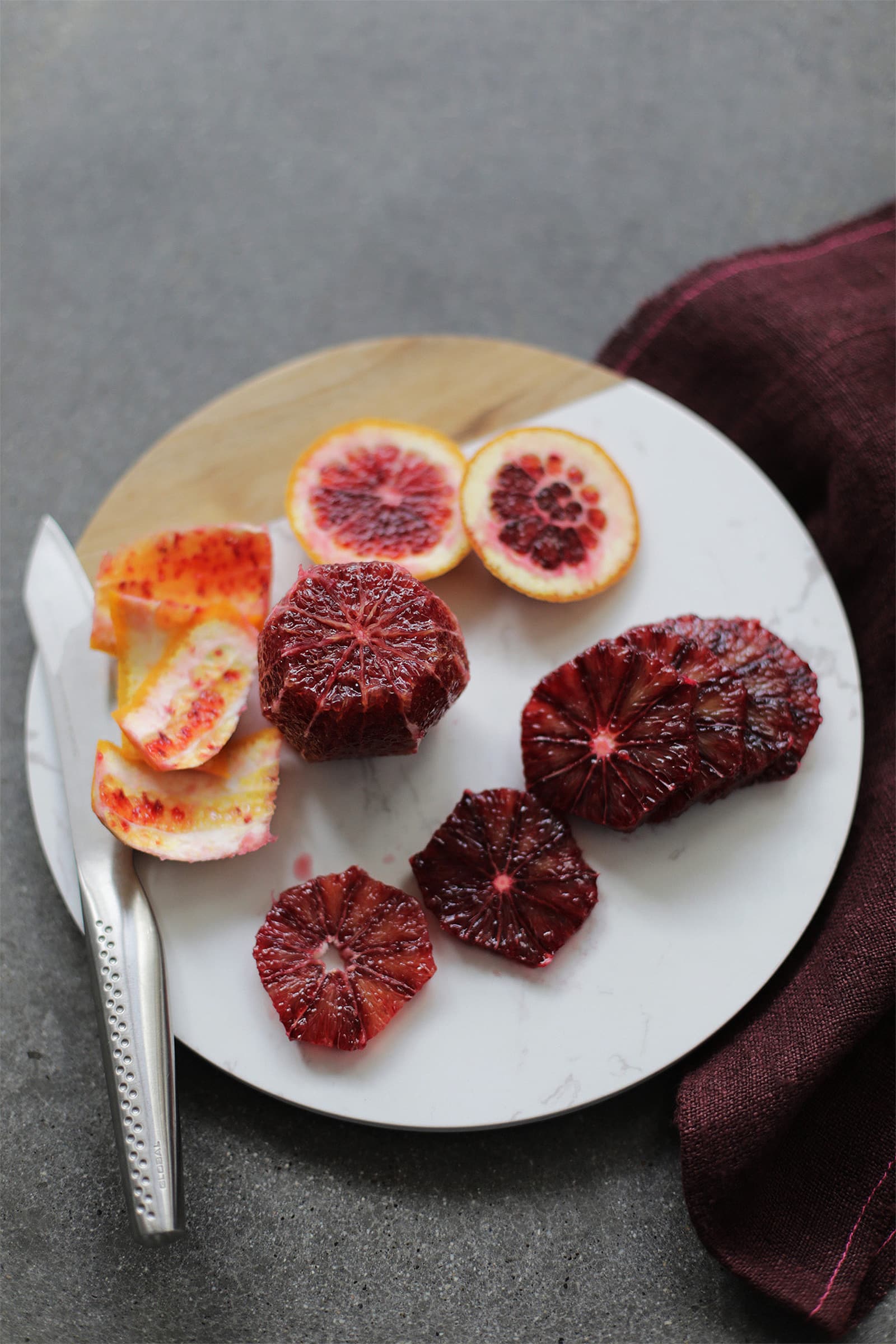 California's Seasonal Produce
Hang around here enough, and you probably know that California is not only where we call home but also the place from which we take the inspiration for the majority of the recipes you find here.
We take a page right out of the California playbook and keep things seasonal and produce forward. No surprise that California is the leading agricultural state in the nation and the sole United States producer of almonds, artichokes, dates, raisin grapes, kiwifruit, olives (ripe), clingstone peaches, pomegranates, sweet rice, clover seed, and walnuts.
That means that every season there is something in season here in the Golden State. FYI, check out this list of what's in season in California to help you keep track of when to eat what.
During the winter, we love celebrating the ingredients like nuts, pomegranates, rice, citrus, leafy greens, and olive oil from our weekday recipes to gathering with friends — winter brunches, anyone?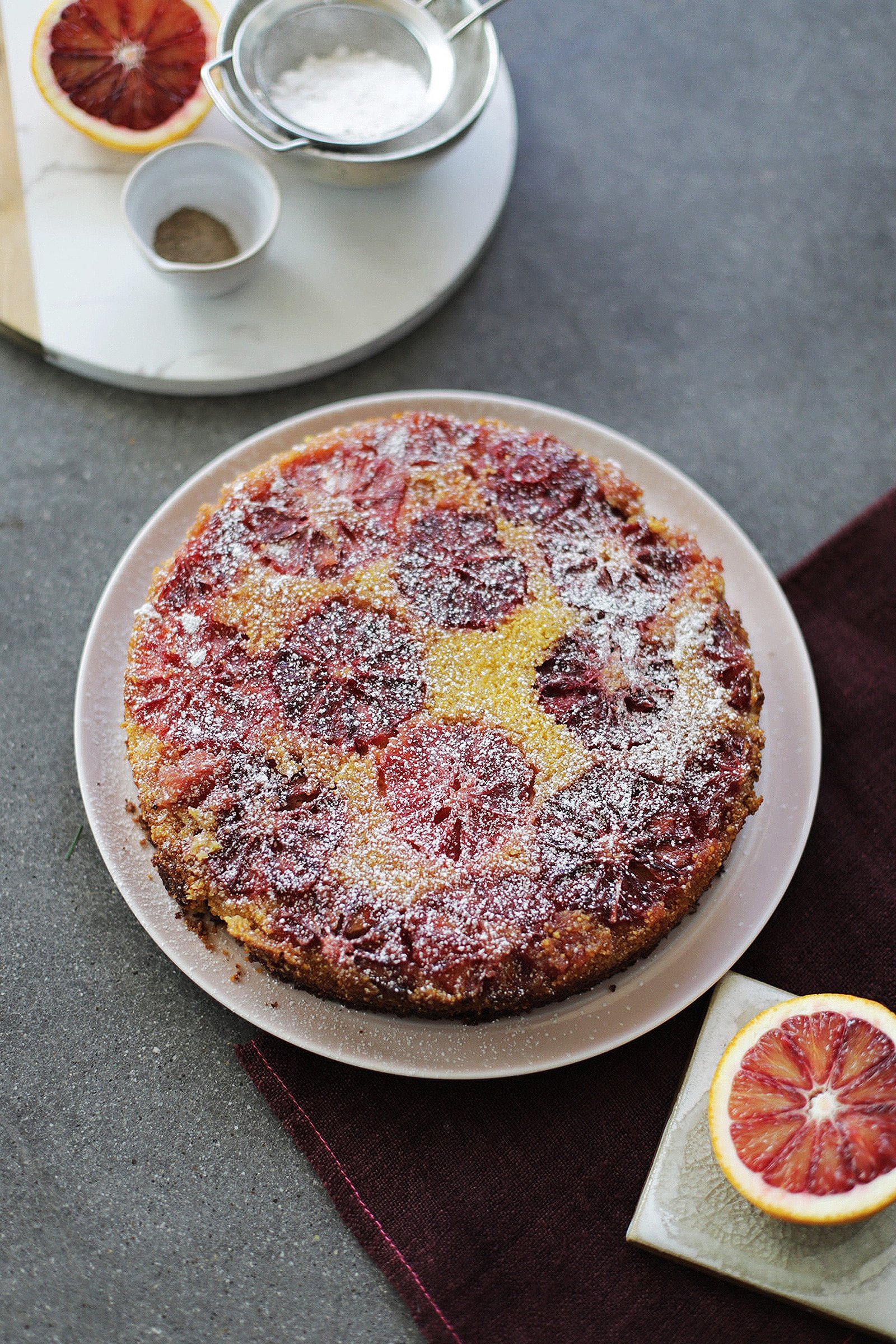 What Is Traditional Olive Oil Cake?
But let's talk about this cake, shall we? If you're a fellow food history nerd, you may be interested in olive oil cake history — truth be told, this cake is more California in origin than anything.
Even so, this recipe may seem a bit Italian, and you'd be correct to say that as you can find plenty of classic Italian desserts made with olive oil. Also? One of our favorite traditional Italian cakes — which hails from the town of Varese near Milan — is known as amor polenta (love of polenta), and it's where we got the inspiration for that delicious combination almonds and polenta.
We don't know when we first had a cake made with olive oil and polenta, but we know it was Italy. And, we know that the first version of it that made us stop in our tracks was the pine nut and rosemary version that we were served after a feast at Dario Cecchini's famed butcher shop.
This recipe is a simplified take on an olive oil and polenta cake ideal for beginner cake bakers. You could make this whole cake by hand, but it's faster and even easier with the help of a stand mixer.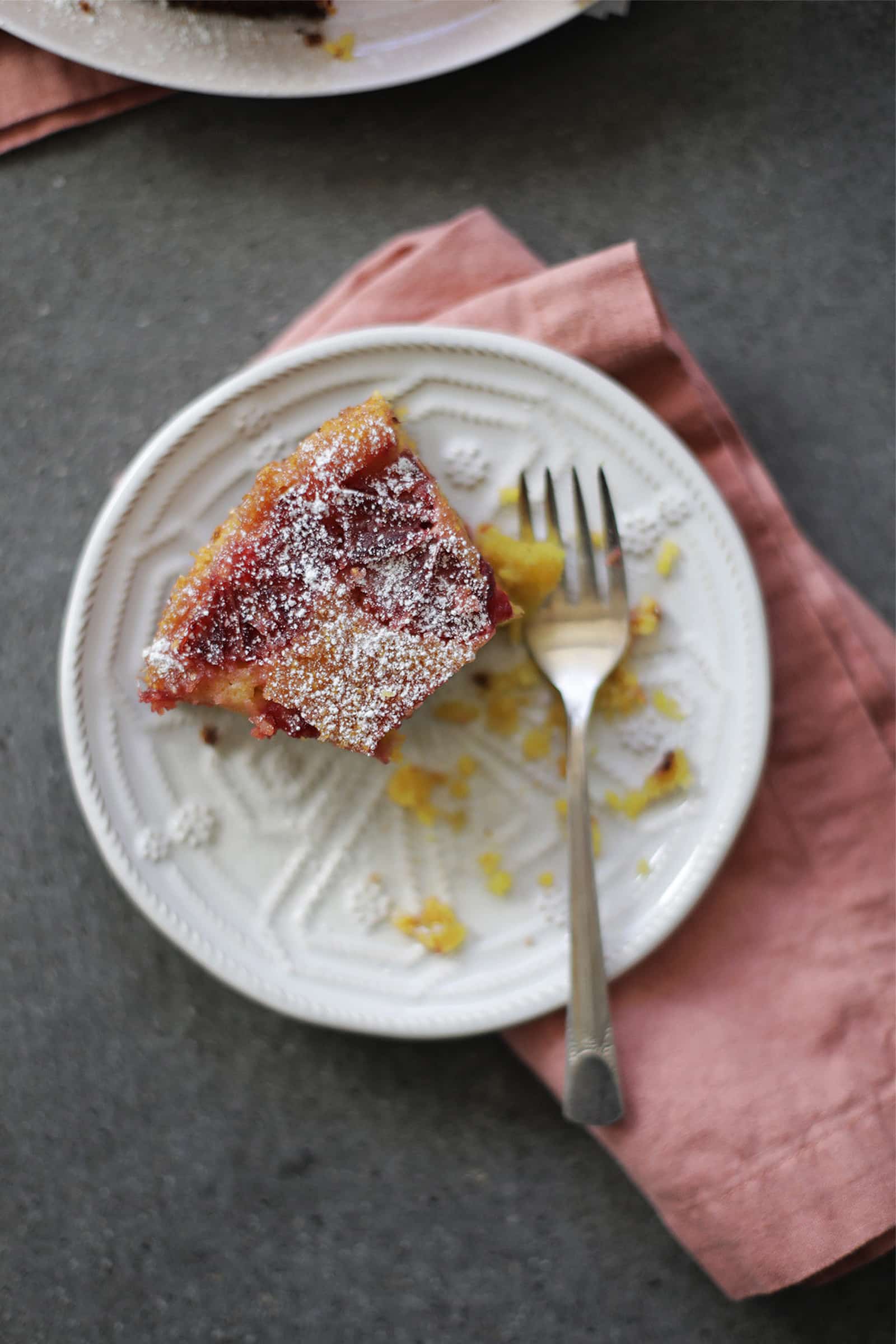 Citrus Almond Flour Polenta Cake
This mix of almond flour, polenta, olive oil, and citrus is 100% percent Californian because it not only uses some of our favorite local products — citrus, olive oil, almonds — but also it's a sunnier, cheerier riff on the classic.
Oh, and did we mention it's also a gluten-free olive oil cake? Very California of us indeed!
Right about now, you may be asking, "What does olive oil cake taste like?" and the answer is it's a rich, decadent, moist cake that, in keeping in tradition with Italian desserts, is just barely sweet. Depending on the type of polenta you use, there might even be a bit of crunch, which, to be honest, we love!
How To Choose The Best California Olive Oil
As you've likely noticed, we use A LOT of olive oil around these parts. And, as such, we've got opinions. If you've read our tips on how to buy best and store olive oil, then you know we use extra virgin olive oil 99.9% of the time.
And when it comes to the origin, we often buy it from Italy or our home state of California because they both have very high-quality standards. In fact, for olive oil to get approved as an "extra virgin" in the state of California, it must meet precise chemical standards and pass a rigorous sensory panel test.
Across California, you'll find myriad different producers growing various types of olives — over 75 varieties of olives are grown for olive oil here! — but the three main varieties are Arbequina, Arbosana, and Koroneiki.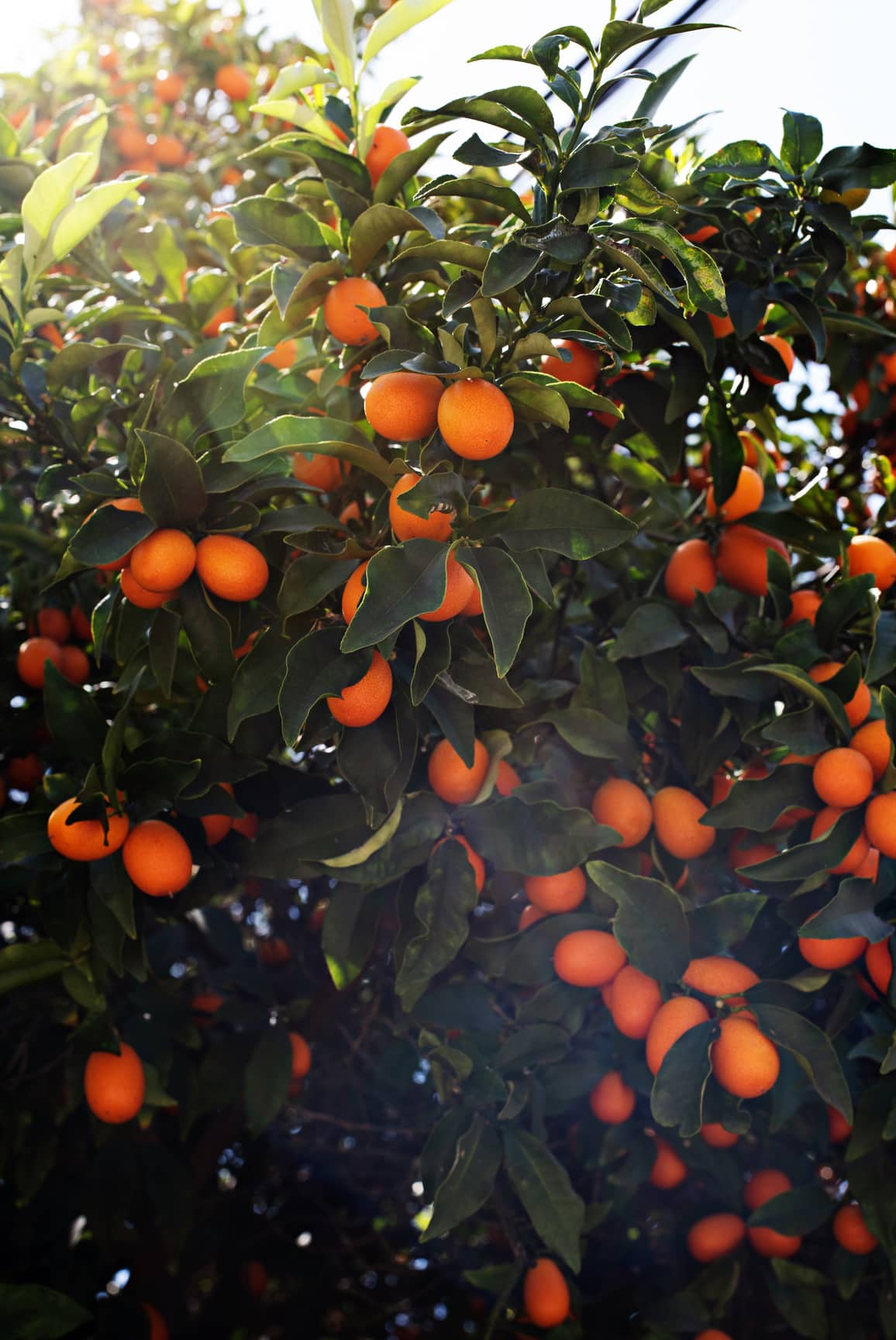 Essential California Citrus Information
When you call the Golden State your home, sooner or later, you realize you've become obsessed with citrus. Yes, you think of Florida for oranges, but California produces 80% of all the fresh citrus in the United States.
Throughout the year, you can find lemons available. Still, there's a flood of citrus in the middle of winter as everything from kumquats to Meyer lemons to mandarins and various oranges are available.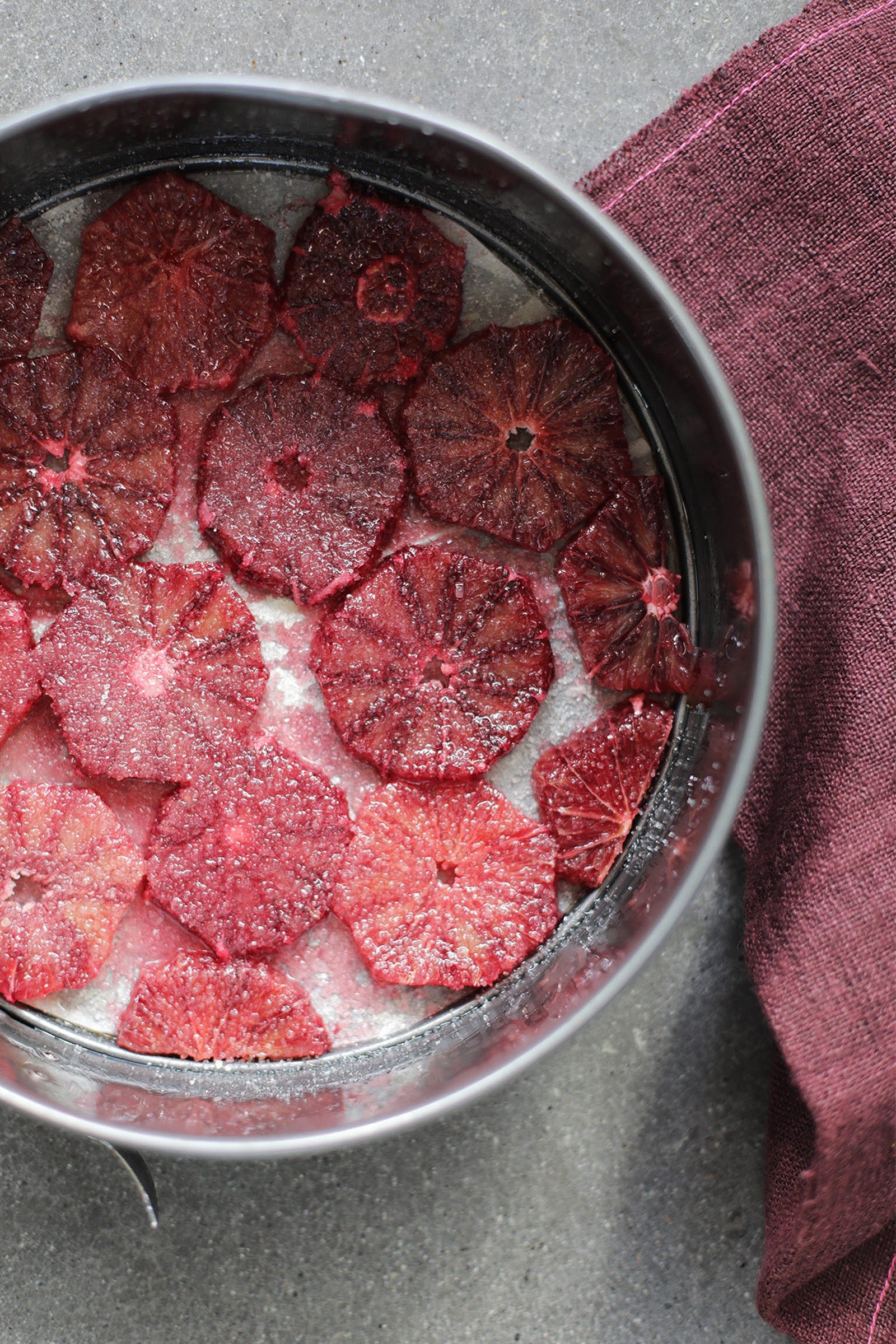 Tips To Make This Olive Oil Polenta Cake
Even if you don't consider yourself a baker, this Blood Orange Olive Oil Cake is very doable — promise! Also, using olive oil instead of butter means the cake will last for days (assuming you haven't eaten it all sooner).
Here are a few tips to make your baking adventures even more of a success:
Use Olio Nuovo If You Can Find It: As always, you'll want to use the freshest ingredients to make this cake, and that includes olive oil. As you've heard our Aida gush on about in the past, she adores Olio Nuovo, the first olive oil of the harvest, and is an unrefined, super flavorful olive oil that needs to be used in a few months.It can be hard to find, but some of our favorite California olive oil producers McEvoy Ranch and Frog Hollow Farms have it for sale in Fall just after harvest.
And Use Extra Virgin Olive Oil: The best alternative to Olio Nuovo is high-quality extra virgin olive oil. This cake does not hold back (including in the amount of olive oil) so make sure you get a great one!
Mix Up The Citrus: We have made this cake with all sorts of citrus, including mandarins, kumquats, Cara Cara, and blood oranges, and they're all delicious. Just don't use a tart grapefruit as it will overwhelm the cake.
Know It Will Be Dark Brown: The top of the cake will be very dark brown when it bakes, but don't worry about it. As long as it isn't outright charred, it's not a problem because you'll invert the cake before serving it.
Don't Over mix The Batter: Our biggest piece of advice is don't over mix the batter! You'd most likely do this when you mix the eggs and sugar, so work it until the mixture is light yellow and ribbony. The eggs will get too much air any longer than that, and the cake may deflate a bit as it cooks.
PIN IT FOR LATER!
Want to cook this recipe at a later date? Pin it to your Pinterest account so you can access it when you need some cooking inspiration!
Go stock up on all your cooking essentials, then head into the kitchen, make this, and share it with us by tagging @saltandwind and #swsociety on social!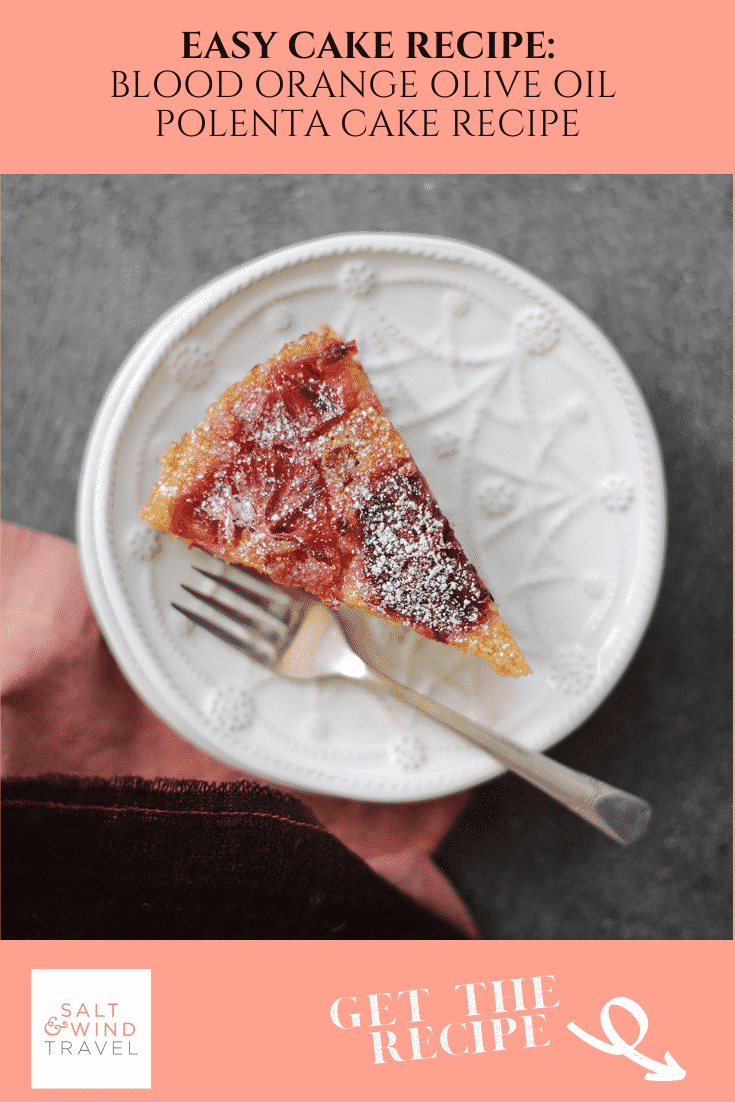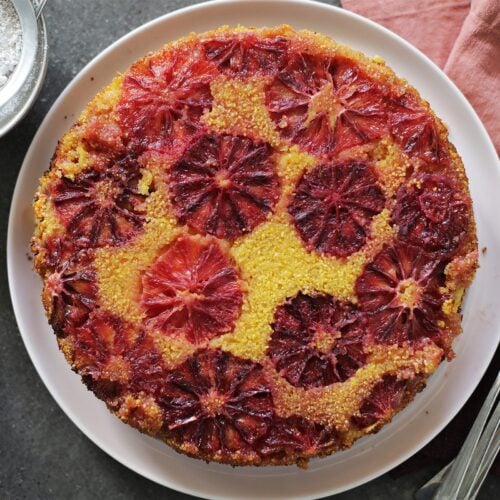 Blood Orange Olive Oil Polenta Cake Recipe
The recipe for traditional Italian olive oil cake gets a California twist with seasonal citrus, almond flour, and polenta in this Blood Orange Olive Oil Polenta Cake recipe.
Ingredients
For The Cake Batter:
1

cup

almond flour

(about 4 ounces)

1

cup

stoneground polenta (not instant)

(about 6 ounces)

1

teaspoon

baking powder

1

teaspoon

kosher salt

4

large

eggs

room temperature

1

cup

granulated sugar

plus 3 tablespoons for the pan

1

teaspoon

pure vanilla extract
For The Blood Orange Olive Oil
4

medium

blood oranges

1

cup

extra-virgin olive oil

plus more for coating pan (or use baking spray)
Foor Garnish:
powdered sugar

(optional) for garnish

ground cardamom

(optional) for garnish
Instructions
Prepare The Pan: Heat the oven to 350°F and arrange a rack in the middle. Use the additional olive oil to coat a 9-inch springform cake pan lightly. Add a round of parchment paper, and then cover the top with the additional olive oil.Combine The Dry Ingredients: Whisk together the 1 cup of almond flour, 1 cup of polenta, the one teaspoon baking powder, and the one teaspoon salt and set aside until ready to use.

Cut The Oranges: Zest one of the oranges and set the zest aside for later. Cut off the ends of all the oranges, making sure you cut past the bitter white pith to expose the fruit. Place the oranges upright, so they are standing on one of the cut ends, then, using a small sharp knife, remove the peel and pith in sections by cutting down from top to bottom and following the curve of the fruit. Slice three of the oranges into 1/4-inch thick slices and set them aside.Make The Blood Orange Olive Oil: Place the remaining one whole orange in a food processor or blender along with the remaining 1 cup of extra virgin olive oil and blend until the mixture is very smooth, about 1 minute.TIP: Blood orange olive oil can be made up to three days in advance. Store in an airtight container at room temperature until ready to use.

Beat The Eggs And Sugar: Meanwhile, combine the eggs and the remaining 1 cup of sugar in a stand mixer fitted with a paddle attachment and beat over medium speed until the mixture is light yellow and airy about 5 minutes.Add The Olive Oil: Turn the mixer to second to the lowest setting and add the vanilla extract and the reserved orange zest, then pour in the olive oil mixture until it's just mixed in.Add The Dry Ingredients: Turn the mixer to its lowest setting and sprinkle in the dry ingredients in four additions until they're just combined. Make sure you don't over mix at this point the eggs will lose their volume, and you'll have a dense cake.

Place Oranges In The Pan: Take the reserved oranges slices and arrange them in the bottom of the prepared pan (you may want to cut some slices into half-moons to fill the edges) and sprinkle with the remaining three tablespoons of sugar.Bake The Cake: Gently tap the batter (in the mixing bowl still!) against the counter to remove any significant air bubbles. Pour the batter into the prepared pan, then place the pan in the oven and bake until the cake is set, the top is dark brown, and a cake tester comes out clean except for a few crumbs, about 55 to 65 minutes.TIP: Cake can be made up to three days in advance. Store in an airtight container at room temperature until ready to use.

Cool And Serve: Set the cake aside on a cooling rack, run a butter knife or pastry spatula along the edge of the cake to release it from the pan, and let it cool to room temperature before removing it from the pan.

To serve, run a knife around the inside of the springform pan ring one more time, then remove the springform ring. Place a plate on top of the cake, then invert the cake. Remove the spring from the bottom and the parchment paper. 

Serve as is or topped with a dollop of whipped cream, a sprinkle of powdered sugar mixed with a pinch of cardamom, or a scoop of gelato.
PERSONAL NOTES
Nutrition
Serving:
1
g
Calories:
371
kcal
Carbohydrates:
35
g
Protein:
6
g
Fat:
24
g
Saturated Fat:
3
g
Polyunsaturated Fat:
2
g
Monounsaturated Fat:
14
g
Trans Fat:
0.01
g
Cholesterol:
62
mg
Sodium:
253
mg
Potassium:
121
mg
Fiber:
2
g
Sugar:
21
g
Vitamin A:
217
IU
Vitamin C:
23
mg
Calcium:
67
mg
Iron:
1
mg