It's happening: a trip to the Golden State is in the works. The next most important decision for food lovers is which iconic foods from California to try.
Sure, California is known for famous landmarks like the Golden Gate Bridge, Yosemite, and Napa Valley, but a visit isn't complete without diving into the food. 
What Food Grows In California?
To understand California food culture, you need to know that it has a lot of provenance. In other words, it's largely based on the state's demographics and what grows here.
Sure, a lot of places can claim that but it's even more so the case in a state where the single largest ethnic group identify as Latino and where over a third of the country's vegetables and two-thirds of the country's fruits and nuts are grown.
First read about what is grown in California to get some context on why we're so into seasonal, farm-to-table food and to better understand the iconic foods from California.  
What Food Is California Known For?
The robust farming culture and sunny weather are proof that seasonal, farm-to-table eating is very much a thing. And the diverse population with people from across the globe and you can find almost every cuisine represented.
Namely incredible Armenian cuisine, legit Ethiopian, seriously good Persian food, second-to-none Korean BBQ, top-quality sushi, awesome Thai food, legendary Chinese dim sum, exceptional Vietnamese, and some of the best Mexican food north of the border. 
But California is where some of the most beloved recipes — from ranch dressing to burgers and (maybe?) Irish coffee — first originated.
What ingredients are grown in California?
More than 400 specialty crops are grown in California but we're best known for artichokes, avocados, citrus, dates, strawberries, and more.
What are the most famous foods in California?
Some of the most famous foods that come from California include fresh oysters, cioppino, avocado toast, French Dip sandwich, California roll, Mission-style burrito, and garlic ice cream.
What styles of food can your find in California?
There is everything from farm-to-table to casual and fine dining but we're best known for our diversity of food. You can find incredible Armenian cuisine, legit Ethiopian, seriously good Persian food, second-to-none Korean BBQ, top-quality sushi, awesome Thai food, legendary Chinese dim sum, exceptional Vietnamese, and some of the best Mexican food north of the border. 
More Than 25  Must-Try California Food
Read on for more than twenty recipes and iconic foods from California.
Avocado Toast
While the 
origin of avocado toast is a controversial topic
, there is no doubt it's popular in California. And that's not surprising considering the Haas variety is from La Habra Heights, California, and
avocados originated in the Americas
. It was only a matter of time before people decided that mashing avocado on everything from tostadas to toast was a good idea, but avocado toast as we now know it (i.e. the first food to really go viral on Instagram) dates to around 2008. At the simplest, this dish is merely avocado on toasted bread. We adore it on seeded bread with crushed red chili flakes, extra-virgin olive oil, flaky sea salt, loads of fresh herbs (try chives, dill, and cilantro mixed), and lime zest, or even with
tahini and asparagus
. Though it's a relatively recent entrant to food history, we consider avocado toast one of the most iconic foods from California.
California Burrito
Not to be confused with the Mission burrito (see below), the California burrito is a
San Diego
creation resulting from SoCal surf culture. This
iconic food from California
is commonly found in taquerias and cafes in San Diego's Mission Bay and Pacific Beach neighborhoods and usually the bigger the better. Like San Diego-style fish tacos (see below), this dish has Mexican flavors but is a thing all its own. Usually, this burrito has no beans or rice and instead is stuffed with French fries, carne asada,
guacamole
, pico de gallo salsa, and cheese.
California-Style Pizza
If you've stepped foot in a California Pizza Kitchen, you know what California-style pizza is: a personal serving of wood-fired pizza with a Neapolitan-inspired thin crust and topped with California ingredients. In other words, it's one of the most iconic foods from California. During the 1970s, when San Francisco Bay area chefs were creating what we now know as California cuisine, it's believed that
two people simultaneously created the concept of California pizza
. But it wasn't until chef Wolfgang Puck started making the pizza at his Beverly Hills restaurant, Spago, that it caught the nation's attention and became one of the iconic foods from California.
California Sushi Roll
Though dim sum and fortune cookies (see below) we're introduced to the California culinary canon along with the first wave of Asian immigrants, a more modern classic is the 
California roll
. Specifically, chef Ichiro Mashita is credited with creating it in the 1960s in LA's Little Tokyo neighborhood. He made an
 uramaki
or inside-out sushi roll that had sushi rice on the outside. The goal was to make sushi, and especially raw fish, more approachable. A classic California roll is made with cucumber, crab, and avocado rolled in sushi rice but variations abound.
Cheeseburger
The cheeseburger is one of the most iconic American dishes and it's said to have been created in Pasadena in 1926, hence the reason it's on our list of iconic foods from California. The cheeseburger came about when a teenage chef cooking at the now-defunct 
Rite Spot restaurant
 wanted to see what would happen if we put a piece of cheese on a cooking patty. Though you can't try it where it was created, there are quality burgers up and down the Golden State from the cult favorite chain, In-N-Out, to Santa Monica's Father's Office and even one served on focaccia at San Francisco's Zuni Cafe.
Cioppino
Today San Francisco Fisherman's Wharf is a known touristy spot but it's also the historic home of the dish known as
cioppino
(pronounced "cho-pea-noh"). But, first what is cioppino? While there is no precise recipe, it is agreed to be a seafood stew in a garlicky red wine and tomato broth. Generally, it includes a combination of Dungeness crab, clams,
mussels
shrimp, scallops, squid, and whitefish. It's said that Italian immigrants from the seaside town of Genoa were working as fishermen in the San Francisco Bay Area creating the dish with the catch of the day.
But it didn't take off until it was served at Alioto's #8 food stand at Fisherman's Wharf
. Today you can find it served across Northern California including at 
Flaherty's Seafood and Oyster Grill in Carmel-By-The-Sea
.
Cobb Salad
It turns out that even salads become stars in Hollywood. Case in point: the Cobb Salad was created in the 1930s at the famed Brown Derby Restaurant in the heart of Tinseltown. It's said the restaurant owner was hungry one night and threw together whatever he could find namely, blue cheese, bacon, iceberg lettuce, tomatoes, boiled eggs, avocado, chicken, chives, and French dressing. It turned out great and the Cobb Salad was born which tops our list of iconic foods from California.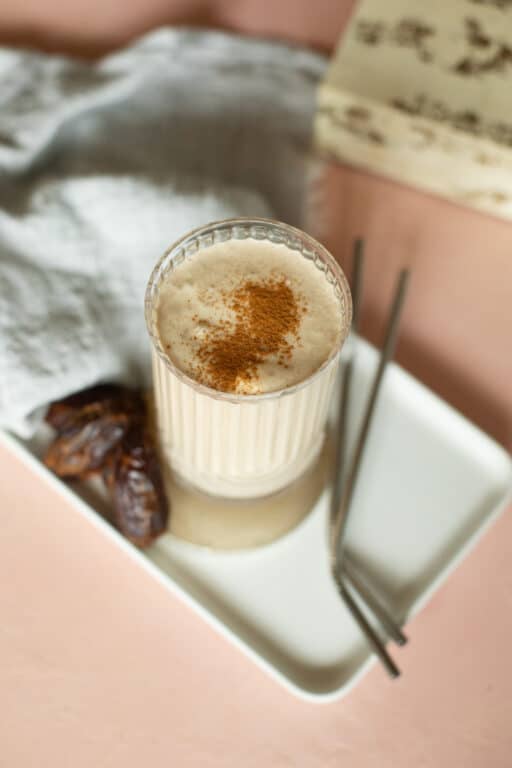 Date Shake
If Coachella Valley's Palm Springs had a mascot, we're pretty sure it'd be the date shake. This milkshake recipe came about almost 100 years ago to highlight the region's date cultivation. Add to it that Palm Springs was an easy detour for road trippers heading west on Route 66 and an iconic California food was born!
Fortune Cookies
Okay, this one is a bit of a curveball. You see many stories say that the fortune cookie comes from San Francisco and that it was Chinese immigrants who brought it to the masses. 
But that has been disproven and we now know that the predecessor of fortune cookies came from Kyoto, Japan. And the reason fortune cookies are served at Chinese restaurants is related to the Japanese internment. 
French Dip Sandwich
Despite the name the "French Dip," is not French but 100% one of the most iconic foods from California.
This sandwich is traditionally sliced roast beef (though other meats like lamb, turkey, ham, and pork are used) served on a French bread roll and eaten "au jus" or with the roasting drippings served in a small dipping bowl. 
Two Los Angeles restaurants, Philippe The Original and Cole's, claim to have invented the sandwich. One version of the origin story is that the sandwich was invented in the early 1900s when Philippe's first owner, Philippe Mathieu, accidentally dropped a sandwich into the juices of the meat. 
How the dish got the name has three origin stories. Some say it's because it's served on a French roll, others say it's because Philippe's original owner was the French, and others still say it's because the original customer of the dish was a cop named French.
Green Goddess Dressing
The Palace Hotel in San Francisco has a few iconic foods from California to their credit. They claim to have invented turkey tetrazzini in homage to opera diva Luisa Tetrazzini as well as the fan-favorite Green Goddess Dressing. 
The hotel came up with the recipe as a nod to actor George Arliss who was in a production of the play Green Goddess at the time. Unfortunately, the story of The Green Goddess play has not aged well, but the silver lining is that this delicious recipe came out of it. 
The original recipe was made with mayonnaise and served on artichokes. These days the hotel's recipe includes a mayonnaise base (eggs, mustard, oil, and lemon juice) with shallots, capers, chives, spinach, fresh tarragon, chopped parsley, and tarragon vinegar. We make an avocado version we adore as a dip. 
Hangtown Fry
One of the lesser-known iconic foods from California is Hangtown Fry. This is an omelet dating back to the Gold Rush that classically includes breaded oysters, bacon, eggs, and hot sauce.
The dish hails from Placerville, a town smack dab in Gold Country that was nicknamed "Hangtown" for the numerous convicted criminals hanged there during the California Gold Rush. 
One story touts that a panhandler struck it rich in the 1890s and requested a meal of the most luxurious ingredients he could envision. But others claim it was the last meal of a convicted man.
The result is one of the most delicious edible legends from the Gold Rush that's a don't-knock-it-until-you-try-it recipe that is still served at San Francisco's legendary Tadich Grill. 
Irish Coffee
Like the fortune cookie, it's believed that a version of what we now call Irish coffee was first concocted abroad and then tweaked and brought to California.
The drink as we know it today – with sweetened coffee, Irish whiskey, and cream – was made famous by The Buena Vista Cafe in San Francisco's North Beach neighborhood. 
Korean Tacos and Burritos
The Korean Taco is a decidedly Southern California concoction and was created by Kogi BBQ food truck founders Mark Manguera and Roy Choi in 2008.
It was the beginning of the modern food truck craze and Korean BBQ meats, from kalbi and bulgogi were served in a corn tortilla. That has evolved many times over and others have riffed to create Korean BBQ-style burritos. 
Mai Tai Cocktail
Though a Mai Tai is one of the most quintessential umbrella-clad tiki drinks, it hails from California. Victor Bergeron who created the Original Trader Vic's tiki bar is credited with having created the drink in 1944.
The drink is made with rum, curacao, lime, and orgeat syrup though variations abound. It's believed that Vic made the drink in his bar and asked friends visiting from Tahiti to try it. They are said to have exclaimed the Tahitian phrase "Mai Tai roa ae!" translating to "awesome" and thus the drink was named.
Martinez Cocktail
The story goes that a miner who struck gold went into the Occidental Hotel in Martinez, California, and wanted to trade the gold for whiskey. The bartender, none other than mixology legend Jerry Thomas, is said to have given him whiskey as well as a cocktail he created in the moment, which came to be known as the Martinez Cocktail.
The recipe is essentially a precursor to a classic martini in that it's made with one part Old Tom gin and two parts vermouth.
Mission Burrito
There is a common position in the food world that the burrito is not a Mexican invention but rather a Mexican-American one and many credits the Mission burrito as the original burrito. 
We side with José R. Ralat (Texas Monthly's taco editor) on this matter and believe they are indeed a type of taco and are from Mexico. 
But it should be said there are various types of burritos and the one most Americans are familiar with is the Mission burrito. This iconic foods from California is named so because it comes from San Francisco's Mission district. This type of burrito is all about value and quantity as it's large and stuffed to the gills.
Usually, around 9-inches in length and wrapped in aluminum foil it's filled with beans, rice, and an assortment of ingredients like carnitas, carne asada, or ground beef. And the other garnishes — guacamole, sour cream, cheese, and salsa — are all optional. 
Our friend, the renowned food historian Gustavo Arellano wrote in his book Taco USA: How Mexican Food Conquered America, that Febronio Ontiveros of San Francisco's El Faro Taqueria invented the gigantic burrito around 1961. They caught on quickly and are the blueprint for the burritos we see at Chipotle.
Ranch Dressing
Now the most popular salad dressing in the United States, ranch dressing was created in the 1950s by Steve Henson.
He created the buttermilk-based dressing when working in Alaska but it really took off once he and his wife moved to Santa Barbara, California. They bought a property they named Hidden Valley Ranch and served the dressing at the ranch kitchen.
The classic dressing is made with buttermilk, garlic, herbs, and spices and the Hensons made the dressing themselves until the 1970s when they sold it to Clorox and it became the bottled dressing we know today. 
Rocky Road Ice Cream
Like the French dip sandwich, there is an agreement where Rocky Road Ice Cream is from (Oakland) but there isn't an agreement as to who created it.
Some credit Fenton's Creamery while others credit Dreyer's but we know that the ice cream first came on the scene in the 1920s. 
This ice cream flavor — made with chocolate ice cream, nuts, and marshmallows — is said to be named "Rocky Road" as an ode to the Great Depression era in which it was created. And we know that it changed ice cream history forever as it was the first commercially successful flavor beyond vanilla, chocolate, and strawberry and the first ice cream to have mix-ins. 
Pisco Punch
Though the Pisco Sour is probably the best-known Pisco-based cocktail, the Pisco Punch is 100% Californian.
Like many items on this list, the drink came out of the Gold Rush-era San Francisco when successful miners would come to the city to celebrate their fortunes. 
According to Duggan McDonnell, the drink was created by Duncan Nicol at the Bank Exchange and Billiard Saloon in San Francisco. Made with pisco brandy, pineapple, lime juice, sugar, gum arabic, and distilled water, it's a cocktail that tastes like lemonade but packs a punch. 
San Diego Fish Tacos
Alongside craft beer, fish tacos are a culinary staple in San Diego and one of the most iconic foods from California.
The predecessor to the fish taco we know today is the Baja-style fish taco which is classically made with battered and fried white fish served in a corn tortilla with shredded cabbage, sour cream (or mayonnaise), salsa, and lime. 
It's said that deep-frying fish was introduced to the Baja region of Mexico by Asian immigrants. The Baja-style fish taco came out of mid-century Mexico but it's hotly debated as to whether it's from the town of Ensenada or San Felipe. Though you can find fish tacos pretty much everywhere, we still feel that the best place to get them outside of Mexico is in San Diego.
Sourdough Bread
The concept of a sour-style bread that naturally ferments dates back millennia to ancient Egypt but it became popular during the California Gold Rush. San Francisco sourdough-style bread is so treasured because the foggy climate provides the ideal climate for creating a flavorful loaf.
As we've said in the past, Boudin bakery is the iconic spot to eat this iconic food, particularly as a sourdough bread bowl for some clam chowder. But many quality bakeries across the city make this prized bread including the beloved Tartine bakery.
Tri-Tip Sandwich
Last but certainly not least, the Santa Maria-style tri-tip sandwich is on our list of iconic foods from California. You already know that tri-tip is a cut of beef created in California and key to Santa Maria-style barbecue so it's only natural that a sandwich with those origins would be equally adored. 
Like with all forms of Santa Maria barbecue, simplicity is key. The meat is seasoned with salt, black pepper, and garlic salt and then cooked to medium-rare over a grill fueled with the local red oak. The sandwich is served on a French roll that is often served with sides like pico de gallo salsa and the local pinquito beans. 
One of our favorite spots to get a tri-tip sandwich is at the historic stagecoach stop known as Cold Spring Tavern.
California Travel Tips
More tips for your next California road trip:
Have Us Plan Your California Trip
Did you know we're also a boutique travel agency that specializes in California vacation planning? If you're looking to plan a trip to California, our California trip planner services are here to help you plan your perfect itinerary.
---
Photo Credit: Opening photo by Martí Sans; fish taco photo by Brandon Matzek; all other photos by Salt & Wind Travel