If you're headed to Yosemite National Park, you might be in a hurry to catch a glimpse of Half Dome or El Capitan. And, well, we would totally understand.
You may rush through the Central California towns of Fresno, Clovis, Oakhurst, and Fish Camp all in the name of getting past the park's southern entrance and onto Yosemite Valley. 
But, you know the adage: it's not about the destination but the journey. And that's certainly the case here. This part of California has farm-to-table food, stunning (underground!) gardens, local wine, and adventures ranging from horseback riding to rock climbing.  
Fresno To Yosemite Itinerary For Food Lover's 
We adore adventure (almost) as much as we treasure food and wine, so a trip where we can do both is a grand slam in our books. More than 250 of the 400 crops from California are grown in the state's Central Valley and Fresno County is smack dab in the middle of it. That means there are all sorts of options for farm-to-table experiences.
Our recommendation is to add a couple of days to the front end of your Yosemite trip. Start by exploring the food, wine, and distilling options in Fresno, Madera, and Oakhurst before heading into the park to gawk at the giant sequoias and admire the views from Glacier Point Road. 
How Far Is Yosemite From Fresno?
The closest entrance to Yosemite from Fresno is South Entrance, also called the South Gate, and is accessed by Highway 41. This is the most common entrance for visitors traveling from Los Angeles or San Diego. It's also the best option for hopping a commercial flight to the Fresno Yosemite International Airport, which is the closest airport to Yosemite National Park.
It is about 65 miles or a 1 1/2-hour drive from Fresno to Yosemite. You can drive there on your own or take public transportation via the Yosemite Area Regional Transportation System (YARTS). 
Yosemite's South Entrance
Because of its easy access to Southern California and the proximity to Fresno airport, the Southern Entrance is a popular option. Not to mention this entrance allows you to easily get to attractions like hiking trails, waterfalls, the Wawona Hotel, and the Mariposa Grove. 
There are a lot of tourists in this area in the summer months so we suggest you instead go in the spring or fall since there is year-round access to the park from this side. Just make sure you read our California Road Trip Tips and that you check local road conditions—you may need tire chains if you go in the snowy season.
Fresno to Yosemite Itinerary
We suggest you do at least one full day in Fresno and then take one day to drive from Fresno to the southern entrance so you can explore along the way. Then you can take a day to hang out just in Oakhurst or you can explore it before or after your park explorations.
Here are a few ideas to get you started:
Day 1: Start By Exploring Fresno
Visit The Forestiere Underground Gardens
In the early 1900s, Sicilian immigrant and citrus grower Baldassare Forestiere began digging a vast network of rooms, tunnels, and courtyards as a subterranean escape from the sweltering Central Valley summer heat. The result is the Forestiere Underground Gardens. 
Yes, you read that right: subterranean, as in fully underground. He envisioned a resort beneath the hardpan soil and dug a labyrinth of underground rooms, grottos, and passageways using pickaxes and shovels. The project took forty years to complete and covers more than 10 acres. It now includes fruit trees, an auto lane, running water, and gardens. Take a guided tour, and you'll be talking about it for years to come. 
Thursday-Monday 9 AM-3 PM, reservation recommended but not required. 
Forestiere Underground Gardens, 5021 West  Shaw Avenue, Fresno
Venture On The Blossom Trail
Fresno is also home to the "Blossom Trail" — a self-guided tour of the fruit and nut orchards surrounding the city. Bloom begins in late winter and early spring, followed by sprouting produce and ripening fruit in summer through early fall. The trail is home to many small, family-owned fruit stands too. 
Wander The Gazebo Gardens
If you love roses, hot coffee, cold beer, food trucks, and live music, Gazebo Gardens is a must-stop. It's a gorgeous nursery in central Fresno, famous for being the go-to shop for roses throughout the San Joaquin Valley. 
It's also home to the Van Ness Cafe, offering fresh coffee and pastries next to their fun gift shop. On Thursday, Friday, and Saturday nights around 5 PM, several food trucks pull up, a band starts playing, and the Gazebo Beer Garden opens until 9 PM. Check the schedule on their site. 
Gazebo Gardens, 3204 Van Ness Boulevard, Fresno
Eat At Trelio Restaurant
Jump online to make a reservation for dinner at Trelio Restaurant in nearby Clovis. Chef, owner, and sommelier Chris Shackelford works directly with local farmers to create a seasonal menu that changes daily. Everything on the menu at Trelio is pretty fabulous, but the housemade pasta is hard to beat. We love that there are many vegetarian and gluten-free options available.
FYI, Chris lived and worked near Yosemite's South Gate for quite some time, so don't be afraid to ask about his favorite spots. In fact, the tables and bar in the restaurant are made from wood salvaged from trees that were damaged when the forest around Yosemite suffered a bark beetle infestation. 
Trelio Restaurant, 438 Clovis Avenue #4, Clovis 
Snack At Sierra Nut House
Sierra Nut House is a perfect place to stop to stock up on snacks for road trips or hikes. While both locations are loaded with local nuts, dried fruit, trail mix, chocolate, honey, and more, the Villagio location is also home to a bistro and wine bar, where you can find fresh sandwiches, cheeses, and wines to enjoy there or take with you. 
Sierra Nut House and Bistro 7901 N Blackstone Ave, Fresno (Villagio shopping center)
Sierra Nut House: 3034 E Sierra Ave, Fresno
Day 2: Drive Fresno To Oakhurst
Breakfast At Patio Cafe
If you're looking for a truly delicious breakfast, brunch, or lunch with a side of fabulous coffee,  head to the Patio Cafe in the Fig Garden shopping center. The menu is loaded with locally sourced produce, and since breakfast is served the whole time they're open, we recommend you consider the Patio Chilaquiles, Sweet Potato Hash, or the Stuffed French Toast! Vegetarian and gluten-free options are available.
Patio Cafe, 5138 North Palm Avenue, Fresno 
Wine Taste Along The Madera Wine Trail
Once you're in Madera County, you're in Yosemite territory, and one of the most popular options for where to stay in Oakhurst. 
The town is home to restaurants, friendly people, cute shops, and great places to stay. It's also chock full of conveniences like grocery stores and gas stations, which are hard to find in the park. Yosemite's South Gate is just 16 miles from the center of Oakhurst. 
As you head up Highway 41 from Fresno to Oakhurst, you'll see signs for the Madera Wine Trail. This is made up of a group of small family-owned wineries throughout the county so definitely explore along the way. Though you may not have heard of wine in Madera, the reality is that over 50% of California's wine grapes grow in the San Joaquin Valley.
Sip At Idle Hour Winery
For wine tasting in Oakhurst proper, head to Idle Hour Winery. Located on the North end of town, it's also home to the Queen's Inn. Winemaker and co-owner Anna Marie Dos Remedios crafts small-lot, single-vineyard wines using native yeasts, so the wines truly have a sense of place. Enjoy a glass of Cabernet Franc, Syrah, or Viognier on the winery's patio, where you can also order brunch or lunch made with local ingredients on most days. 
Idle Hour Winery, 41139 Highway 41, Oakhurst
Stay At The Queen's Inn
Co-owner Deb Payne runs the Queen's Inn, named for her grandmother, who preferred the title "Queen" to grammy. The inn offers spacious rooms or log cabins, many with a river or view of the valley. If you're looking for a relaxing, affordable stay with exceptional customer service run by locals, this is the place. 
Queen's Inn, 41139 Highway 41, Oakhurst
Day 3: Dive Into Oakhurst
Try Distilled Spirits at Oakhurst Spirits
Oakhurst is full of art galleries, small restaurants and shops, and folks building a second career out of something they love. That's definitely true for Mike Benbrook of Oakhurst Spirits. He distills several types of whiskey, along with rum, vodka, and brandy in small batches and runs the tasting room too. Try the spiced rum or the vodka flavored with locally-grown lavender.
Oakhurst Spirits, 40300 Greenwood Way, Oakhurst 
Stay At Château du Sureau
If luxury is most your style, we've got good news. Oakhurst is home to the Château du Sureau, a nine-acre resort where old-world charm and next-level service meet. The property has a four-star rating (the highest) from Forbes Travel Guide, a five-diamond rating from AAA, and numerous other accolades. You'll also find the indulgent Spa du Sureau there, among the elegant gardens and gorgeous pool. 
Chateau Sureau, 84688 Victoria Lane, Oakhurst
Eat At The Elderberry House Restaurant
It's also home to The Elderberry House Restaurant, a fine dining experience fashioned from the onsite garden and local farms. Eat in one of the elegant dining rooms or on the patio with a view of the gardens. 
The restaurant offers multi-course tasting menus in addition to the seasonal menu options. Pro tip: there's a dress code: no flip flops, tank tops, or beachwear is allowed in the dining room. 
The Elderberry House Restaurant, 84688 Victoria Lane, Oakhurst, CA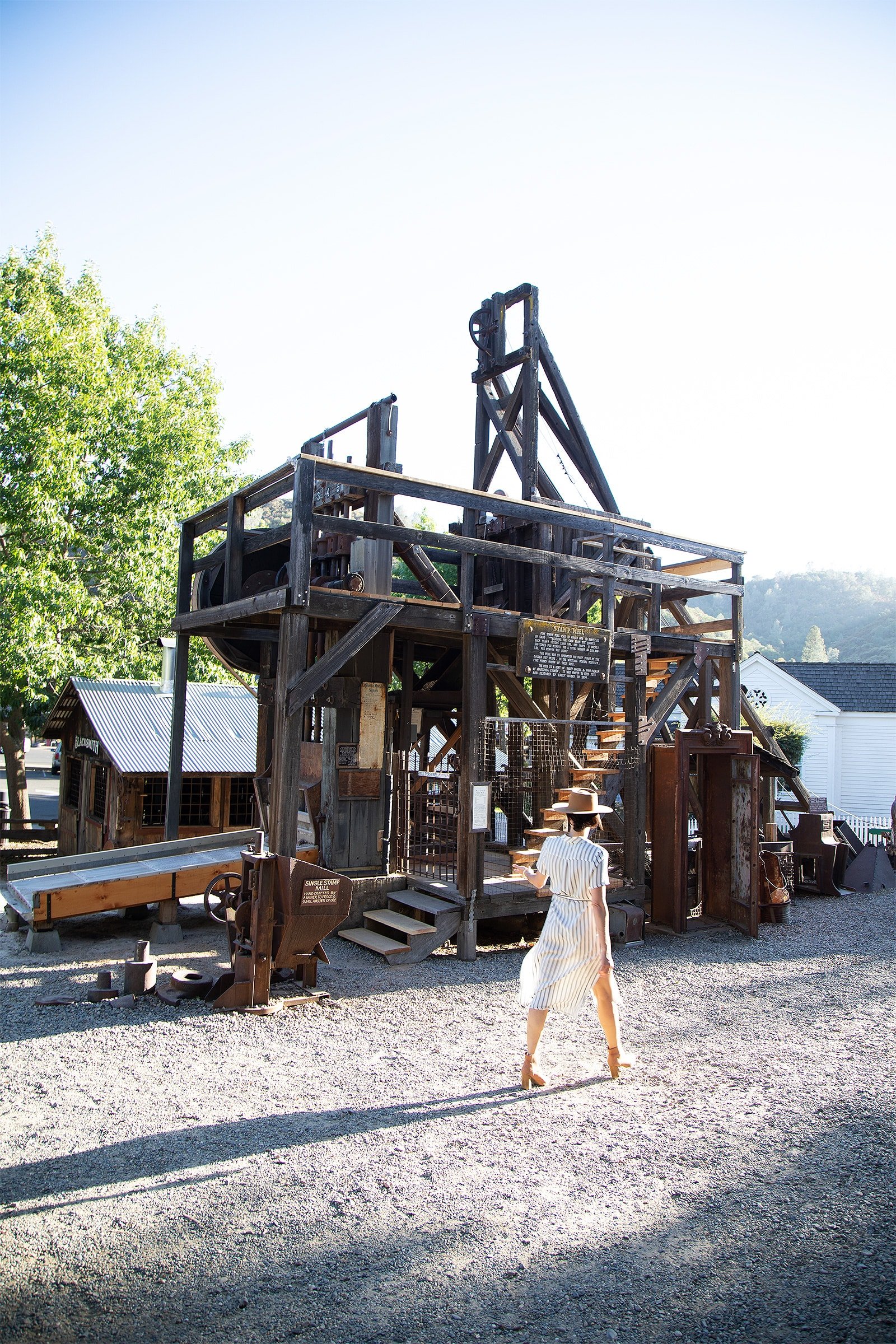 Other Places To Stay Near Yosemite
If you want to stay just adjacent to the park's entrance, you can opt to stay at Fish Camp, which is the closest town to the South Entrance. There you can check out various types of lodging or even go horseback riding in the park with the incredible crew at Yosemite Trails. 
For a stay with a more Gold Country focus, consider staying in the town of Mariposa where you can continue wine tasting, visit the phenomenal Mariposa Museum and History Center, or wander the old town before heading into the El Portal entrance to Yosemite. 
Or, cross through the park and exit to the east through Tioga Pass, and head on to visit Mammoth Lakes.
Have Us Plan Your California Trip
Did you know we're also a boutique travel agency that specializes in California vacation planning? If you're looking to plan a wine country or road trip to California, our California trip planner services are here to help you plan your perfect itinerary.
---
Photo Credit: Mariposa Museum Stamp Mill photo by Tony McDaniel; All other photos by Paprika Studios