High on most California visitors' bucket lists is a stay at Yosemite National Park. And we get why: this picturesque national park is one of the best-known landmarks in California.
From the giant sequoias to the waterfalls to the jaw-dropping panoramas, it's an amazing place. Over time its valley has been inhabited by the Miwok people, its trails hiked by John Muir and Teddy Roosevelt, and its landscapes photographed by greats like Ansel Adams.
But a visit to this park requires some planning as millions of visitors (approximately 3.3 million) travel there yearly. Our California trip planner services can help with everything from where to eat to when to go and where to hike, but, first, you'll want to decide on the best places to stay near Yosemite.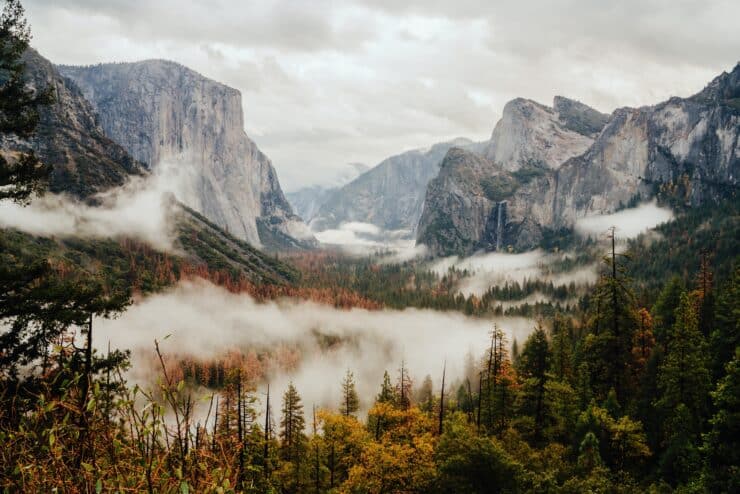 Where Is Yosemite National Park?
Yosemite National Park is in eastern California's Sierra Nevada Mountains, and the area has been inhabited for over 8,000 years. Yosemite Valley is known as Ahwahnee, named by the Ahwahneechee indigenous people.
The majority of visits center around Yosemite Village in Yosemite Valley. Here you'll find the visitor center, the best-known waterfalls (like Vernal Falls, Yosemite Falls, and Bridalveil Falls), and legendary landmarks like El Capitan and Half Dome.
How To Get To Yosemite National Park?
The park is located east of California's Central Valley and is a 5-hour drive from San Francisco and Los Angeles. Visitors centering their California travels around the park often fly into Fresno, the closest major airport and a 90-minute drive to Yosemite National Park.
Most day-trip visitors drive into Yosemite, but you can also take public transportation thanks to the well-organized YARTS network. If you're driving, be sure to fill up on gas before entering the park, as there is only one station, which is expensive.
What Are The Main Entrances To Yosemite National Park?
There are five entrances to Yosemite National Park, but four are the most frequented. Having been born and raised in California, I have visited the various entrances over the years.
But also, living in Mammoth Lakes, the easiest way to get to the Bay Area in the summer is through the park. Bottom line: I have crisscrossed the park countless times and have thoughts on everything from where to hike and grab a bite to where to stay in Yosemite. But first, let's get into the Yosemite park entrances:
South Entrance: Oakhurst & Fish Camp
Known as the Yosemite South Entrance and accessed via Highway 41, this entrance at the southwest corner of the park is nearest to San Diego, Los Angeles, and Fresno. The village of Fish Camp is the closest town to the park entrance on this route, while the town of Oakhurst is nearby.
It takes 1 hour of driving along wooded, curving roads to get from Fish Camp to Yosemite Valley. Major sights like the famed Mariposa Grove of Giant Sequoias, Badger Pass Ski Area, and Glacier Point are along this road.
The nearby town of Oakhurst has the most lodging options and stores near the park and you can easily access Bass Lake or horseback into the park. The disadvantage is that Oakhurst has chain hotels and restaurants, so it's not as charming as the other options.
Arch Rock Entrance: Midpines & Mariposa
Coined the Arch Rock Entrance and accessed via Highway 140, this entrance west of the park crosses the towns of Mariposa (pronounced "Mair-eh-pose-ah" FYI) and Midpines before following the Merced River past El Portal and into the park. This is the entrance most travelers from the Monterey Peninsula or the Bay Area use.
It takes about 1 hour from Mariposa to the Arch Rock gate, and the valley floor is a few minutes beyond that. It is also relatively less windy than the other park entrances.
El Portal and Midpines are small outposts while the main town is Mariposa, which is on the southern edge of California Gold Country. Mariposa has many things to do, from dining at local restaurants and shopping boutiques to visiting Sierra Foothills wineries or museums, like the Mariposa Museum & Historical Center.
This entrance lets you dive into California history in the historic town of Mariposa and provides access to world-class hikes and rock climbing. As a company that loves to dig into local culture when traveling, we consider this the best place to stay near Yosemite on the western side of the park.
Big Oak Flat Entrance: Groveland
Another option for Bay Area visitors is to drive east on Highway 120 and enter the park via the Big Oak Flat Entrance. After leaving Modesto, this route passes the farm towns of Oakdale and Knights Ferry and crosses Woods Creek before climbing the Priest Grade to the town of Groveland. The drive gets windy and steep (no guardrails!) on New Priest Grade Road, so we prefer to take the steeper and windier but shorter Old Priest Grade Road.
This stay near Yosemite allows you to explore the historic town of Groveland, which is home to the Iron Door Saloon, the oldest continuously operating saloon in California. It takes about 1 hour to get from Groveland to the Yosemite Valley Floor via the Big Oak Flat Entrance.
FYI, the least used entrance, the Hetch Hetchy Entrance, is also reached from Groveland. It is one of the park's least visited corners and is quiet and beautiful, but it does not provide access to Yosemite Valley. However, these entrances are the closest to Tuolumne Sequoia Grove and Merced Grove, which are smaller but less crowded than Mariposa Grove.
Tioga Pass Entrance: June Lake & Mammoth Lakes
Yosemite's east side entrance along Highway 120 is known as the Tioga Pass Entrance, as it climbs from the town of Lee Vining to the park along Tioga Road. This is the closest entrance to Tuolumne Meadows, Olmsted Point, Tenaya Lake, and legendary hiking, including the Pacific Crest and John Muir Trails.
There are cabins and campsites on the east side of the park, but most drive-in day visitors stay in June Lake or Mammoth Lakes (home to Mammoth Mountain Ski Area). While all the other entrances are open all year, this entrance is closed in the winter. It is open from late May to November but is weather dependent, so check before planning a trip there.
Best Places To Stay Yosemite
Many outdoor enthusiasts camp in canvas tent cabins or sleep deep in the backcountry, but most day visitors stay at hotels in or near the park.
If you want to stay inside Yosemite National Park, you have options from cottages to reservations at a campground. The Yosemite Valley lodging options include campsites like Curry Village, cabins at Yosemite West, and hotels like The Wawona Hotel and The Ahwahnee. (with its historic dining room).
But most of our travel planning clients prefer to stay outside the park so they can explore the greater area.
South Entrance: Oakhurst & Fish Camp
If you book one of these hotels, also plan to dive into these various activities for food lovers before you head into the park.
Queen's Inn By The River
The Queen's Inn By The River makes this list thanks to its combination of excellent service and location (just minutes from the park). Stay in the recently-remodeled cabins, taste wine at their on-property winery, Idle Hour, and bask in the sun at their beer and wine garden, which serves seasonal food.
Queen's Inn By The River, 41139 CA-41, Oakhurst, CA 93644
Tenaya Lodge at Yosemite
One of the most excellent options on this list, the Tenaya Lodge at Yosemite, is in Fish Camp, just a few miles from the park. It allows you to stay near Yosemite National Park but still has access to the town of Oakhurst. The property has historic lodge vibes but has the most modern decor of the hotels listed here. They also have a load of comforts and amenities like a  spa, so you can unwind after a day of exploring.
Tenaya at Yosemite, 1122 CA-41, Fish Camp, CA 93623
Arch Rock Entrance: Midpines and Mariposa
5th Street Inn
This 9-room guest house is one of the smaller properties on our list. Stay at the family-owned 5th Street Inn to easily explore historic Mariposa.
5th Street Inn, 4994 5th St, Mariposa, CA 95338
Mariposa Hotel Inn
Step back in time at the Mariposa Hotel Inn, whose building dates back to 1901. The property includes six queen or king rooms with antique furniture and walls adorned with old town photos. Its downtown location can't be beaten, and guests love the homemade breakfast.
Mariposa Hotel Inn, 5029 Highway 140, Mariposa, CA 95338 
Yosemite Plaisance Bed & Breakfast
The most positively reviewed property on this list, the only problem with the Yosemite Plaisance Bed & Breakfast is that it's often booked up well in advance. The location in a residential neighborhood makes you feel like you're a local, and the guests love the food, from the breakfast to the homemade treats they're often given for hikes or road trips.
Yosemite Plaisance Bed & Breakfast, 4953 Trabucco Street, Mariposa, CA 95338
Autocamp Yosemite
Set between Mariposa and the park entrance in the town of Midpines is Autocamp Yosemite. You have various high-end camping options with 80 Airstream trailers, 15 luxury tents, and three cabin suites. Stay here to unplug in nature while enjoying conveniences like a pool, a bar, and an artisanal marketplace.
Autocamp Yosemite, 6323 CA-140, Midpines, CA 95345
Big Oak Flat Entrance: Groveland
The Berkshire Inn
The family-run bed and breakfast The Berkshire Inn gets high marks from our travel planning clients who want to stay local. Just a couple-minute drive from the town of Groveland, you can enjoy this quiet escape in the wilderness while having the conveniences of town nearby.
The Berkshire Inn, 19950 CA-120, Groveland, CA 95321
Evergreen Lodge at Yosemite
Many a Northern California family has stories of staying at the Evergreen Lodge at Yosemite. Set between Groveland and the Big Oak Flat Entrance, this is a sprawling mountain lodge with everything you need, from food to live music. The Hetch Hetchy park entrance is just one mile away, while the Big Oak Flat Entrance is a few minutes beyond that.
Evergreen Lodge at Yosemite, 33160 Evergreen Rd, Groveland, CA 95321
Rush Creek Lodge
A sister property to Evergreen Lodge, the Rush Creek Lodge at Yosemite is the newest lodging option. Along with the Evergreen Lodge, this is one of the largest resorts in the area and has many options for lodging, dining, and activities. Both properties also have a youth program that teaches job and life skills to underserved Bay Area youth.
Rush Creek Lodge at Yosemite, 34001 CA-120, Groveland, CA 95321
Tioga Pass Entrance: June Lake & Mammoth Lakes
The closest town to this entrance is Lee Vining (which is adjacent to Mono Lake, FYI), but we recommend the larger village of June Lake because there are more recreation and dining options. Our pick of where to stay is the Double Eagle Resort & Spa. Or head 20 minutes south to explore the even bigger town of Mammoth Lakes and stay at the historic Tamarack Lodge.
Resources To Travel California
Check out the following articles for help planning your California road trip:
Have Us Plan Your California Trip
Did you know we're also a boutique travel agency specializing in California vacation planning? If you're looking to plan a trip to California, our California trip planner services are here to help you plan your perfect itinerary.
---
Photo Credit: Man looking at Half Dome and A tunnel heading into Yosemite By Kristen Curette & Daemaine Hines; Yosemite Valley photo by photo by Dan Newman on Unsplash; other photos by Salt & Wind Travel