Key phrase? You'd think. Wanna know the truth? What I was craving the minute I returned stateside was a burger. A grilled, juicy homemade burger and preferably messy as hell.
So, not even a day back in Los Angeles and I got out the grill to cook up these bad boys. But I'm not talking an all-American burger. I had just returned from Europe, so these are lamb burgers with a Mediterranean slant. The lamb patties are loaded with all sorts of spices and herbs, placed on the grill for a few minutes, then served garnished with a homemade tapenade mayo, red onions, cucumbers, arugula, and crumbled feta. Ok, so this Mediterranean Lamb Burger With Tapenade Mayo, Arugula, and Feta recipe isn't the most classic All-American burger but they're tasty as can be. And, while they didn't make up for missing the 4th of July, they made for one very satisfying homecoming.
Go stock up on all your cooking essentials then head into the kitchen, make this, and share it with us by tagging @saltandwind and #swsociety on social!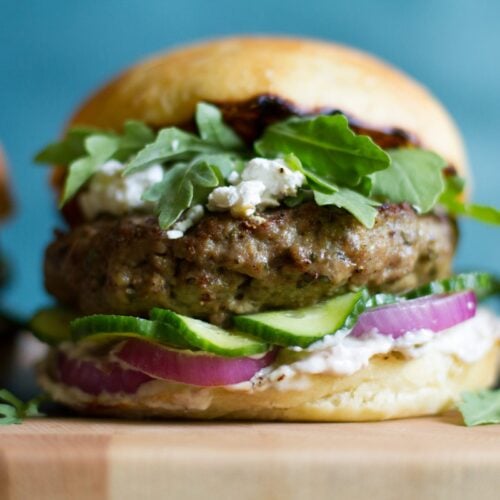 Mediterranean Lamb Burger With Tapenade Mayo, Arugula, and Feta Recipe
Yes, we love a good juicy hamburger but to us, there's nothing quite like a lamb burger. Here is our Mediterranean Lamb Burger With Tapenade Mayo, Arugula, and Feta recipe for a super simple burger topped with feta, spicy arugula, and an olive mayo!
Ingredients
1/2

cup

good-quality mayonnaise

2

tablespoons

tapenade

1

1/2 pounds

ground lamb

3

tablespoons coarsely chopped

fresh oregano leaves

2

teaspoons grated

garlic

2

teaspoons

ground coriander

1

1/2 teaspoons

ground cumin

1

1/2 teaspoons

kosher salt

1/2

teaspoon

freshly ground black pepper

1

large

egg

ligthly beaten

Vegetable oil

for grilling

4

burger buns

halved and toasted

1/2

red onion

sliced into 4 rings

Handful

baby arugula

1/2

cup

crumbled feta cheese

2

Persian cucumbers

thinly sliced
Instructions
Make The Olive Mayonnaise: Place the mayonnaise and tapenade or olives in a medium bowl and mix to incorporate.

Make The Burger Patties: Combine the lamb, oregano, garlic, coriander, cumin, salt, pepper, and egg in a large bowl and, using your clean hands, mix until just combined. Split the meat into 4 equal portions and shape each piece into a patty that is 1/2-inch-thick and roughly 1/2-inch wider than the burger buns.

Using your thumb, make a 1-inch-wide indentation in the center of each patty in order to help the burgers cook more evenly. Heat a grill pan or outdoor grill to medium high (about 450°F to 550°F). When the grill is ready, use tongs to rub the grate with several layers of paper towels soaked in vegetable oil.

Grill The Burgers: Place the patties on the grill indentation-side up, close the grill, and cook, making sure you do not press down on the patties, until grill marks appear on the bottom, about 3 minutes. Flip each patty and cook with grill closed until the patties are firm to the touch, about 3 more minutes. Remove to a clean plate and let rest in a warm place for a few minutes.

Serve The Burgers: Spread about 1 tablespoon of the mayonnaise on each top and bottom bun (you may have some mayo leftover). Divide red onions and cucumber slices amongst burger roll bottoms, top with a patty, then garnish each with arugula and feta. Top with the bun and serve immediately.
PERSONAL NOTES