Did you know that California is the nation's top road trip destination? And we can assure you that travelers are always in search of the best California road trips.
With 840 miles of coastline, nine national parks, rocky desert terrain, renowned wineries, exceptional mountains, and world-class cities, California is the perfect place to plan a road trip.
Ideas For The Best California Road Trips
Whether you're a farm-to-table food lover, a culture maven, a nature lover, or a thrill-seeking adventurer, there is a best California road trip itinerary for you. Plan it right with these tips and various itinerary ideas: 

First, Choose When To Travel
Though we have plenty of sunshine, there are still better (and worse) times of year to plan one of these best California road trips.
For example, Palm Springs is unbearably hot from May through September, "June Gloom" covers much of the Southern California coast in early summer, and the Sierra Foothills have a "dry season" in the fall where everything is brown.
Plan your California road trip for the best time of year for the exact destination and your interests.
Heed Your Travel Style
The key to the best California road trip is to be realistic when planning. As in, be logical about how much ground you want to cover each day, how often you want to change hotels, and how much you want to do impromptu exploring.
If you're aiming to stop in towns along the way, it'll be a slower pace than if you're driving directly from point A to B.
Next, Brush Up On California Driving Tips
Know which conditions you are (and are not) comfortable driving in. While we may not get a ton of inclement weather, it still happens, especially in the Sierra Nevada and Northern California.
Add to it that we have a range of road types from winding, single-lane highways in remote areas to the 22-lane wide Interstate 5 and it can be overwhelming if you aren't prepared. If you haven't driven in the Golden State before, make sure to read up on these driving tips for your next California road trip.
Choose One Of These 10 Best California Road Trips
For Creativity & World-Class Food: San Francisco Bay Area
From the historic Gold Rush to modern-day Silicon Valley, the San Francisco Bay Area has long been a place for dreamers.
Start a California road trip to the Bay Area in San Francisco and get to know its famously steep streets, world-class food, and historic Victorian houses. Head to the Embarcadero to dine at the Ferry Building, walk Golden Gate Park for urban nature, or go to Chinatown, home to the oldest Chinese American community in the nation.
Dive into the local culture by dining, shopping, or walking the various neighborhoods from the hip Mission to bustling SOMA or creative Hayes Valley. And, of course, make sure you try some traditional San Francisco foods such as cioppino or sourdough.
Extend Your Trip: If you have more time, visit the East Bay to hit up intellectual Berkeley and culturally diverse Oakland. Or go on a road trip to Napa or Sonoma Wine Country (below).
For Classic Wine Country: Napa Wine Country
If you're a food-and-wine lover on your first California road trip, you'll want to see the world-famous wine region of Napa. Enjoy intimate wine-tasting experiences and panoramic views at some of California's most famous vineyards like Schramsberg or Rutherford Hill.
From San Francisco, cross the Golden Gate Bridge and start your trip to wine country in the Carneros district stopping at Ram's Gate or Domaine Carneros on the way. Stay in downtown Napa if you want a small city feel or head north to St. Helena or Calistoga for chic wine country vibes.
In addition to wine tastings, there are opportunities to hike, hot air balloons, and horseback rides. Oh, and, of course, the farmers' markets, artisanal foods, and restaurants are top-notch!
Extend Your Trip: To best understand the Bay Area wine country, we suggest extending your trip to Sonoma. The two valleys are parallel to each other but, where Napa is like the Hollywood glam of California wine regions, Sonoma is a local food lover's delight. Head to the town of Sonoma for historic feels or to Healdsburg for rustic chic.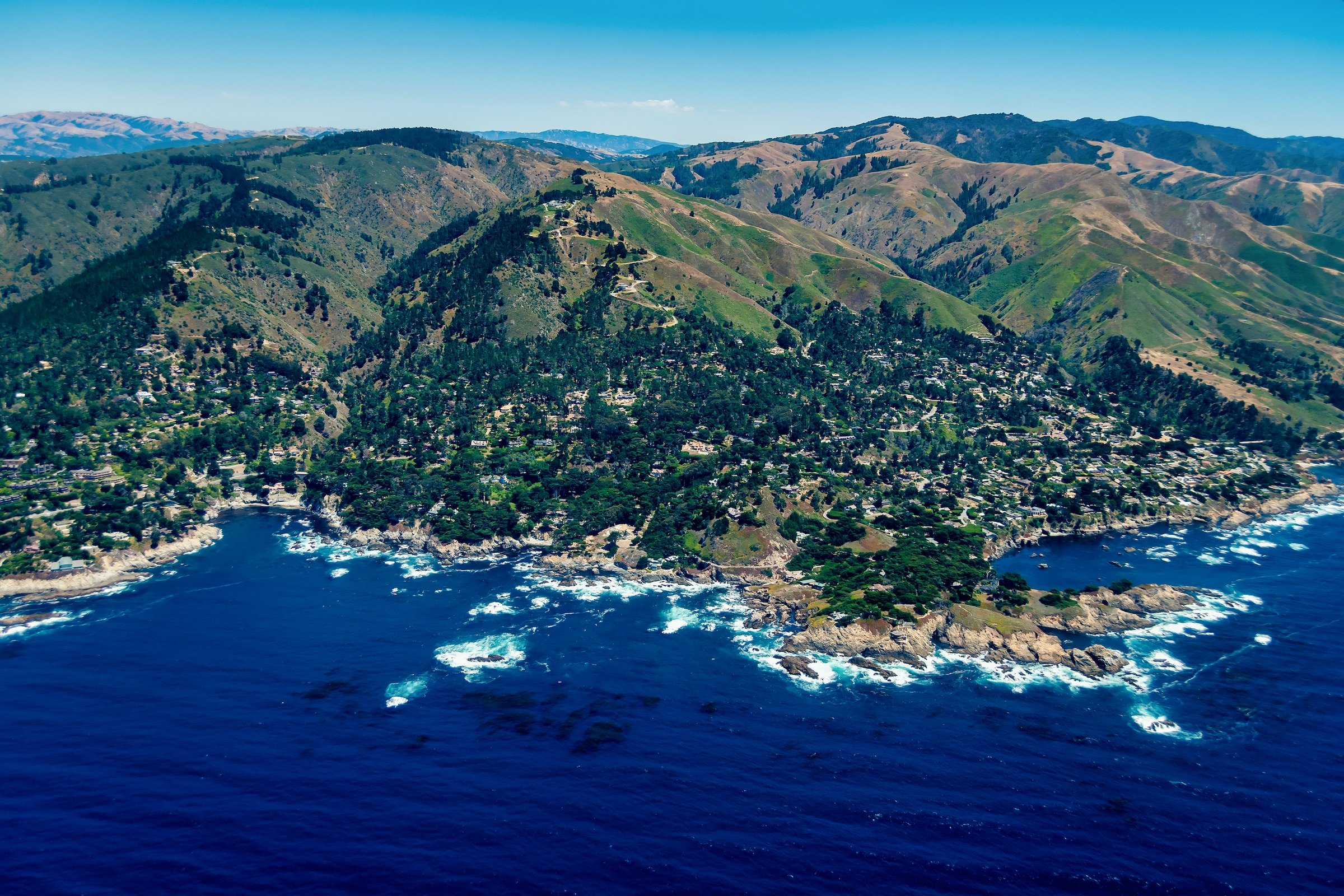 For Classic Coastal Vibes: Monterey Peninsula
If you'd prefer to head to the coast, do a California road trip to the Monterey Peninsula. The three main towns are Monterey, Pacific Grove, and Carmel-By-The-Sea and each is distinct.
Go to Monterey for the famed aquarium and a fishing history so rich Steinbeck espoused it. Head to Pacific Grove for sleepy beach vibes. Or go to Carmel-By-The Sea for fairytale cottages, boutiques, wine-tasting rooms, and great local food.
Extend Your Trip: If you have time, do a day trip to the Santa Cruz or Monterey wine regions. Or head south into Big Sur for a day trip or to drive the California coast.
For Breathtaking Views: California Highway One Road Trip 
Without a doubt, the itinerary our travel planning clients ask about the most is a California road trip that includes Big Sur.
You can start from the Bay Area and go to the Monterey Peninsula and then to the south. Or, you can start on the PCH down in Los Angeles and head north and visit the various California unique towns along Highway 1 as you head past the sand dunes of Pismo Beach and McWay Falls on into the winding cliffs of Big Sur. For where the biggest FAQs and our suggestions, be sure to read our California Highway 1 Road Trip Itinerary.
Extend Your Trip: If you have more time, continue north to visit Point Reyes National Seashore or even go into the lesser-visited parts of Northern California like Mendocino.
For The American Riviera: Santa Barbara
With Palm trees, beautiful sandy beaches, and the nickname of the "American Riviera,"  Santa Barbara is a must-see on a California road trip. This beach town of Santa Barbara has a lot to offer including a vibrant arts scene, fabulous weekly farmers markets, and a happening culinary scene, and it's very close to Central Coast wine country.
If you love architecture and history, be sure to visit Old Mission Santa Barbara. You can enjoy a guided tour of the museum and grounds or explore at your own pace. Founded in 1786, the mission was one of the first of its kind in California. For sunbathing and beach volleyball, head down to East Beach for some rest and relaxation.
Or, walk a little further down the beach and you'll find Andree Clark Bird Refuge Lagoon where you can bird watch the over 200 species of birds at the refuge. And don't miss the Funk Zone where there are wine-tasting rooms, cocktail bars, and even an incredible vintage store.
Extend Your Trip: Give yourself plenty of time to visit Santa Ynez, Solvang, and the renowned Santa Barbara wine region. Or continue north and wine taste your way through Paso Robles.
For Border Adventure: San Diego To Mexico
If Southern California is on your radar, consider a California road trip that heads to San Diego. Spend time enjoying the sunshine and surf of North County San Diego. Make sure to take in the creative scene and great food in North Park or Little Italy. And, of course, visit historic spots like Balboa Park or Coronado.
While San Diego is an incredible city on its own, it's really part of transborder agglomeration meaning that its identity and the larger metro area are connected to Tijuana. So, to better understand the area, we recommend crossing the border.
Extend Your Trip: If you're heading into Mexico, consider giving yourself a few days to explore Mexico's premier wine region, Valle de Guadalupe.
For The Outdoors: California Highway 395
For adventurous travelers, Highway 395 (also known as Eastern Sierra Scenic Byway) is the perfect California road trip to experience the mountains and forests of the state. This Highway is unassuming from the car but it crosses through some of the premier nature in California.
Along with providing access to premier ski resorts, Lake Tahoe, and Yosemite, it also passes by the highest spot in the lower 48 states, the hottest place on earth, and some of the oldest trees on earth.
Here are all the must-see sites along Highway 395 as well as where to eat on Highway 395 when road tripping be it down in Lone Pine or in Mammoth Lakes.
Extend Your Trip: Spend a few nights in Yosemite National Park or in Lake Tahoe!
For Water And Wine: Lake Tahoe And The Sierra Foothills
Most of us Californians have equal love for food and wine and the outdoors and we add them both to our trip itineraries whenever possible! One unexpected way to do that is a California road trip that visits Lake Tahoe and then journeys onto the wine region of the Sierra Foothills.
Extend Your Trip: Head down to California's Central Valley for even more farm-to-table eating.
For The Bucket List: Yosemite National Park
Tied with Big Sur for the most requested road trip, is a California road trip to Yosemite National Park. You can enter the west side of the park year-round, or, if you're driving past Mammoth Lakes through the Eastern Sierra, you can enter through Tioga Pass and into the east side of the park in the summer months.
If you're going to the west side of Yosemite from Fresno, here are our recommendations for what to eat. Also, know that it is much busier over there. As such, make sure you get an early start to beat the crowds. Drive to the two most popular lookout points — Tunnel View and Glacier Point — and, if you travel in spring, peep the numerous waterfalls. Don't forget to check out the Yosemite museum and visit the Ansel Adams gallery.
Extend Your Trip: From here you can drive down to Kings Canyon National Park where you can hike a trail to visit one of the largest sequoia groves on the planet! Known as "a land of giants", the Kings Canyon National Park features vast caverns, rugged foothills, and the notable gigantic General Sherman Tree (the largest tree on the planet by volume) in Grant Grove.
For One-In-A-Lifetime Experience: California National Parks Road Trip
Did you know that California has the most national parks in the nation? If you have at least three weeks or more, consider a California National Parks Road Trip where you visit (almost) all nine. Set off from Palm Springs in the south and head to Joshua Tree National Park and then pass through Death Valley National Park. You can then go on the west side of the Sierra Nevada and on to Kings Canyon National Park or Sequoia National Park.
Continue up Highway 395 and then to Yosemite. From there you can go up to Lassen Volcanic National Park or even up to Humboldt Canyon to Redwoods National Park. At that point, you could drive the coast to see Pinnacles National Park or even catch a boat to see Channel Islands National Park. And don't sleep on the numerous state parks you'll pass along the way!
California Travel Tips
Here are a few more tips to plan your next California trip:
California Road Trip Planner
Did you know we're also a boutique travel agency that specializes in California vacation planning? If you're looking to plan a trip to California, our California trip planner services are here to help you plan your perfect itinerary.
---
Photo Credit: Opening shot by J Steele; San Diego Cliffs by Christopher Kalima; Monterey Peninsula aerial by Dreamframer; Santa Barbara Sunset by Max Angell; Yosemite Half Dome by Michael Carni; Joshua Tree by ThroughLensPhotosNVideos