Road trips may not have been invented in California, but we're sure they were mastered here so we're sharing our top California weekend road trip ideas from north to south. 
True, being a California-based publication, we're 200% biased, but our massive freeways, miles upon miles of coastline, and range of topography (after all, on opposite sides of the state, we have the lowest and highest elevations in the continental U.S.) scream exploration.
Because we have a case of chronic wanderlust, we end up traveling even when we don't mean to, and our weekends fill up with impromptu road trips.
Among our concierge clients traveling to California, one of the most common requests is for help with itinerary planning for California road trips, so we're clearly not alone!
California Weekend Road Trip Tips
So you can't blame me that when Blundstone wanted to know #HowIRoam, a California road trip came to mind.
To us, there's something super refreshing and invigorating about heading off at a moment's notice, and there's no place quite like California to do that.
Follow Our California Driving Tips
Locals will attest that we do everything a little differently around here including driving. As such, be sure to read up on our top California road trip driving tips before you hit the road. 
Pack Light
When I head off on an adventure, I try to pack as light (always following our essential travel packing tips, of course!) and practical as possible. This time of year in California, the weather can go from sunny to rainy in 5 seconds flat, so it's full-on boot weather.
Because the day could bring anything from hikes in the Muir Woods to a food crawl in downtown Los Angeles, I always pack something walkable and versatile like these lace-up Blundstone boots.
Aim For Sustainable Travel
As with everything we do, we aim to travel as sustainably as possible given that travel is inherently not very sustainable. Follow our 8 tips to travel more sustainably from traveling slower and packing more eco-friendly to shopping and eating local food.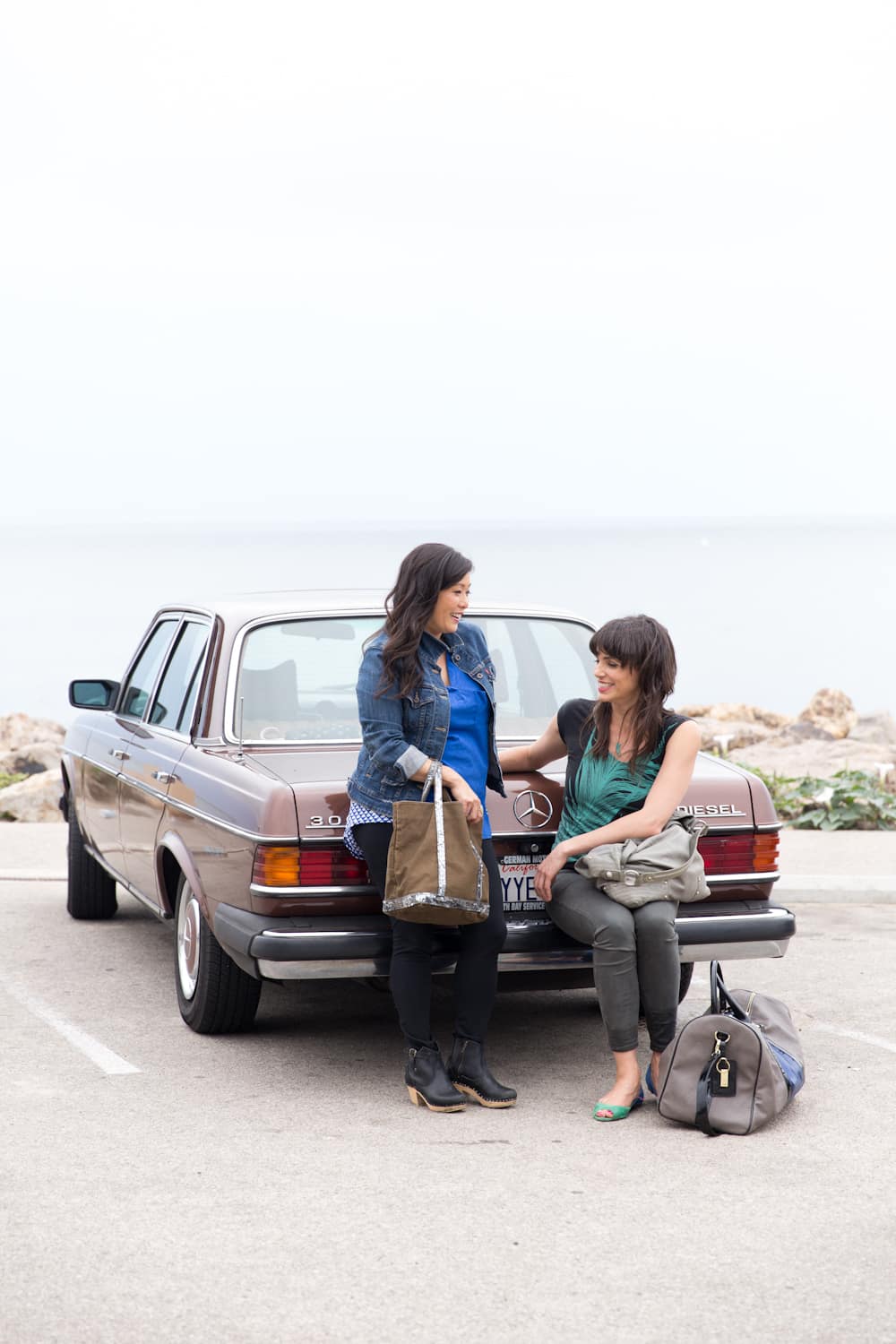 Top California Weekend Road Trip Ideas
In case you can't tell, we're on a constant mission to get out and explore California.
We're listing some of the most delicious reasons and best places to roam in the Golden State as our top California weekend road trip ideas:
Southern California Road Trips
Covering the area from the Mexico border to the Central Coast, here are our top Southern California weekend road trip ideas:
Around here, road tripping or taking the Surfliner train to San Diego has become a pretty regular weekend trip. And, because the train station is right next to Little Italy, we always schedule a few hours to roam around and see what's new.

Make like a local and hideaway in one of Northern San Diego county's beachside towns where the laid back vibes and indie spirit of San Diego are more apparent than ever!
When we can't get away on those weekends, we try to travel our town and explore a new side of Los Angeles. And when the weather's good, it's hard to get better than a day of wandering around Venice Beach.
Yes, Santa Barbara is a total gem of a place where you can get in the water, hike, or hang out and explore. But, being the food fiend I am, I always make time to check out the food scene including the lovely Santa Barbara Farmers markets.
If you have a little more time but can't go all the way to Big Sur, consider adding on a day in Paso Robles.
The most classic of California road trips, the Highway 1 California trip technically leaves Southern California, but we're including it all the same. We try to drive up to Big Sur once a year because we like it that much.
If you're doing the full Highway 1 California drive from Los Angeles to Big Sur, be sure to read about our favorite small towns to visit along the Central California coast.
Bay Area Weekend Road Trips
If you find yourself in San Francisco or Oakland, these are California weekend road trip ideas that are doable from the Bay Area:
When I lived in San Francisco, I made it a point to go up to wine country at least once monthly, and my local friends introduced me to Healdsburg. This once sleepy town has now become ground zero for wine country chic.
Of course, the historic town of Sonoma is adorable, too — here are our picks of where to shop, eat, and sip and all the foods we like to try to eat local!
But to truly make like a Bay Area local, make time to do an oyster crawl through Marin County. Some of the best oysters on the West Coast come from this region of NorCal, so it's hard to go wrong.
The longest itinerary on this list, you could do this in a weekend, but we'd recommend blocking off at least four days to do this right!

You've probably picked up on the fact that one of my favorite hobbies out there is skiing! I grew up skiing Mammoth Mountain, but another spot I adore here in California is Palisades Tahoe, as it's one of my favorite places to do spring skiing here in the Golden State!
How about you? What are your favorite ways to travel to California? Let us know in the comments below!
Longer California Road Trips
If you have more than a weekend to spare, take a look at our top California road trips across the state. And, if you're just here for the wine, take a look at the California wine regions you must visit. 
California Road Trip Planner
Did you know we're also a boutique travel agency that specializes in California vacation planning? If you're looking to plan a trip to California, our California trip planner services are here to help you plan your perfect itinerary.
---
Sponsored Post: This post was brought to you by Blundstone and Zappos, but all content, ideas, and words are our own. Thanks for supporting these sponsors who allow us to keep Salt & Wind up and running.
Photo Credit: Christopher Kalima and Robin Jolin