Big Sur is arguably one of the most iconic destinations in California — Bixby Bridge and McWay Falls are instantly recognizable (even if you can't conjure up their names). People from all over the world flock to this Central Coast gem and many want to snag a campsite in Big Sur. 
Camping In Big Sur
If you're even a little outdoorsy, the best way to fully experience a drive up California Highway 1 and everything that this natural wonder has to offer is to book a campsite in Big Sur. Imagine falling asleep under the shadows of towering coastal redwoods, listening to the waves crashing against nearby cliffs. Then, spend your days exploring countless hiking trails leading to waterfalls and ocean vistas. Sounds dreamy, right? 
Well, we aren't the only ones who think so because reserving a campsite in Big Sur is practically a competitive sport. There are limited campsites at the most desirable public campgrounds and they're solidly booked six months in advance. And, when they are released, they're reserved within seconds. 
But don't let that discourage you. Booking a campsite in Big Sur is challenging, but worth it. Here we'll walk you through how to choose a campground and share our best tips and tricks to score the perfect campsite in Big Sur.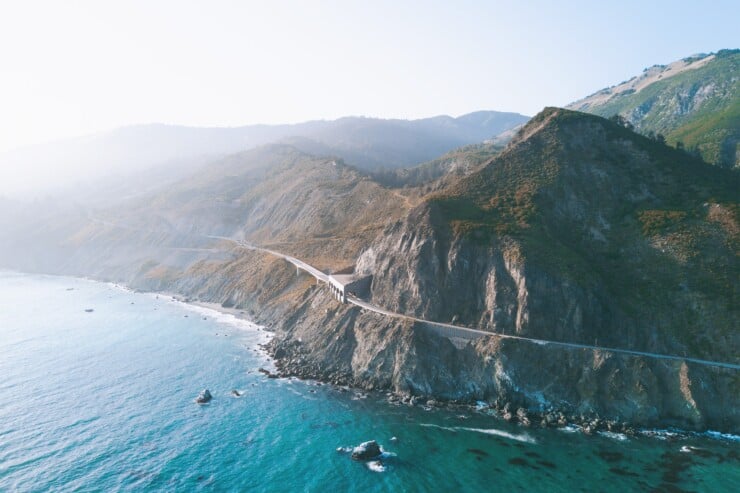 Choosing Your Perfect Campsite in Big Sur
The most popular public campgrounds in Big Sur are Julia Pfeiffer Burns, Kirk Creek, and Pfeiffer Big Sur. They're all very different, so it's worth doing a little research to find your perfect campsite. Here's a bit about each:
Julia Pfeiffer Burns Campground
You've likely seen this iconic campground (with idyllic McWay Falls) on social as it's widely regarded as one of the most desirable camping spots in the state. There are only two campsites so the competition is stiff. If you are lucky enough to reserve a campsite at Julia Pfeiffer Burns State Park, you'll be treated to some of the most beautiful vistas in the Golden State. 
Note: There is no beach access at Julia Pfeiffer Burns campground and hiking down to the beach near McWay Falls is treacherous and illegal. Also, these campsites are hike-in with no vehicle access, so you'll need to park in the parking lot and lug your own gear in. Is it a hassle? Yes, but worth it. 
Kirk Creek Campground
Kirk Creek Campground is a perennial favorite because of its incredible ocean views. It's a smaller campground, with only 33 tent sites, situated on a bluff looking out over the Pacific Ocean.
Campers follow a short trail down to a rocky beach or do a quick drive down to Sand Dollar Beach, the largest stretch of sandy beach in Big Sur. But know there are a few downsides to Kirk Creek Campground. Shade is limited, so it gets toasty in the heat of the day. And there is no potable water so no showers or flush toilets. 
Pfeiffer Big Sur Campground
Pfeiffer Big Sur State Park Campground is set against serene redwood trees scattered along the Big Sur River. There are 180-plus campsites with running water, flushing toilets, and hot showers! This is the best choice for first-time or inexperienced campers. Pfeiffer Big Sur also offers RV sites (without hookups).
There is no beach access from Pfeiffer Big Sur Campground, but Pfeiffer Beach is a short drive up California Highway 1.
Limekiln Campground
Limekiln State Park Campground is unique in that it offers both redwood and ocean-view campsites. With only 24 campsites, it's on the smaller side, but each site has a picnic table, fire ring, and dedicated parking. 
But note that Limekiln's ocean-view campsites are situated on the eastern side of Highway 1, so you'll have a view of the ocean and an overpass.  
How to Book a Campsite in Big Sur: A Helpful Timeline
Once you've picked the perfect campground, you'll ask, "How do I get a campsite in Big Sur?" We've put together a timeline, along with our best tips and tricks for booking a campsite in Big Sur. 
At Least Seven Months Out: Pick Dates
If you have a specific date in mind, you'll need to make a reservation exactly six months in advance. This means if you're looking for a campsite in Big Sur in August, you'll need to book in February. However, if your dates are super flexible, you might be able to snap up a canceled reservation here or there.  
TIP: Book Midweek Or A Long Weekend
Truth is booking a traditional two-night weekend is a long shot. Here's why: say you're looking to camp on August 15th. Those dates would open up six months prior, on February 15th. However, any campsites that are available can be booked for up to two weeks beyond August 15th. So, as campsites are reserved throughout the week, the number of available spots dwindles. By the time Friday rolls around, available campsites are often few and far between.
We suggest scheduling a midweek or long weekend instead. Tuesdays and Wednesdays are usually the best days to reserve a campsite in Big Sur. You'll find there's greater availability and will have a better shot at reserving a campsite.
One Week Before Booking: Do Prep Work
Now you'll need to familiarize yourself with how to book a campsite in Big Sur. Kirk Creek Campground is federally owned, so you'll need to book at Recreation.gov. While reservations for Julia Pfeiffer Burns Campground, Pfeiffer Big Sur Campground, and Limekiln Campground are available at Reserve California. 
Create An Account
First, you'll need to create an account at the respective site. Then, f you do manage to nab a campsite, this will save you time when you're checking out. Also, it will reduce the risk of forgetting to fill out certain fields, which will get you kicked out of the reservation line.
Research Big Sur Campsites
Take a look at the map of the campground and take note of which campsites you want to target. Do you want to be near the facilities, or further out? Would you prefer to be closer to the road or trail? Are you looking for a campsite with more privacy? 
Some (but not all) of the campsites will display images when you click on the campsite number. You can also find images on independent websites like Campsite Photos.
Get To Know The Booking Websites
Booking a campsite in Big Sur isn't quite as simple as booking your typical hotel room because neither Recreation.gov nor Reserve California is very user-friendly.
Finding Available Campsites at Recreation.gov
Head to Recreation.gov, and enter "Kirk Creek Campground" into the search bar. A grid will appear, with dates displayed along the top and campsite numbers along the left-hand side.
Here's the first stumbling block. If you enter the dates that you'd like to book into the search bar at the top, you'll get a message saying "no availability for those dates". That's because they won't show as available until six months in advance shortly before 7 am PST.
The best way to look and see what campsites are available is simply to use the "5 days" button and scroll through until you hit the desired dates. Is this annoying? Yes. But it's the only (current) way to see availability.
Once you arrive at your desired dates, you'll be able to see which sites are already booked, and which ones are (potentially) available. If there's a red slash, that means a campsite is booked. An "NR" indicates that you're not able to book that campsite because the date you're looking at is more than six months in advance. These are the campsites that you'll want to target. 
An "A" denotes that a campsite is available. Unless you're looking at the grid before 7 am, these are typically cancellations. If your dates are somewhat flexible and you are lucky enough to see an "A" on an already released campsite within your date range, jump on it – because it won't last long.
Campsites showing an "FF" are first come, first served, or walk-in campsites. These campsites need to be reserved in person, on the day that you would intend to stay. We don't recommend leaving anything up to chance, so simply disregard these campsites.
Finding Available Campsites at Reservecalifornia.com
Head to Reservecalifornia.com. You'll be prompted to enter a location or campground. Then, you'll be asked to enter your desired dates, and what type of campsite you want. Unless you're taking horses or an RV, simply select "camping". Because you're looking at dates that are more than six months out, the results will show that there are zero campsites available. 
Click on the image of the campsite to pull up the calendar showing available dates. Many of the campgrounds at Reserve California are broken up into different camps. For example, if you're looking at dates for Pfeiffer Big Sur, it will then take you to a screen showing three different options — South Camp, Weyland Camp, and Main Camp. These are all different areas within the Pfeiffer Big Sur campground. Click on any of these options and you'll (finally) be able to see available dates.
If a date has a red slant, it is already reserved.  A green box indicates that a date is currently available – but because you're looking over six months out, dates that will become available will show as "add-on dates," a teal box with two horizontal lines.
Two Days Before Booking: Assemble A Team
One of the best ways to increase your chance of reserving a campsite in Big Sur is to assemble a team. Ask friends or family to help on the day of booing. You're looking for your most aggressive online shoppers or vigilant video gamers aka somebody who's quick on the draw. You'll need to ask them to create an account and let them know which campgrounds and campsites you'd like them to target. 
The Night Before Booking: Decide On Campsites
Take a look to see what campsites are still available. Keep in mind that campsites can be reserved for up to two weeks, so you may find that some of the campsites you were initially interested in are no longer available. Decide which campsite(s) you'll attempt to reserve in the morning. 
TIP: If you have your heart set on one particular campsite, you can attempt to reserve it with both your phone and your laptop. Alternatively, if you want to increase your chances of nabbing any campsite, try for a different campsite on each device. 
Practice The Checkout Process
If you are quick enough to scoop up a campsite in Big Sur tomorrow, make sure that the checkout process goes smoothly. The best way to do so is to practive. Look for any available campsite (the date and location are irrelevant for these purposes) and start the checkout process. This is pretty self-explanatory, you simply want to familiarize yourself with the information you'll be required to provide and all of the boxes that you'll need to check. 
FYI, Reserve California requires you to provide license plate numbers for any vehicles that you'll be parking at the campground. If you're hoping to book a campsite in Big Sur at either Julia Pfeiffer Burns, Pfeiffer Big Sur, or Limekiln, snap a picture on your phone so that you have this information handy on the morning you book.  
The Day Of Booking Your Campsite
Ten Minutes Before: Log In And Select The Campsite
You've done all the research, you've run through drills, and you're ready for the big event. Reservations open at 7 am PST at Recreation.gov, and then at 8 am PST at Reserve California. Make sure you're properly caffeinated and ready to score the campsite of your dreams!
Log in on both your phone and your laptop. Select your campground, your desired campsite, and dates – it will allow you to reserve a campsite for up to two weeks. 
Note: Campsites will be shown as available, but don't get too excited. You won't be allowed to check out until right on the hour. 
One Minute Before: Be Ready To Book
This might sound a little obsessive but it's imperative. You'll want to have both devices in front of you, logged in. Make sure your screen saver doesn't come up, simply stare at the clock on the top of your screen. If you've got another device, you could even pull up a clock that shows milliseconds.
On The Hour: Click "Add To Cart"
As soon as you see the time switch from :59 to :00, immediately click "add to cart".  If you didn't get the campsite, a message will pop up telling you that the campsite is unavailable. If you're lightning fast, you can quickly scan the grid to see if any other suitable campsites are still available and try to add those to your cart. 
In our experience, both websites can be a little glitchy. The checkout screen can take a minute to load, but that's usually a good thing. It typically means that you managed to score a spot. Once the checkout screen pops up, you've got 15 minutes to complete your checkout – which, if you followed our recommendations and did a few practice runs –  should be a breeze.
Once You've Booked Your Campsite in Big Sur
Congratulations, the stressful part is over! Now it's time to familiarize yourself with the area and the drive along Highway 1. If you'll be embarking on a California road trip, tack on a few extra days and visit some of the unique small towns you'll pass along the way.
Or head farther north to spend some time in Monterey or Carmel, exploring some of the local restaurants and wineries. Or even check a few of the California National Parks off of your bucket list. If you need help planning your itinerary, get in touch — we're here to help. 
Where To Stay If You Didn't Reserve A Campsite in Big Sur?
If you weren't able to make a reservation, take a look and see what campsites weren't booked for the following day. If any of those sites work for you, give it another shot tomorrow. 
If you find that you aren't able to reserve a campsite in Big Sur within your desired date range, don't be too disappointed. You've still got plenty of options. Check out VRBO for rental houses or cabins. Consider glamping at Fernwood Resort or Treebones Resort. Set up near the river at Big Sur River Inn. Or stay in a high-end resort like the legendary Alila Ventana Resort.
If you've got your heart set on tent camping, look for privately owned campgrounds. Ventana Campground and Riverside Campground are two great options. They'll be pricier but typically include more amenities.
How To Cancel Campsites In Big Sur
If you do need to cancel your reservations, Recreation.gov allows you to do so up to a day in advance for a partial refund. There is a link in your confirmation email that will walk you through the process.
To cancel reservations made through Reserve California, you'll either need to log into their website or call their cancellation hotline. A non-refundable fee of $7.99 will be assessed for each reservation. 
Resources To Travel California
Check out the following articles for help planning your California road trip:
Have Us Plan Your California Trip
Did you know we're also a boutique travel agency specializing in California vacation planning? If you're looking to plan a trip to California, our California trip planner services are here to help you plan your perfect itinerary.
---
Photo Credit: Opening photo of hikers in Big Sur by Ryan Tuttle; Photo of the tent in woods by Jeremy Bishop on Unsplash; Photo of Beach in Big Sur by Nathan Dumlao on Unsplash; Photo of car and tent above clouds on the coastline by Robson Hatsukami Morgan on Unsplash; Photo of Big Sur coastline by Sara Remington