Even if you've never visited, you likely already have heard that Carmel-By-The-Sea is one of the quaintest small towns in California. But what you might not know is that it's also in the heart of one of the Golden State's biggest agricultural zones so a visit to the Carmel By The Sea Farmers Market is a must.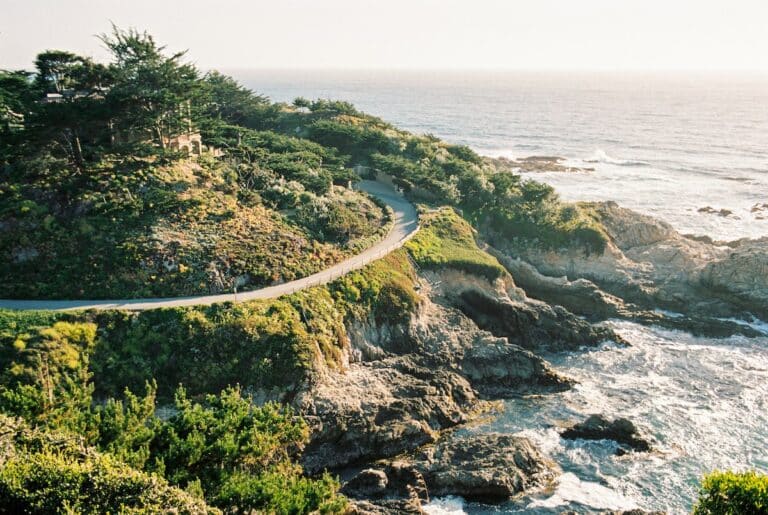 Where Is Carmel-By-The-Sea?
If you're wondering right now "Where is Carmel By The Sea?" we'll clarify: it's a small seaside town on the southern part of Central California's Monterey Peninsula.
It's just north of Big Sur on the famous California Highway 1, next door to the famous Pebble Beach golf course, and minutes from the Monterey Bay Aquarium.
What does Monterey produce?
This means that it's in on the edge of Salinas Valley, which is nicknamed the "Salad Bowl Of America. If you're looking to learn about the local produce, be sure to read about "What Is Grown In Monterey" here.
The long and short is that there is everything from world-class wine to those lettuce greens that put the region on the map, berries, and lots and lots of artichokes. And the best place to try it all is at the local Carmel-By-The-Sea restaurants and the farmers markets.
When Is The Carmel By The Sea Farmers Market?
If you're in search of a farmer's market in the area, the first thing to know is that there are many. There is at least one local farmers market every day of the week across Monterey county from Salinas to downtown Monterey and Carmel. Head here to check out the full schedule of Monterey farmers markets.
Visit The Farmers Market
On a recent trip up the California Coast with our friends at California Grown, we got to visit local farms and attend local markets, including this one.
The Carmel By The Sea Farmers Market is held weekly on Thursday from 10 AM – 2 PM on Sixth Avenue between Junipero and Mission Streets and just adjacent to Devendorf Park.
The Carmel By The Sea Farmers Market is managed by Raul Lopez and Nile Estep (who recently also opened the farm stand and event space in Carmel Valley known as Hacienda).
What Is Sold At The Farmers Market?
The market features a mix of local certified organic fresh farm produce, eggs, plants, fresh cut flowers, and specialty items such as olive oil, hummus, pizza, and bread. You'll even find live music and art in the mix.
As for the farmers and food makers, a few stands to start at to get to know at the Carmel By The Sea Farmers Market are:
Get To Know Javier Zamora Of JSM Organics
One of the best farmers market vendors in the Monterey area is Javier Zamora of JSM Organics, not becuase of his high-quality certified organic produce, but also because of his commitment to his community.
The son of farmers, Javier immigrated to the United States from Mexico and first worked in restaurants. After hitting a financial and career roadblock around the 2008 financial crash, he embarked on a new chapter. He finished high school in his 40s, got into landscaping, and eventually went back to his farming roots.
In 2012, he went through the ALBA program, an educational nonprofit in Monterey that helps farmworkers become farm owners. He started with 1.5 acres and now has more than 200 acres – a particularly big deal since fewer than 4% of farm owners identify as Hispanic.
They grow organic fruit, vegetables, and flowers and 120 acres of the land they work on are a part of a conservation easement. They're committed to growing organically, using sustainable packaging, and helping other small farmers start out.
Javier is a role model and trailblazer because he has not only successfully scaled his business but also leases out small parcels to other Latinx farmers who are coming out of the ALBA program.
Watch this video on Javier to learn more about his story and the work he does at JSM Organics. Then head to the Carmel By The Sea Farmers Market to buy his top-quality produce!
Have Us Plan Your California Trip
Looking to travel to Carmel-By-The-Sea? Did you know we're also a boutique travel agency that specializes in California vacation planning? Our California trip planner services are here to help you plan your perfect itinerary.
---
Photo Credit: Carmel Highlands By Sonya Khegay; Pink dahlia By Renáta Török-Bognár; photo of Javier Zamora by Alison Needham; other photos by Team Salt & Wind Travel