When travelers find out that we specialize in arranging travel to Hawai'i, the first thing they ask is, "What food is Hawai'i known for?"
The answer is that we have a very long list of what to eat in Hawai'i. The reason is that the food culture there is a thing all its own, and it's constantly evolving.
If you've ordered a plate lunch at your local Hawaiian BBQ spot or snacked on pupus at a local tiki bar, you may think you've covered your bases. But there is much more to the food scene than that.
Hawai'i's Food Scene Today
As we've said before, the food culture is unique thanks to the state's unique history, where immigrants arrived from places as diverse as China, Japan, the Philippines, Puerto Rico, and Portugal. And, since these groups all worked together during the plantation era, they each brought elements of their food traditions to the islands.
As a result, Hawai'i's food scene has a strong fusion element. Some of the most common local dishes–say, saimin, boiled peanuts, shoyu chicken–have flavors that feel reminiscent of other cuisines yet definitively local foods. Head here to read how Hawai'i's food scene became what it is today.
These days there is a major focus on local food so, in everything from the farmers' markets to high-end restaurants, you'll notice a big focus on farm-to-table.
Add to it that there is a creative local makers scene and renowned, James Beard-nominated chefs cooking thoughtful local food, and there is a lot of delicious food to explore when you travel to Hawai'i.
The Classic Local Comfort Foods
But, we will always have a big love for the local comfort foods because they are an edible slice of the state's history. Also, they're simple, delicious, and, well, comforting.
Some of these classic local foods are dishes you'll find iconic plate lunch spots like Rainbow Drive-In. While others are made by home cooks for anything from University of Hawai'i football tailgates to luaus or casual music jam sessions known as kanikapila.
Local Food to Eat In Hawai'i
We can, of course, help you plan a perfect Hawai'i foodie itinerary that includes farm visits, cooking classes, and fine dining.
But, if you're going for the first time and want to try local comfort food, here is what to eat in Hawai'i: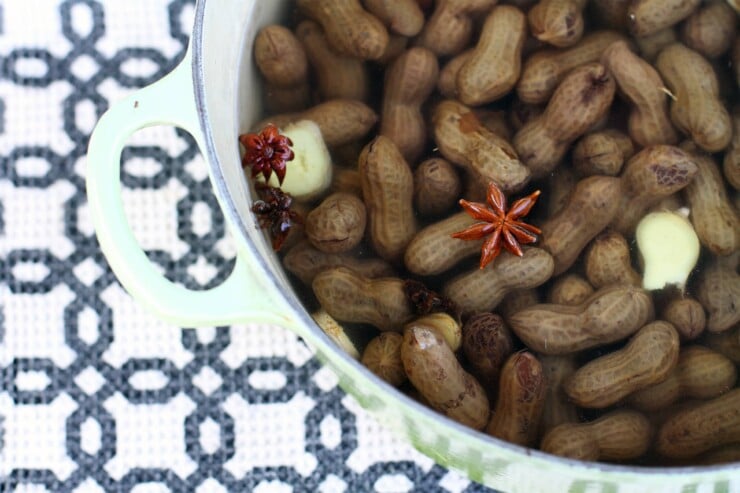 Boiled Peanuts
You might have only had boiled peanuts in the deep South, but they're a traditional pūpū (aka appetizer) in Hawai'i. Brought to Hawai'i by Chinese immigrants, the boiled peanuts here are usually made with generous star anise.
We often stop by local spots like Fort Ruger Market on O'ahu to get boiled peanuts and some poke before going to friends' houses, but we also like to make our own boiled peanuts when we're up for it!
Banana Bread
If you're heading to Maui, you'll want to head out to the Road to Hana not only for the stunning views but also the banana bread. Spots like Twin Falls Farm Stand make bread with local bananas and are one of the most beloved treats you can find in the islands.
Butter Mochi
Another treat to look out for is butter mochi, which you can find across the state. It's most commonly made at home but you will also find it for sale in local markets like Diamond Head Grill. The dessert is made with mochiko flour, butter (hence the name), coconut, and milk for a sort of spongy, sweet treat. 
Coco Puffs
Like malasadas (below), coco puffs are among the most beloved local treats. They are like French profiteroles in that they are made with a type of choux pastry, but they are different for a few distinct reasons. First, they're filled with a pudding — the traditional flavor being milk chocolate.
And, second, they're topped with a mixture called chantilly. But this is not traditional French chantilly (i.e., sweetened whipped cream) but rather a sweet, slightly gritty topping made by whipping together egg yolks, sugar, and butter.
So, yes, it's more like a buttercream frosting than chantilly but, semantics aside, it's delicious. Liliha Bakery is credited with coming up with these sweet pastries, so make sure to try them for yourself when you visit O'ahu.
Huli Huli Chicken
Huli means turning in Hawaiian, and, though huli-huli has been trademarked, it is often used to refer to a teriyaki-like, smoky-basted chicken grilled and turned rotisserie-style over kiawe (local Hawaiian mesquite) charcoal.
Whenever there is a community fundraiser in Hawai'i, you are almost guaranteed to find this slightly sweet, smoky BBQ'd chicken. To find some huli-huli, look for billowy smoke wafting from large grills on the side of the road. It's sweet and tangy, with plenty of ginger, garlic, and soy — and this recipe is a simplified riff on huli huli chicken that you cook do on your grill (assuming you too don't own a rotisserie).
Malasadas
Brought to Hawaii by the Portuguese, the yeasty, airy donuts known as malasadas (pronounced "mahl-ah-sah-dahs") are made daily at numerous bakeries across the state. Purists insist you eat malasadas plain (unfilled and sugared), but they're often filled with local flavors like passion fruit or coconut or dipped in li hing mui (salted plum powder) sugar. 
For more about how malasadas, here is what to look for and where to get our favorites. The classic spots to get malasadas are at Leonard's Bakery on O'ahu or at Tex Drive In on Big Island though we can share a full list if you get in touch!
Manapua
The word "manapua" is a shortening of a Hawaiian phrase that translates as "delicious pork thing" — and that's exactly what these are. Inspired by Chinese pork buns, these yeasted buns can be steamed or baked and are traditionally filled with char sui (Chinese BBQ pork) or kalua pig.
The ones pictured above are from Royal Kitchen on O'ahu and are a must-visit spot because their manapua are always fresh, and they have all sorts of flavors.
Musubi
Musubi are like a long-lost cousin to the Japanese snack known as onigiri, where sushi rice is wrapped in seaweed and often filled with all sorts of delicious flavors. But in Hawai'i, they give it a decidedly local twist and fill sushi rice with SPAM cooked in teriyaki sauce. And the classic place to get it is at the closest 7-Eleven.
Plantation Iced Tea
Though you might be in search of where to check out the creative cocktail scene for everything from Mai Tais to modern mixology, don't skimp on the non-alcoholic options too. One of our favorites is known as "Plantation Iced Tea" and is essentially a sweet iced tea made with black tea, pineapple juice, and flavored with cinnamon and lemongrass.
Plate Lunch
Go to any classic local food spots, and you're sure to come across a plate lunch aka an Aloha plate. If you can imagine a Southern meat-and-three meal and a Japanese bento box morphing together, you have an idea of what a plate lunch is.
This iconic local meal usually includes two scoops of rice, macaroni salad (like potato salad made with macaroni pasta), and some protein. The proteins are usually Japanese, Chinese, Korean, or Hawaiian origins like teriyaki chicken, char siu pork, kalbi ribs, or kalua pork. You might even see a loco moco, where a hamburger patty is topped with gravy and a fried egg, as an option. Oh, and if you add more than one protein, it's usually called a mixed plate, FYI.
Poke
This dish has become such a big deal in the continental states (aka "mainland") that it probably needs no introduction. But just in case: the Hawaiian word poke (poh-kay) means to cut or chunk, and the classic version was raw fish mixed with local sea salt, limu (a seaweed), and kukui nuts.
These days, shoyu poke (with Japanese-style soy sauce, scallions, and sesame) is the most common, but all sorts of versions are made with all sorts of seafood and even beef. Our Editor In Chief likes to serve classic ahi poke on tostadas with avocado to bring a little bit of her fresh California roots to the dish.
Portuguese Bean Soup
One of the dishes you often see on menus but will come across if you visit a local's home is Portuguese Bean Soup. Also called Portuguese Bean Stew, this is a slow-cooked soup made with Portuguese sausage (aka linguiça), ham hocks, tomatoes, cabbage, potatoes, and sometimes elbow macaroni.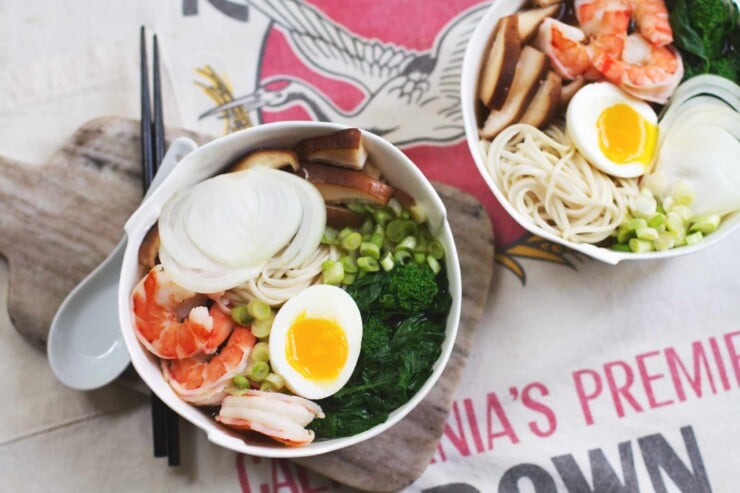 Saimin
Nearly every major ethnic group has left its mark on this ramen-like dish that hails from Hawai'i. Classic saimin starts with a Japanese-like dashi broth and Chinese lo mein-like noodles. There are all sorts of toppings from Portuguese linguica sausage, Filipino pancit, and Korean kimchi. Our version of the dish is a Shrimp and Vegetable Saimin that takes some time to make but is pretty simple and very delicious.
Shave Ice
Shave ice (not shaved ice, by the way!) is the same basic idea as a snow cone but lighter and airier because it's made with shaved rather than crushed ice. You can find it pretty all over Hawai'i, and, while traditionalists swear by Oahu's Matsumoto or Waiola, we're fans of Ailana because their syrups are homemade. Here is our list of where to find the best shave ice across Hawai'i.
Shoyu Chicken
One of our all-time favorite local dishes is shoyu chicken. Like Portuguese Bean Soup, you might see it at a plate lunch spot, but more often, it's found at a tailgate or during a home-cooked meal. It resembles teriyaki chicken but is different as it's simmered not grilled and served in a sauce, not with a glaze.
Shoyu Chicken is usually made by simmering chicken thighs together with shoyu and sugar and various flavorings that are most commonly ginger, garlic, and chiles. It's a dish that's a major crowd-pleaser, so we often make it around here as a weeknight meal.
Try Traditional Hawaiian Food
To be crystal clear, "Hawaiian food" or "Hawaiian cuisine" refers to foods that were traditionally made by indigenous Hawaiians. So, if you're talking about anything else, go ahead and refer to it as "local food" and not as "Hawaiian food."
The traditional Hawaiian diet was based on the foods that were readily available such as fish, taro, sweet potato, breadfruit, kukui nuts, seaweed, and ferns. Here are some traditional Hawaiian dishes to search out:
Haupia
Haupia (pronounced "how-pea-ah") is the classic Hawaiian dessert that you'll likely come across the most when you visit Hawai'i. It's traditionally made by simmering coconut milk and sugar with cornstarch and then letting it set up until it resembles a pudding.
These days, haupia has also become a trendy island dessert flavor. You'll find haupia as a shave ice flavor, combined with chocolate in a slice of pie, or even as a creamy gelato at one of our local favorites, Via Gelato in Honolulu.
Kālua Pork
Traditionally spelled kālua, this is a Hawaiian cooking term meaning "to cook in an underground oven." In Hawaii, an underground oven is called an imu, and steam is used for cooking food. Pork is prepared this way, though since most don't have access to an imu, a slow cooker is good – and despite its name — quicker substitute.
Laulau
This classic Polynesian dish is one that was brought to the islands by the earliest voyagers. In traditional laulau recipes, taro leaves or ti leaves are filled with fish or pork and then slow-cooked in an imu. Today you'll often see butterfish and pork combined and then the mixture is steamed and served with white rice.
Lomi Lomi Salmon
Also called lomi-lomi salmon, this is a classic side dish in Hawaiian cuisine and is often served at luaus with the other foods listed here. It tastes as if salmon and a non-spicy pico de gallo salsa came together as it's a mix of salmon, tomatoes, scallions, and sweet Maui onions. The term lomi-lomi means "massage" in Hawaiian and is about how the mixture is gently combined before serving.
Poi
Before the sticky, taro root (aka kalo, in Hawaiian) paste became a staple at lū'au buffets, poi was a staple of the Native Hawaiian diet and eaten by scooping your fingers into a community bowl or calabash.
Traditionally, poi is made from cooked taro root that is pounded and mashed, and you'll usually see it served as a side or part of a plate lunch.
Squid Lū'au
Like lau lau this is a dish that you'll find throughout Polynesia. In its simplest form, squid or octopus is slow-cooked with taro (aka luau) and coconut milk. It's a sweet-savory dish that's one of our favorite traditional Hawaiian foods.
Any other must-eat Hawaiian foods that we missed in our list? Let us know in the comments below!
More Hawai'i Travel Tips
Read on for even more about Hawai'i:
Have Us Plan Your Hawai'i Trip
Did you know we're also a boutique travel agency that specializes in Hawai'i vacation planning? If you're looking to plan a trip to Hawai'i, our Hawai'i trip planner services are here to help you plan your perfect itinerary.
---
Hawaiian Diacritical Marks: In an effort to be accurate and respectful of the Hawaiian language, we use diacritical marks in our articles on the region. For more about which marks are used in the language and how to find proper spelling, refer to this Hawai'i Magazine article.