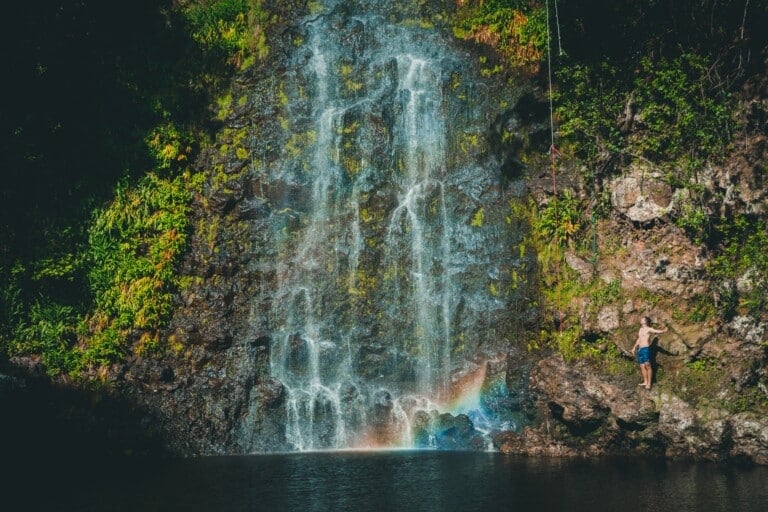 Ready for an adventure? The Hawaiian islands are calling. Get started planning your trip to the Aloha state with this Hawai'i Travel Guide. 
From stunning beaches to bustling farmers markets and nonstop adventures to a vibrant culinary scene, there is something for everyone on a Hawai'i vacation. 
The top question we get is "which Hawaiian island to visit?" No surprise that our answer is "it depends." As in, it depends on the pace you want to travel, what your activity preferences are, and most.
But when it comes to planning a trip to Hawai'i, our travel planning clients most frequently visit Oahu and the Island of Hawai'i for their mix of farms, food, nature, and adventure.
Here are our top articles and tips for how to plan a trip to Hawai'i.
Look, we love Hawai'i through and through: the Aloha spirit of the locals, the rich culture, the numerous hiking trails, and the endless water activities. 
But it's important to know that the state of Hawai'i suffers from overtourism. As such, we encourage you to heed these sustainable travel tips and consider booking activities that support the local culture so you can have a positive impact.
Another way to be part of the solution? Before diving into specifics of planning a trip to Hawai'i, get to know the culture through these travel tips:
Here at Salt & Wind Travel, we're all about tasting the world so we first and foremost travel for the food.
The food scene in Hawai'i is one of our favorites to explore because you can root around in a farm one moment and then have creative cocktails at sunset later that day while eating everything from saimin to high-end sushi in between.
Dive into the broader food scene below and then get to know famous foods like:
As the most populated island in the state (thanks to Honolulu), O'ahu Hawai'i also has the most going on. You can brush up on local history in by visiting the Bishop Museum or the 'Iolani Palace. Spend a day visiting a local farm or exploring the numerous farmers market.
And, of course, go on adventures ranging from surfing the waves of Waikīkī, hike among waterfalls, horseback ride at a former sugarcane plantation, or swim with the dolphins.
If you're trying to decide how long to visit O'ahu or where to stay, reach out and we'll help you out!
The Island of Hawai'i is the largest and youngest of the populated Hawaiian islands and, though we don't like to play favorites, it's high on our list. You'll encounter untamed wilderness from flowing lava and green sand beaches to lush valleys with dramatic waterfalls. 
And that topographic diversity also makes it an incredible place to grow everything from coffee and vanilla beans to honey and cattle making it an ideal destination for farm-to-table food lovers. 
Read on for how to adventure on Hawai'i island and get in touch for help with everything from where to stay to where to eat.
Kaua'i and Maui Island Travel Tips
If your Hawai'i trav el plans include visits to the islands of Kaua'i and Maui, make sure you read up on the following:
Travel Planning Resources
Starting to plan a Hawai'i trip? Check out these helpful links:
Have Us Plan Your Hawai'i Trip
Did you know we're also a boutique travel agency that specializes in Hawai'i vacation planning? If you're looking to plan a trip to Hawai'i, our Hawai'i trip planner services are here to help you plan your perfect itinerary.