I like to think that I know Hawai'i but every time I travel to Maui I discover something new. Being married to a native Hawaiian means that his home island of O'ahu has become a second home to me. I've clocked in a fair amount of time on Kaua'i and Big Island. But Maui is a place I got to know later. 
That changed a few years back when I spent a few weeks on the Valley Isle and I covered some serious ground. I crisscrossed historic Lahaina to posh Kapalua and from to laidback Upcountry and resort-y Wailea.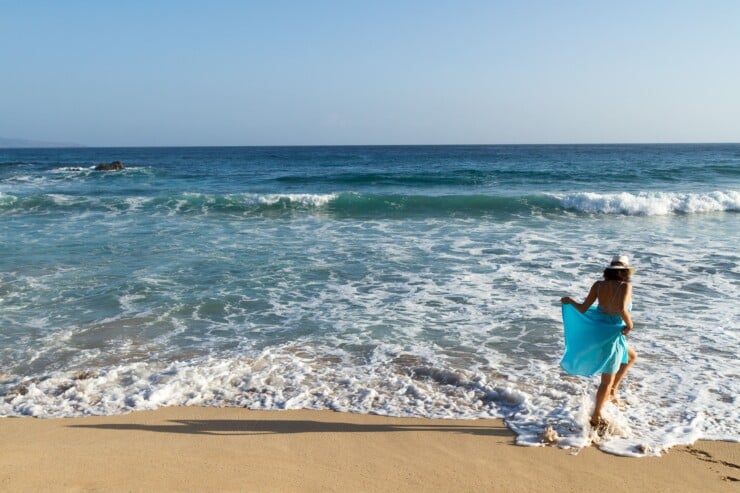 Nine Ways To Travel To Maui And Escape Crowds
But what it really allowed me to do is figure out how to get off-the-beaten-path and escape the resorts and touristy areas. Here are nine few ways to do just that.
Dive Into Classic Hawai'i
Wailea is the main resort area of the island and it is a stunner. But had north to get a peek into old Hawaii and spend a few days in the historic fishing village of Lahaina and the beach area of Napili. This area is a total throwback with an ancient banyan tree in the middle of town where local "aunties" clad in vintage muumuus regularly dance the hula when we arrived. 
Note that Lahaina town had a tragic fire in August 2023 and will need years to recover. Please be respectful of the recovery efforts and donate to the cause if you are able. If you need more advice on this, please contact us at travel@saltandwind.com
Napili echoes mid-century Hawaii vibes with a bunch of small hotels nestled on a little bay. When my Dad was in the Air Force in Okinawa, my parents would meet family and friends in Hawai'i for R&R and they always have these romantic stories of 1960s Hawai'i. Napili was the only place I've been in Hawai'i (aside from Hilo) that gave me a peek into what that era must've been like.
Opt For Luxury Relaxation
When I told my California friends I was going to Maui, the first words out of their mouths were "honeymoon" and "luxury." And after spending a few days at the Ritz Carlton Kapalua, I could see why.
Maui holds the honor of being the place people go for romance and the perfect place to do that would be Kapalua—the whole area has luxe beach resort vibes and is a bit quieter and secluded than Wailea.
Every morning I'd wake up and jog the shoreside path that runs from Napili to Kapalua after which I'd promptly reward myself with a serious breakfast (my favorite meal of the day when I'm in Hawai'i, btw).
Some of my favorites were at Cane + Canoe at the Montage (the malasadas were amazing), Merrimans (loved the eggs there), and the Terrace (the whole buffet including the Japanese breakfast was delish).
Surf (and Bodysurf) All Over The Island
The thing about Maui is that it isn't that big, yet getting from one side of the island to the other can take the better part of a day. For that reason, a lot of visitors set up camp in one area of the island and seem to never leave their resort for their whole stay. When I get why (a girl needs her downtime!), it's a major lost opportunity.
I mean, if you only stayed in Kapalua, you might never go up to the rugged north coast of the island. We spent one afternoon exploring the coast north of Kapalua including the famed Honolua Bay where we snagged a roadside coconut and watched the local surfers charge. It was super quiet up there with tons of gorgeous bays, almost no one else, and some amazing views—it's definitely worth a drive if you have a car.
Most of the surf in this area of the island was too big for me but there is friendly surf all over the island so even as a beginner surfer, I was able to get in the water every day.
Embrace Upcountry
Some of my favorite friends in Hawai'i live in "upcountry" Maui (the area from Makawao towards Kula), so I was really excited to explore this part of the island. This stretch of the island has fewer tourists and more locals, but it's also just relatively remote.
There are lots of things to do in Upcountry, from hunting to local farms to botanical gardens (see below) to the magical Haleakalā (below). We spent one night at Lumeria Resort and I only wish we could have stayed longer to take part in the morning yoga sessions, indulge in the spa, swing in the hammocks, and generally chill.
If you head in this direction, make sure to spend time in the darling town of Makawao and head to Sip Me! where locals have their morning coffee, try what are considered some of the best malasadas in Maui at T. Komoda, and shop at the beautifully curated Driftwood boutique.
See Sunrise at Haleakalā
While in Upcountry, we knocked a major Maui must-do off the list and watched the sunrise at Haleakalā. I am decidedly NOT a morning person so I was really against the whole idea at 3 AM, but it was SO worth it. If you decide to give it a go (which you definitely should at least once), here are 10 tips for how to do Haleakalā right.
See The Flowers Firsthand
My friend on O'ahu who owns a floral boutique always talks about how many gorgeous local flowers come from Maui. So, on her (very good) advice, I spent one afternoon just running around Upcountry exploring the flowers, from the botanical gardens to the Ali'i Lavender Farm and I couldn't get enough of the gorgeousness.
It was especially special because a lot of the local flowers were being used in leis for the famed Merrie Monarch hula competition, which was going on the week I was on Maui.
Get To Know The Farmers
Historically, Maui's commercial farming was limited to sugarcane and pineapples, but there's a lot more going on these days. Yes, there's still some really delicious pineapple being grown, but these days Maui has a reputation for having some really amazing farmers who care a lot about local traditions, sustainable farming, and having a connection with the community.
One beloved farmer is "Uncle" Bobby Pahia of Hoaloha Farms who might be the most passionate taro farmer I've ever met. He toured us around his property and showed us all the work he's doing to bring back diverse kinds of taro to the local community. It was a full-circle experience since I'd been to their sister restaurant, Star Noodle, and had some of that very taro a few nights before.
Make Time For Farm-To-Table Food
I was on island during the Maui Ag Fest, which meant I got to meet the island's most celebrated farmers and chefs at every meal. One of the things that really stood out with all the chefs I met is that almost all of them were also farmers, hunters, or fishermen so there was a whole other level of connection to the land and respect for the farm-to-table concept.
You could see that everywhere we ate but a few places that stood out was at Ka'ana Kitchen at the Andaz Wailea.
And Sip The Cocktail Culture
I was busy doing some research on the cocktail culture when I was in Hawai'i this last trip (read about it at
The Kitchn
) and I was very pleasantly surprised by the scene on Maui. Oahu has a big city cocktail vibe with everything from speakeasies to gastropubs and bartenders who've traveled the world, Maui's cocktail scene is all about local from using local ingredients to celebrating local distillers like
Ocean Vodka
. I was especially into the Painkiller at the Ritz Carlton's
Lounge
and the Daiquiri Moderno at the
Fairmont Kea Lani
's lounge known as
Luana
.
Have Us Plan Your Hawai'i Trip
Did you know we're also a boutique travel agency that specializes in Hawai'i vacation planning? If you're looking to plan a trip to Hawai'i, our Hawai'i trip planner services are here to help you plan your perfect itinerary.
---
Sponsored Content: This trip was sponsored by Visit Maui but all content, ideas, and words are our own. Thanks for supporting these sponsors who allow us to keep Salt & Wind Travel up and running.
Hawaiian Diacritical Marks: In an effort to be accurate and respectful of the Hawaiian language, we use diacritical marks in our articles on the region. For more about which marks are used in the language and how to find proper spelling, refer to this Hawai'i Magazine article.