We're obsessed with diving into all things local when we travel, and eating local is no exception. On the Island of Hawai'i, it's practically obligatory for food-first travelers like us to stop at Hilo Farmers Market.
This beloved local farmers market is a perfect opportunity to enjoy naturally-ripened tropical fruit, local grinds, and more. This farmers market has been around for more than 20 years and has a lot to explore.
If you're heading to Volcanoes National Park for a visit, we consider the Hilo Farmers Market another must-see experience. Here we're getting into the ins and outs of it to help you navigate when to go, where to find it, and what to get at the Hilo Farmers Market to make the most of your visit.  
Where Is Hilo Farmers Market?
Before we unpack all the fresh local produce and more available at the Hilo Farmers Market, first, some logistics; as the name suggests, the Hilo Farmers Market takes place in Hilo.
The town of Hilo is on the lush east side of the Big Island of Hawai'i and it has a history as an agricultural, fishing, and sugar industry hub. Today the downtown area offers a handful of small independent shops, art galleries, historical spots like the Haili church, and architectural finds like the art-deco Palace Theater and buildings constructed in the renaissance revival style. Hilo Bay is nearby and frames what is considered the island's biggest little town.
Visitors seeking the Hilo Farmers Market will want to visit the historic downtown Hilo. The market occurs on the corner of Mamo Street and Kamehameha Avenue, a 10-minute drive from Hilo International Airport (ITO.) Hilo Farmers Market parking is available at Mo'oheau Park or on the street.
When Is Hilo Farmers Market?
The Hilo Farmers Market hours are daily from 7 AM to 3 PM. Wednesdays and Saturdays are considered "Big Market Days," when you'll see most of the 200-plus food and retail vendors and crafters on these days.
A Brief History of Hilo Farmers Market
The Hilo Farmers Market began in 1988 when four local farmers sold their produce out of the back of their trucks (note you'll still see this throughout the islands), and it has since grown into one of the largest outdoor markets in Hawai'i. Tents and tarps were a defining market characteristic until 2022, when a permanently covered structure with stalls was built.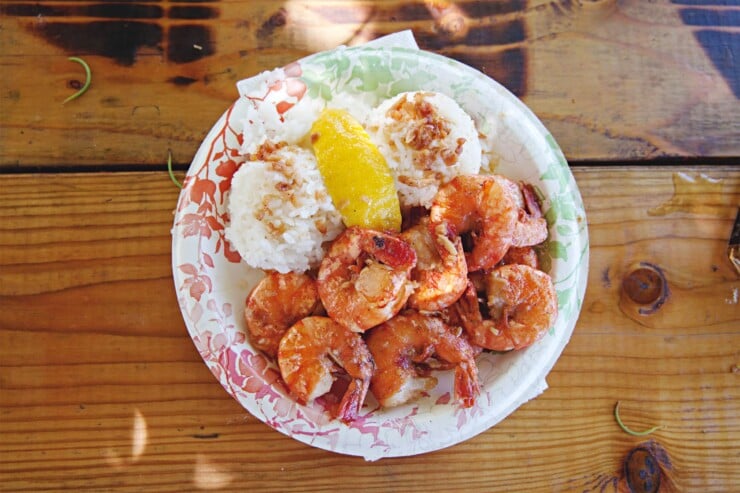 What's Sold At Hilo Farmers Market?
If you've been to several farmers' markets before then, you'll know that not all markets are equal. In the case of Hilo Farmers Market, if you're wondering what's sold here, the better question is what's not sold here, as this market has more than 200 vendors:
Fresh Fruit, Vegetables, And Flowers
Hawai'i's mild climate means fruits and veggies grow year round though the islands do see some seasonality. 
For example, when you visit during the summer, you'll likely see lychee, mango, and liliko'i (passion fruit). Whereas dragonfruit is more of a fall thing, longan and rambutan are winter produce, and avocados are more common in the spring. You may have had these fruits on the mainland, but they'll likely taste better since you're getting them straight from the source.
Papaya, pineapple, breadfruit, and coconuts are available year-round—and often taste sweeter since farmers harvest them at peak ripeness. Some of the many vegetables you'll come across include bok choi, eggplant, and leafy greens. You'll also see flowers and plants, including mini bonsai plants, orchids, and tropical flowers. 
Baked Goods And Prepared Food
You'll also find a variety of ingredients and handcrafted foods. Vendors like Natural HI Honey, while others make jams and jellies or baked goods like butter mochi, kūlolo (made with taro and coconut milk), and banana nut bread. 
Thanks to the several prepared food vendors, you can have lunch at the market. Get local plate lunches like garlic shrimp with rice and poke bowls from Poke N Sides, Thai and Japanese options from Dragon Kitchen, Peruvian tamales, and vegan dishes. 
Clothing, Accessories, And More
Hilo Farmers Market is also a place to shop for colorful pareos (or sarongs) from Sarongs Hawai'i, jewelry, bath and body products, listen to live music and sit for a tarot card reading. And for the 'gram, a 30-foot-tall mural of tropical fruits painted by local artist Kristie Kosmides makes a nice shot.