Lee Anne Wong — owner and exex chef at Honolulu's Koko Head Cafe, and author of the new cookbook,
Dumplings all Day Wong
— invites us along for her perfect day in Oahu.
It's hard to choose a fave island in Hawaii, but Chef Lee Anne Wong, makes a strong case for Oahu. She moved there for love but stayed to open the phenomenal Koko Head Cafe – which has redefined the breakfast scene while respecting local traditions – and now it's the local foodies who are in love with her. So, when she says she's gonna show you her ideal 24 hours on Oahu, well, you'd better get to taking notes.
5:30 AM: Sunrise At Kahala Beach

I usually wake up at 4:00 AM in order to open my restaurant by 7:00 AM. I know, it sounds unholy but getting up early on Oahu means getting to watch the sun rise over the ocean, which is more than enough reason for me. Anywhere on the east side of Oahu is prime sunrise viewing, but I love the slightly hidden Kahala Beach; I can watch the sky for those first few minutes of the day when it's like a watercolor painting in motion.
Kahala Beach
4999 Kahala Avenue
Honolulu, Hawaii
7:00 AM: Breakfast at Koko Head Cafe
Call me biased, but I happen to love my restaurant — both the food and the service. I'd start with an order of the Dumplings All Day Wong (our daily dumpling) and then move on to a giant skillet of Fish and Eggs. We pride ourselves on serving exceptional and unique brunch fare, all locally sourced, with a hot steaming cup of sunshine. My staff is the reason why my restaurant operates smoothly; everyone is a team player and our customers sense that vibe.
Koko Head Cafe
1145C 12th Avenue
Honolulu, Hawaii
Lee Anne Wong
9:00 AM: Drive the East Side to Country
Since we've got all day, we're going "circle island" and driving all the way around Oahu with a lunch break in "country" aka the North Shore. First stop is Diamond Head Crater – walk or drive to the top for a photo op – then head east towards Hawaii Kai. Stop to take in the views at Makapu'u Lighthouse then stop at He'eia Park to grab a quick coffee, juice, or beer, if that's your style.
Drive north and wind your way past Kailua, Kualoa Ranch, and the "Chinaman's Hat." Stop in Kahuku for a midmorning snack at one the shrimp trucks (Romy's is my favorite). Then spend your morning on the North Shore beaches, walking, paddle boarding, or surfing; basically, anything that'll help work up your appetite for lunch.
Romy's Shrimp Truck
56-781 Kamehameha Hwy
Kahuku, Hawaii
Aida Mollenkamp
12:00 PM: Lunch in Haleiwa Town
Located in the heart of the tiny Haleiwa in a teeny shopping center is Opal Thai – one of my favorite Thai places around. If you're lucky, Opal — the owner — may be there. Let him work his magic and he'll make you a custom menu: based on well you know Thai food, how spicy you go, and how hungry you are. But, it's not just about the food, this is North Shore hospitality at its best.
It's BYOB so head next door to Longs Drugs to buy ice cold beer to balance the heat of the food. Afterwards, spend an hour or two walking around Haleiwa, taking in the shops and country atmosphere of the North Shore, braving the line at Matsumoto's for a shave ice or opting for a juice at The Beet Box.
Opal Thai
Matsumoto's Shave Ice
The Beet BoxKamehameha Highway
Haleiwa, Hawaii
Cherish Bryck
3:00 PM: Return to Honolulu
Head back into town via H2 highway. If you want a taste of civilization (or a tasty snack) head to the Ala Moana Center and hit up the food court at Japanese department store, Shirokiya, for a bite and a beer.
If, instead (or afterward), you're in the mood for scenery, drive to the top of Tantalus, a crater at the top of the Ko'olau Mountain Range, which overlooks the entire city. Afterwards, it's time to siesta because you're gonna need to rest up for the night ahead!
Shirokiya
Ala Moana Center
1450 Ala Moana Boulevard #2250
Honolulu, HI 96814
Tantalus Outlook
Puu Ualakaa State Park
2760 Round Top Drive
Honolulu, HI 96822
Lee Anne Wong
5:30 PM: Sunset Cocktails at House Without A Key
It's not a perfect day without a perfect Mai Tai and House Without A Key knows how to make them. Grab one of their signature cocktails then take in the buzz of Waikiki and watch the sun set over the water.
House Without a Key, Halekulani Hotel
2199 Kalia Road
Honolulu, Hawaii
7:00 PM: Small plates at Izakaya Naru
Let the food tour begin! Japanese restaurants abound in Honolulu but this Okinawan style gem is one of my favorite places. Sample housemade shochu and awamori as you snack on an eclectic menu of savory small plates, ranging from sashimi to unique creations like their "taco rice"bowl.
Izakaya Naru
2700 South King Street
Honolulu, Hawaii
Victor Torres
9:00 PM: Dinner at Town
Head to Town restaurant for Ed Kenney's farm to table organic food; it's one of my favorite places to dine on fresh Mediterranean and local flavors.
Afterwards, walk over to Via Gelato for Melissa Bow's superb gelato. The menu reflects local flavors ranging from Li Hing (Salted Sour Plum) and Strawberry, Black Sesame and Green Tea, Guava, and Passion Fruit to classics like Butter Pecan. Just don't miss the Pistachio because it's the best on the island.
Town
3435 Waialae Avenue
Honolulu, Hawaii
Via Gelato
1142 12th Avenue
Honolulu, HI 96816
Aida Mollenkamp
11:00 PM: Nightcap at Pint and Jigger
Time to reward ourselves with an extra long nightcap so it's off to Pint and Jigger where we ask barmaster/owner, Dave Newman, to make us a drink.
With a selection of over 50 craft beers and the largest spirit and whisky collection on the island, it's the place to late night cocktail. If you happen to be having a late night snack attack (though I doubt it because this perfect day clearly involves eating around the clock), go for the signature barbecue spiced P+J French fries and booze-friendly plates like roasted bone marrow and blue cheeseburger sliders.
Pint and Jigger
1936 S King Street
Honolulu, Hawaii
Tru Studio
1:00 AM: Star Gaze At The Beach
Find a stretch of beach to lay down and check out the stars. Soak in the quiet calm and sound of the waves and toast yourself for making it through the most perfect of perfect days.
Aleksandra Jankovic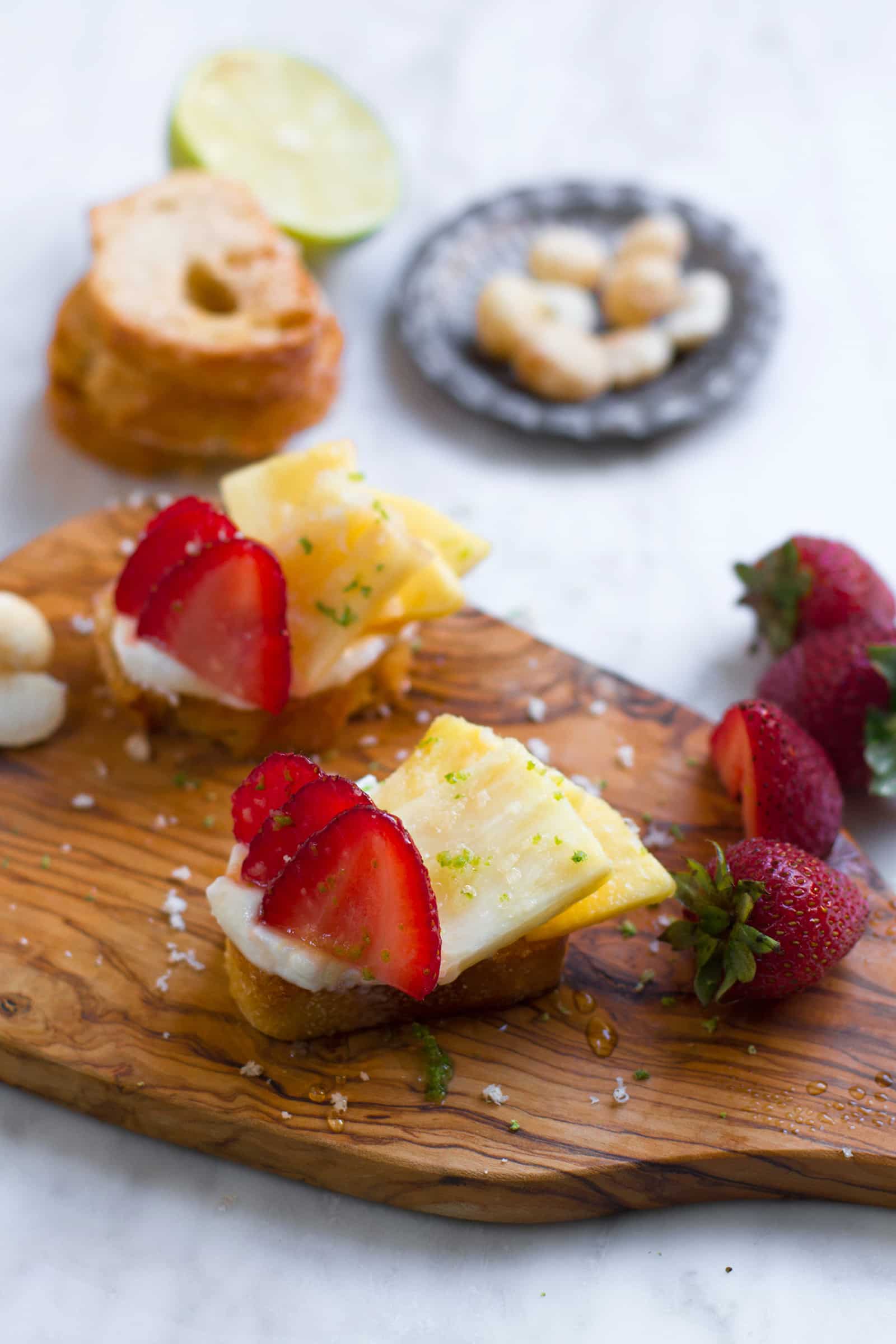 Get A Taste Of Oahu
For a taste of Oahu (and of Leanne's cooking), try making this Tropical Breakfast Bruschetta.
Did you know we lead boutique group trips for food lovers to Hawaii? Come join our next Salt & Wind trip!
P.S. If you liked this story, you'll probably like our newsletter too!
P.P.S. Hitting the road soon? Show us how you travel in good taste by sharing your adventures on Instagram with the #swsociety hashtag!