Things you most likely haven't done before: cook for your loved ones who have passed. That is unless you're from Mexico because cooking for the deceased is one of the main ways they mark the holiday known as Day Of The Dead or Dia de Los Muertos.
As with so many things in the Mexican culture, food also plays a pivotal role during this holiday. Some very special food and traditional Day of the Dead food is made for the holiday and placed on the altars or eaten during the week of Day of the Dead festivities.
When is Day of the Dead?
The holiday of Day of the Dead occurs annually in the fall from October 31st to November 2 (All Souls Day). Originally from Mexico, this holiday – known as Día de Muertos in Spanish (and often referred to in the United States as el Día de Los Muertos) – is a time to honor those who have passed away by displaying ofrendas or altars. It is believed that the spirits of loved ones cross over into the living world to visit. It's easily one of the most special occasions of the year for many Mexican families.
Where did Day of the Dead originate? 
Curious about where the Day of the Dead started? It's a hot topic in Mexico! Some think it's an ancient local custom dating back to pre-hispanic peoples. But others believe it's a modern twist on a Spanish tradition, jazzed up in by the early 20th century Mexican president, Porfirio Díaz, to boost Mexican pride with an "Aztec" flair.
What is certain is that it's a melding of pre-Hispanic beliefs and Catholicism and this holiday a huge deal now and is even taught in schools across the Americas. Oh, and did you know? In 2008, UNESCO gave a nod to the holiday by adding it to their list of Intangible Cultural Heritage. Pretty cool, right?
How Is Day Of the Dead Celebrated?
Day of the Dead is first and foremost a celebration of the circle of life but it is done so in a very Mexican manner — by vibrantly celebrating life with food, drinks, music, and decor with bright colors. Today it is commemorated in different ways throughout Mexico but you will commonly see people holding all-night vigils at cemeteries, decorating altars, constructing ofrendas, attending parades, or other various dinners and parties. There are a host of Día de Los Muertos celebrations, some organized and open to the public and others intimate among families. 
The national holiday is on November 2, but various regions of Mexico have their own traditions and days to celebrate (though always in the time period from October 31 to November 2). In parts of Mexico like Oaxaca where you have a vast indigenous population, this time is very much a religious and spiritual event. The main observance is usually the Noche de Muertos where some families spend all night at the graveyard celebrating their loved ones with drinking, dancing, and even live mariachi-band music. You'll see calendas or parades to commemorate the season. 
Throughout the country, people visit cemeteries to be with those who have passed. And you'll also find that many dinners or small gatherings occur at people's homes. In general, revelers decorate graves with papel picado, candles, fake butterflies (believed to represent the spirits of the deceased), photos, and cempasúchil (aka marigolds), and amaranth. It should be noted that this is an emotional time that is joyful and beautiful but is very much a time to be respectful as many are focused on the remembrance of departed loved ones.
What Is On The Dia de Muertos Altar?
The centerpiece of the Dia de Muertos celebration is the ofrenda or altar. Along with the graves, altars (aka altares or ofrendas) are built and displayed on November 1st and 2nd. Many people save money throughout the year and put thousands of dollars toward building elaborate altars. There are a few symbolic elements to the altar that represent water, earth, fire, and air. Respectively, these are drinks for water, foods (such as those listed below) as the earth, candles as fire, and papel picado for air. Other common elements that family members will place on the altar include:
Photographs
Often times photos of those who've passed are placed on the altar to help memorialize them.
Calaveras de Azúcar
Translating to sugar skulls, these are skulls shaped from white sugar, elaborately decorated with icing and all sorts of sequins, paint, and jewels. These are not intended to be eaten but instead are put on the Day Of The Dead altars as decoration. Traditionally, these have the name of the dead on the forehead. 
Candles
To represent the spirits of the dead who you are commemorating.
Copal
The tree-resin known as copal plays a very important role during this holiday. It is burned to purify the are around the altar and help guide the spirits.
Favorite Drinks
This could be non-alcoholic beverages like soda, aguas frescas, café de olla, atole, or water. Or it could be something with alcohol like pulque, tequila, or beer. The aim is to satisfy the thirst of the dead. 
Favorite Foods
As listed below, this could be seasonal specialties like pan de Muerto or calabaza en tacha or various favorite foods of the deceased.
Marigold Flowers
The cempasúchil or marigold flower is also called the flor de muertos (or flower of the dead). The word cempasúchil hails from the Nahuatl term for the flower cempohualxochitl, or literally translated as "twenty flower."
Pan de Muerto
Translating to "bread of the dead," there are variations on this egg yolk-enriched bread throughout Mexico. Just in Oaxaca, you'll find a different type of pan de muerto coming from the villages in the Valles Centrales
Salt
According to UCLA professor Martha Ramírez-Oropeza, some altars will have salt as well to help give sustenance and strength to the spirits.
What food is made for the Day of the Dead in Mexico?
The reason for all that food and drink you see on altars is that it's considered a way to tempt the deceased to come back to visit the realm of the living. The idea is that you cook your ancestors' favorite foods and then put them on the altar so they can't help but want to return and enjoy said food. If you head to a cemetery or are invited to build an altar, you'll find that many people cook plates of real food with Day Of The Dead altars lined with plated enchiladas, tamales, soup, or moles. Other people eschew the cooking and decorate the altars with mini sugar or ceramic sculptures shaped to resemble their loved one's favorite foods and ingredients.
Why Food Plays a Central Role During Day of the Dead?
It's not just about setting a delicious spread. The dishes during Day of the Dead hold deep emotional and cultural significance. For many, preparing these foods is like taking a step back in time, reliving fond memories and shared moments with the deceased. Each ingredient, each simmering pot, and the aroma that fills the home becomes an intimate bridge to the past.
These dishes become more than just food; they're a legacy, an heirloom passed down through generations. It's this very essence that makes Day of the Dead foods so special. By cooking and presenting these dishes, families are not just offering sustenance to the returning souls, but they're also celebrating life, love, and the enduring bond they share with those who've passed away.
10 Day Of The Dead Foods To Know
Though the idea is to cook the favorite food of your ancestors, certain foods are more closely associated with the Day Of The Dead holiday than others. There is regionality to the traditions, so you may find Day Of The Dead recipes that are considered part of the Day of the Dead food traditions in one area and not served in another region.
There are some areas of Mexico where Day of the Dead celebrations are more commonplace, including Michoacán, San Luis Potosí, the Yucatan Peninsula, Oaxaca, and Jalisco. On many an altar, you'll often find classic dishes from those regions—like carnitas, mole negro, or birria, respectively. Here are some of the more traditional Day Of The Dead foods and recipes that you'll find throughout Mexico — some you likely know because they're essential to Mexican cuisine. In contrast, others are a little more obscure, but they're all very delicious.
Atole
One of the most common traditional Mexican drinks you'll come across during Day Of The Dead is atole, a sweet masa-based (aka corn dough or corn flour) beverage with origins in the indigenous cultures of Mexico. Made by simmering a raw brown sugar known as piloncillo with cornflour, milk, and spices (like vanilla and cinnamon), it's almost like a drinkable porridge. Though atole is most common in the fall–from Day Of The Dead through Christmas–you can find it sold year-round by street vendors who serve it with tamales for breakfast.
Calabaza En Tacha 
A super traditional Mexican sweet, calabaza en tacha is simply pumpkin candied with a mix of piloncillo and spices. At its simplest, calabaza en tacha is pumpkin glazed in sugar, but there are all sorts of varieties made with dried fruit and seeds like amaranth and pumpkin seeds. This is one of the classic things added to a Day Of The Dead altar that's said to help entice ancestors to make the journey to the realm of the living.
Champurrado
Like a chocolate-y cousin to atole, champurrado is a sweet chocolate-flavored drink made by cooking milk with chocolate, cornflour, and spices. It's often called Mexican hot chocolate but the addition of the masa or corn flour gives it a thicker, more substantial texture. During the Day Of The Dead celebrations, you don't often find champurrado on altars. Rather it's sold by street vendors for friends and family to share as they sit in vigil in the cemeteries. Fun fact: It's also one of the common Mexican Christmas drinks too!
Churros
Brought to Mexico by the Spanish, churros are a sweet, cylindrical pastry now found throughout Mexico. They are not traditional food during Day Of The Dead per se; however, they often are sold by vendors on the streets and in cemeteries because they go fabulous with champurrado!
Dulces
You'll see a variety of sweets (aka dulces) placed on the altar during this Mexican celebration. Some of the most common foods include calaveritas de azucar, jamoncillo de leche, crystallized fruit, caramel flan, or sweet tamales in a variety of flavors.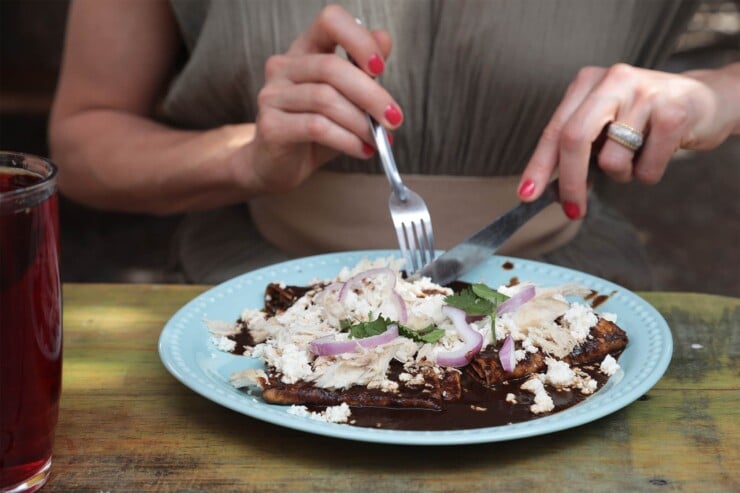 Mole
If there's one family recipe that's carefully guarded in the Mexican culture, it's the recipe for mole. As such, you often find mole made during Day Of The Dead and showcased on graves and altars. It is one of the traditional dishes that require a lot of effort so it's considered one of the most beloved family recipes in the Mexican culture. It's common to see Mole Poblano in central Mexico (it hails from the state of Puebla) while you can see any of the traditional seven moles when you are in the state of Oaxaca. 
Pan De Muerto
This brioche-like Mexican sweet bread or pan dulces  translates to "bread of the dead." It is sometimes called Day of the Dead bread in English because it's the most ubiquitous dish seen on altars during Day Of The Dead. Though you'll see pan de Muerto throughout Mexico during the holiday, the recipe varies from region to region and family to family. The kind we've seen most frequently is a round bread that's flavored with anise seeds and orange juice or orange blossom water (or even tequila or mezcal) and is decorated with a cross of bone-shaped dough and sugar like the one pictured above.
Pozole Rojo
There are different styles of the classic hominy-and-pork stew known as pozole across Mexico, but the chili-based red version known as pozole Rojo seems to be the most common during the holiday.
Sopa Azteca
What we call tortilla soup stateside, this brothy soup that gets garnished with all sorts of condiments — tortilla chips, cheese, limes — is one you might encounter on this Mexican holiday. 
Tamales
Like pan de Muerto and mole, there are endless types of tamales found in traditional Mexican food, some wrapped in corn husk and others in banana leaves. And, because tamales are one of the most traditional recipes found throughout Latin America, they're just as common to see on Day Of The Dead altars as both pan de Muerto and mole. 
How To Celebrate Day Of The Dead
Need some more inspiration for Dia De Muertos? Try your hand at a few of the festive recipes, florals, and decor we created for our Day Of The Dead party.
Where to celebrate Day Of The Dead 2024
If you want to travel to Mexico in real life, read up on 4 places you must visit for Day of the Dead such as Mexico City and Michoacan. But, did you know that we also host small group trips to Oaxaca City for Day of the Dead? It's a 5-day experience where you'll learn about Oaxaca's culture and food all while celebrating this special holiday.
We have worked in this part of Mexico for years and have planned many travel client experiences here so we have deep knowledge and an incredible network of partners. As a woman-owned small business, we are committed to promoting sustainable food and travel, supporting fellow small businesses, and preserving cultural individuality. Join us for Day of the Dead 2024 for an incredible travel experience. 
---
Photo Credit: Opening photo Bread of the dead in an ofrenda. By Daniel Zapata