¡Feliz Navidad! Seeing as almost 80% of Mexicans identify as Catholic, Christmas is a major holiday in Mexico. 
Christmas is not Christmas in Mexico unless there are tamales and posole. But those are just two of the traditional foods you find served this time of here.
Christmas Holidays In Mexico
Here is more about the most traditional dishes on the typical Mexican Christmas dinner table.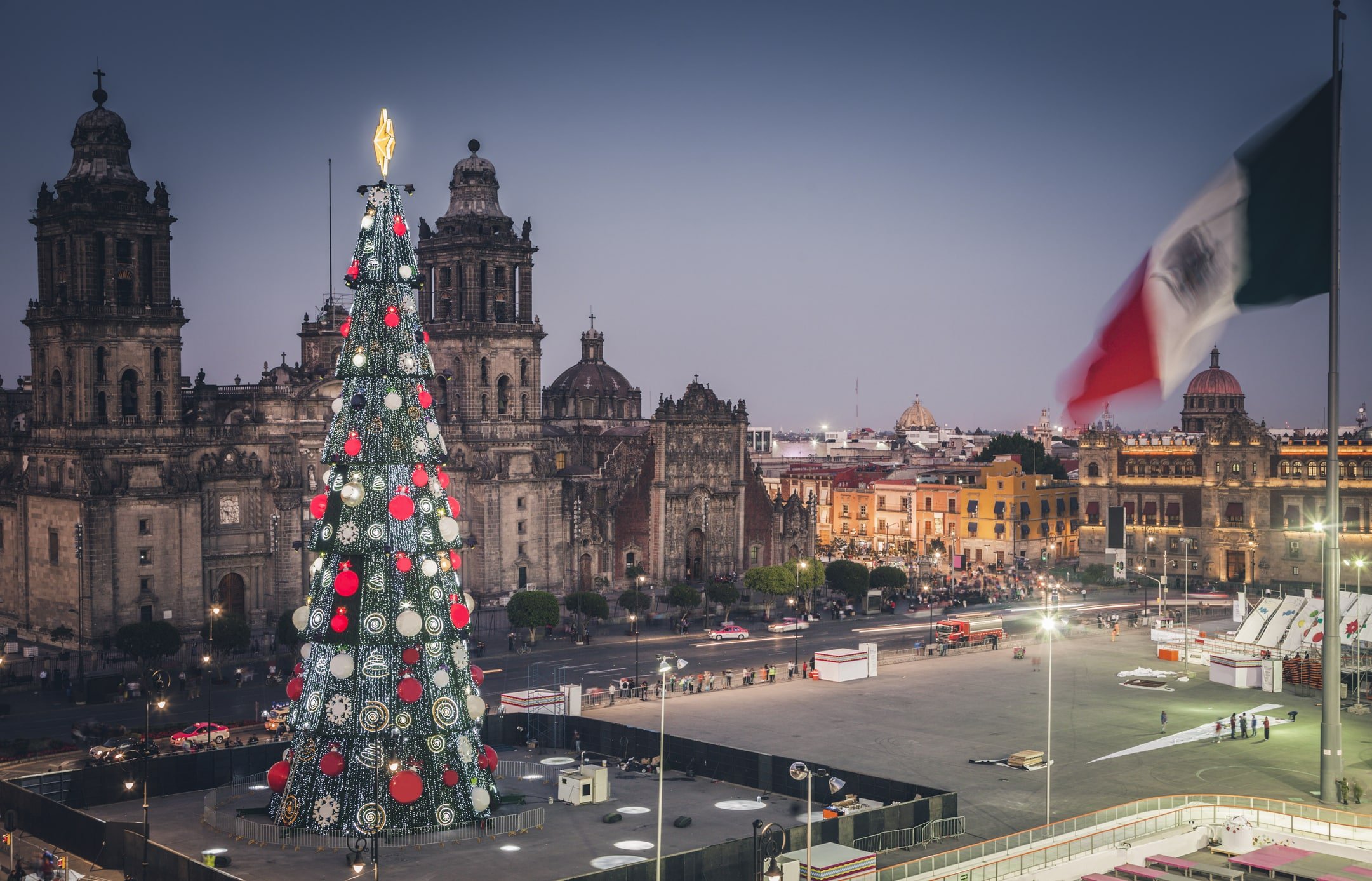 What Is The Main Christmas Meal In Mexico?
First, let's define the Christmas period in Mexico. Similar to other majority Catholic countries, it runs from early December until Día de Los Reyes or King's Day (also known as Epiphany) on January 6th. 
Feast Of The Virgin Of Guadalupe
Festivities really kickoff in Mexico on December 12th, which. as you can guess from the name, is in honor of Mexico's patron saint, the Virgin of Guadalupe. 
Mexicans make pilgrimage to the Virgin of Guadalupe Basilica in Mexico City to see an image of Mary (aka Virgen Morena) that is believed to be real. The celebration includes fireworks, dancing, and concerts that go past midnight and often until the next morning.
Las Posadas
Things really kick off from December 16 to 24 when Las Posadas, translating to "the inns" start. This too is a novena (novenario in Spanish) and it pays homage to Joseph and Mary's journey from Nazareth to Bethlehem.
The piñata originated as a part of this holiday when missionaries used it to teach Christianity to the indigenous people. After the breaking of the piñata, there is often a spread of tamales, buñuelos, and drinks like ponche and atole. It ends with guests receiving aguinaldos or small gifts that often have sweets like cookies, candies, and fruit. 
Noche Buena
The posadas end on Christmas eve (aka Noche Buena) and are followed by the midnight mass known as Misa de Gallo or Mass of the Rooster. 
This is followed by a feast that includes bacalao, romeritos, and often centerpiece meat dishes like suckling pig, turkey, or ham. 
Navidad
Christmas Day or Navidad is a time to spend at church and with friends and family. Some serve the traditional Mexican foods below and others serve leftovers from the Christmas Eve celebration.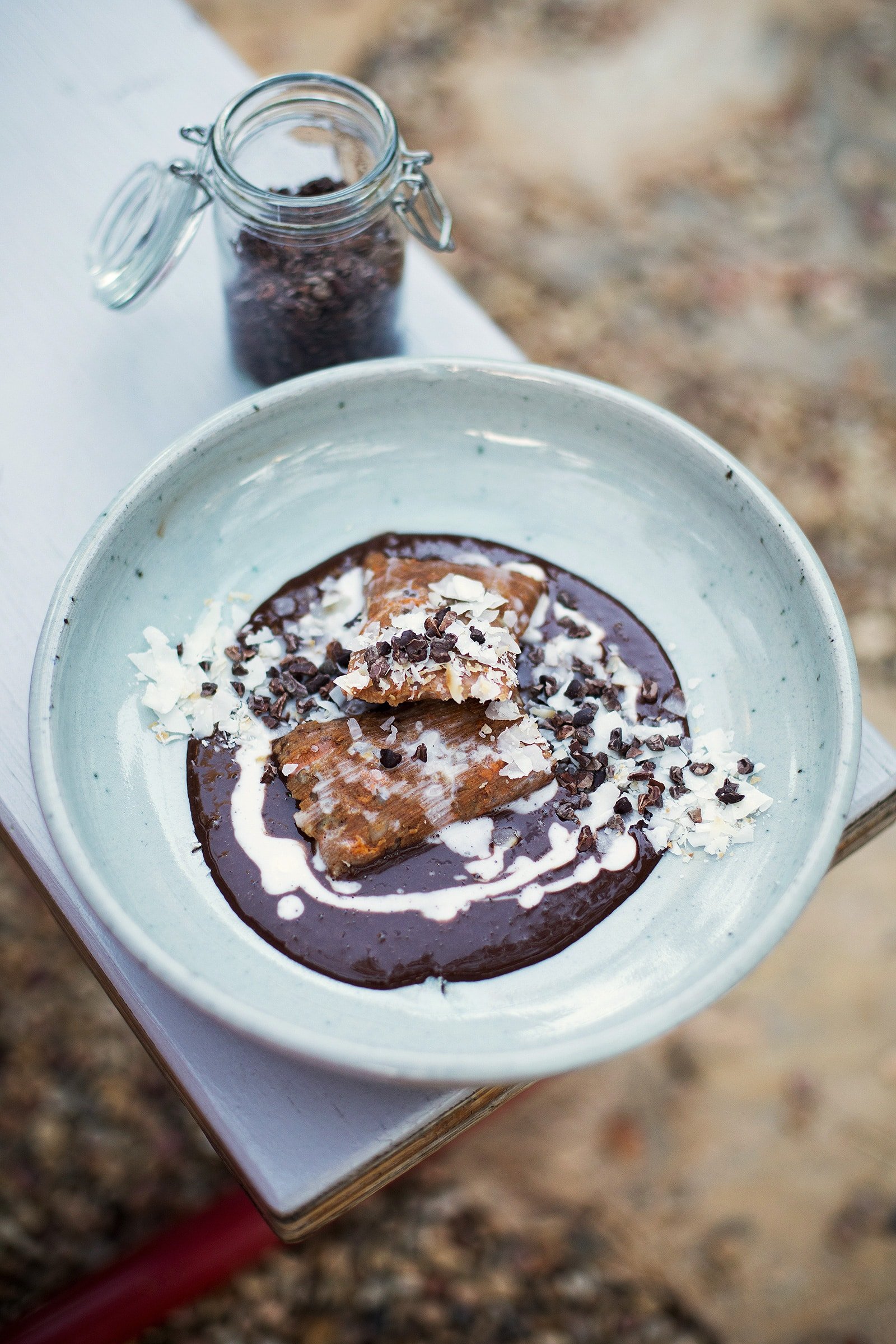 Traditional Christmas Recipes
Mexican Christmas celebrations vary from family to family so there is not one set Christmas menu. However, there are some traditional dishes—from mains to desserts and drinks—that you'll see time and again.
Traditional Christmas Mains In Mexico
Bacalao
Known as salt cod, bacalao is a reconstituted dried salted codfish that is sometimes cooked with onions, garlic, tomato sauce, and olives or with capers, olives, and potatoes. Some people traditionally put bacalao in bread rolls while others serve it as their own dish.
Ensalada de Noche Buena
This Christmas Eve salad is a must at the holiday table. There are variations on this recipe across Mexico but they all have vegetables, fruit, and some nuts or seeds. 
Most commonly you see a combination of jicama, beets, oranges, and lettuce though there may be plantains, pineapple, or pomegranate seeds too. It's often served in a citrus dressing and topped with pecans, peanuts, or pepitas.
Pavo
Historically, suckling pig was the main meat served during Christmas but these days it's more common to see turkey or pavo. Unlike in the United States where the bird is roasted, in Mexico, it's usually stuffed with meat, almonds, and raisins and served in a mole sauce.
Pozole
As you've read before, pozole is one of the most historic recipes in Mexico so it's no surprise that it's a very Mexican Christmas dish. 
Romeritos
Hailing from Central Mexico, this dish is named after its main ingredient, a wild edible plant called romerito in Spanish or seepweed in English. These greens taste a bit like spinach but look more like rosemary, which is why it gets its name "little rosemary" in English.
The green is boiled and then served in mole sauce or pepita sauce often along with potatoes and shrimp cakes. 
Tamales
Like pozole, tamales are another very traditional Mexican food seen during the Christmas season. You'll see a variety of tamales served from sweet to savory and wrapped in banana leaf or corn husk. Take a page from Mexicans and throw a tamalada or tamale-making party so you can make loads and loads of our favorites like these poblano chile rajas tamales.
Traditional Christmas Drinks In Mexico
There are a number of drinks served in Mexico that date back to Pre-Hispanic times and that includes a few of the sips served during Christmas like atole and champurrado.
Atole
One of the original drinks made with corn masa (corn flour), you often see atole served with tamales as a breakfast treat and that's also the case in the Christmas season.
Champurrado 
Like Atole, champurrado is a warm drink that's made with corn masa but then it's flavored boldly with chocolate, spices, and sugar. Much like some of the other Mexican recipes, Champurrado is a drink that is also important to many other holidays like the Day of the Virgin of Guadalupe festival.
Ponche
Ponche is another popular drink for Christmas cuisine.
Ponche is a hot fruit punch made of tejocote (aka hawthorn berries) and cinnamon sticks. Sometimes people like to add ingredients like apples, pineapple, guava, piloncillo sugar, cinnamon, or cane alcohol to it.
Rompope
One of the best Mexican Christmas traditions is rompope, which is similar to eggnog. Rompope is made of cream and sugar and also has traces of pecans, pine nuts, and strawberries.
This drink is perfect with traditional Mexican Christmas desserts or to enjoy on its own throughout the day and night of the Christmas celebration.
Traditional Christmas Desserts In Mexico
Finally, sweets play a major role in Mexican Christmas traditions. Here are a few that are the most common desserts:
Buñuelos
Bunuelos are sweets that pair perfectly with ponche. They are fried rounds of wheat dough that are sprinkled with cinnamon sugar. Legend has it that if you smash your clay plate after eating your Bunuelo, you can make a wish that will come true.
Marranitos
Also known as cochinitos de piloncillo these sweet, spiced cookies are often called Mexican gingerbread. Though these are seen throughout the year, you see them a lot during the Christmas holidays along with polvorones.
Polvorones
Known in English as Mexican Wedding cookies, these aren't the most traditional recipe on this list but we feel they're essential to a holiday dessert spread. Made with nuts (often pecans), cinnamon, aniseed, and vanillas, they're a major crowd-pleaser. 
Rosca de Reyes
Even though this wreath-shaped cake (translating to "King's Cake") is the official pastry baked for King's Day on January 6th, you'll find bakeries across the country selling it as early as mid-December. 
Have Us Plan Your Mexico Trip
Did you know we're also a boutique travel agency that specializes in Mexico travel planning? If you're looking to plan one of the best trips to Mexico, our Mexico trip planner services are here to help you plan your perfect itinerary.
---
Photo Credit: Ponche and bunuelos by carlosrojas20; Christmas tree on Zocalo by benkrut; pinata by modds