You probably know Mexican mole sauce, and you likely know the Mexican state of Oaxaca. But did you know that seven types of mole come from Oaxaca? There are hundreds of types of moles found across Mexico, but this southern Mexican state has become known for seven moles in particular.
Each has a distinct color and flavor, and it's worth searching all seven moles out when traveling to Oaxaca. From market stalls to high-end restaurants, you're sure to come across them if you stay in Oaxaca long enough. Whether you join one of our group trips or travel there on your own, here is everything you need to know about mole for your next trip to Mexico: 
What Does Mole Mean?
The word mole comes from the Nahuatl word (aka the Aztec language), "mulli," and means sauce or concoction. As such, it'd be logical to conclude that tamales must be as old as the pre-Hispanic Nahuatl language, and some historic findings confirm just that. Specifically, that Aztec cooks cooked a version of a mole sauce to honor their god of fire.
What Is Mole Sauce?
Let's start by getting a working definition of Mexican mole, shall we? Borrowing word association a la high school exams, you could say that mole is to Mexico as curry is to Thailand. Like curry, mole is a multi-ingredient, layered, rich sauce that comes in many flavors and forms and is a hallmark of Mexican cuisine.
The best Mexican moles rival the classic French Mother sauces in that their complex yet subtle. Though all types of mole is distinct, they can require 20-plus ingredients and are all made with a combination of chiles, herbs, and a thickener such as masa (corn flour), bread, nuts, or seeds. 
Mole sauce is a complex, multi-ingredient, layered, rich sauce that comes in various flavors and forms and is a hallmark of Mexican cuisine. It is made with a combination of chiles, herbs, and a thickener such as masa (corn flour), bread, nuts, or seeds.
What are the seven types of mole from Oaxaca?
The seven types of moles from Oaxaca are Mole Negro, Mole Rojo, Mole Coloradito, Mole Amarillo, Mole Verde, Mole Manchamanteles, and Mole Chíchilo. Each has a distinct color, flavor, and ingredient composition.
Where did mole sauce originate?
There is a debate regarding the origin of mole. Two legends surround its creation, one involving nuns in the Convent of Santa Rosa in Puebla in the 1500s, and another involving the Aztec king, Moctezuma, who supposedly served a sauce resembling mole to the Spanish explorer Hernán Cortez.
Then, Where Is Mole Originally From? 
There is a debate between the state of Puebla and the state of Oaxaca not only as to who has the best Mexican mole but also how mole originated.
There are two long-standing legends surround the creation of mole. The first claims that mole dates back to the pre-Hispanic era when the Aztec king, Moctezuma, held a banquet for the Spanish explorer Hernán Cortez, and they served a sauce resembling mole.
The second mole story takes place in what is known as present-day Puebla state and dates to the 1500s. The nuns of the Convent of Santa Rosa were given a last-minute warning that the Archbishop was visiting, and they had nothing to cook. Their solution was to make a sauce of the approximately 30 ingredients — spices, nuts, and bread — they did have in their pantry, and from it was born mole. 
The state of Puebla is home to mole poblano (a dark red sauce made with ancho chiles and chocolate). It is considered by many to be the national dish of Mexico, so the people of Puebla have a lot of claim. But, rather than jump into a losing argument, we'd just as soon focus on the fact we're happy mole was created in the first place!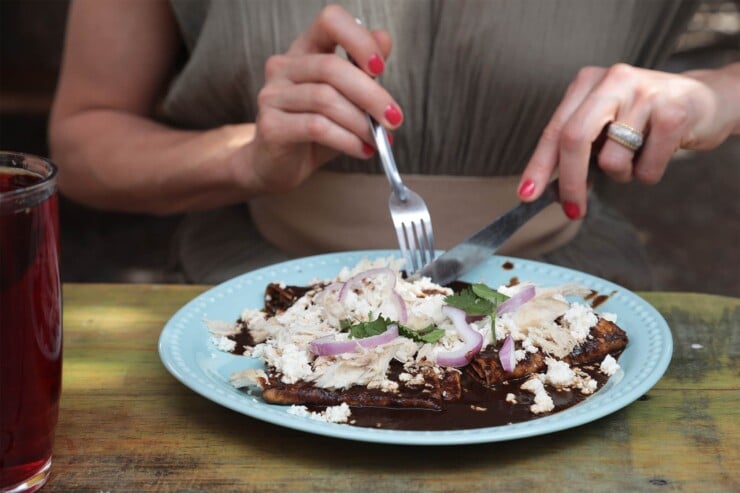 What Are The Seven Oaxaca Moles?
The seven different types of moles found in Oaxaca are mole negro, mole rojo, mole coloradito, mole amarillo, mole verde, mole manchamanteles, and mole chiclo. Here's a bit about each of the seven types of mole you'll find when you travel to Oaxaca:
Mole Negro 
The most famous and best-known mole is the sweet-savory, smoky, ink-black sauce known as mole negro or black mole. If you've only had one of the types of mole, it was likely this sauce. Many think it's black because of the addition of chocolate, but that's not quite the whole story.
The reality is that this mole is made with just a touch of chocolate, and it's thanks to the charred seeds of the chilhuacle negro that give this mole sauce its signature depth of both color and flavor. Though this is the most common mole to come across when visiting Oaxaca, the reality is that it is widely considered the most complex and labor-intensive mole to make since it has more than thirty ingredients used.
Mole Rojo 
There is an assortment of reddish-colored moles, but only one style is known simply as Rojo or red mole. Made with guajillo chiles, sesame seeds, and a touch of chocolate, it is the more refined version of what we call "enchilada sauce" in the United States. 
Mole Coloradito
In a category of bold sauces, mole Coloradito may be the most intensely flavored. Made with ancho, pasilla, cascabel chiles, black pepper, raisins, and cinnamon, this dark brown mole has a lingering heat and warmth that makes it one of our favorites for cold weather months.
Mole Amarillo
The distinctive color of this yellow mole comes from the use of chilhuacle Amarillo chiles. Though this savory mole is considered yellow, it tends to look quite red once it's prepared. It is made with tomatillos, cumin, clove, cilantro, and either hierba Santa when served with fish or pitiona (a Mexican variety of lemon verbena) when served with beef. 
Mole Verde (aka Mole Pipián)
We don't like to play favorites, but we adore Mole Verde. Almost like a more mature, complex version of tomatillo salsa, this green mole is one of the easiest moles to make and is made by grinding together a combination of tomatillos, cilantro, chiles, pumpkin seeds, and fresh herbs like epazote (a pungent herb native to Mexico and Central America) and hierba Santa. Often thickened with some nuts (usually walnuts or almonds) and some masa harina (corn flour), it's commonly served over chicken.
Mole Manchamanteles
While most of the seven moles are known simply by their color, this brick-red mole is known instead as "manchamanteles," which translates to "tablecloth stainer" because it's that dark of a colored mole. A typical recipe for manchamanteles contains chicken and/or pork, chorizo, fresh pineapple, apple, sweet plantains, chili peppers, almonds, cinnamon, lard, and tomatoes. It has a woody, earthy flavor and is often served with sweet tropical fruit. 
Mole Chíchilo
Of all the famous seven moles, mole chichilo (aka chichilo negro) is the rarest to encounter. This mole is also the richest sauce of the bunch, as it's more like a hybrid of a bone broth and a mole. Made with chilhuacle negro, mulato, pasilla chiles, and anise-y avocado leaves, the seven moles are the least sweet and savory. Now that you know the seven moles of Oaxaca, try them in real life on one of our upcoming group trips to Mexico!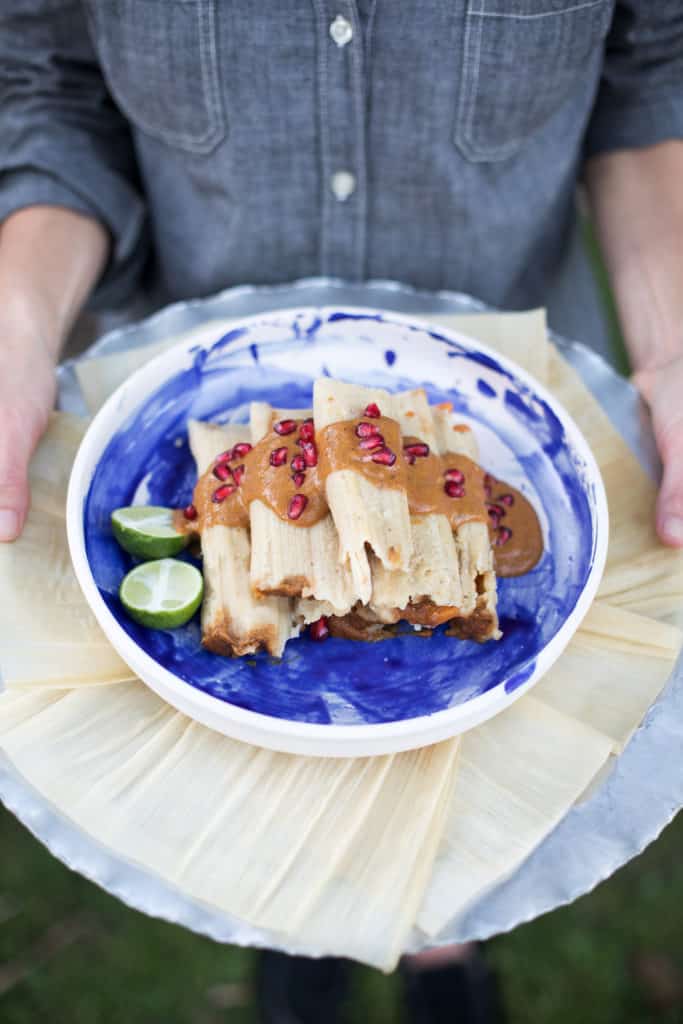 7 Types Of Mole Recipes To Make At Home
Are you convinced to try out making mole sauce at home? Give yourself plenty of time, as most of these sauces take anywhere from one to multiple hours to make.
Like any other sauce, the quality of ingredients will matter, and letting the sauce sit overnight makes it taste better. The only exception to that, in our opinion, is the fresh Mole Verde, which we always think is best eaten when it's made. If you're ready to try your hand at making handmade mole, start with these seven delicious mole recipes:
Let Us Plan Your Trip
Are you traveling to Oaxaca and wondering which tours and activities to do? Need help with reservations? Or with crafting a custom itinerary? Sounds like you're in need of our Travel Planning Services! After discussing your preferences during a short consultation call, we'll plan your perfect itinerary. Whether you're looking for custom travel planning or a small group trip, the Salt & Wind team is here to help. Contact us to learn more!
---
Photo Credit: Opening photo by Alejandro_Munoz; Other photos by Team Salt & Wind Travel