We'd be lying if we said we didn't have multiple favorite things about Oaxaca City. There's a reason we curate group trips there, after all! This destination, also known as Oaxaca de Juárez, is a UNESCO World Heritage site that has everything from world-famous Oaxacan food and mezcal to intricately crafted artisan goods, friendly local people, and lively culture. 
But, beyond the rich history, vibrant indigenous culture, impressive ancient ruins, and stunning architecture, one of our favorite things about the state of Oaxaca is the markets.
What to Buy at Oaxaca City Markets
The problem isn't finding local markets in and around the city center of Oaxaca, but knowing which are worth exploring. The best markets in Oaxaca allow you to find all of the above and more, usually under one roof (or canopy). 
The key is finding that perfect place. One where you can simultaneously find mouth-watering memelas, ready-to-cook mole paste, the perfect alebrije, handwoven textiles, fresh fruit, and cheap, questionably-colored suitcases to transport all of your souvenirs.
Six Markets To Add To Your Oaxaca City Itinerary
But with so many markets to choose from, where do you start? We know navigating the markets in Oaxaca can be overwhelming because we've been there. Literally. So, we've taken the guesswork out of it. After years of wandering every market in the city, we're sharing our expert guidance. Here are our six must-visit markets in and near Oaxaca City.
Mercado Central de Abastos 
Also known as Mercado de Abastos, this is the largest market in Oaxaca. It can be as intimidating as it is rewarding due solely to its sheer size and abundance of offerings. Located on the outskirts of the city center, Abastos is a maze of goods ranging from Mexican ingredients like dried chiles and local herbs to meat stalls, household goods, and arts and crafts made by local artisans. It's also where many of the best restaurants source ingredients for the day's meals. 
If you're a fan of Netflix food shows, chances are you've heard of this market and its street food thanks to the now-famous Memelas Doña Vale. A visit to Abastos is worth it if for no other reason than to enjoy her delicious memelas with the signature morita chile sauce. Add a fried egg on top and wash it down with an ice-cold Mexican Coke on the side for one of the most satisfying meals in town. 
Some things to consider while visiting Abastos: If it has rained recently, wear closed-toe shoes as puddles will abound. If you're a vegetarian, you'll want to skip the meat stalls. Finally, leave any flashy jewelry at home and keep valuables tucked away, as petty theft can happen.
That said, Abastos is truly a local market and its vendors are as warm and welcoming as they come. You could spend an entire day wandering the stalls and sampling their offerings, and if you can visit with a local (or a group like ours), we'd recommend it.
Address:  Lazaro Cardenas 2305
Hours:  Monday – Sunday, 7:00am – 8:00pm (Some stalls may be closed during holidays)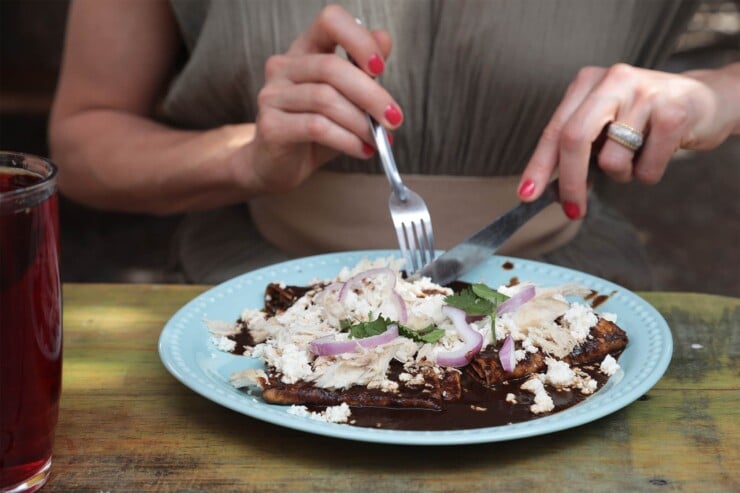 Mercado Orgánico La Cosecha
Located two blocks north of Templo de Santo Domingo church in the heart of Oaxaca, la cosecha (Spanish for "harvest") is one of our favorite breakfast and/or lunch spots in Oaxaca City. It's unassuming on the outside, but, once you walk in, you can't believe what you've stumbled upon (something common in Oaxaca with its massive doors and nondescript building exteriors). 
The market is centered around one massive courtyard and its perimeter is lined with various food stalls serving various traditional Oaxacan dishes like pozole, enfrijoladas, and tlayudas. Its communal seating options provide the perfect opportunity to meet other travelers and locals.
To quench your thirst and stay hydrated (don't forget, you're at over 5,000 feet of elevation), head to the juice and smoothie stall with some of the best agua frescas we've come across. Don't miss the handful of local stalls selling pottery, textiles, handmade soaps, and other artisan foods made with local ingredients.
Address: C. Macedonio Alcalá 806, Ruta Independencia 
Hours: Wednesday – Sunday, 9:00am – 4:45pm
Mercado Benito Juárez
Just one block south of the Zócalo, Mercado Benito Juárez is located within a covered building that takes up an entire city block. Like Abastos, Mercado Benito Juárez is home to a little bit (and by a little bit, we mean a lot) of everything. From traditional handmade crafts and woven textiles to modern clothing like jeans, sporting equipment, and team jerseys, fresh produce, meat stalls (more of them!), herbs (used for an abundance of Mexican remedies), and more. 
This is where we stock up on our favorite Oaxacan foods we plan to bring home, such as mole, honey, and some Oaxacan cheese (known locally as quesillo). Benito Juárez is also where we go for a new pair of huaraches (the stylish leather woven sandals we can't seem to get enough pairs of) every time we visit the city. If you tend to have a bag problem, as we do, be careful, as temptation will set in with the endless stalls full of both the colorful hand-woven plastic totes popular in Oaxaca and the hand-woven storage containers of all sizes made out of palm leaves you never knew you needed. 
Outside the building, you'll find additional vendors, including a handful selling similar pieces of luggage. If you're in need of an extra duffle or a hard-sided suitcase to take all of your Oaxacan treasures home, this is the place. Be sure to price out your options as they vary by vendor. And if you were hoping to take some mezcal home, multiple vendors here sell a wide array, including hard-to-find brands and varietals.
While there, swing into Mercado de 20 de Noviembre, located right next door, for a quick bite at one of its dozens of food stalls and if you missed them before, get the chapulines (toasted grasshoppers that are a common snack throughout Mexico). Don't miss the pasillo de humo (aisle of smoke) also known as the 'pasillo de la carne asada,'  as it's a key place to get all the signature cooked meats you find in Oaxaca from tasajo to chorizo. 
Address: Intersection of Calle Las Casas and Flores Magón, one block south of the Zócalo
Hours: Monday – Sunday: 7:00am – 7:00PM
Mercado de Artesanías
One of our top recommendations for handcrafted goods is the Mercado de Artesanías. As the name suggests, this market is dedicated solely to artisan goods. Here you'll find all the region's signature artisan goods including a large selection of huipiles (a traditional embroidered garment worn by Indigenous women through Mexico and Central America); the famous hand-woven rugs and pillowcases made in nearby Teotitlán del Valle using a pre-Hispanic Zapotec weaving tradition; the traditional green and black pottery; alebrijes (traditional brightly colored Mexican folk art sculptures of fantastical creatures); and leather goods. 
While you can surely find these items throughout the city, what we love about Mercado de Artesanías is that they're all conveniently located under one roof at fair prices. It is located two blocks south of the Mercado Benito Juárez, but it's easy to miss. The main entrance is off Calle de JP Garcia, with a smaller entrance accessible on Calle Ignacio Zaragoza. It is a bit darker in the market, with little lighting, so we'd recommend going during the daytime.
Address: Intersection of Calle Gral. Ignacio Zaragoza and Calle de J.P. Garcia 
Hours: Thursday 12:00pm – 7:00pm; Monday–Wednesday, Friday–Sunday: 9:00am – 7:00 PM
FAQs About Markets In Oaxaca
Which are the best markets to visit in Oaxaca?
The best markets to visit in Oaxaca are Mercado Central de Abastos, Mercado Orgánico La Cosecha, and Mercado Benito Juárez.
What can I buy at the markets in Oaxaca?
You can purchase a range of goods from fresh produce to dried pantry staples and freshly made food to homewares and artisan products.
What makes Mercado de Tlacolula noteworthy?
Mercado de Tlacolula, held on Sundays, is the largest market in the state of Oaxaca. Vendors from all over the state come to sell their goods, providing a cultural experience and a wide variety of items to explore and purchase.
Runners up: Mercado Sánchez Pascuas & Mercado de la Merced
In addition to the favorites we just listed, two go-to markets that are great for produce and flowers, depending on what part of the city you're in, are Mercado Sánchez Pascuas (if you're staying in the northwestern part of El Centro) and Mercado de la Merced (if you're on the east side of El Centro, near the Jalatlaco neighborhood). Mercado Sánchez Pascuas is a smaller covered neighborhood market that has great juices, breakfast spots, and produce while Merced is where we go for traditional Mexican food without the crowds.
Addresses: 
Pascuas: Calle Porfirio Díaz, Calle de Tinoco y Palacios 719 
Merced: Corner of Nicolás del Puerto and  Avenida José María Morelos (though there are multiple entrances on its block)
Hours: 
Pascuas: Monday – Saturday, 6:30am – 5:00pm, Sunday – 7:00am – 6:00pm
Merced: Monday – Sunday, 6:00am – 6:00pm
Pop Up Markets
While all of these are some of the best markets to visit in Oaxaca City, it's important to note that temporary pop-up markets typically occur during festivities and holidays like the Day of The Dead, Christmas, Easter, and Guelaguetza. While these markets often sell traditional goods, we like them for the modern, creative items often made by the new generation of local artisans.
Mercado de Tlacolula
The best market outside of Oaxaca is hands down Mercado de Tlacolula. Located an hour outside the city and held on Sundays, this is the largest market in the state of Oaxaca. Vendors come from all over the state to sell their goods. It's a cultural experience in and of itself and is also home to our favorite barbacoa in the country.
Wondering how to get to Tlacolula market from Oaxaca? From the city, hop on a bus or colectivo (both can be found at the 2nd Class Bus Terminal); a taxi (which can be hailed from anywhere in the city); or by rental car (there are many rental car offices scattered throughout the city). The latter two are great options for day trips that can include stops at nearby Mitla, Hierve el Agua, and Teotitlán del Valle.
Have Us Plan Your Oaxaca Trip
Okay, we've gone over our favorite markets in Oaxaca but, to be honest, that's just the start of all there is to see in this incredible Mexican region. We have travelers head there to hike the Sierra, surf Porto Escondido, and dive deeper into the handmade goods and incredible food. are you looking to travel to Oaxaca? Whether you're looking for custom travel planning or a small group trip, the Salt & Wind team is here to help. Contact us today to learn more.
---
Photo Credit: Opening photo by Celia Catalino; Doña Vale memelsa photo by Barbara Weber; Mercado Benito Juárez photo by JackKPhoto; all other photos by Team Salt & Wind Travel