It's hard to choose our favorite food city in Mexico because, in a country with such a rich a food culture, there's a lot of incredible food to be had.
We adore the traditional dishes of Oaxaca and pine for the street food in Mexico City. But, when it comes to a place that's equal parts classic and creative, we're obsessed with everything Guadalajara — be it the dynamic history, the design, or the food scene.
When we travel we're always in search of something deliciously memorable and there's few places better for Mexican food obsessed travelers like us than Guadalajara.
Why Visit Guadalajara?
Home to mariachi music, charro culture (the Mexican equivalent of rodeo), and the iconic sombrero, Guadalajara brings it when it comes to classic Mexican culture. Add to it that it is Mexico's second largest city and the capital of the state of Jalisco and it's well worth a visit.
But it's much more than shtick and entertainment — Guadalajara has a genuine sense of place and is one of the premier metropolitan centers in Latin America.
The thing that always draws us back to Guadalajara is that it's equal parts modern and classic. Case in point it's nicknamed Mexico's Silicon Valley but also remains majorly tied to its cultural roots.
Whether shopping the San Juan De Dios market or exploring the food stores of the historic center, you'll also find a contrast between the contrast of modern and traditional. And, as you can guess, one of the more traditional aspects we love is the vibrant food scene.
Guadalajara Mexico Food
Since Jalisco is historically home to ranchers, charros (aka gentlemen cowboys), and jimadores (or agave harvesters) working on tequila farms, the local cuisine is by no means diet food. Even so the local Guadalajara food is so outstanding, we stop counting calories when we visit.
Some of the classic dishes you'll come across in the city of Guadalajara are rustic home cooking while others are street food and all of it is delicious.
If you're wondering what food Guadalajara is known for then read on for our list of classic foods to search out on local menus: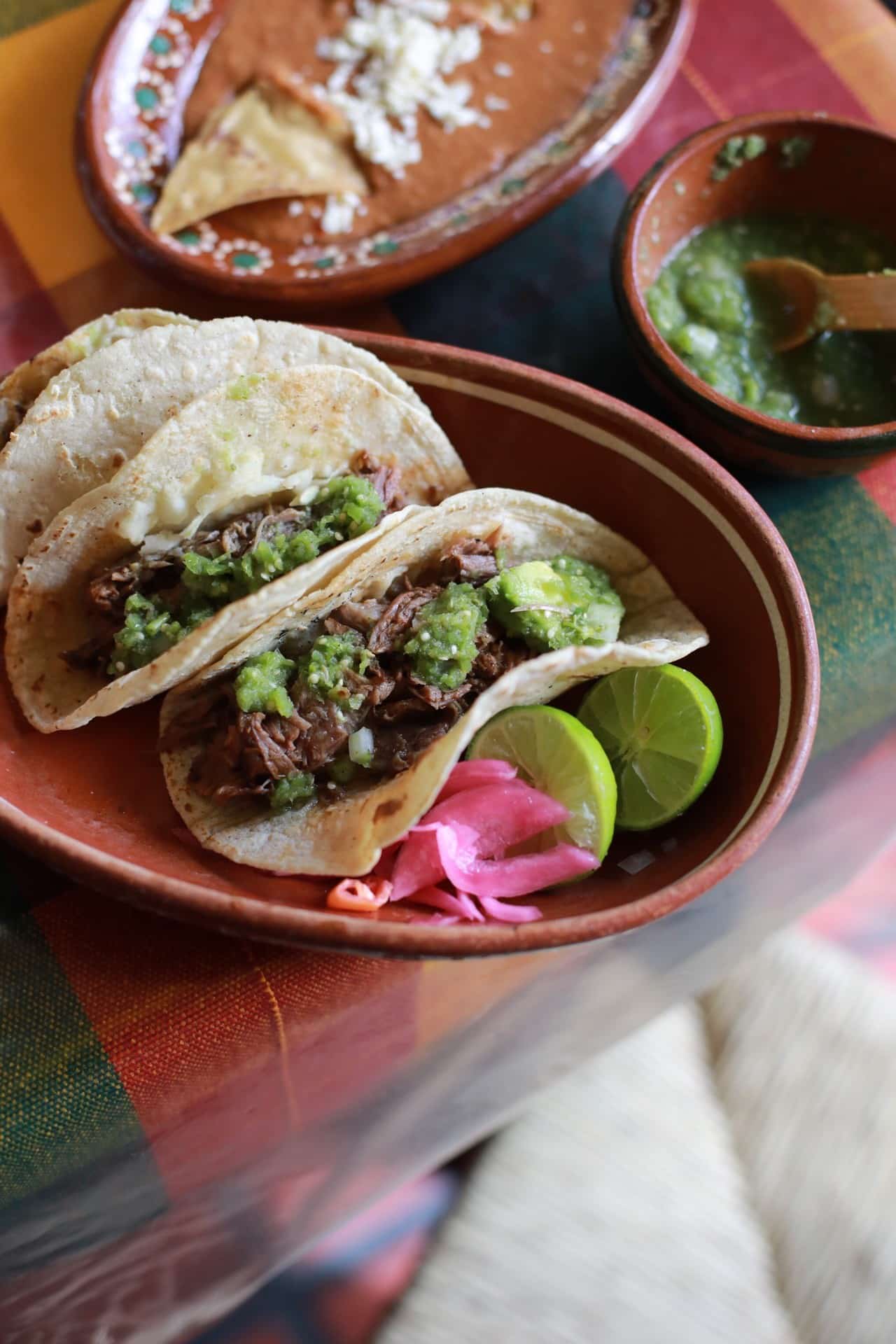 Birria
Whether you're dining in nice restaurant or scoping out the street food, one classic dish you'll constantly encounter is birria. This braised meat dish is so popular in Guadalajara that there are local restaurants — known as "birrierias" — that specialize in the dish.
There are a lot of variation to birria. It can be served as a stew or in tortillas as tacos and you'll find a variety of different spices and sauces used. The most traditional way to make birria is to coat the meat in a spice rub and a chile paste — using cascabel, guajillo, and ancho chiles — then slow cooking the meat until it's tender.
It's often served with tortillas, onions, and cilantro or even as we have it pictured here in tacos lined with melted cheese and topped with salsa.
There's an ongoing debate on what type of meat–goat, lamb, or beef–is best for making birria.  We say the best way to weigh in on that debate is to try them all for yourself!
Or, head here if you want tips on how to make a vegetarian version of birria.
Cantarito Cocktail
Tequila hails from the region of Jalisco so it would be sacrilegious not to include the local tequila cocktail known as the Cantarito.
A medley of lime, lemon, orange, and grapefruit juices and tequila, this classic Mexican cocktail is the perfect way to wind down (or up) after a long day exploring Guadalajara.
And, yes, there is a difference between the Cantarito and a classic margarita. While the margarita includes the iconic trilogy of tequila, lime juice, and agave or triple sec, the Cantarito has citrus juice and is topped with bubbly water.
To find the Cantarito when you travel to Jalisco, look for stands mixing a drink in the telltale traditional hand-painted clay cups.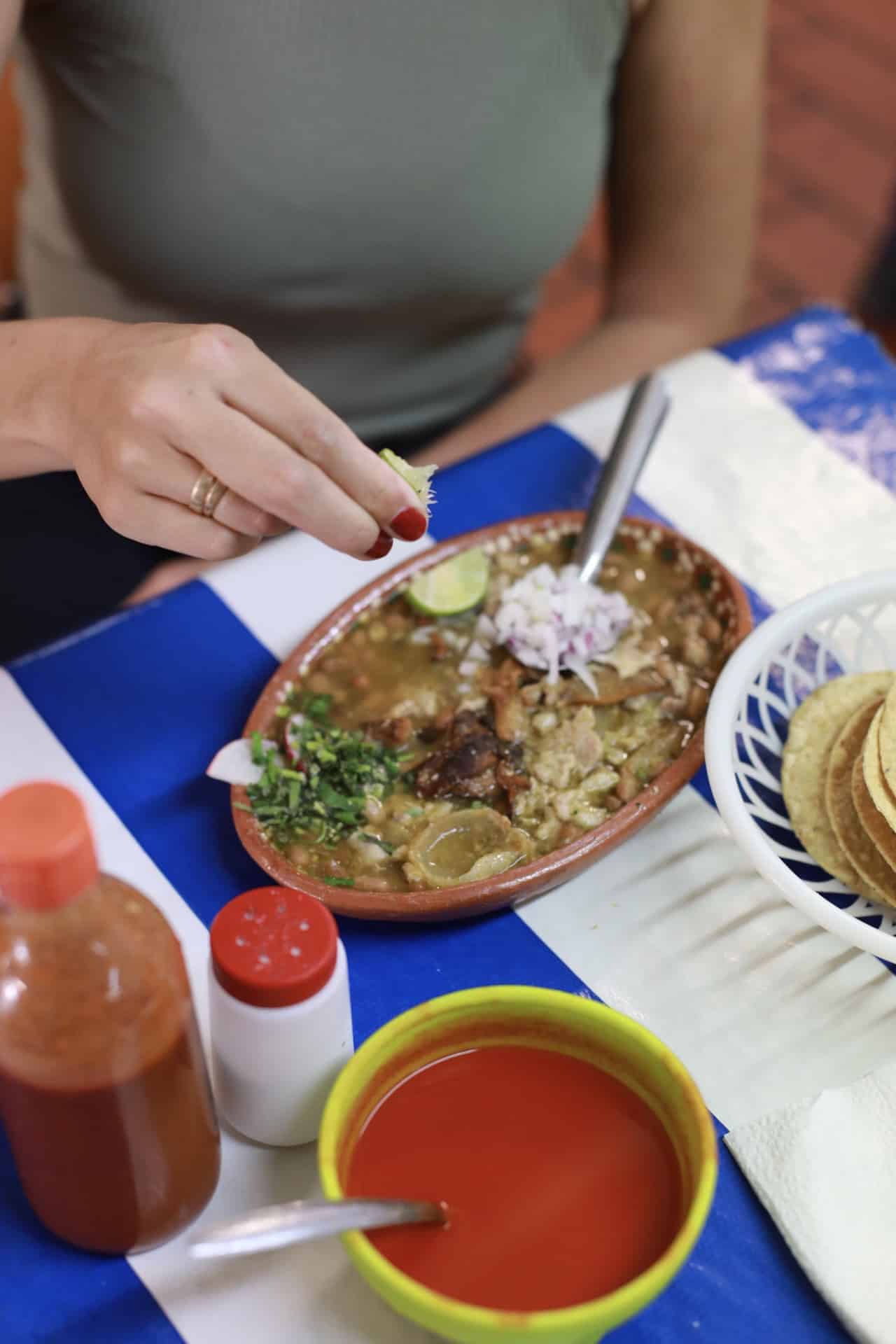 Carne En Su Jugo
One thing we can confidently say about the traditional Mexican dish known as carne en su jugo is that it's translation of "meat in its juices" doesn't do it justice.
Coming from humble origins, the hearty stew features tender beef cut into strips braised in a hearty tomatillo broth along with beans and tocino (bacon).
Variations on carne en su jugo add other ingredients such as potatoes, but we think it's best served in the traditional Jalisco style sin potatoes. It is said that at one point, restaurants began serving this traditional Jalisco food in traditional clay pots adorned with beautiful designs and patterns because it made the dish seem más tapatío or even more local.
One of the institutions in the city for having this dish is Karne Garibaldi, which not only has great carne en su jugo but also holds the Guinness World Record for fastest food service.
Jericallas
No meal is complete without dessert, and Guadalajara does not disappoint. Jericalla is a baked custard dessert flavored with cinnamon and vanilla. While a lot of people mistake it for flan or creme brulee, Jericallas are baked in small ramekins and don't have the classic burnt sugar topping of creme brulee.
Jericallas were said to have been created by a nun who left the custard in the oven for too long, creating the trademark topping of blackened custard. Ever since, jericallas have always been made with a slightly more curdled texture and signature burnt tops. Find them served at more traditional restaurants or at street food stands across the city!
Pollo A La Valentina
We're pretty sure all versions of buffalo wings have universal appeal, but the local version — known as pollo a la valentina — takes the recipe up a notch thanks to a spicy and spicy tomato sauce.
Like its American counterpart, you often find this popular Mexican food served with fried potatoes, making pollo a la valentina the perfect appetizer!
Pozole
We've done deep dives into the classic Mexican dish that is pozole before. So you probably already know that while pozole–a stew made with hominy, meat, oregano, and spices–is a dish found in several regions of Mexico, one of our favorite is en estilo Jalisco, or in the style of Jalisco.
Unlike other varieties, pozole en estilo Jalisco is made rojo or in a red sauce. What gives a pozole rojo it's distinct red color is the combination of three types of chiles — namely, ancho chiles, guajillo chiles, and arbol chiles.
Served alongside lime, onion, radish, and lettuce, this stew is often served during Mexico's Day of Independence, making it a staple party food in Guadalajara.

Tejuino
From tortillas to tamales and the chile and mayonnaise coated street food that is elote, there's a place for corn in every nook and cranny of Mexican food.
However, the food scene in Guadalajara gets really creative with a unique alcoholic beverage known as tejuino, which is made from fermented masa or corn flour.
Made by mixing masa with piloncillo — an unrefined sugar cane — and lime juice, tejuino is fermented for just a couple days, resulting in a lower alcohol concentration. Top it all off with a pinch of salt and you've got a tart, slightly bitter beverage, making it the perfect way to cool off during the hotter summer months.
Truth be told a tejuino tastes so good that we enjoy it any time of the year!
Tortas Ahogadas
Pinky promise us that if there's only one food you try when you visit Guadalajara, that it is a torta ahogadas.
Literally translated to "drowned sandwiches," crisp French rolls (aka bolillos) are stuffed with marinated pork fried to perfection before being doused in a healthy dose of spicy tomato and chilli pepper salsa.
The most classic bread used to make this dish is birote, which is a type of sourdough that hails from Guadalajara.
Seeing as the origins of tequila sit just an hour north of Guadalajara, it's no surprise that the locals consider tortas ahogadas the go-to Saturday morning hangover food.
Those are our picks for the classic dishes you must eat in Guadalajara. Have any others to add? Let us know in the comments below!
Have Us Plan Your Mexico Trip
Did you know we're also a boutique travel agency that specializes in Mexico travel planning? If you're looking to plan one of the best trips to Mexico, our Mexico trip planner services are here to help you plan your perfect itinerary.
---
Photo Credit: Photo of tejuino and jericallas by Kristen Kellogg