Here at Salt & Wind Travel, we see eye-to-eye on almost everything except on our favorite margarita. Luckily, we all agree this is the best Cadillac Margarita.
Truly, there are very few things that divide us. For example, we all adore cooking Italian food, love traveling to Mexico, have an unending desire to explore Mexico City, and we all hate cotton candy!
But of the few things that we don't agree on, nothing divides us quite as much as one topic: how to make the best margarita cocktails. Even when you take away all the fancier options – ahem, Skinny Margarita, Spicy Margarita, or Charred Citrus Margarita – we still disagree.
That's because we don't on the most basic of basics like if the cocktail should be salt-rimmed, whether it should have orange liqueur, or what type of tequila to use.
But, there are things we agree on. All of us prefer a margarita on the rocks, all of us like those rocks to be cracked (not crushed!), and we only ever use freshly-squeezed lime juice. And all of us like this version of a Classic Cadillac Margarita!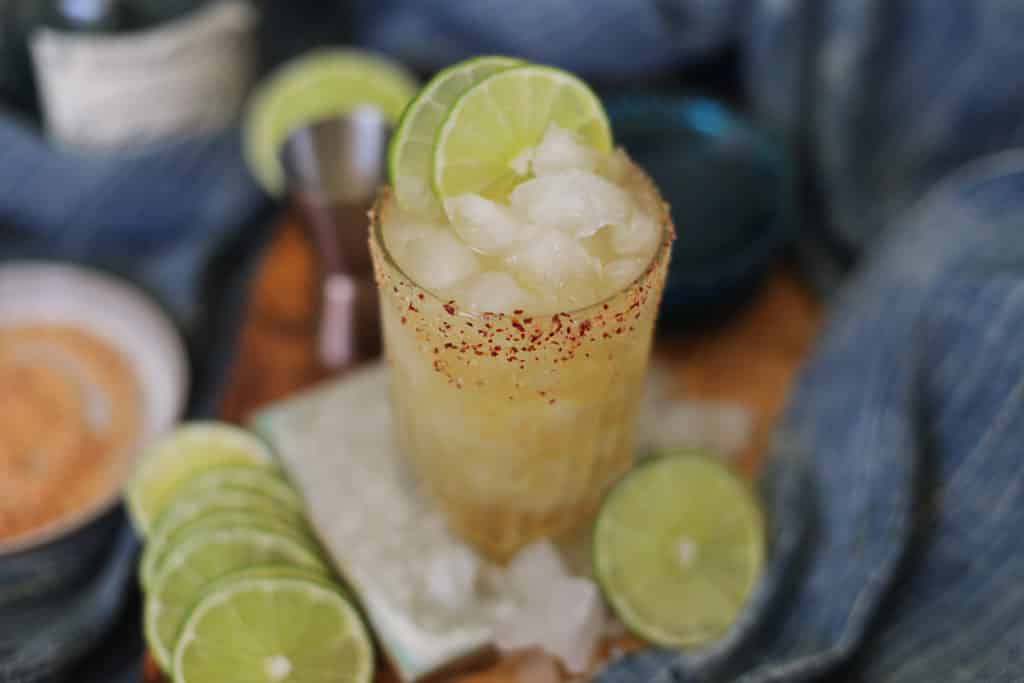 Cadillac Margarita Versus Regular Margarita
A classic Margarita is a sour cocktail made with tequila, lime juice, and orange liqueur. But what is a Cadillac Margarita? Well, a Cadillac Margarita is a premium version – hence the reference to the most classic of luxury vehicles – and is considered a top-shelf margarita.
Not only is top-shelf liqueur used but also golden liquor is used, which is why you sometimes hear it called a Golden Cadillac Margarita. What do we mean by golden? Well, traditionally the golden-colored liqueur Grand Marnier – a brandy-based take on triple sec – is used instead of clear-colored triple sec. Also, the straw-colored reposado tequila, aged a minimum of two months in oak barrels – is used instead of silver (aka Blanco aka Plata) tequila.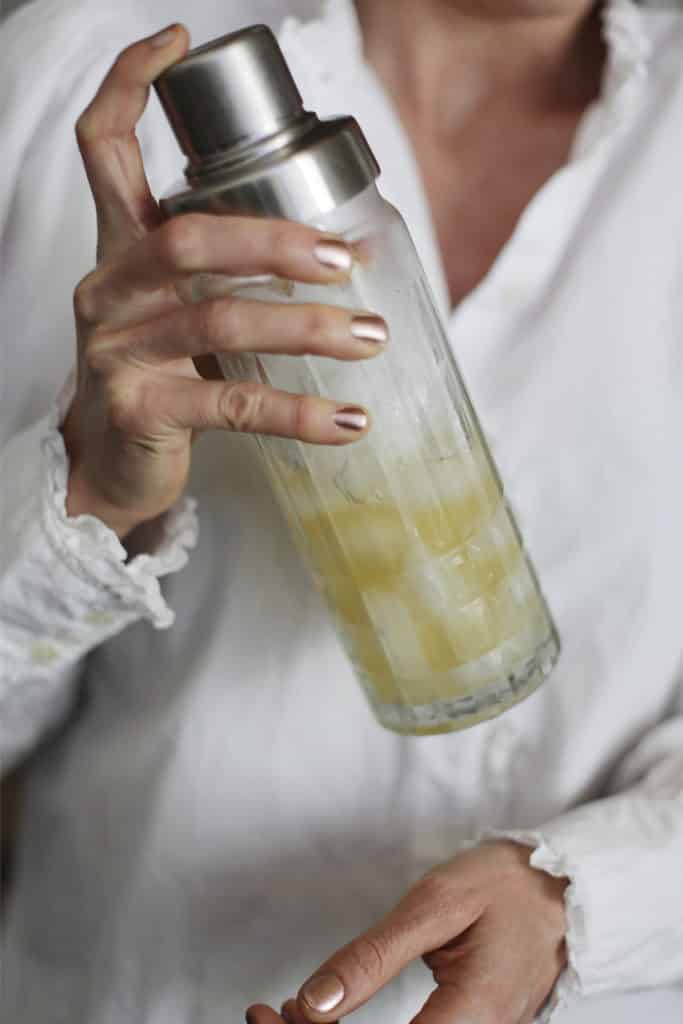 Tips For The Best Cadillac Margarita
Regardless of how you have it, there are a few key tips to help you shake up cocktail perfection:
Use 100% Agave Tequila
The truth is you're supposed to use reposado tequila in order to call the cocktail a Cadillac. But, if you want to use silver tequila aka Tequila Blanco, or the more aged, Tequila Añejo, we say go for it. Just promise that you'll only use 100% agave tequila and steer clear of the swill that is mixto tequila. Bottom line: only use premium ingredients like top shelf tequila.
Choose A Quality Triple Sec
To be 100% clear: triple sec is not a brand name but rather a style of orange liqueur. It's similar to Curacao liqueur but it tends to be drier and originated in France. While there are plenty of crappy, low-grade bottles in your local liquor store labeled "Triple Sec" there are, in fact, high-end styles of the liqueur such as Cointreau or Grand Marnier.
Grand Marnier – a brandy-based triple sec or a blend of cognac and bitter orange liqueur– is the de facto liquor for a classic Cadillac margarita. It adds a host of flavors such as orange zest, basil, vanilla bean, and caramelized sugar. If you love those flavors, add a float of Grand Marnier onto the cocktail before serving.
Take The Time To Make The Cracked Ice
This cocktail is classically served up and not on ice. But we like to use pebble-sized pieces of ice. Yes, it takes some extra effort but it's very much worth it.
Use Fresh Lime Juice
We'll say it until we're blue in the face: please only use freshly-squeezed juices in your cocktails. If you're making a big batch of margaritas, you can by all means juice a ton of fresh limes up to one day ahead and have it ready to go.
Use Agave Syrup If You'd Like
We make our Cadillac Margaritas with one major twist from the classic: using agave syrup in addition to the triple sec. We do so because we feel that the triple sec on its own can be a lot of orange flavors but you still need a decent amount of sweetener for a balanced cocktail. We take a page from the original agave syrup-based margarita, known as the Tommy's Margarita and created by Julio Bermejo at Tommy's bar in San Francisco in the 1990s, and add a touch of agave syrup to the mix.
If that's not for you, no sweat. Feel free to leave it out and use 1 ounce of triple sec total.
Say No To Sour Mix
Look, the only advantage of using a sour mix is that it's premade. But, generally, it tastes artificial.
Make A Batch Of Margaritas Ahead Of Time
But, you can make a batch of margaritas in advance. Read all about the how over on Serious Eats.
Salt The Rim With Style
Whether you want your margarita with or without salt? That's 100% your personal choice. But, if you are going to add salt, you have a couple of options of how to do it. The most classic way is to put salt on the entire rim of the glass, which is done by rubbing the cut-side of lime against the rim of a cocktail glass and then rolling that in a plate of salt.
We like half salt meaning that only part of the rim has salt on it. To do that, we rub the cut side of the lime in one specific part of the glass and then dip that section so that, as it sounds, only part of the glass is salted. Then, of course, you can mix up the salt as you please! There is no shame in using kosher salt but feel free to try a different style, like flaky Maldon or pink Himalayan salt, or add some flavor to your salt like say some thyme leaves, some chili powder, or dried hibiscus flowers!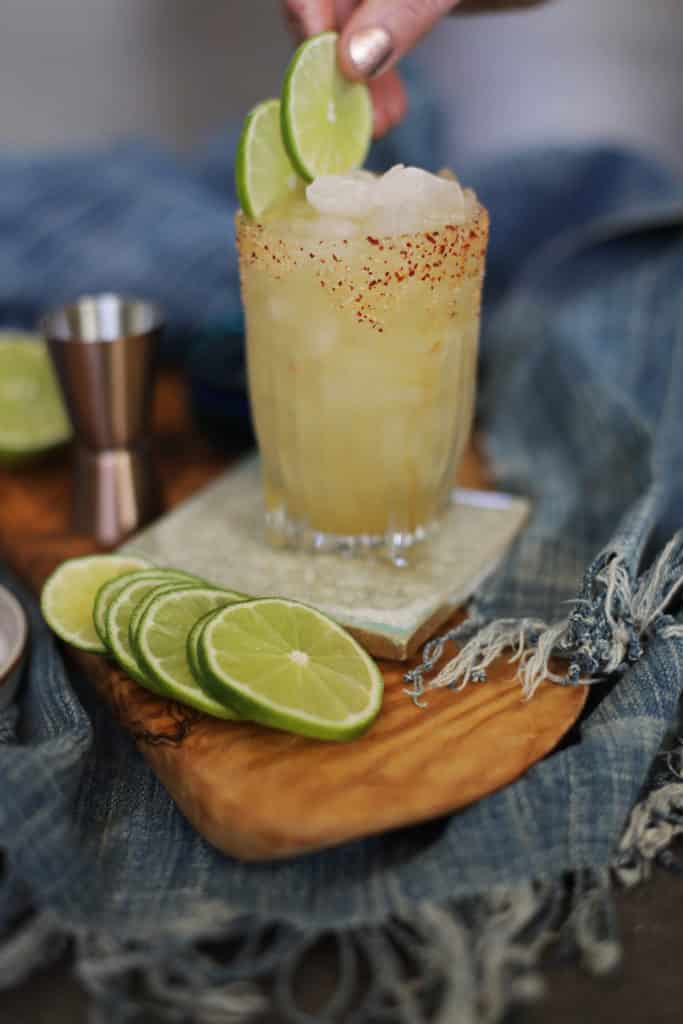 What is a Cadillac margarita vs regular?
A classic Margarita is a sour cocktail made with tequila, lime juice, and orange liqueur while a Cadillac Margarita uses top-shelf aged or reposado tequila.
What Is A Cadillac Margarita Made Of?
The Cadillac Margarita is made with the same ingredients as a classic margarita except the tequila and orange liqueur are reposado tequila and Grand Marnier which are premium ingredients.
Where did the name Cadillac Margarita come from?
The Cadillac Margarita is the most premium version of this classic cocktail. As such it was named after the most classic of luxury vehicles: the Cadillac.
What is the best tequila for Cadillac Margaritas?
To make the cocktail a proper "golden Cadillac margarita," you'll want to use a high-quality Reposado style tequila. While we normally leave our best liqueur out of cocktails and only sip it, you can pull out the top shelf liquor here. We really enjoy this drink with Herradura or Casamigos but you could even use ultra premium tequila like Clase Azul if you so desire.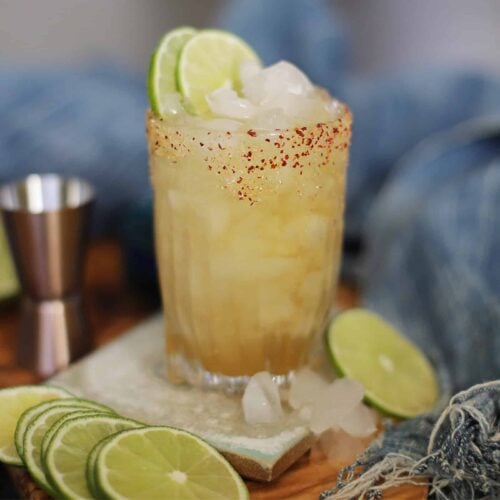 Classic Cadillac Margarita Cocktail Recipe
Here it is: the simplest recipe for a classic Cadillac Margarita made with Cointreau, aged tequila, and freshly squeezed lime juice.
Ingredients
For The Cadillac Margarita:
ice cubes

1

Lime

thinly sliced (saving the end piece to rub the glass if you're making a salt rim)

2

1/2

good quality Anejo tequila

or any other style of 100% agave tequila that you like

1/2

ounce

Cointreau or other orange liqueur

3/4

ounce

freshly squeezed lime juice

1/2

ounce

agave syrup or simple syrup
To Salt The Rim:
Maldon sea salt or other flaky sea salt, for garnish
Instructions
Chill The Cocktail Glass: Prep the cocktail glass by filling it with ice water, then set it aside until ready to use.

Shake The Cadillac Margarita: Combine the tequila, lime juice, agave, and orange liqueur in a cocktail shaker and fill halfway with ice. Shake well until chilled and frosty, about 15 to 20 seconds.

Add Salt To The Rim: Right before you go to serve the drink, discard the ice water, rub the rim with the end of the lime then, if desired, dip the rim in salt, pressing to adhere.

Serve The Cadillac Margarita: Strain the margarita into a rocks glass filled with crushed ice (with a salted rim, if desired). Garnish with a few slices of lime and serve.
PERSONAL NOTES
Nutrition
Serving:
1
serving
Calories:
118
kcal
Carbohydrates:
24
g
Protein:
1
g
Fat:
0.2
g
Saturated Fat:
0.03
g
Polyunsaturated Fat:
0.1
g
Monounsaturated Fat:
0.01
g
Sodium:
3
mg
Potassium:
98
mg
Fiber:
2
g
Sugar:
16
g
Vitamin A:
44
IU
Vitamin C:
28
mg
Calcium:
25
mg
Iron:
0.4
mg