Some say Spring — when flowers are blooming and sidewalk seating is abundant — is brunch season. Others claim its midwinter when the hygge factor is upped infinitely thanks to a cozy setting and a cozy meal. For us, we think brunch is our god-given right and that it should happen whenever and as often as possible.
At least once a month, we host brunch be it for a shower, a couples hang, or to collectively nurse last night's hangover. Whatever your reason, you'll want A plus recipes that are easy but impressive to get you through.
23 Inspired Brunch Recipes To Make Now
Inspired by our favorite travel eats, these are the brunch recipes we turn to time and again for everything from Mothers Day to spring get-togethers and even New Years.
We have strong thoughts about what makes a great brunch and one of them is to always have a slightly indulgent carb like these muffins. Not too sweet and super easy to make (and great made a couple days ahead of time), these Pistachio Spiced Carrot Muffins are a must have at our brunch settings.
Tied with the Pistachio Spiced Carrot Muffins for best brunch muffin out there are these Apple Cinnamon Pumpkin Muffins. Filled to the brim with fall flavors, super easy to make gluten free, and a great way to use up leftover pumpkin puree and/or apples, we make these on the regular.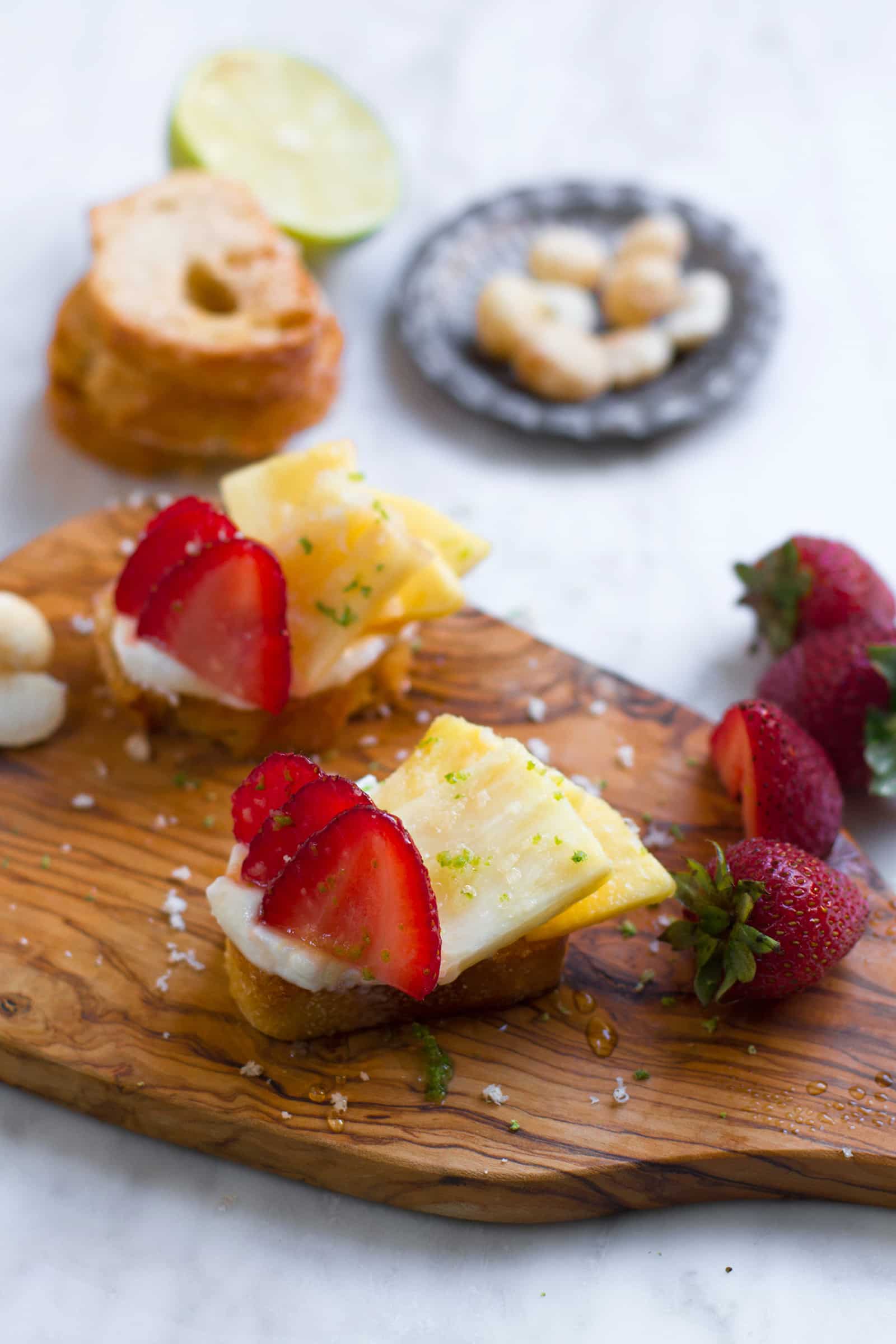 It's no secret that we have big love for Hawaii and swoon over the food out there too. These Tropical Fruit Breakfast Bruschetta are our version of the breakfast bruschetta that Chef Lee Anne Wong serves at her must-visit Oahu spot, Koko Head Cafe.
We're equal-opportunity toast eaters but this toast is likely the only one we crave. Inspired by a similar toast we had during a meal at the (now closed) chic country cafe in Healdsburg the SHED, this is a sweet, tart toast with lavender, whipped ricotta, and a rustic smashed berry topping.
Start things out healthy and fresh with this Tropical Ginger Smoothie inspired by our favorite Santa Barbara smoothie shop, Backyard Bowls. During the weekdays, we drink a full serving for breakfast but, for brunches, we serve little shot glasses of the smoothie as a start to the meal.
How to do pumpkin spice without being over the top about it? In this subtly spiced pumpkin oatmeal smoothie!
In our daydreams, we'd have a grand house in California wine country and nosh on this toast while sipping a cup of coffee to start the day. The next best thing? Serving this to friends at a brunch with a glass of bubbly!
This is one of those dishes that is so impressive but easy you're going to wonder where it's been all your life! We first had this dish during our stay at the Palmwood in Kauai and we cook it up whenever we're missing Hawaii.
Sure, it's kinda hard to mess up French Toast but it's also not always outright amazing. But that changed for us when we had French Toast at Barista Parlor in Nashville. It was made to order when we had it there but we decided to flip it upside down and bake it to make it that much easier (and, tbh, more impressive) to serve.
Possibly the strangest named brunch dish out there but don't let that keep you from wihpping up a Dutch Baby. In this recipe you throw the batter in the blender and then pour it into a searing hot cast iron pan so that it rises super high and brings the extra drama.
Nope, we haven't been to Austria but when we go we'll definitely try this — a shredded pancake. We know, we didn't think we ever wanted "shredded" pancakes either but then we had our first bite of this recipe and we were smitten.
When it comes to brunching with a crowd we prefer — nay, insist — on making baked french toast. This way everyone who wants french toast gets it but you don't have to hussle away in the kitchen like a short order cook!
Turn on the Brigitte Bardot and don your best beret, because these crepes are as classically French as it gets. Okay, we added in a Meyer lemon curd because we're Californians and in the midst of winter, there's nothing that quite brings the sunshine like a Meyer lemon!
Team Salt & Wind is firmly in the "tacos all the time" category be it at a street cart, from a chichi restaurant, or for breakfast. The classic Austin-style breakfast taco is loaded with potatoes, eggs, and just enough cheese to make it comforting and truly Tex Mex.
Our local coffee shop here in LA makes amazing coffee but what we go back for time and again? Their smoky potato and egg breakfast burrito. Here is our take on it but, tbh, if you're in LA you've gotta try the real deal for yourself.
There is a major divide around here when it comes to red vs green chilaquiles. But no matter our preferred salsa, we all agree that chilaquiles are always a winner. We like ours equal part crispy and sauced and that's exactly how this recipe is!
Eggs baked in a sea of spicy red pepper tomato sauce — for us, there are few things that make us as happy in the morning as shakshuka!
If it's Spring and peas are in season, we head directly into the kitchen to make this baked egg dish. With creamed spinach and topped with minted smashed peas, it's light, Spring-y, and decadent all at once.
Some people call this a strata; others a savory bread pudding. Truth is, we don't care what you call it so long as you agree that it's delicious!
There's a lot of things to love about Spanish food but we're partial to the bocadillo — a Spanish sandwich that rivals the best out there. We first had this sandwich in Barcelona with a glass of vermouth but have it say the combo of chorizo, fries, and egg would be just as at home at a hangover brunch!
When it's cold out, there's nothing we find quite as comforting as a bowl of perfectly-made polenta. On our Salt & Wind Northern Italy Trip, we eat tons of polenta so we've made this recipe inspired by our favorite takes.
Where To Brunch In Barcelona
Speaking of brunch, it's one of our favorite meals to have when we travel. Some surprising places (like Paris, Florence, and Barcelona) have really incredible brunch scenes. Here's our pick of the best places to brunch in Barcelona!