Is there anything in the world better than a classic ham and cheese sandwich? Well, if there ever were a contender, it'd be this recipe for Croque Monsieur Savory Bread Pudding.
Year after year, this is one of the most popular recipes on the site. And, seeing we have more than 500 recipes on this site, well, that's saying something.
This recipe is a twist on the delicious classic French sandwich known as a Croque monsieur, but it's turned into casserole form. Yes, a savory bread pudding is known as strata for the semantics expert. But we say call it whatever the heck you want to call it because it all translates to delicious.
What Is Croque Monsieur Savory Bread Pudding?
This savory bread pudding recipe is a deconstructed Croque Monsieur because it has all those hallmarks, including a mix of smoky ham, gooey cheese, crusty French bread, and all things delicious.
While it takes longer to make than the classic sandwich (because the custard needs to soak into the bread), it's arguably easier to make because there's no need to make béchamel sauce as you do for the classic sandwich!
This savory bread pudding recipe is as at home at a weekend brunch as a Mother's Day celebration or even an unexpected take on stuffing for Thanksgiving.
The recipe is made ahead and super easy to put together with caramelized onions, fresh thyme, nutty cheese, and all sorts of toasty, crunchy bits. Translation: this is pretty much perfect for lazy days and long, relaxing brunches.
Travel To France
If you're interested in planning a trip to France soon, let us lend a hand, and we can help you plan every step of the way. Visit our Travel Services page at travel.saltandwind.com.
In the meantime, go stock up on all your cooking essentials, then head into the kitchen, make this, and share it with us by tagging @saltandwind and #swsociety on social!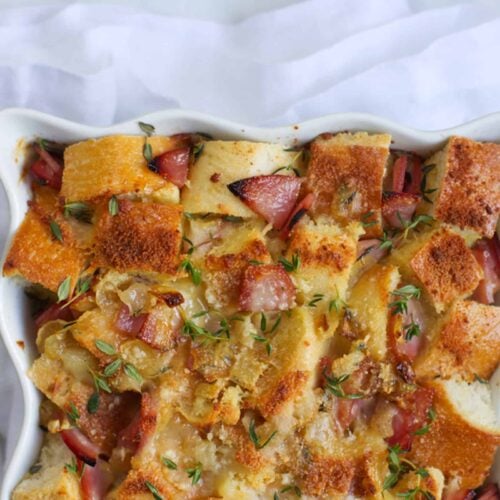 Croque Monsieur Savory Bread Pudding Recipe
Is there anything better than a great ham and cheese sandwich? Well, if there ever was a contender, I'd say it'd be this recipe for Croque Monsieur Savory Bread Pudding. Or Strata. Or whatever the heck you want to call it. This recipe is basically a giant deconstructed Croque Monsieur (aka ham, cheese, French Bread, and all things delicious).
Ingredients
1

tablespoon

unsalted butter

plus extra for coating pan

1

yellow onion

roughly chopped (about 1 1/2 cups)

4

garlic cloves

thinly sliced

1

tablespoon

roughly chopped fresh thyme leaves

plus one teaspoon for garnish

8

large

eggs

1

1/2 cups

half-and-half

2

tablespoons

Dijon Mustard

1/2

teaspoon

hot sauce

plus more for garnish

1

1/2 teaspoons

kosher salt

divided

1

pound

loaf French bread

stale or toasted, cut into 1-inch dice

2

cups

shredded Gruyère cheese

(about 4.5 ounces)

1

pound

Canadian Bacon

cut into 1/2-inch dice

1/4

cup

finely grated Parmesan cheese

(about 1 ounce)
Instructions
Sauté The Onions: Coat a 2-quart (about 11-by-7-inch) baking dish with butter and set aside. Place a large frying pan over medium heat and add butter. When it foams, add onion, season with salt, stir, and cook until just softened about 3 to 4 minutes.

Add garlic, season with salt and pepper, and cook until beginning to soften and fragrant, about 1 minute. Remove from heat and stir in thyme. 

TIP: Onions can be cooked up to two days ahead. Store refrigerated in an airtight container until ready to use.

Make The Bread Pudding Custard: Whisk eggs, half-and-half, mustard, hot sauce, and salt in a large bowl until evenly combined. Arrange half of the bread at the bottom of the prepared dish. Sprinkle with 1 cup of the Gruyère and half each onion mix and ham.

Repeat layering with remaining bread, onion mixture, ham, and Gruyère cheese. Pour egg mixture over the top.

Push to ensure bread is submerged in egg custard, cover with plastic wrap, put a plate and a 1-pound weight on top (a large can of tomatoes or rice in a re-sealable plastic bag works well) place in refrigerator for 3 to 12 hours.

TIP: Make bread pudding through this step up to the night before your dinner and then cook it in the morning.

Bake The Bread Pudding: When ready to bake, heat the oven to 325°F and arrange the rack in the middle. Let strata sit at room temperature while the oven heats, for at least 20 minutes.

Bake for 20 minutes, then increase the temperature to 375°F. Sprinkle parmesan over the strata and bake for another 15 to 20 minutes until puffed and the edges pull away slightly. Remove from oven and sprinkle over remaining thyme.

Cool for at least 5 minutes before serving. Serve with hot sauce on the side.

TIP: Bread pudding can be baked up to three days ahead of time then stored covered in the refrigerator. Rewarm it in a low oven (about 200°F) until warmed through, about 30 minutes.
PERSONAL NOTES
Nutrition
Calories:
325
kcal
Carbohydrates:
22
g
Protein:
24
g
Fat:
15
g
Saturated Fat:
7
g
Polyunsaturated Fat:
2
g
Monounsaturated Fat:
5
g
Trans Fat:
0.1
g
Cholesterol:
171
mg
Sodium:
872
mg
Potassium:
265
mg
Fiber:
1
g
Sugar:
2
g
Vitamin A:
464
IU
Vitamin C:
2
mg
Calcium:
296
mg
Iron:
3
mg