In our dreams, we'd have a pied a terre in Hawai'i where we'd host cooking retreats to hang with you IRL and share our love for the Aloha state.
Days filled with surfing, visits to the markets, meeting local creatives, and eating all the local food. In fact, if that's something you'd like for you, your friends, or all our Salt & Wind community, let us know and we'll get planning.
Hawai'i Recipes To Cook At Home
Until that happens the next best thing is to cook these recipes inspired by the islands from classic Hawaiian recipes to modern takes on local flavors.
A few years ago, it seemed like poke was taking over the mainland U.S., but we had an issue with it because so much of it was overly doctored.
The foundation of our version starts with a simple recipe for the most common of all pokes: shoyu ahi poke (as in ahi tuna tossed in soy sauce). You could simply make that and eat it with chopsticks as they would in Hawaii.
But, we added in a little West Coast twist but serving it over shredded cabbage on a tostada — it's not common but make for a crunchy, creamy, fresh take on the classic dish.
One of the most classic but lesser-known dishes from Hawaii is boiled peanuts. The Chinese influence on local food is majorly felt on this dish thanks to the star anise and ginger, but it's the red Hawaiian salt that makes it.
Cook up a batch and have them as a happy hour snack with a cold beer or along with a spread of raw Maui onion with salt and some poke to make it more akin to what you'd get during Happy Hour in Hawai'i.
Yes, we love ramen and all the attention it has received in the last few years, but Saimin is another brothy noodle dish that we adore. Like some of the best local flavors in Hawai'i, saimin is like an edible genealogy of the islands' history. Made with a ramen-esque broth, Chinese mein noodles, and a host of other delicious flavors, we make ours whenever we want some comforting local flavors.
Of all the recipes in this list, the one we make the most is probably Shoyu Chicken because it's simple, easy to make, and a major crowd-pleaser.
Not to be mistaken for Teriyaki Chicken (which is often grilled and glazed), shoyu chicken is a sweet, salty braised chicken dish that's best served over rice with a ton of scallions.
Things you'll see when you drive around Hawai'i: tons of palm trees stands selling pineapples, and roadside rotisseries selling huli huli chicken.
We've always been fans of rotisserie chicken but this local style is made even better because the sweet-savory marinated chicken gets a smoky flavor as it hulis (or turns) over a kiawe (mesquite) wood fire.
Our recipe is a modern take where we skewer chicken pieces and they're grilled instead of rotisseried. To do it justice, cook it over charcoals instead of gas to get a hint of that smoky flavor.
Haupia is a traditional coconut custard dessert that has been around a long time in Hawaii and has made its way into desserts from cakes to pies.
One of the most iconic bakeries on the islands is Ted's Bakery on Oahu's North Shore, and they make a Haupia Pie, so popular people line up to buy it.
There are variations on the classic, and our favorite is the chocolate and coconut take. So, when we can't travel to Hawai'i, we make this twist on their recipe by doubling down on the chocolate and adding lots of toasted coconut.
The Portuguese immigrants are to thank for bringing a lot of great flavors to Hawai'i from malasadas to the sweet Portuguese sausage (aka linguica) and the sweet bread (now often called Hawaiian bread).
We love a breakfast of eggs, Portuguese sausage, and toasted Hawaiian sweet bread so it was only a matter of time until we brought that together in other meals.
Here those flavors combine for an in-no-way-traditional but in-every-way delicious take on stuffing that is one of our go-to recipes during Thanksgiving.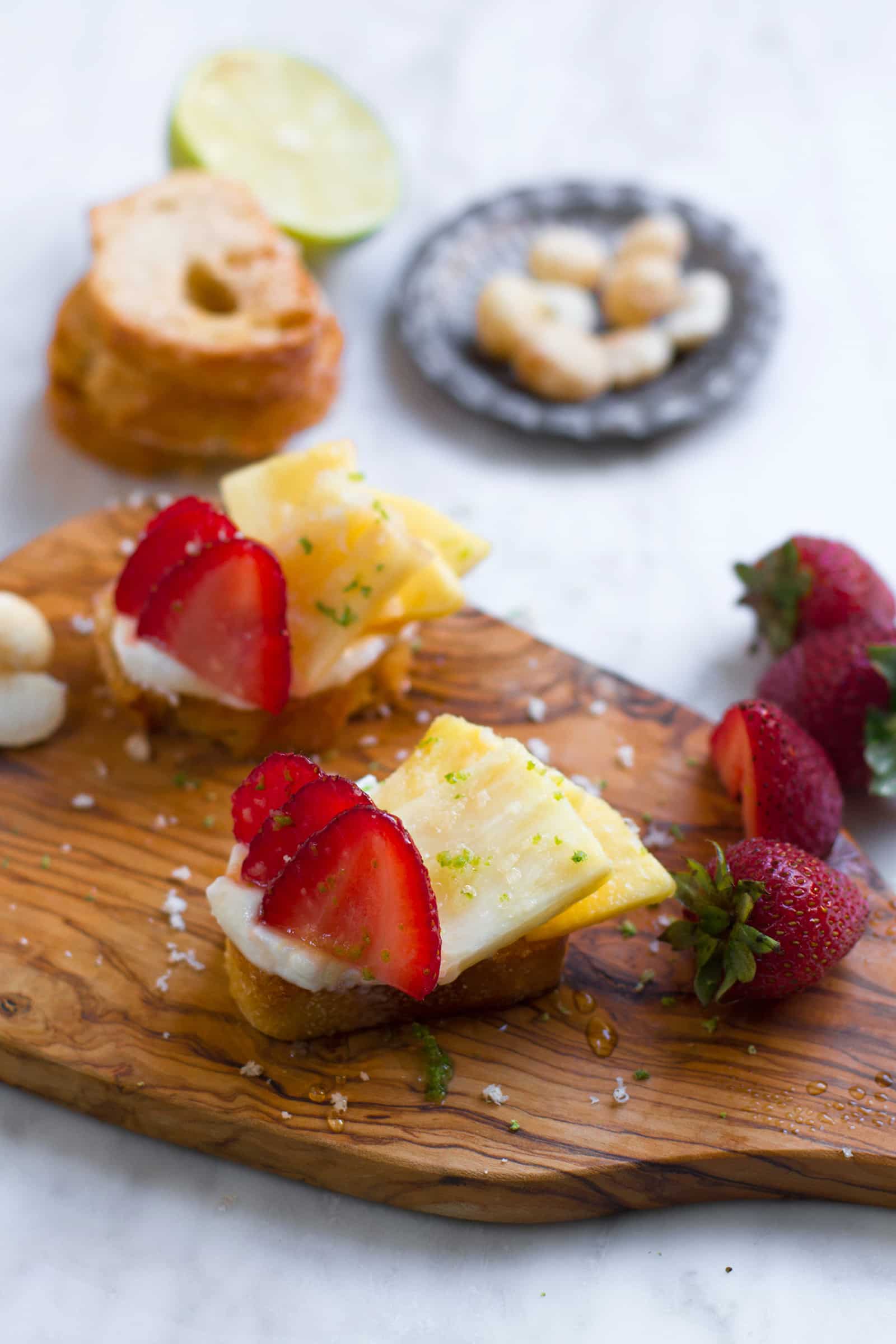 Breakfast is a major thing in the islands, and one of our favorite spots to have is at chef Lee Ann Wong's Koko Head Cafe.
They have everything from indulgent French Toast to filling skillets, but our favorite is this fruit-topped toast.
Inspired by the sugar-coated toast known as rusk toast in Japan, the fresh fruit and toasted nuts make it at once full of local flavors and totally elegant.
Say hello to your new favorite brunch dish! This island twist on traditional Tarte Tatin is way easier to make and possibly even tastier.
Auntie Eddy of the Kaua'i guesthouse, The Palmwood, is to credit for creating this dish. She makes it with local macadamia nuts and apple bananas (small, not too sweet bananas grown throughout Hawai'i) from her backyard. However, you can still make it with store bought bananas, and it will be delicious.
Breakfast, snack time, dessert, this not too sweet quick bread seems to fit it pretty much all the time.
Truth is that the most popular quick bread in the islands is Maui banana bread (if you ever find yourself on the road to Hana, you'll pass many a stand!) but we love this mango bread loaded with nutty brown butter and lots of coconut.
How do you make an edible love letter to Hawai'i? That mango bread is a top contender, but so is this twist on classic chocolate bark.
This recipe takes some of the most common flavors in Hawai'i — coconut, Kona coffee, and Hawaiian sea salt — and stirs them into bark for a simple but delicious dessert.
To us, you haven't had sweet tea until you've tried Hawai'i's take on sweet tea. The name comes from the fact the tea is made with pineapple and sugar — both of which were grown on plantations in Hawai'i's past.
We're fans of it because here, Southern Sweet Tea gets an island twist thanks to the addition of pineapple juice, lemongrass, and cinnamon!
So often when people think Hawaii;, they think of the king of tiki drinks: the Mai Tai. Though the cocktail wasn't invented in the Aloha State, it is served at pretty much every resort and every high-end bar. Our take on the classic is sweet and tart thanks to the addition of passion fruit juice.
If you want something lighter than a Mai Tai, then try out this thoroughly modern take on the classic Daiquiri cocktail.
We first had it at the Fairmont Kea Lani, and we liked it so much we asked for the recipe to share with you. The combination of citrus and rum served over mounds of ice is like an adult take on the classic Hawaiian treat, shave ice!
Hawaii Food Tips
Want to learn more about food in Hawai'i? Here you go!
Have Us Plan Your Hawai'i Trip
Did you know we're also a boutique travel agency that specializes in Hawai'i vacation planning? If you're looking to plan a trip to Hawai'i, our Hawai'i trip planner services are here to help you plan your perfect itinerary.
---
Hawaiian Diacritical Marks: In an effort to be accurate and respectful of the Hawaiian language, we use diacritical marks in our articles on the region. For more about which marks are used in the language and how to find proper spelling, refer to this Hawai'i Magazine article.