'Tis the season to gather and entertain!
And though it's fun to plan something involved, we like the last-minute parties just as much. The key is in the preparation! That's why for this latest Friends Who Fete party, we threw a last-minute cocktail party and we're sharing every last detail!

This time Meg of This Mess Is Ours and I drove up to Kate of Hola! JALAPEÑO!'s house to throw a low-key but totally gorgeous party in her Central Coast home. We came armed with loads of food (of course!), lots of florals, and some liquor and got the party started. We store bought a lot of items to make prep go faster, got the invitees involved in the party itself, and even had quick but gorgeous florals. Here's a look into it all:
LAST-MINUTE HOLIDAY COCKTAIL PARTY MENU
Yes, the idea of this party is that it's very much last minute. As in, invite friends over and have them arrive a few hours laster. Even so, we wanted a stand out menu. The key is a menu based on store bought ingredients but each are customized for classy and serious flavor. Here's the full menu:
Cranberry Sauce Dark & Stormy || This Mess Is Ours
Spiced Cranberry Cinnamon Italian Soda || Salt & Wind
Spiked Eggnog Italian Soda || Salt & Wind
Pear, Cranberry, and Brie Mini Tartlets with Hot Honey Drizzle || Salt & Wind
Speck-Wrapped Persimmons With Balsamic Honey Glaze || Salt & Wind
Roasted Butternut Hummus with Crispy Fried Sage || This Mess Is Ours
Mango Habanero Cocktail Meatballs | ¡Hola! JALAPEÑO!
Honey Chipotle Cocktail Meatballs || ¡Hola! JALAPEÑO!
Peppermint Mocha Cupcake Bites || ¡Hola! JALAPEÑO!
DRINKS

This is an easy seasonal twist on a Dark & Stormy by mixing a store bought Cranberry Orange Relish with freshly-squeezed mandarin juice, ginger beer, and rum.
Spiced Cranberry Cinnamon Italian Soda
Think of this as a wintry take on Italian soda loaded with homemade cranberry simple syrup, Torani Brown Sugar Cinnamon Syrup , club soda, and ice.
Spiked Eggnog Italian Soda
We L-O-V-E a good Eggnog but don't always have the foresight to make it happen. That's when this rum-spiked Eggnog Italian Soda is a perfect choice!
APPETIZERS
Pear, Cranberry, and Brie Mini Tartlets with Hot Honey Drizzle
We've all had that classic holiday appetizer of cranberry brie bites, yes? Well, here we modernize it with just 5 minutes extra cooking time by adding in sage-scented pears, pomegranate seeds, and a hot honey garnish.
Speck-Wrapped Persimmons With Balsamic Honey Glaze
We don't know about you but we can never get enough of prosciutto and melon in our lives. When the melon is no longer in season, we switch to persimmons and top it with this inky sweet-tart balsamic honey glaze.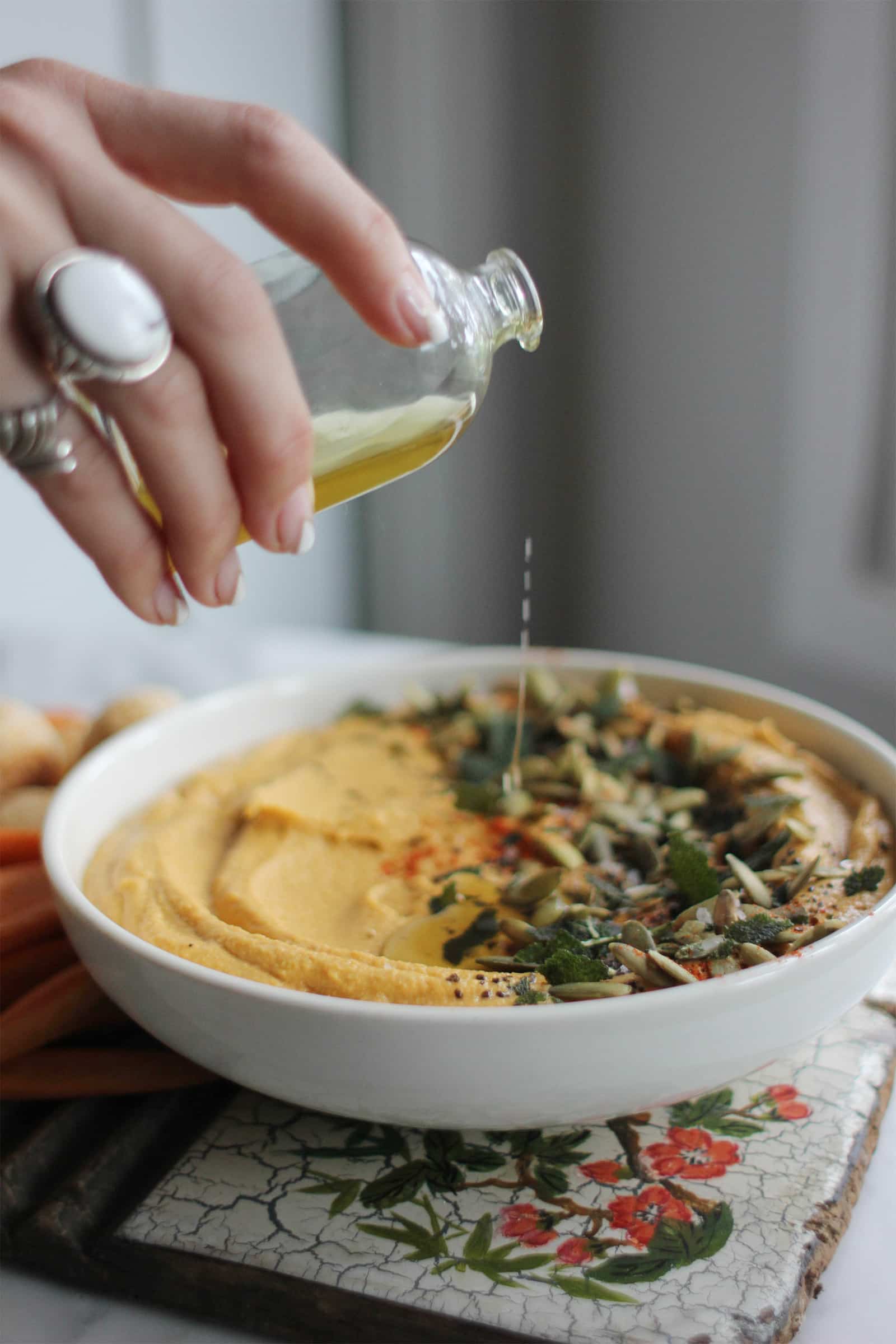 Roasted Butternut Squash Hummus with Crispy Fried Sage
This time of year we constantly roast off some butternut squash and use it in everything from our soups to dips. Here it gets whirred together with classic hummus ingredients!
Mango Habanero Cocktail Meatballs
Yes, you could buy store bought meatballs, warm them up, and leave it at that. Or you could take a couple more minutes and toss them in this Mango Habanero Jelly for a sweet-spicy cocktail meatball!
Honey Chipotle Cocktail Meatballs
If Habanero is just too hot (or you just want a few options), you're going to also want to make these honey chipotle meatballs. We so adore the sauce, we could (and just might) put it on everything in sight!
Last Minute Cheese Plate

One way we're always always ready for last-minute entertaining? We keep the ingredients on hand for a basic cheese plate. Then, even if we don't use them up with guests, we can eat them ourselves!
DESSERT
Peppermint Mocha Cupcake Bites
It's not a holiday party in our opinion until some peppermint gets involved. This super simple mocha cupcakes are topped with whipped cream and crushed peppermint for a nostalgic take on dessert.
TIPS FOR A LAST-MINUTE COCKTAIL PARTY
To us a last-minute party is one where you can invite friends in the morning and have them over that very night. The key is to be organized and choose what you want to be the focus of your party. Oh, and even though it's last-minute our go-to entertaining tips still very much apply. Here are a few other tips we learned when throwing this last-minute cocktail party:
Keep Your Pantry Well Stocked: We say this over and over becasue we mean it: the easiest way to entertain is to keep a well-stocked kitchen. We always have things that we like to snack on but can also double as items for a cheese platter (think quality olives, nuts, charcuterie, dried fruit, and cheeses) so we know at least one piece of the menu will be a cinch to put together.
Use Storebought Ingredients: True, we pretty much never use prepared foods or processed snacks on this site and we're not doing that here. Instead of opting for the pre-made quiche bites that have who knows what as ingredients, we buy things like pre-cooked squash and meatballs and amp them up with a few minutes of cooking.
Make A Simple Floral Centerpiece: Florals and music make a party setting go from drab to gorgeous in seconds flat. But when you're throwing a last-minute party it's unrealistic to do some bespoke arrangement. Instead, we turned our florals into a table runner for a standout centerpiece that took minutes to put together.
Have A Conversation-Starting Drink: Okay, in addition to those florals and music, the other thing that makes a party special is a custom drink. We made this super simple twist on a Dark & Stormy because the classic is a crowdpleaser and this version is totally unexpected.
Have Your Guests DIY: Finally, there's no shame in having your guests do some of the work. But instead of making it a potluck, we say have them make their own drinks. You can have a signature cocktail, or, if you have more time, mkae the Handcrafted Soda Bar below!

HANDCRAFTED SODA BAR
Just because you're thowing a party the same day you invite everyone, doesn't mean it can't be special. One easy way to makt it interesting is to add in a handcrafted soda bar. We stocked ours with all sorts of Torani syrups and then put ingredients out for guests to DIY handcrafted sodas. For all the details, check out this How To Make A Handcrafted Soda Bar For Your Next Party.
HOW TO FLORALS
Even though it's a last-minute cocktail party, we didn't skip florals for this party. Instead we made them more laidback by using the florals as a table runner-esque centerpiece. The one pictured here is made up of sugarbush flowers, seeded eucalyptus, and grevillea ivanhoe (all which are available at most major grocery stores this time of year FYI). If you want to give it a go, here are 5 Tips for Building A Perfect Holiday Floral Centerpiece.
STORE BOUGHT FOOD
Here are the items we turned to in order to make this party happen!
Fat Uncle Farms Rosemary Blistered Almonds
Sartori Espresso Cheese
Dried California Apricots
La Quercia Speck Americano
The Fillo Factory Mini Fillo Pastry Shells
Torani Eggnog Syrup
Torani Brown Sugar Cinnamon Syrup
Cuties Tangerine Juice
Trader Joe's Cranberry Orange Relish
Trader Joe's Sweetened Dried Orange Slices
Cheddar & Parmesan Brazi Bites
Nature's Rancher Angus Beef Meatballs
Mrs. G's Mango Ginger Habanero Jelly
La Costeña Chipotle Sauce
Stauffer's Gingerbread Iced Cookies
TABLETOP DECOR
This time we went with a white, gold, and terracotta slash cranberry color scheme and here are the tabletop pieces that made it come together:
Flamless Pillar Candles
Starry String Lights
Mason Jars
Marble & Wood Cheese Board
Mini White Cake Stand
WRF Lab Ceramic Dinnerware
Gold Flatware Set
Flora Poste Shibori Essex Linen Napkins
Juliska Whitewash Cocktail Plates
Japanese Yarai Cocktail Mixing Glass
Copper Bartender Set
Stainless Steel Straws
Industrial Wood and Metal Tray
Go stock up on all your cooking essentials then head into the kitchen, make this, and share it with us by tagging @saltandwind and #swsociety on social!
Need more party inspo? Check out the Friends Who Fete Instagram or find our other parties here! And, if you make some of the party recipes, use the #friendswhofete hashtag to share it with us!
Connect With Salt & Wind Travel
More on Salt & Wind Travel
Swoony Photos Of Our Salt & Wind Trips to Baja California
Photos by Salt & Wind and This Mess Is Ours