Once the clock strikes Thanksgiving eve, the holiday season is upon us, and there's no letting up until the New Year's ball drops. That means it's time to master our holiday entertaining tips!
Friendsgivings, cookie swaps, holiday brunches, cocktail parties—it can quickly become a lot. And it either excites you so much you pin recipes with abandon, or it gives you such anxiety you debate feigning the flu instead of hosting this year's family feast.
The biggest difference? Experience. But since you're unlikely to clock in the Gladwellian 10,000 hours worth of holiday hosting anytime soon, we've thought we'd offer up advice from our collective experience.
Our Top 10 Essential Holiday Entertaining Tips
We distilled down our dinner party knowledge to these ten tips for entertaining elegantly (without adding any stress). So, go ahead and send out that invite because you're going to master the holidays this year:
Start The Party Off Simply
There's no bigger buzzkill than arriving at a party and finding the host or hostess frenzied. Avoid that by keeping the first course simple. Mind you, simple does not mean boring, as proven by our go-to appetizer right now: pork rillettes bites.
Rillettes are a form of pâté, but to call them that is a disservice as they're more like a socially acceptable way to eat pulled pork in a dinner party setting. They're most often made with pork but can also be made with duck, rabbit, or even salmon, FYI.
Arrange appetizer plates with an assortment of toasts, a portion of rillettes, pomegranate seeds, and some seasonal citrus. Then serve with phenomenal mustard like this Maille Black Truffle and Chablis Mustard.
For some homemade ideas, check out these elegant appetizers that work for everything from Thanksgiving to Christmas Eve.
Have A Conversation-Starter Condiment
The key to the pork rillettes bites is the condiment because, with one dab of this Maille Black Truffle and Chablis Mustard, you have all sorts of complexity — thanks to the combo of black truffles, wine, and Dijon.
At our most recent dinner party, we ended up giving the mustard as party favors because, the minute we served it, our guests became obsessed and thrilled to take it home.
You could do the same thing with a preserve or sauce from a local store, so you're supporting locals and providing an icebreaker all at once.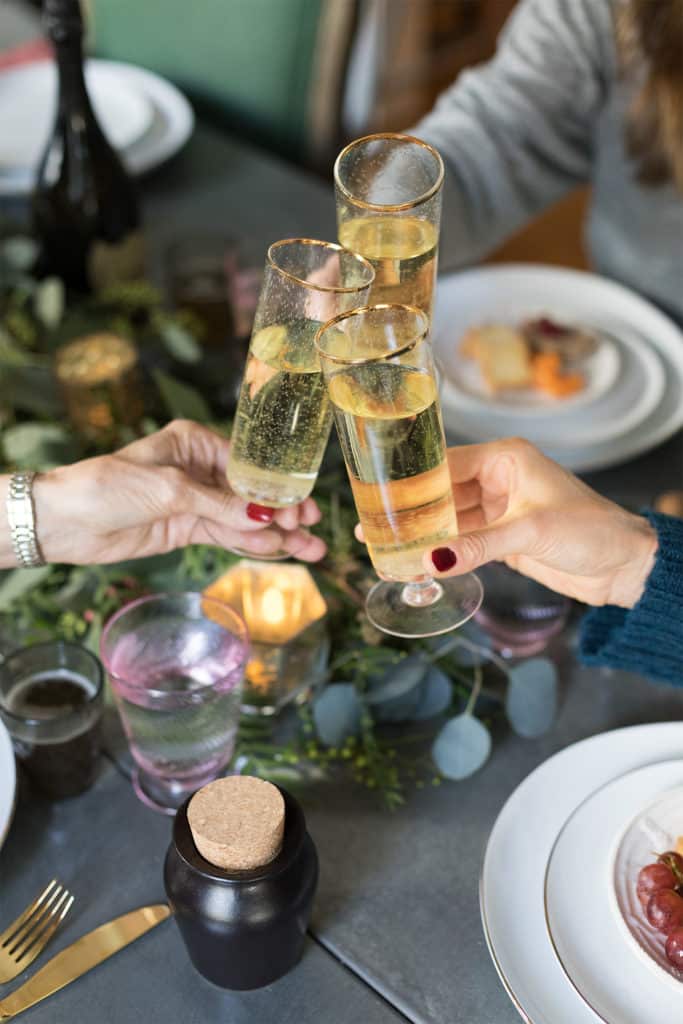 Buy Wine By The Case
You'll often get a case discount when you buy wine by the case at a quality wine store. But the real reason we do it? We use similar seasonal flavors across our holiday season cooking to use similar style wines at each.
At an event like Thanksgiving, we budget a bottle per person—assuming we're serving only wine and our party lasts about 4 hours, from appetizers through dessert.
We tend to have about 18 guests, which works out to 18 bottles or a case and a half total. To have a choice, we buy a case of French Brut Rosé or Italian Franciacorta for bubbles, a California Sauvignon Blanc or Austrian Gewürztraminer for the white, and a Santa Barbara Pinot Noir or French Grenache blend for the red wine.
Embrace The Bar Cart
Especially if your guests aren't into wine or if you're hosting a cocktail party, a bar cart is a holiday entertaining must.
The bar cart serves as ground zero for all your drinks and can streamline service by editing the contents to cover a few specific drinks. We suggest making a punch or batching a classic cocktail like a Negroni to make things easier.
Bonus? If you place it outside the dining room, it will encourage guests to wander so they don't spend the whole night at the dinner table or loitering in the kitchen.
Break Out The Great Stuff
The holidays are full of glitz and glam so add a little of that to your menu.
Break out the good quality, special occasion bottle of wine or a showstopping ingredient (think: king crab legs, caviar, foie (if that's your thing), or that black truffle mustard we mentioned). If you have access to great seafood, consider serving this Scallop Crudo With Jalapeno Citrus Sauce or these Oysters With Pomegranate Mignonette Granita.
Of course, this isn't realistic if you're doing a huge party, but it can accentuate the experience for a smaller gathering. 
Prep Your Pantry For Last-Minute Entertaining
The key to last-minute party planning without extra stress? A well-stocked pantry (and wine fridge or bar cart) so you can entertain at a moment's notice.
This time of year, we keep the kitchen stocked with snacks we enjoy, but that can double as party hors d'oeuvres.
The easiest way to go about it is to buy with your favorite cheese and charcuterie board in mind–as in, you'll want some seasonal fruit (grapes and persimmons last long and work well), a few pickles, some Cerignola olives, Marcona almonds, a few salumi, and a great cheeses.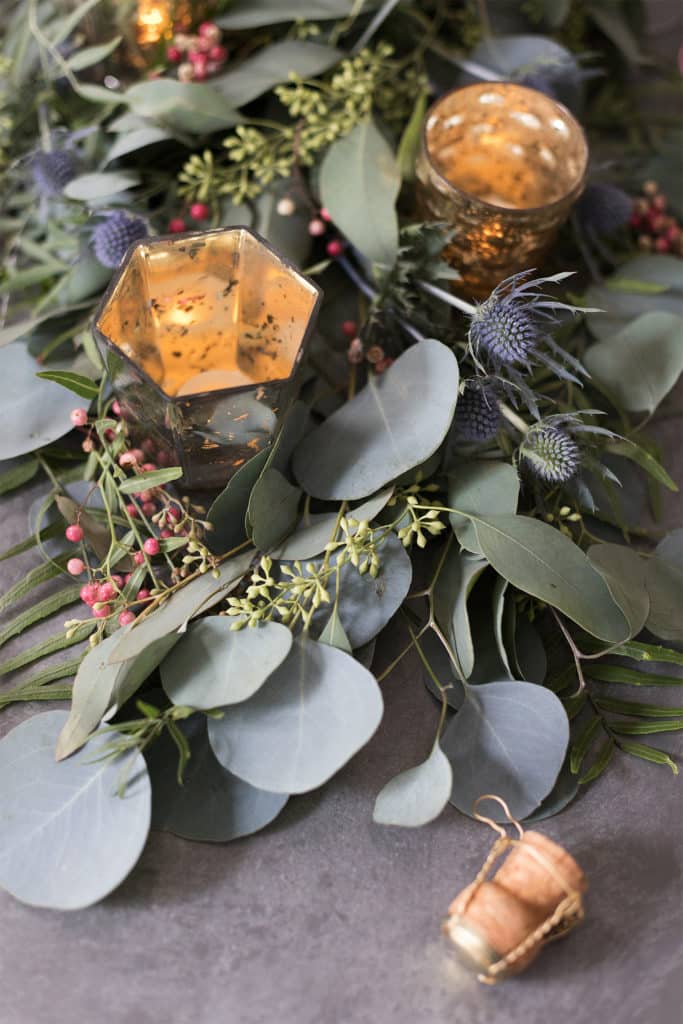 Choose Multi-Purpose Florals
That idea of seasonality extends to our florals too. Buying in-season greenery is more affordable and means it will all be fresher. Right now, we're doing green arrangements that have small pops of color.
Start with one main plant (evergreen or eucalyptus look and smell great), then add a few colorful pieces like billy buttons, thistle flowers (pictured above), proteas, or some Italian pepper boughs. You can then arrange it in vases around the space or even place it down the dinner table as an organic take on a table runner.
Be On The Move
If your party is a book, each course is a different chapter. Encouraging guests to move around your house makes the party more dynamic. Start with appetizers and cocktails in one space, move to the dinner table for the main course, and then do dessert in a more laid-back space like a living room or around an outdoor fireplace.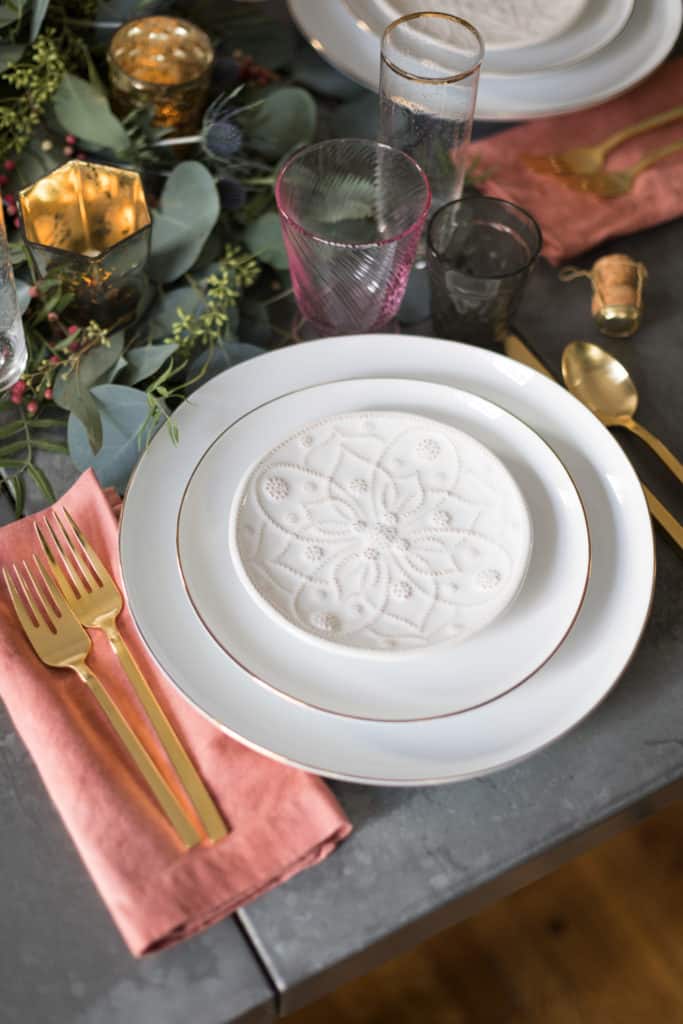 Have A Go-To Decor Theme
You'll likely not have the same friends over and over again, so choose one decor theme and reuse it all season. The name of our decor game right now is neutrals with a pop. As in, we choose a go-to neutral (ours is zinc grey), then we personalize each party with an "accent" color like the on-trend blush pink, a brushed bronze, greenery, or a mix of all three.
Make The Mood With Music
To us, it isn't a party until there's music. No matter the party style, you want the same thing: a playlist that goes from mellow to upbeat to relaxing and never too overwhelming. In an ideal world, we'd have a deejay on retainer, but in reality, we use streaming services.
Not sure where to start? A dinner party almost always works with jazz or a soulful artist like Charles Bradley. For cocktail parties, we liven it up with a station inspired by The Internet or Lion Babe. Here is a playlist we've used as of late for happy hour get-togethers.
More Holiday Entertaining Tips
Head here to read how to stress less during the holiday season, and here for our top appetizers for anything from a dinner party to a cocktail party!