Picture this: on your left, perfectly manicured vineyards hug the hills as far as you can see. On your right, a sweeping swath of coast so blue it's hard to tell where the sky ends, and the sea begins. 
You stop, pulling off the autostrada with the other Italian drivers, to capture a panorama that's impossible to appreciate unless you live it fully. Sound like something on your bucket list? Then fasten your seat belt because some of Italy's greatest treasures are best appreciated by car. Read on below for our top tips on how to make your dream of driving in Italy a reality.
First, Get An International Driver's License
According to the US embassy, American citizens can legally drive in Italy using their American driver's license so long as it's accompanied by an official translation in Italian. This is made simple by getting an international driver's license (also sometimes called an international driver's permit), which it can be written in multiple languages. This permit acts as a formal translation of your current license and it is valid for renting cars overseas and allows you to freely enjoy the benefits of driving while visiting Italy. 
In the United States, AAA is the official provider of international driver's licenses which they offer for a small fee. 
Should I Get An Italian License Instead?
The United States of America and Italy do not have a formal agreement for validating and reciprocating licenses, so, getting an Italian license is not a simple process. In fact, it's something that we only recommend for those pursuing legal residency. 
If you plan to move to Italy, an international permit is only good for 12 months after obtaining Italian residency so you'll want to start the process pronto. For vacationers planning a trip to Italy, your valid license and international permit are all that's needed.
Tips For Planning Your Italian Road Trip
Where To Road Trip In Italy
Now that you've decided to explore Italy by car and have your permit in hand, you're ready to plan. There truly is so much to see across the Bel Paese, so here are some tips for narrowing your options. 
Create Your Bucket List
Start with your must-see places. Is it a small town, a city, a vineyard, or a church? That will give you a better idea of your bucket list locations.
For me, the first time I drove in Italy was to go visit the Val d'Orcia region of Tuscany which really is only reachable by car. I will never forget the thrill of total travel autonomy the car gave me and all the beautiful, otherwise unreachable, locations that I visited.
Find Nearby Spots
Then look at the map and see if anything en route catches your eye. For example, you know you want to go Prosecco tasting, and looking at where that Italian sparkling wine is made (in the Veneto), you realize Verona and Venice aren't far. Those might then become perfect places to drive to and from, or make a home base for your adventure.
Map The Route
Get on Google and get mapping. This is the best way to check the distances, and time required, and also explore what other places you may encounter along the way.
Leave Extra Time
To really enjoy Italy by car, you don't want to be rushed! Plan for lots of unexpected stops (be it road work, a traffic jam, or tractors in the country), time for leisurely lunches, and picture photo opportunities.
Have Us Help! 
If that still sounds super overwhelming (we get it!) or you don't know what you're looking for (Verona and Venice sound nice, but what is really worth seeing there?), then hop on a call with us; we can streamline your trip and make sure you're only stopping in the most picturesque Italian towns.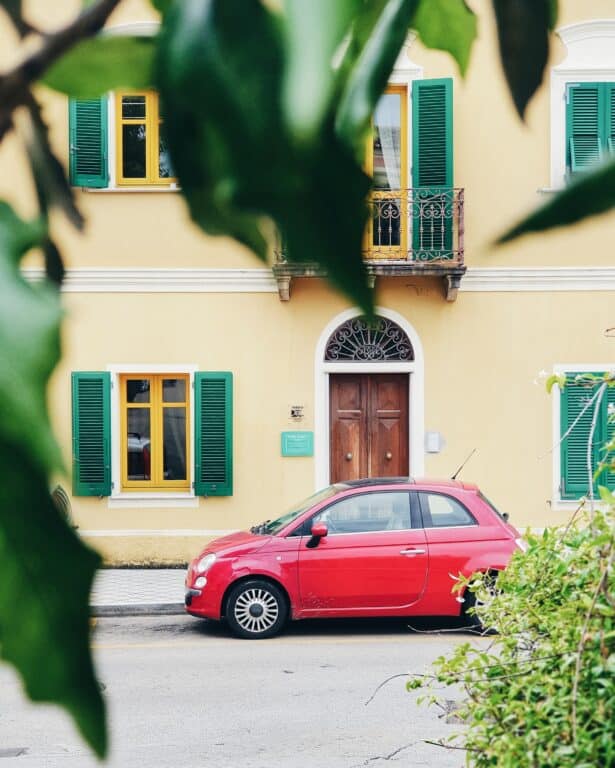 How To Rent A Car In Italy
Renting a car in Italy is, thankfully, pretty easy. You must bring your passport, driver's license, credit card, and international permit. However, there are a few additional things to keep in mind.
Have An International Driver's License
First, make sure you have your international driving permit. Some agencies simply won't rent you a car without it.
Check The Car Rental Hours
Before reserving the car, consider your travel days and locations. Some rental companies in smaller towns may be closed on the weekend for example or have limited hours. Check the hours to make sure you can get the car when the location is open.
Check The Car Rental Location
Also, check the location. Sometimes it's easier to rent a car outside the city center. You may find the best rates and easiest routes from the airport for example. Consider your level of comfort and how easy pickup and drop off will be for you, before you reserve. 
Reserve Ahead
Make a reservation ahead of time online, and specify what type of car you need. This is the most important tip! If you don't book ahead, you may find yourself without a car. Reservations can easily be made online well in advance of your trip. Also, the midsize cars that most Americans prefer to rent get reserved quickly in high season and they're hard to come by if you don't have a reservation.
Manual Versus Automatic
The majority of Italian cars are manual transmissions, so, if you need or want an automatic, you will need to specify that when renting a car. I made this mistake once, and while I can drive a manual transmission (I got my Italian driver's license driving one!) I did not want to. It made driving just a little bit harder because, on top of navigating, I had to worry about shifting through winding roads and massive hills. 
Request Your Add Ons In Advance
If you need a GPS, car seat, booster seat, or other accommodation, make sure you include that in your reservation also. If you don't, you may arrive and realize your internet isn't working and they don't have any more GPS units to rent, or no more car seats available and you'll be out of luck.
Choose Practical Rental Locations 
Car rental location pick up and drop off is also something important to consider. Don't assume a pickup or drop off location is convenient, make sure you check the map and understand exactly where you need to go.
If you're taking a train before or after using a rental car, opt for a rental car location as close to there as possible. If you don't want to drive in the city center, rent from the nearest airport and have a taxi take you to town.
Consider Your Luggage
If you are going to be traveling with many bags, you'll need to get a car that can fit everything. Oftentimes, Italian car rental agencies' default option is very small compact cars like a FIAT Panda, so be sure to consider size when considering the rental agency and their options.
Account For Variable Weather And Roads
If you're traveling in the winter or are heading into the Alps, consider if you're going to need snow chains or winter tires. Likewise, if you're heading to the beach in Sardinia, you may need to drive sandy roads to opt for a vehicle that can handle that. Be sure to ask again if you think you'll need them.
Essential Tips For Driving in Italy
Going To A Gas Station In Italy
Now that your reservation is set, you specified your specific needs, planned your road trip with lots of time for wandering, sightseeing, getting lost and enjoying the drive, it's time to think about the actual logistics. 
Know Your Benzina From Your Gasolio
Maybe the most important thing you need to remember is this tip on getting gas. In Italy, American petroleum or gas is called "benzina" and "gasolio" is diesel! You are going to want to remember that, write it down, tattoo it on your hand, just make sure you don't put "gasolio" in a car that runs on "benzina."
You should also specify before leaving the car rental place if your car takes "gasolio" or "benzina" since a lot of European cars actually run on diesel.
Opt For Self or Full Service
Once you arrive at a service station, everything else should look much like it does in the US. You will see, self or full service and the card reader on the pump to pay ahead. For older stations, you may need to go inside first, but in general, the payment and actual pumping of the gas will be just like back home.
Avoiding Common Tourist Mistakes
Driving in Italy, for the most part, is a lot like the US: they drive on the right side of the road, require a hands-free device when making calls, and have paid toll roads. However, there are some major differences that are worth keeping in mind. 
Learn The Italian Road Signs
One big consideration when driving in Italy is the road signs and learning how to read them. Italian road signs are not that much like their American cousins. Most road signs in Italy will be vastly different from the ones you're used to back home, a major difference is that in Europe, they rely much more on symbols. 
A couple of symbols you may encounter will likely be the same, like "stop" and "do not enter,"  but the others might be worth learning before you go. In particular, you will want to understand the parking signs, speed limit and minimum, and ZTL. Check out this article to see the major road signs and learn what they mean. 
Read Up On Traffic Zones
They also have traffic zones, which control things like who can enter, who can park, and more. You want to check online for these areas before driving into them. Google maps don't always know where you can and can't drive, so it's a good point to ask your travel planner to be sure.
Mind The ZTL
ZTL is one of the most common symbols you'll encounter. It stands for "zona traffico limitato" and refers to a restricted traffic area where cars are not allowed or are only allowed with certain permits. 
You should always avoid this, as with a car rental you likely do not have the credentials to enter. An example of this can be found in most city centers. You will find a lot of the historical centers of cities do not allow for driving unless you're explicitly given a permit to do so. You can also ask your hotel before driving there to be sure it's not in a ZTL zone.
Account For Toll Roads
Another thing to be mindful of while driving in Italy is driving on the Autostrada, or the highway. These are usually toll roads. You want to make sure to stop, take a ticket, and then pay the ticket, and not accidentally drive through without paying. These look and function much like toll roads in the Eastern United States, so it won't seem that foreign if you've ever driven in Massachusetts or New York. 
If you're curious about the cost of the toll roads consider that it costs about 42 euros to travel from Milan to Rome, covering some 350 miles and 6+ hours of toll road driving. Some may find this expense, but if you consider it costs around $20 to travel 4 hours and  215 miles from New York City to Boston on toll roads, you can see the price is actually comparable between Italy and the US.
Plan For More Aggressive Drivers
Generally, Italians drive faster and more aggressively than in the United States be it that they speed down the autostrada or tail you on a back road. 
Speaking of, Italy has a lot of meandering country roads that don't have tons of guardrails. While driving in the countryside is easier than dealing with city traffic, you may get passed by locals or have a hard time finding the right exit.
Traffic Violations: Can I get a ticket in Italy?
Yes! You can get a ticket in Italy if you do not follow the rules of the road. Interestingly, police rarely pull cars over, but tickets are automated with machines called "autovelox." These machines measure your speed, read your license plate, and then will send infractions to the car rental company which will track you down to pay. 
These machines can be found everywhere from all country roads to major motorways. Tickets can be up to 600 euros, so mind the speed limits. 
Additionally, you can get tickets for things like parking in a no-parking zone, entering a ZTL without the proper permit, and failing to pay tolls and fees. To avoid this, make sure you know the basic signage and avoid ZTL areas with your car.
Overcoming Fears Of Driving In Italy
If you started reading and felt like a road warrior and now are thinking there just might be too much to consider, remember these last few tips:
Ask A Local
Italians are super helpful. They won't mind if you stop to ask what kind of gas to use, or need directions. So, rely on them if you get into a jam.
Avoid Big City Driving
Driving in Italy is really only chaotic when you're in a big city like Milan, Rome, or Naples, and, lucky for you, big cities are better visited by foot, train, taxi, and bus anyways. The places you'll likely be driving to are going to be smaller, calmer, and easier to navigate.
Know Where You Can't Drive
In some places, driving will actually not be allowed, so public transportation is recommended. Some of these include Cinque Terre, Venice, and Palermo.
Additionally, the 13 towns making up the famous Amalfi Coast have implemented new rules to keep cars off the scenic coastal road between towns, so car travel is not recommended.
Have Us Plan Your Italy Trip
We are here to help! If this sounds like something you want to do, but the thought of it is overwhelming, Salt and Wind can help you plan the perfect trip and feel super prepared for anything that might happen along the way.
If you're looking to plan one of the best trips to Italy, our Italy trip planner services are here to help you plan your perfect itinerary.
---
Photo Credit: Opening photo by Daniele Novati; Prosecco region photo by Alberto Caliman on Unsplash; Fiat photo by Alberto Caliman on Unsplash