From pasta to pizza, Italian cuisine is appreciated (and copied) the world over. But did you know that, of the best-known dishes, a lot are Naples Italy foods? That's because some of the most beloved Italian dishes have roots in the region of Campania.
Where Is Campania Italy?
If you're looking at Italy as a boot, Campania can be found just above the "toe." This region is celebrated for its beautiful seaside towns such as Amalfi, Positano, and Sorrento, its lush islands such as Capri and Ischia, and for one of the most populous and vibrant cities in Italy: Naples.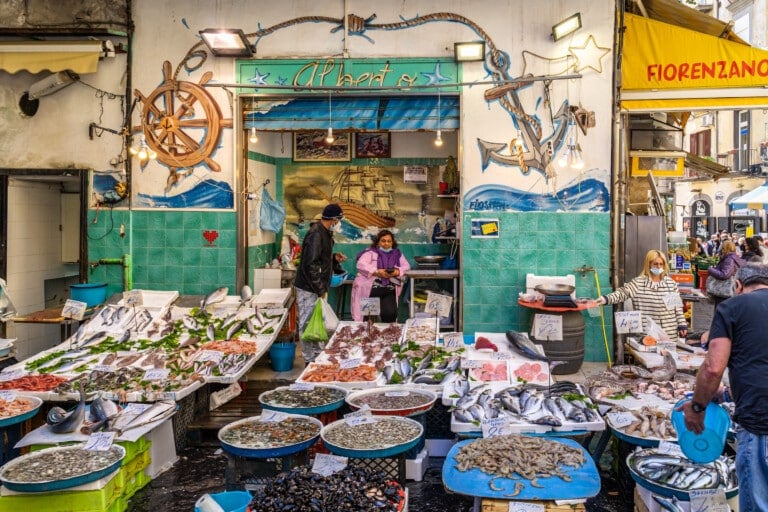 What Is Naples Italy Known For?
Naples is well known for many things (its coffee culture, its street markets, Europe's largest historic city center, the labyrinth of aqueducts and tunnels, and soccer, to name a few), but one of the most treasured is its cuisine.
Traditional Naples Italy foods are fried, focused on fish, made quickly, and easy to transport. The city is also the home of the original  "surf and turf." That's because its seaside location means top-quality seafood can be found there. But also the lush countryside outside Naples is the perfect place to pasture buffalo and cows.
Naples and Campania are also two of the best places to experience "Slow Food." To be clear, Slow Food is not a type of food, but a grassroots organization that started in Northern Italy in 1986. Their aim is to preserve the traditional foods and customs of a geographic area and today it's a way of life in Italy.
While all of the country prescribes to the Slow Food ideals, Campania stands out for its sheer breadth and diversity. From Pizza Margheria to Pasta Puttanesca and sfogliatelle to struffoli, you'd be hard-pressed to find an area that has created as many international culinary sensations as this one.
Ten Must-Try Naples Italy Foods
If you're heading to this food capital, make sure you try these 10 traditional Neapolitan dishes:
Babà Napoletano al Rum
Baba, a pastry drenched in rum, actually is Polish in origin. It came from Poland via Versailles, France when the Polish czar's daughter married the French king in 1725.
The bride's royal chef brought the dessert to the French courts, perfecting it into the shape of a trendy hat. French chefs in service to noble families in Naples then brought the dish to southern Italy where it became a staple.
Today you can find babà made classically, floating delicately in rum, or with a twist such as served in limoncello or even in a cream sauce. While this popular dessert is not originally Neapolitan, it would be hard to find an Italian who doesn't consider this dish a classic Naples Italy food.
Caprese Salad
Insalata Caprese is now on menus worldwide, but it has humble origins on the beautiful island of Capri. It's said that a Caprese stone worker was feeling patriotic at the end of World War I and invented the dish as a homage to his country. The basil, mozzarella, and tomato of the Caprese Salad are said to represent the colors of the Italian flag.
Try it with local buffalo mozzarella and a drizzle of local extra virgin olive oil. FYI, in Italy, it is not served with balsamic vinegar, as we do in the United States. That's because this is a classic Naples Italy food and balsamic comes from the northern Italian region of Emilia-Romagna. 
Lemons…lemon granita, lemon pasta…The possibilities are limitless
Lemons are everywhere in southern Italy and many varieties have IGP or "Indicazione Geografica Protetta," status. This means the lemons must be grown in a specific geographical area and from a certain species. 
Lemons have been cultivated in Italy since Roman times, mostly in Sicily and Sorrento so lemons from Campania are some of the most historic. To enjoy this classic, look for Naples Italy foods like limoncello, lemon pasta, and lemon granita.
Limoncello is a digestive liquor, or digestivo, and some of the most highly sought-after can be found in and around Sorrento. Although limoncello is often served in a shot glass, it's to be sipped slowly after a meal.
Lemon pasta aka, pasta al limone, is often made with grated lemon zest in the sauce. If you can find it, we highly recommend one with local fish mixed in too.
Lemon granita is a lemon slushy that you can buy from a pushcart or a gelato shop. It's sort of like an icy lemonade and it's a perfect pick-me-up on a hot summer day.
If you want to get to know even more about these prized lemons, contact us and we'll help arrange a visit to a family-run lemon farm!
Mozzarella Cheese
While now known internationally, Mozzarella cheese was first invented in southern Italy during the 1st century. Legend has it that a few fresh cheese curds fell into a pot of boiling water and this stretchy cheese was born.
Then in the 3rd century, monks used to hand out homemade bread and cheese — called "Mozza" — to the poor. The cheese's popularity then grew until it became a staple in the southern Italian diet.
Today "mozzarella di bufala campagna" is government-protected food meaning not just anyone can make cheese or label it as such. To be labeled "mozzarella di buffalo" the cheese must be in the exact method developed by the original cheese makers. Also, it must come from an exact geographical location, Campania.
You can tell you're eating one of these highly regulated Naples Italy foods because it will bear the label, DOP.  That stands for "Denominazione di Origine Protetta" and guarantees the cheese and how it's produced.
Buffalo mozzarella is considered the gold standard but cow's milk mozzarella also originated in this region, and should not be missed. Cows' milk mozzarella is often called "fior di latte" and it can be found with a DOP stamp on it too, in some cases.
Neapolitan Pizza
You can't talk mozzarella cheese and not think of pizza! Pizza was also invented in Naples in the 18th or early 19th century. It evolved from a local flatbread and became the famous dish we know today in the 20th century. In fact, pizza didn't really catch on outside of Naples until the 1940's when Italian immigrants took their pizza habits abroad.
The most famous style of this Naples Italy food is Pizza Margherita named after Queen Margherita of Savoy. She visited Naples in 1889 and ordered an assortment of pizzas from the town's famous pizza maker. Her favorite was the simple, tomato, mozzarella, and basil combo and her ringing endorsement led to a boom in pizza making.
A variant of this classic is pizza marinara which is made with tomatoes, garlic, oregano, and extra virgin olive oil.
As of December 2017, Unesco awarded world heritage status to Naples' art of pizza-making proving that pizza has clearly found its place in the culinary history books. If you need suggestions or want to do a private pizza tour of Naples, contact us and we'll help plan!
Sfogliatelle
Sfogliatelle, often mistakenly called lobster tails, are a sweet pastry dating back to the 1700s. These treats are standard Naples Italy food and are found alongside morning espressos in every coffee shop.
Some sources claim the creator of this food is a sister at the convent of Santa Rosa in the Amalfi coast town of Conca dei Marini and that she modeled it to resemble a monk's hood. It's said, after realizing she had created something truly delicious, she passed the recipe to a relative on the other side of the convent walls and the dish was popularized even further.
Fast forward a hundred years and the recipe landed in the hands of a pastry chef in Naples, who adapted it by creating a seashell shape. After his adaptation, the pastry started popping up in pastry shops all around the city.
While it may have originally been modeled after a monk's hood, or a seashell,  sfogliatella actually means "layers" and refers to the many layers of the finished pastry.
There are two types of sfogliatella worth checking out, the "frolla," or smooth pastry, or the "riccia," or curly dough. The sfogliatella riccia is the more famous pastry as it's created with layers of dough stuffed with fillings, and when baking, the layers separate to create a crunchy exterior.
The most classic version of the "riccia" is made with ricotta and a hint of lemon. If you want to be adventurous, order the one called Santa Rosa, which is topped with pastry cream and cherries.
Spaghetti alla Puttanesca
Spaghetti Alla puttanesca has unclear origins, but most believe it originated in or around Naples, sometime in the 1800s. This simple Naples Italy food is prepared with spaghetti pasta, garlic, tomatoes, olives, capers, red pepper, and parsley. One famous story is that a group of hungry customers told the chef to just "throw whatever he had" and this dish was created.
Another version attributes this food dish to the brothels in the Spanish quarter of Naples. In that case, the name puttanesca is in reference to "puttana," which translates to "whore." 
Spaghetti alle vongole
Spaghetti alle vongole is a classic Naples Italy food made with just a few ingredients including garlic, olive oil, and clams. People have been eating clams in Campania since the first century BC (or possibly even before) so it's no surprise they would have a pasta dish in Naples where clams are the star of the show.
Pasta alle vongole uses small European clams that create a very flavorful and yet delicate sauce. Throughout the region, some chefs add tomatoes, either whole cherry or as a sauce, to the dish, but that varies from place to place.
To truly taste the exquisite flavor of the clams, this dish is best eaten without tomato and definitely without cheese! Cheese is considered to mask the flavor of the clams so it would never be served with it in Naples.
Street food (panzerotti, frittata di pasta, pizza a portafoglio)
As a busy, chaotic city, the people of Naples need food that is as fast as they are. But don't think fast food means bland, low-quality burgers.
Fast food, or street food, in Naples is downright delicious and often boasts exceptional quality. And a big part of that culture is a visit to a Neapolitan friggitoria or fried snack stand.
A few Naples Italy foods you might encounter in the streets include: 
Cuoppo: The local love for all things fried food and seafood meets in cuoppo, which is a paper cone filled fried food (usually fried fish).
Panzerotti: You'll see panzerotti

, which are essentially fried mini "calzone" or calzones. As such you'll see them also called calzoni fritti ("fried calzones") or pizze fritte ("fried pizzas") This

Naples Italy food is often stuffed with mozzarella and tomato sauce but can sometimes be found with other fillings too, making it a quick filling meal.

Frittatina: Frittata di pasta (aka frittatina

) is fried pasta and a way to eat your pasta dish in a rush. However, it has more humble origins as it actually started as a food found in impoverished people's homes. Instead of throwing away leftover pasta, it was mixed with eggs and baked. The result is a hearty, filling, pasta dish that doesn't require a fork or a bowl. While it started as a working-class food, today it's considered a dish in its own right and served throughout the city.

Pizza a Portafoglio: To us, "pizza a portafoglio" is something only a busy Neapolitan could have invented. It's a pizza, but where the pizza dough is folded four times, for easy and quick eating. "Portafoglio" means wallet, in Italian, and the dish is so named because folded pizza resembles a wallet.
Struffoli
If you happen to find yourself in Naples around the Christmas holidays, consider yourself extra lucky. That is the time of year you most often find the oh-so-delicious sweet treat known as struffoli.
Struffoli are small round balls of dough that are fried, drizzled in honey, and sometimes topped with sprinkles or powdered sugar. These sticky, addictive treats are made at home and in restaurants alike and are enjoyed as a dessert or snack.
Their origins are thought to possibly be Greek, brought to Italy centuries ago, but by now they're all Italian. Today you can occasionally find them in Naples year-round but the best ones are often seasonal, and if you're really in luck, served warm.
Bonus: Pastiera
If you've never tried this dish, you're missing out. It's a Neapolitan tart made with cooked wheat berries, pastry cream, ricotta cheese, and orange peel, all baked inside a buttery crust. It's also sometimes flavored with orange blossom water, the blossoms being a perfect compliment to the springtime when this dish is often served.
Pastiera today is always served at Easter time, but it can be found in some bakeries in Naples, throughout the year.
Like a lot of traditional foods, this one also has a legend surrounding its origin. It's thought to have originated in pagan times, as an offering to the Roman god of Agriculture, Ceres. It heralds the return of the crops and the rebirth after the winter dormant season.
While still eaten in the spring, the pastiera version popular today originated in the convents and it's also for that reason it's served at Easter in Naples. For the most authentic version, look for it around the Easter holidays and notice the classic lattice pastry on top.
In Italy, and especially in Naples, they use the expression "l'appetito vien mangiando," meaning, the appetite is awakened by eating. We say consider these 10 classic Naples Italy foods as your invitation for a culinary awakening. 
Have Us Plan Your Italy Trip
Looking to travel to Naples and the Amalfi Coast? Our travel planning services are here to help you achieve the ideal vacation. After discussing your preferences during a short consultation, we'll plan your perfect itinerary. Head here to get started!
---
Photo Credit: Opening photo by Christine Davis; Fish market Francesco Bonino; Street food photo by Matyas Rehak; all other photos by Team Salt & Wind Travel