Do tell: what is your go-to green salad? 
I fully believe one kitchen skill everyone should have is a salad they know how to make without hesitation. Ideally, it's versatile enough to go with all sorts of foods and serve for all sorts of occasions. Friends, this Butter Lettuce Green Salad Recipe is that salad. 

A Diverse Green Salad
This Butter Lettuce Green Salad Recipe is a total winner with crisp butter lettuce, ripe tomatoes, toasted breadcrumbs, lots of herbs, and crumbly sweet blue cheese. Serve it as a side salad or top it with grilled salmon or chicken for a main dish.
The combination of flavors is all that deliciousness you get in an iceberg wedge salad. Still, with just a bit more freshness and elegance — like the iceberg wedge went to finishing school!
And, if you don't have in-season tomatoes, swap them out for sliced apples or pears or even persimmons.

The Perfect Vinaigrette
The showstopper of this Butter Lettuce Green Salad is the vinegar-y shallot vinaigrette that is a staple in our family.
My French stepmother is to credit for the recipe, and now each of us has adapted it (adding in honey, making it with balsamic vinegar, blending it!) to our personal preference.
My version is bright and zippy and loaded with a ton of shallots. Seriously though, you're going to think it's way too many but please try it as is— I promise it pairs perfectly with this salad. 

The Top Tips To Make This Butter Lettuce Green Salad
But back to this salad — here are a few things to make it marvelous every single time:
Get Great Dijon Mustard: I use coarse ground ancient style Dijon mustard because it has a mix of cracked mustard seeds and smooth mustard, which results in tons of flavor and texture. No matter what kind you use, just make sure it's good quality.
Use Mild Blue Cheese: Go mild when it comes to the cheese because you don't want something that will overwhelm the rest of the salad. We like using a Point Reyes blue, a Stilton, or a Gorgonzola Dolce.
Cut The Chives In Large Pieces: The shallots and chives combine to bring a one-two delicate onion flavor. To make the most of it, snip the chives into pieces about 1/2-inch to 1-inch in length, so there's a good amount of chive in each bite.
Toss The Tomatoes With Salt: If you have garden fresh tomatoes bursting with flavor, we envy you. If you don't, go ahead and toss the halved tomatoes with a pinch of salt and let them sit for about 10 minutes before you make the salad to help amp up their flavor
This Butter Lettuce Green Salad Is Make Ahead
No, seriously, a lot of this can be done ahead of time. Make the shallot vinaigrette up to 1 week ahead of time and store it refrigerated in a nonreactive (i.e., glass or stainless steel) airtight container until ready to use.
Feel free to toast the breadcrumbs, snip the chives, and crumble the cheese the morning before you plan to serve the salad. You could also prepare the lettuce ahead, wash it, and dry it, so all you have to do is put it all on a plate before you serve it!
Go stock up on all your cooking essentials, then head into the kitchen, make this, and share it with us by tagging @saltandwind and #swsociety on social!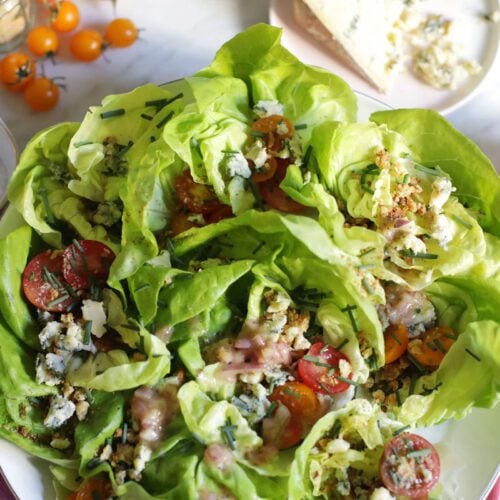 Butter Lettuce Green Salad With Blue Cheese, Toasted Breadcrumbs, and Shallot Vinaigrette Recipe
This recipe is a total winner with crisp butter lettuce, ripe tomatoes, toasted breadcrumbs, lots of herbs, and crumbly sweet blue cheese. Serve it as a side salad or top it with grilled salmon or chicken for a main dish.
Ingredients
1

large

shallot

minced

2

teaspoons

Dijon Mustard

1/4

cup

red wine vinegar

1/3

cup

extra-virgin olive oil

Pinch

granulated sugar or honey

(optional)

kosher salt and Freshly ground black pepper

2

heads

butter lettuce

cleaned, separated into leaves, and dried

1

pint

grape or cherry tomatoes

halved

2

ounces

crumbled blue cheese

1/3

cup

Panko breadcrumbs

(gluten free to make the dish gluten free)

1/4

cup

snipped fresh chives
Instructions
Make The Shallot Vinaigrette: Start making the shallot vinaigrette by combining the shallots and red wine vinegar in a nonreactive (glass or stainless steel) bowl. Set it aside for about 5 to 10 minutes until the shallots start to turn a little brighter pink (this helps mellow any harshness and bring out their best flavor)! Once the shallots are ready, whisk in the mustard and add a generous pinch of salt and freshly ground black pepper.

While constantly whisking, slowly pour the oil into the bowl in a thin stream until well incorporated. Taste the dressing by dipping a leaf of butter lettuce in it, adding some sugar and more salt or pepper as desired.

Assemble The Salad: Arrange the butter lettuce leaves on a platter, then scatter the remaining ingredients -- the halved tomatoes, crumbled blue cheese, chives, and breadcrumbs on top.

Garnish with a pinch of good sea salt, drizzle with a few generous spoonfuls of the shallot vinaigrette and serve immediately, passing the additional vinaigrette on the side.