This Rosemary And Lemon Cornflake-Crusted Oven Fried Chicken recipe is a recipe so we don't forget. A recipe to remind us of when we lived in San Francisco and we'd jaunt to Napa on a whim. We'd visit winemaker friends, hike the forests, eat well, and, of course, wine taste. 
If there were one recipe to define those times it'd be fried chicken. Not because we ate it all the time but because we loved to stop in at Ad Hoc to finish our day with a plate of their buttermilk fried chicken. Yes, their cookbook has the full recipe and it's worth making when you want proper fried chicken.
This recipe is not that. This Rosemary And Lemon Cornflake-Crusted Oven Fried Chicken recipe is one that I created for my cookbook Keys To The Kitchen and it's an easier take on fried chicken that you can pull together whether you're working from home or simply not feeling like dealing with deep frying. It is not trying to be the Ad Hoc recipe but is more like an impressionist painting in that it takes a lot of the major flavors of their recipe — buttermilk, rosemary, garlic, cayenne — and makes a more weeknight-friendly version.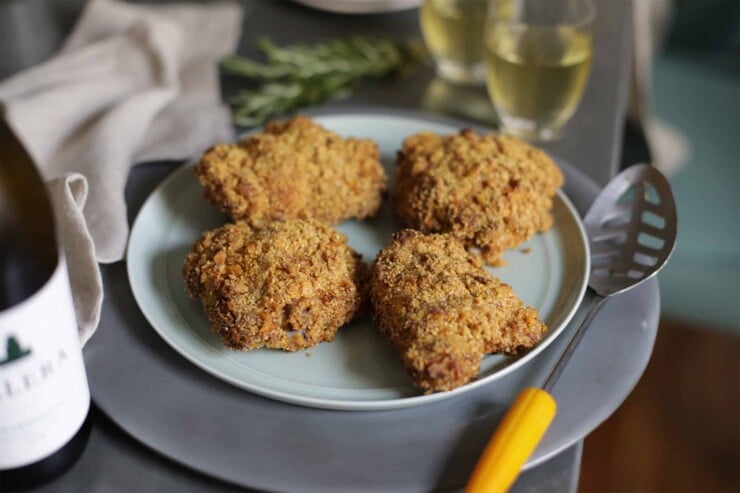 Rosemary Lemon Cornflake Crusted Oven Fried Chicken
Easier and healthier than classic fried chicken, this oven fried chicken is made with fresh rosemary, lemon, chile powder, crushed cornflakes, and buttermilk for a tender, juicy chicken with a crispy, flavorful crust.
The keys to this recipe are the one-two combo of the marinade, which not only adds flavor but helps to tenderize the meat, and the coating, which has cheese and cornflakes for a delicious sweet-salty combo. There are a few tips you want to make sure you abide by to make the most flavorful and crispiest oven fried chicken (see below) but aside form that it's a pretty easy, breezy no fuss way to make "fried" chicken.
Classic Fried Chicken Versus Oven Fried Chicken
Classic fried chicken (aka Southern Fried Chicken) needs no introduction. Anyone who loves crispy, crunchy food (ahem, all of us) and chicken, knows that well made fried chicken is a thing of beauty. Most often it's made by placing the chicken in a brine or marinade then coating it in breading and frying it. And sometimes even topped with a spiced coating as is the case with Nashville Style Hot Chicken. All in all frying chicken is a pretty simple technique once you get the hang of it, but it takes time, a lot of oil, can be messy, and isn't all that healthy for you.
Enter "oven fried" chicken, which has the flavor of fried chicken without the work. This recipe is named "oven fried" but the reality is that it is breaded and baked chicken meaning there is no actual frying. The benefits of "oven fried"is that it's healthier and less messy. The drawback is that you can end up with chicken that's not as juicy and a breading that's not as crispy as the classic style of fried chicken. 
7 Tips For Making Oven Fried Chicken
Luckily, we've got tips for you to make your "oven fried" chicken so good you might just call it plain old "fried" chicken!
Opt For Dark Meat Over Light
We know some of you prefer to eat white meat chicken over dark but the extra fat in the drumsticks and thighs will help keep the chicken nice and juicy. You could still make it with light meat (or even cut up a whole bird into 8 pieces) but just keep an eye out on the white meat pieces because they'll cook faster than the dark meat.
Go Bone In Skin On
You'll want bone-in skin-on chicken pieces for this recipe because the bone will help keep the chicken tender and juicy while it bakes. 
Then Remove The Skin
But you'll want to pull off the chicken skin because it won't cook up crispy like it would in a deep fried chicken recipe. To do so, take a paper towel and, holding the chicken piece in your nondominant hand, use your dominant hand and the paper towel to pull the skin off.
Marinate Or Brine The Chicken
Another key for juicy chicken is to marinate or brine it ahead of time. By the way, if you didn't want to coat the chicken, you could simply marinate it and then cover the baking dish with foil and bake the chicken in the marinade at 350°F until it's cooked through. 
Fat Is Your Friend
We say it so much around here that we should probably tattoo it on ourselves but, yes, fat is your friend to help carry flavor and keep things juicy, which is why there is oil or some other form of fat (i.e. whole eggs or cheese) in various parts of the recipe.
Let The Coating Sit
Let the chicken sit with the coating on for at least 15 minutes before you cook it. This will help it adhere and stay on better!
Cook Just Until The Juices Run Clear
Sure, we gave you a precise temperature to cook the chicken to but really you don't need a thermometer to tell it's ready. Simply insert a knife in the thickest part of the chicken piece (without touching a bone) then pull the knife out. If the juices run clear, your chicken is done. If not, it needs to cook longer.
Twists On This Fried Chicken Recipe
This recipe is pretty great as is but you could mix it up based on your preference or just what you have in your pantry. Feel free to swap out the rosemary for another herb like sage, thyme, oregano, or even cilantro. If spice is your thing, add hot sauce to the marinade or make this hot honey and drizzle it over the top just before serving. And, if you don't have cornflakes, regular or Panko breadcrumbs would work great too!
Okay, that's it. Now go stock up on all your cooking essentials then head into the kitchen, make this, and share it with us by tagging @saltandwind and #swsociety on social!
Rosemary And Lemon Cornflake-Crusted Oven Fried Chicken Recipe
Easier and a bit healthier than proper fried chicken, this Rosemary And Lemon Cornflake-Crusted Oven Fried Chicken recipe is made with rosemary, lemon, chile powder, cornflakes, and buttermilk for a tender, juicy chicken with a crispy, flavorful crust.
Ingredients
For The Chicken Marinade:
1

cup

plain yogurt or buttermilk

1/4

cup

canola, grapeseed, or peanut oil

1/4

cup

freshly squeezed lemon juice

6

sprigs

fresh rosemary leaves

4

medium

garlic cloves

smashed

1/2

teaspoon

ground cayenne pepper

or smoked paprika or chile powder

1 1/2

teaspoons

kosher salt

8

boneless, skinless chicken thighs

(about 3 pounds)
Make The Cornflake Coating:
1

1/2 cups

stone-ground cornmeal

3/4

cup

cornflakes

crushed

1/4

cup

canola, grapeseed, or peanut oil

1/2

cup

finely grated Pecorino Romano cheese

(about 2 ounces)

2

teaspoons

grated lemon zest

1 1/2

teaspoons

kosher salt

1/2

teaspoon

ground cayenne pepper

or smoked paprika or chile powder

3/4

teaspoon

Freshly ground black pepper

3

large

eggs

lightly beaten
Instructions
Marinate The Chicken: Combine the 1 cup yogurt or buttermilk, 1/4 cup of the oil, all the lemon juice, all the rosemary, the 4 crushed garlic cloves, 1/2 teaspoon of the cayenne, and 1 1/2 teaspoons of the salt in a large nonreactive baking dish or bowl and whisk until evenly combined. Add chicken, turn to coat, cover, and refrigerate at least 2 hours and up to 12 hours.

Heat The Oven: When ready to cook, heat oven to 425°F and arrange rack in upper third. Nest a cooling rack inside a foil-lined rimmed baking sheet; set aside.

Make The Cornflake Coating: Combine the 1 1/2 cups of cornmeal, the 3/4 cup crushed cornflakes, the 1/2 cup finely grated cheese, all the lemon zest, the remaining 1/4 cup of oil, the remaining 1 1/2 teaspoons of salt, the pepper, and the remaining 1/2 teaspoon of cayenne in a shallow bowl, mix until well combined; set aside. Whisk together eggs in a second shallow bowl until evenly combined; set aside.

Coat The Chicken: To coat chicken, remove it from marinade and let excess drip off. Dip chicken in egg mixture then let excess egg drip off. Place chicken in the cornflake mixture and press down to help the mixture adhere; flip and repeat to coat the chicken all over.

Bake The Chicken: Place the chicken piece on baking sheet and repeat with remaining chicken. Let chicken rest on rack for 15 minutes before baking. Bake until coating is golden and crispy, juices of chicken run clear when poked, and internal temperature is 160°F, about 35 to 45 minutes. Serve warm or at room temperature. 
PERSONAL NOTES
Nutrition
Serving:
1
serving
Calories:
449
kcal
Carbohydrates:
7
g
Protein:
37
g
Fat:
30
g
Saturated Fat:
5
g
Polyunsaturated Fat:
7
g
Monounsaturated Fat:
16
g
Trans Fat:
0.1
g
Cholesterol:
246
mg
Sodium:
1518
mg
Potassium:
508
mg
Fiber:
0.4
g
Sugar:
3
g
Vitamin A:
431
IU
Vitamin C:
7
mg
Calcium:
171
mg
Iron:
3
mg