There are some basic truths in the kitchen. Like, you should always have a well-stocked pantry, eating seasonally always results in better food, and that it's key to have a handful of simple, easy, and healthy recipes that you can pull out for anything from a weeknight meal to when you need to feed a crowd. Enter this Healthy Black Bean and Sweet Potato Chili recipe that's vegetarian, vegan, and delicious!
As Californians, that kind of recipe tends to be healthy-ish, has lots of veggies, and is loaded with flavor. A few of those recipes are this Slow Cooked Chicken Tinga, these Green Herb Falafel Lettuce Wraps, this Shredded Chicken, Kale, and Quinoa Salad with Mint-Yogurt Dressing, and this healthy vegetarian recipe for Black Bean Chili that's loaded with sweet potatoes, chiles, and herbs.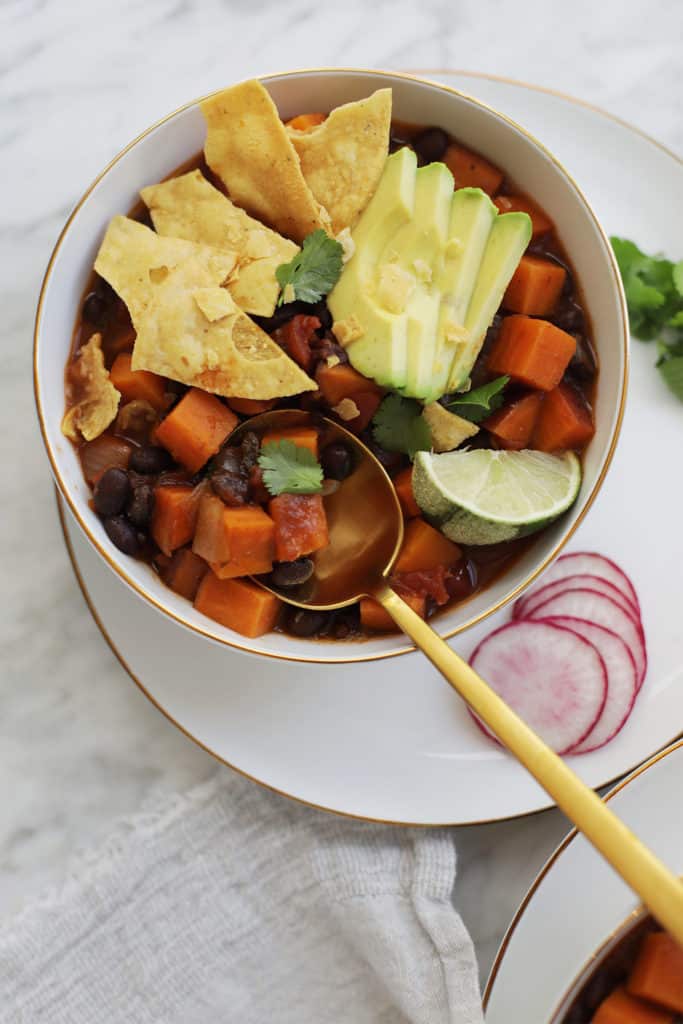 This Black Bean Chili Is A Crowd Pleaser 
This black bean chili is one of the most popular recipes on our site and for a good reason: it's an easy, healthy vegetarian recipe that's a crowd-pleaser. It's a plant-based recipe that is beloved equally by meat-eaters and vegans because it's filling, delicious, and still healthy. Kids like it as much as adults do and the leftovers taste delicious. 
We often make this recipe for potlucks or tailgates but, even more so, for road trips where we'll be renting a house with friends because you can find the ingredients at almost any market. This recipe makes a lot of appearances during ski season because we put it in the slow cooker before we hit the slopes and it's ready when we return. Not to mention that it is healthy nutritious fuel for a day of high altitude exertion! Oh, and for frequent flyers like us, you can eat loads of it to kickstart some clean eating after an indulgent vacation.
How To Cook This Sweet Potato Black Bean Chili
It only takes a few steps to make this chili so it's a totally beginner cook-friendly recipe. Namely, you have to saute the onions and garlic then cook the herbs, spices, and chipotles until they're fragrant, then stir in the tomatoes, broth, and sweet potatoes and simmer until they're tender. You then add in the cooked black beans and serve it garnished with whatever floats your boat, be it crumbled Cotija cheese, sour cream, tortilla chips, or veggies. 
Tip For Making Sweet Potato Black Bean Chili
Here are a few specific tips to help you make this recipe a success:
Make It In The Slow Cooker Or Instant Pot
To make this even quicker and easier, pull out the slow cooker or Instant Pot. We recommend you saute the onions and garlic with the spices per the recipe instructions then transfer it to a slow cooker or Instant Pot once you add the tomatoes — if you don't the final chili will likely be bland. 
Make It Ahead
Like pretty much any stew, soup, or slow-simmered recipe, this tastes better the next day so feel free to make it up to four days ahead of time and refrigerate it until you want to serve it. 
Keep The Ingredients On Hand
Keep the main ingredients — black beans, sweet potatoes, chipotles, and canned tomatoes — in your pantry so you can cook it when you feel like you have nothing in the house.
Freeze IT! 
This black bean chili freezes like a champ so you can make batches and batches and keep it in store for when you don't feel like cooking. 
Variations On This Chili Recipe
And, this black bean chili is the kind of dish that, after you've made it a couple of times, you don't even need a proper recipe to follow. Plus, it's one that's delicious as is but also great with twists. 
Use chipotles en adobo sauce
The sweet, spicy, smoky flavor of the chipotles totally makes this recipe so don't skimp on them. You can find them in the canned goods aisle at the store.  
Use Kidney Beans Instead
Our first pick for this recipe is black beans but you could use kidney beans in a pinch. 
Or Add-In Grains
Want to make it even healthier? Stir in some cooked quinoa!
Use Butternut Squash Instead Of Sweet Potatoes
The sweet potatoes add a slightly sweet, earthy flavor to the chili but you can use butternut squash instead. 
Add In Animal Protein
Have some ground bison or turkey? Cook it until it's browned then toss it in! 
Top It With Tons Of Veggies
We like to top this with tons of fresh veggies – sliced radishes, scallions, jalapenos, cilantro – for a surprisingly healthy but satisfying meal.
PIN IT FOR LATER
Pin this image so you can remember the recipe next time you need some cooking inspiration!
Okay, now go stock up on all your cooking essentials then head into the kitchen, make this, and share it with us by tagging @saltandwind and #swsociety on social! 
Healthy Black Bean and Sweet Potato Chili Recipe
A super easy and healthy vegetarian Black Bean Chili recipe loaded with sweet potatoes, chiles, and herbs.
Ingredients
2

tablespoons

canola, grapeseed, or peanut oil

1

medium

yellow onion

finely chopped

10

medium

garlic cloves

(about 1 head of garlic), finely chopped or grated 

kosher salt

4

teaspoons

chili powder

2

teaspoon

ground cumin

1

chipotle en adobo

stem and seeds discarded then chopped (about 2 teaspoons)

1

(28 ounce) can

diced tomatoes

4

cups

water or low-sodium chicken or vegetable broth

2

pounds

sweet potatoes

medium dice (from 4 sweet potatoes)

3

cups

cooked black beans

use the Frijoles De Olla or you can use 2 (15) ounce cans of beans

Green onions

thinly sliced, for garnish (optional)

Crumbled feta or Cotija cheese

for garnish (optional)

1

medium

jalapeño

thinly sliced, for garnish (optional)

1

medium

Lime

cut into sixths, for garnish (optional)

tortilla chips

for garnish (optional)

Firm-ripe

avocados

pitted and sliced, for garnish (optional)

Crema or sour cream

for garnish (optional)
Instructions
Saute The Onions: Heat oil in a large, heavy-bottomed Dutch oven or pot over medium-high heat. When it shimmers, add the onion, season with salt and freshly ground black pepper, and cook until softened and onions are translucent, about 5 minutes. Stir in the garlic, chile powder, cumin, and chipotle and cook until fragrant, about 2 minutes. 

Add The Tomatoes: Be sure to scrape up any browned bits off the bottom of the pan (using a wooden spoon or spatula) in order to get the most flavor in the chili then add the tomatoes, water or broth, sweet potatoes, and a pinch of salt, and bring to a boil over high heat, about 5 minutes.

Simmer The Chili: Reduce the heat to medium-low, stir in the beans (if you've made Frijoles De Olla the leftovers would be delicious here!), and simmer, partially covered, until the liquid is slightly thickened, the potatoes are cooked through, about 30 to 40 minutes.

Be sure to adjust the heat as needed to keep the liquid at a simmer. If the heat it too high, the potatoes and beans will get mushy.

Serve The Chili: Taste, and add more salt and/or a squeeze of lime juice, as desired. Garnish with scallions, cheese, and jalapeños, as desired, and serve with tortilla chips.
PERSONAL NOTES
Nutrition
Serving:
1
cup
Calories:
160
kcal
Carbohydrates:
29
g
Protein:
6
g
Fat:
3
g
Saturated Fat:
1
g
Polyunsaturated Fat:
1
g
Monounsaturated Fat:
2
g
Trans Fat:
1
g
Sodium:
70
mg
Potassium:
456
mg
Fiber:
7
g
Sugar:
4
g
Vitamin A:
11006
IU
Vitamin C:
6
mg
Calcium:
47
mg
Iron:
2
mg