The thing we cannot handle when it comes to jet lag is that once it hits, there's just no stopping it. On our trip to Israel, we were nailed with jet lag on the third day and everything we did was a daze. That is everything up until our lunch at Aluma Restaurant in Maalot-Tarshiha. This area in Northern Israel is at the start of the Galilee so it has a cuisine different from what we saw south in Tel Aviv — lots of greens and beautiful vegetables.
Everything was seriously fresh and well prepared and the produce was celebrated, but my favorite was the oh-so simple Kohlrabi carpaccio. Kohlrabi was used any and everywhere when I was in Israel from salads to dips and in lots of carpaccio. The version at Aluma included chopped pistachios and truffle oil but we really enjoyed the recipe's simplicity of simply kohlrabi with olive oil, parmiggiano cheese, and lots of toasty black cumin. 
Now, go stock up on all your cooking essentials, then head into the kitchen, make this, and share it with us by tagging @saltandwind and #swsociety on social!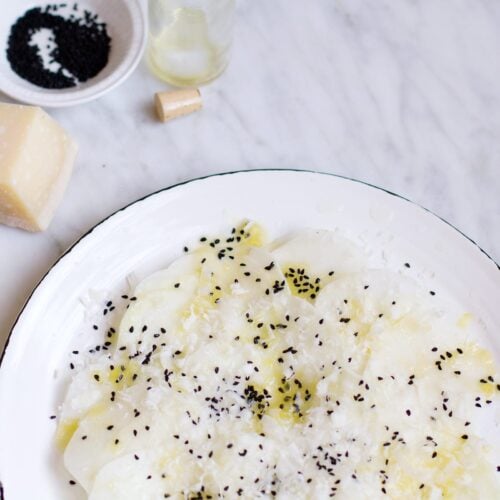 Kohlrabi Carpaccio with Black Cumin and Parmiggiano Recipe
Inspired by Aluma Restaurant in Northern Israel, this is a Kohlrabi carpaccio recipe with olive oil, parmiggiano cheese, and lots of toasty black cumin. 
Ingredients
2

medium

kohlrabi

bulbs

Extra-virgin olive oil

Black cumin seeds

Finely grated Parmigiano-Reggiano cheese

Maldon sea salt or other flaky sea salt, for garnish
Instructions
Trim the stalks off of the kohlrabi then peel it. Slice the kohlrabi paper thin on a mandolin. Tile the kohlrabi slices across the plate then top with a drizzle of olive oil, some black cumin seeds, grated cheese, and a pinch of salt. Serve. 
PERSONAL NOTES
Nutrition
Serving:
1
serving
Calories:
20
kcal
Carbohydrates:
5
g
Protein:
1
g
Fat:
0.1
g
Saturated Fat:
0.01
g
Polyunsaturated Fat:
0.04
g
Monounsaturated Fat:
0.01
g
Sodium:
15
mg
Potassium:
263
mg
Fiber:
3
g
Sugar:
2
g
Vitamin A:
27
IU
Vitamin C:
47
mg
Calcium:
18
mg
Iron:
0.3
mg