There's something about the food in Israel.
It's as if the tomatoes are sweeter, eggplant meatier, and watermelons crisper. Maybe it's the sunshine, maybe it's the soil, but the bottom line is that the food is good.
Where To Eat In Tel Aviv
I travel to Israel on the regular to visit family and as soon as we land in Tel Aviv, my taste buds are ready to explore.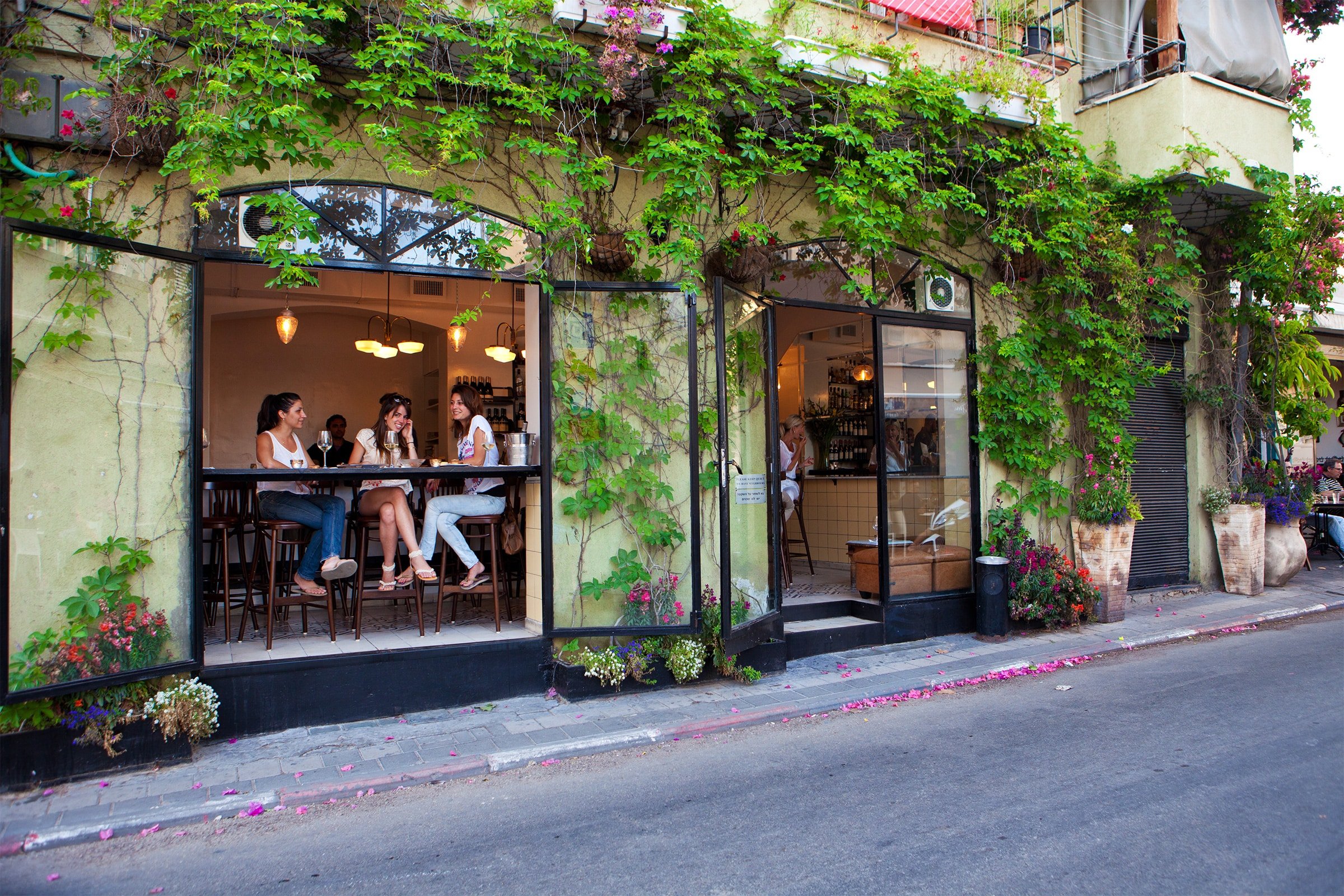 Breakfast In Neve Tzedek
On our last trip, we woke early from jetlag and headed straight to Dallal in the shabby chic neighborhood of Neve Tzedek for a coffee and our favorite chocolate chip cookie — rich, soft, and buttery. It's not breakfast but a morning snack to enjoy for our walk along the beach.
We tend to begin each day in Tel Aviv this way — coffee in hand, gazing at the Mediterranean as we walk the boardwalk that hugs the white sand just steps away from skyscrapers.
Breakfast comes later, often in the tree-covered courtyard at Café Sonya where we dip hearty Moroccan bread in the bright orange yolks nestled in their signature shakshuka, or at Cafe Sheleg, for the most beautiful fried eggs, herb salad, and yogurt.
Or, if we feel like a walk to the old city of Jaffa, we'll sit in the flower-lined ally at Puaa, savoring sabich drizzled with tangy, earthy amba sauce.
Lunch in Tel Aviv
Afternoons in Tel Aviv are alternatingly meant for lounging and exploring, sometimes grabbing a picnic lunch at Delicatessen and heading to the beach with our cousins, where the kids play in the waves while we nap under umbrellas. Or meeting our friend for a graffiti tour of the Florentin neighborhood to better understand Hebrew and culture through street art.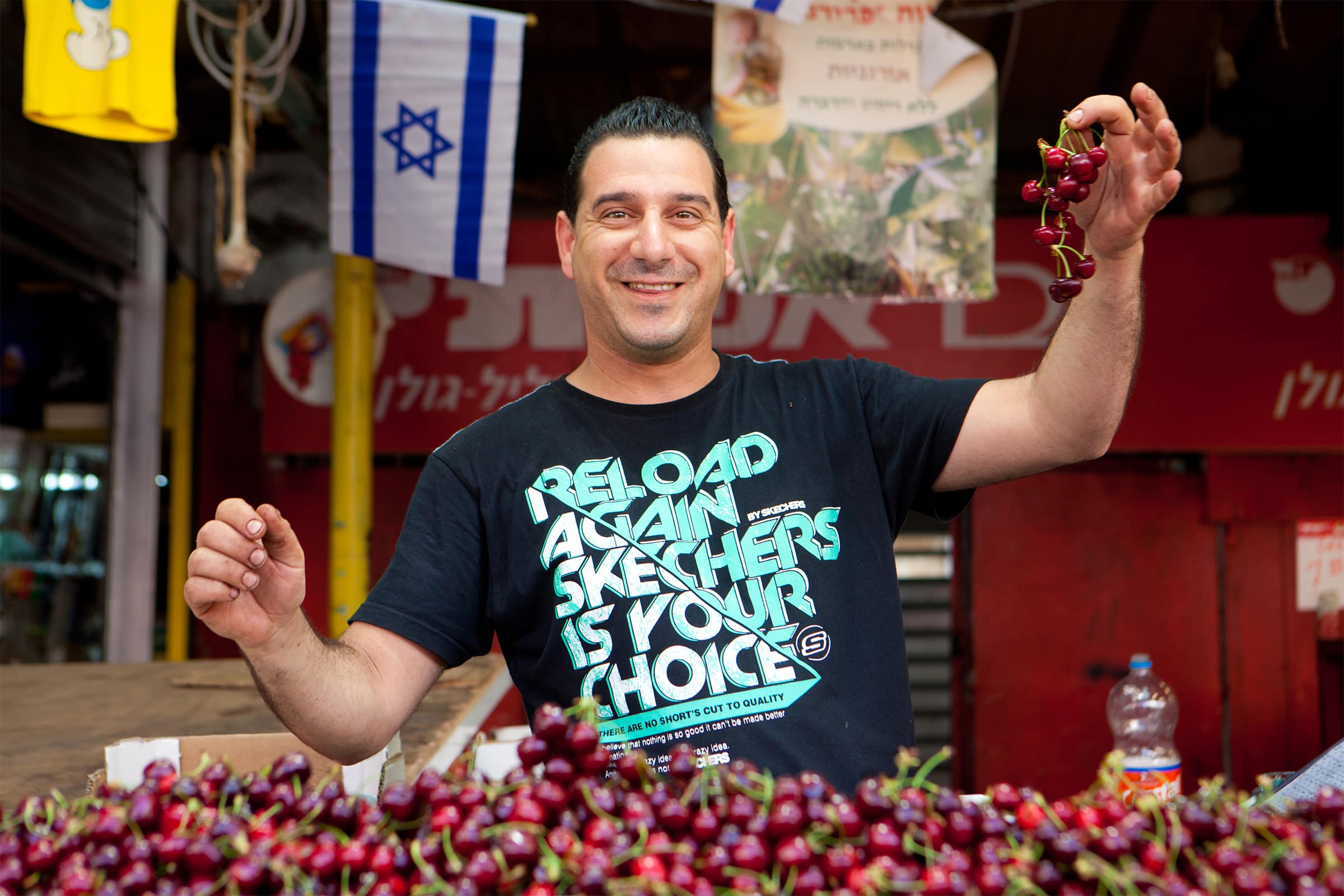 Market Visit
Almost daily we'll head to the Shuk Ha'Carmel, picking up a bag of peanuts so fresh and toasty, they snap between your teeth or the pale yellow-green cucumbers called fakus, crisp and lemony under their fuzzy skin.
When the sun's beating down, we'll stop at one of the city's plentiful juice stands for tart lemonade blended with ice and fresh mint, or we'll head to Anita for the best gelato in town.
Dinner In Tel Aviv
Dinner in Tel Aviv is a late affair, after the heat of the day has seeped out of the sidewalks and the sea breeze starts to ruffle through the alleys. We often find ourselves on the patio at Ronimotti, sharing pizzas and pasta inspired by the produce in the rooftop garden.
Or at Tzfon Abraxas, where you can enjoy Eyal Shani's casual, inventive Middle Eastern dishes in a fun, raucous atmosphere. But after our last trip, I found myself most often dreaming of the lamb pita from Shani's other restaurant, his street food café, Miznon.
At Miznon, there are blistered heads of cauliflower and garlicky, herb-flecked lamb kebabs, sandwiched in fluffy pita and smothered in tahini. There's no wine list at Miznon so order either a Gold Star beer or the ubiquitous arak liquor and sit at one of the plastic tables on the street.
Fill the table with condiments — tahini, yogurt, pureed tomatoes, the spicy cilantro sauce called zhug — then stuff them the pita to balance the richness. Bend your elbows and hold the pita over the table as you take a bite to keep the juices from running down your arm.
Have Us Plan Your Next Trip
Did you know we're also a boutique travel agency specializing in vacation planning? If you're looking to plan a trip, our trip planner services are here to help you plan your perfect itinerary.
---
Photo credits: Opening photo, Cafe on street, and vendor at Carmel Market by Israel Tourism / Bike in the alley by Bachmont / All other photos by Lisa Samuel