If California were a summer dessert, this semifreddo recipe would be it.
Here in the Golden State, summer corresponds to the height of avocado and strawberry seasons. And, when they're in their prime, we use both as often as possible. We know you probably already have many avocado recipes, but how many avocado dessert recipes do you have?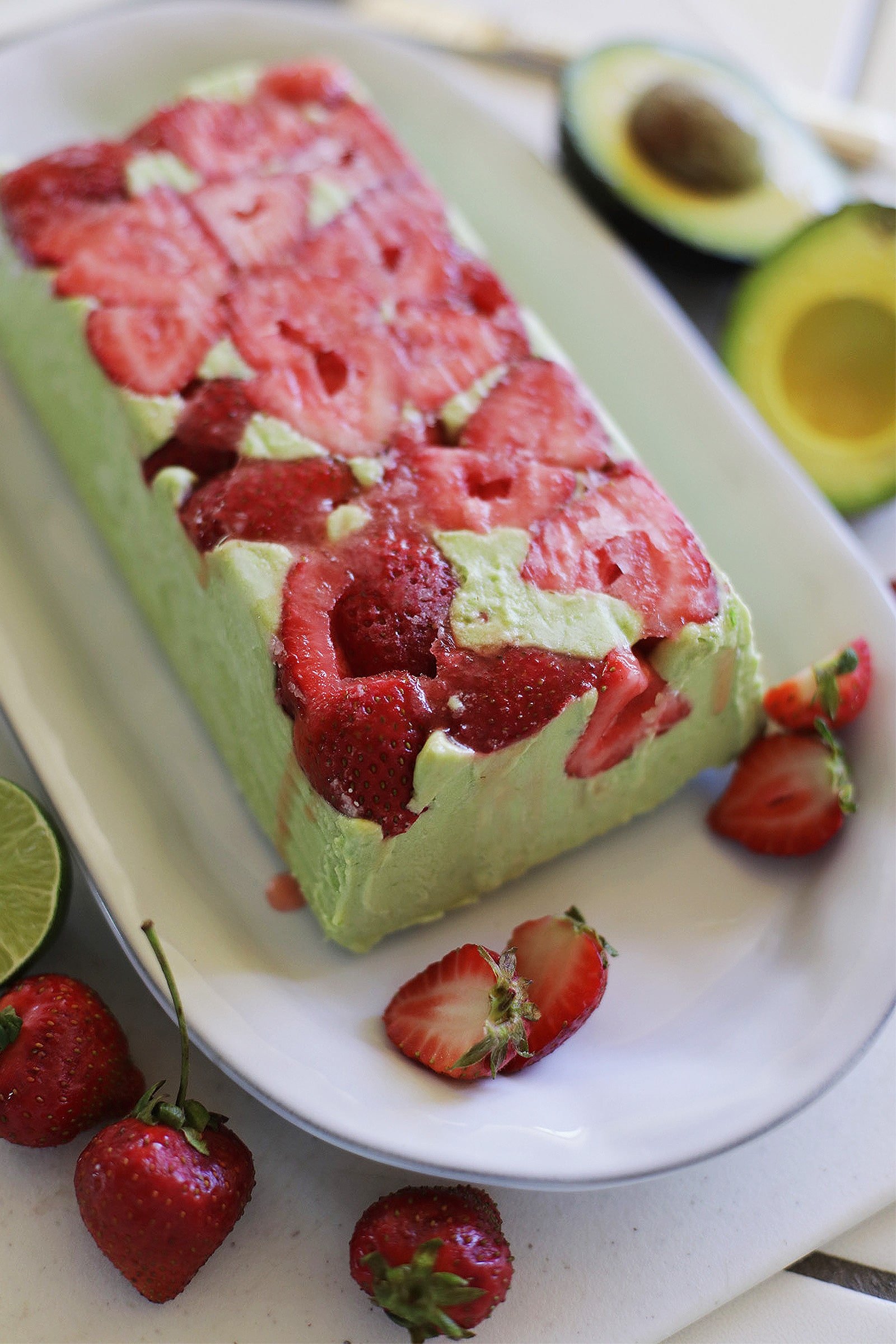 How To Make A Dessert With Avocado
Avocado desserts are uncommon, but they really shouldn't be. We love avocado in the Mexican ice pops known as paletas. The high fat, major creaminess, and subtly sweet flavor of the fruit make it a perfect dessert ingredient. However, they're also delicious in cheesecake, Key Lime Pie, and even mousse.
The common factor? All those desserts are airy, creamy, bright, and not too sweet. Here we combined those ideas with this frozen dessert that's like a culinary snapshot of summer.
We created this recipe to celebrate the best flavors of the season with our friends at California Grown. It has flavors that, like California, are inspired by other places but still very unique. The frozen avocado, coconut, and lime taste a bit like a Mexican paleta. And the base technique is that used for the traditional frozen Italian dessert known as semifreddo. Thanks to the unique combination of avocado, lime, and strawberries, it then gets a very California twist!
But What Is A Semifreddo?
But first, let's talk semifreddo. It's a traditional Italian dessert that is pronounced "semi-fray-doh" and translates to "half-frozen."
This dessert is made by freezing a mixture of Italian meringue, whipped cream, and many delicious flavors. The result is a light, airy, delicious frozen dessert. Oh, and it usually serves partially melted, so the texture is like a frozen mousse.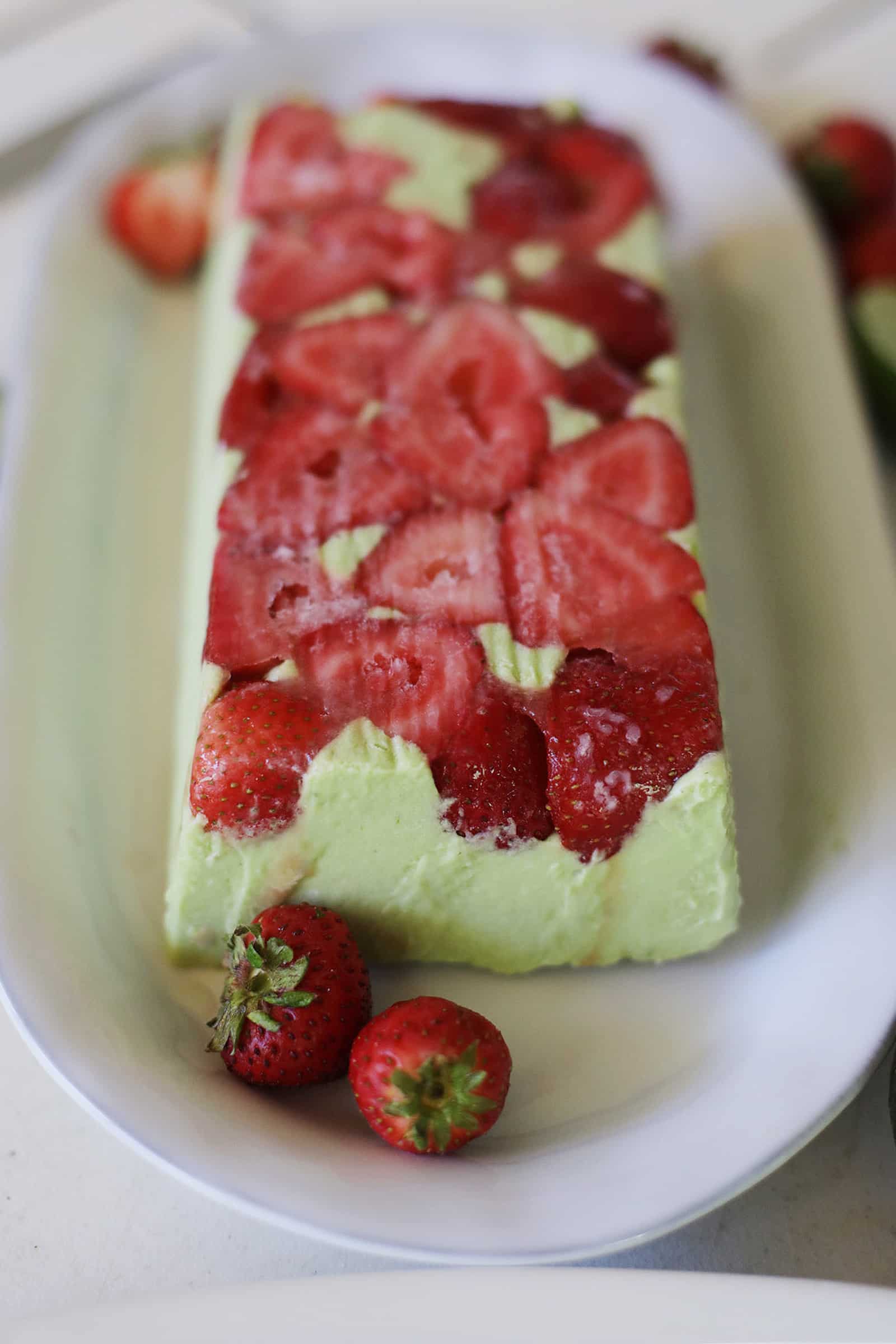 Tips To Make Avocado Semifreddo
We've nicknamed this recipe "semifreddo light" because it's much quicker and easier to make than the classic dessert. Traditional semifreddo is made by folding together Italian meringue and whipped cream. The result is a seriously delicious frozen dessert, but it requires a certain level of cooking skills.
But, as promised, this is an even easier version of classic semifreddo. Here you blend the ingredients, then layer them and wait until it's completely frozen.
Like our home state of California, we like to say this semifreddo recipe is easy, breezy, and laid back. Here are a few tips to have complete success with this Avocado Semifreddo:
Choose Ripe Local Avocados: You'll want to make this dessert recipe between Spring and Fall because that's prime California avocado season. Translation: it's when you'll get the best avocados around.
Keep It Simple: This version of semifreddo is faster and easier to make, thanks to the combination of avocados and coconut. Those two ingredients make for a perfect balance of flavor, fat, and creaminess. So, instead of making meringue from scratch, you mix these two ingredients for just as luxurious a texture!
Use Full Fat Coconut Milk: For the most flavor, you'll want to use full-fat coconut milk (i.e., not "lite"). If you don't like coconut milk or can't find it, feel free to use heavy cream instead!
Make It Airy: This recipe yields a semifreddo that is a touch denser than is traditional. The blender or food processor is critical to make this dessert light and airy. To ensure the base mixture gets airy, let the blender or food processor run for at least 60 seconds. Also, you can fold in an additional 1 cup of whipped cream to the base before freezing it.
Personalize The Flavor: Please make the recipe as written because it's delicious. However, this recipe can be personalized! A few easy variations are: fold in toasted pistachios, fresh raspberries, or flaked coconut instead of the strawberries. And, when you serve it, top the semifreddo with a quick chocolate sauce, whipped cream, and other berries!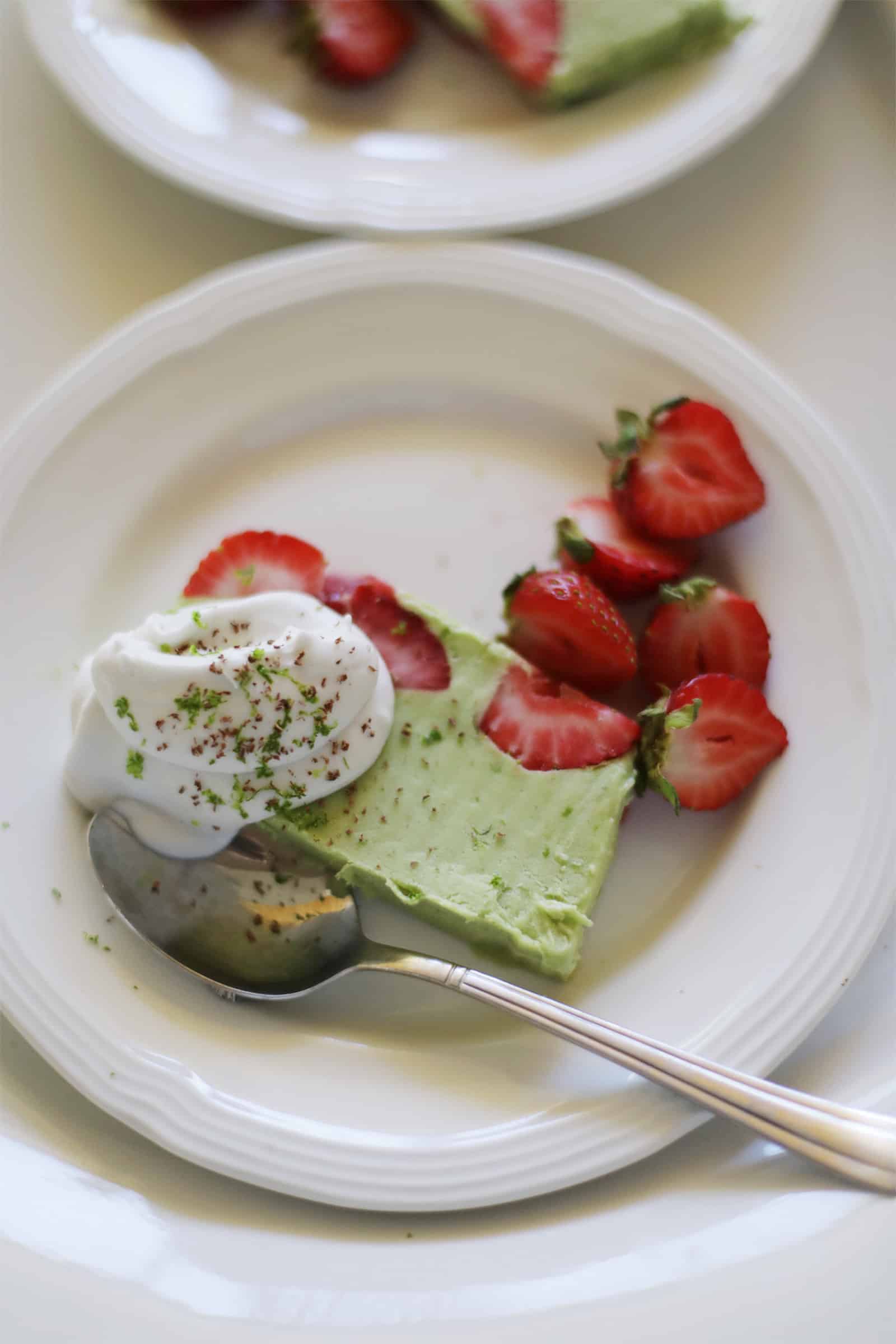 Essential California Avocado Information
The key to this recipe is the California avocados, so let's get on the same page about them, shall we?
There are more than 3,500 avocado growers across California, and they've grown with a significant focus on quality and freshness. The fruit is grown on approximately 54,000 acres throughout Central and Southern California from Monterey to San Diego. The Golden State's terroir and coastal climate make for ideal growing conditions for the best avocados around.
In this recipe, we use Haas avocados, which are California natives just like us! The Hass variety of avocado was discovered almost 100 years ago by Rudolph Has in La Habra Heights.
To this day, every Hass avocado in the world can trace its lineage to the original Mother Hass Tree. About 96 percent of the avocados grown in California are Haas. That means they're the most common avocado you'll come across when you head to the grocery store.
In your culinary adventures, you may come across the other six avocado varieties grown commercially in California. They are the Bacon, Pinkerton, Fuerte, Gwen, Reed, Zutano, or Lamb Haas avocados.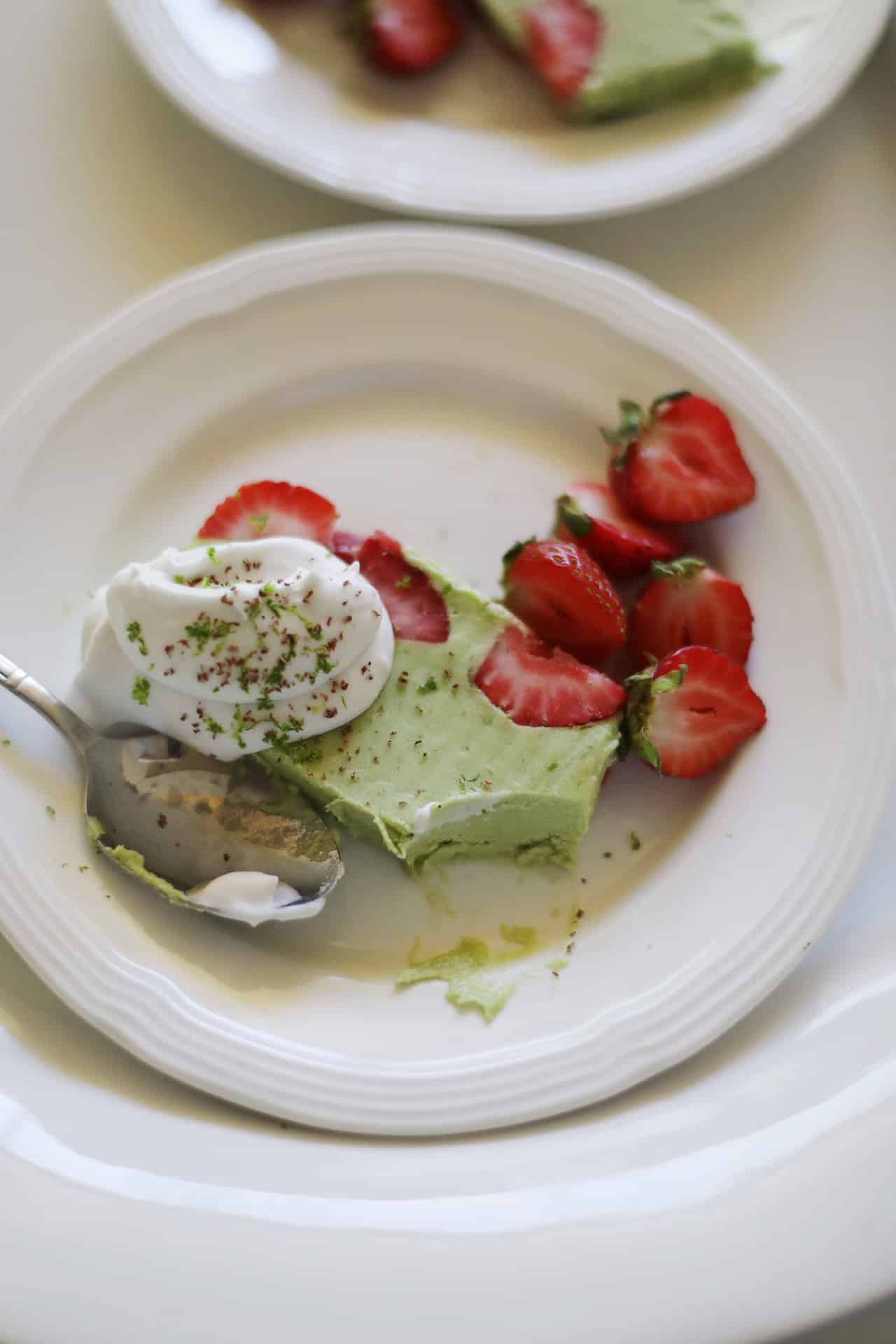 How To Support California Farmers
There are many easy steps you can take numerous easy steps you can take to support California farmers. From seeking out the "California Grown" label to looking for the origin of the ingredient you are buying, here are tips to help you support California. Of course, a significant step is to buy in-season produce because that's when it's most flavorful.
To help you do just that, check out this list of what's in season in California and then get in the kitchen to make this delicious summery dessert!
Go stock up on all your cooking essentials, then head into the kitchen, make this, and share it with us by tagging @saltandwind and #swsociety on social!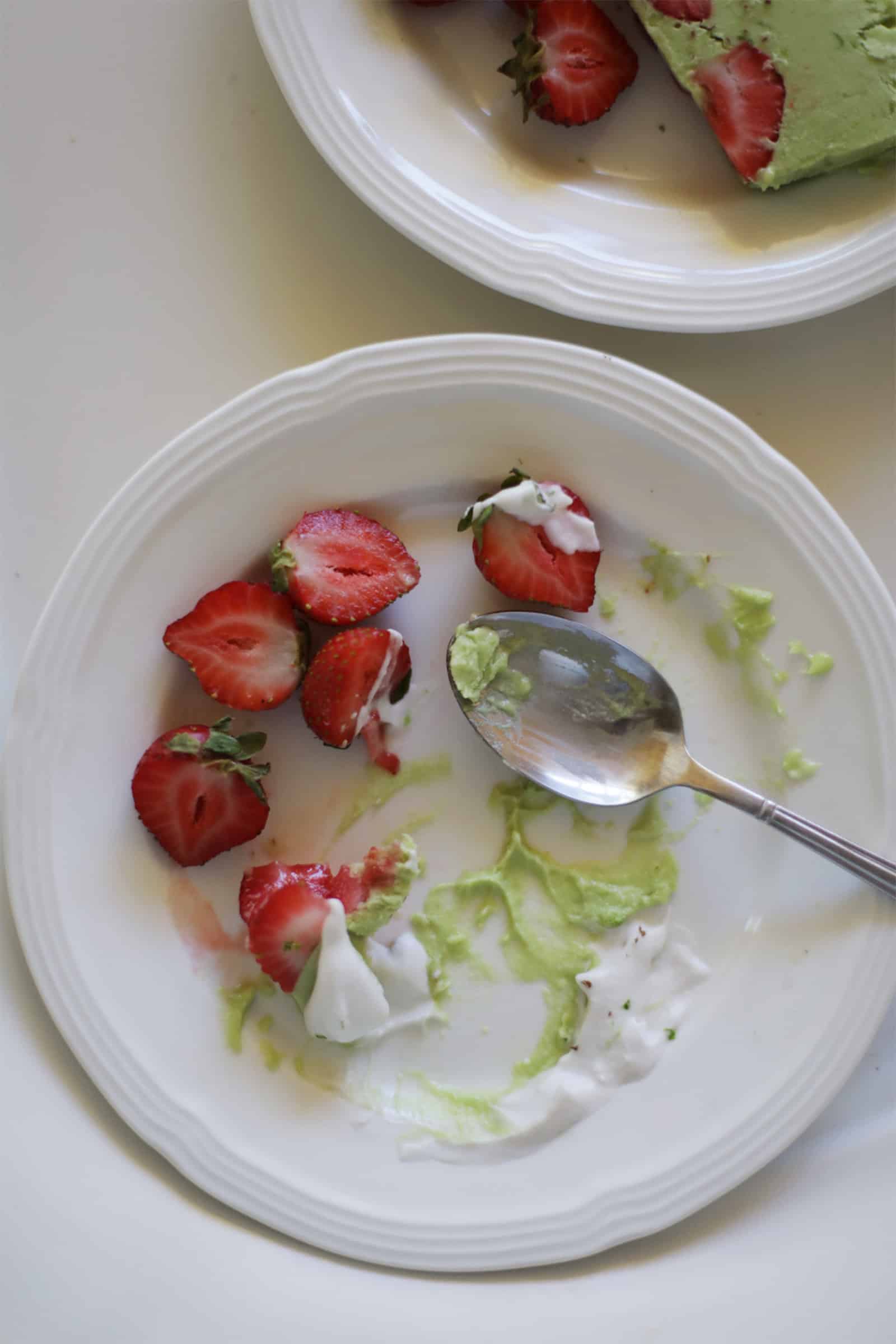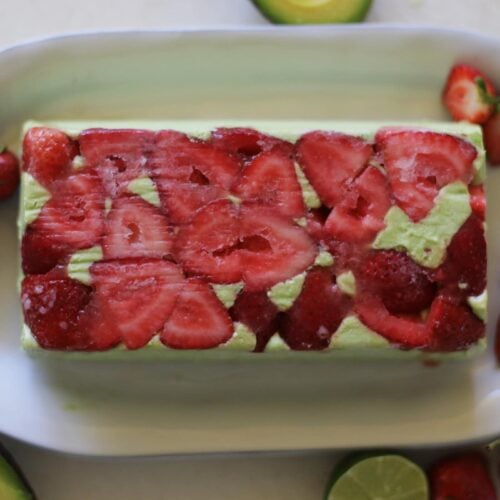 Avocado Coconut Strawberry Semifreddo Recipe
The traditional frozen Italian dessert, semifreddo, gets a decidedly California twist thanks to the combination of avocado, lime, and strawberries! This Avocado Coconut Strawberry Semifreddo recipe will for sure become one of your favorite desserts!
Ingredients
2

tablespoons

extra virgin coconut oil

plus more for lining the pan

12

medium

fresh strawberries

trimmed and halved, plus more for garnish (optional)

1

1/2 cups, plus 1 tablespoon

powdered sugar

divided

1

(13.5 ounce) can

coconut milk

(not low fat or light!)

2

medium ripe

Hass avocados

halved and pits removed

1

medium

Lime

zested and juiced (should be about 1 tablespoon juice and 2 teaspoons zest), plus more for garnish (optional)

2

teaspoons

pure vanilla extract

1/4

teaspoon

kosher salt
Instructions
Prepare The Loaf Pan: Rub a spoonful of the extra coconut oil on the inside of an 8.5-by-4.5-inch metal loaf pan (1 pound capacity), then line with a piece of parchment paper (you may need to trim it to fit), letting a few inches overhang on each side.  

Macerate The Strawberries: Combine the trimmed and halved strawberries with one tablespoon of the powdered sugar, turn it to coat all the berries in the sugar, then set the mixture aside for at least 5 minutes.

Make The Avocado Semifreddo: Combine the can of coconut milk, the flesh of the two ripe avocados, the remaining 1 1/2 cups powdered sugar, the remaining two tablespoons of coconut oil, all the lime juice, vanilla extract, and sea salt in a blender or food processor and process until the mixture is smooth and uniform in color. Let the blender or food processor go another 30 to 60 seconds to incorporate air into the semifreddo base.

Remove the blender carafe or food processor bowl and stir in the lime zest. Arrange the macerated strawberries in a single layer in the bottom of the loaf pan (they may overlap a bit which is fine!), then pour the avocado mixture on top and smooth it out with a spoon or spatula (try to make it pretty smooth because this will be the bottom of the semifreddo when you serve it).

Cover the semifreddo loosely with a piece of plastic and place it in the freezer until it is frozen through, at least 4 hours and up to 72 hours (if you're freezing it for more than 8 hours, cover it well in plastic wrap, so it doesn't get freezer burn). 

Serve The Avocado Semifreddo: Remove the semifreddo from the freezer about 20 minutes before you want to serve it (and up to 40 minutes in advance). The semifreddo is ready to serve once it is easy to slice and has the texture of frozen mousse, but it isn't so soft that it's melty.

When ready to serve the semifreddo, pull up on the parchment overhang to remove it in one piece from the loaf pan (if it is resisting, dip the exterior of the loaf pan in a pan or bowl of warm water to help loosen it). Using a sharp serrated knife, cut the semifreddo into 1-inch thick slices.

You can serve the semifreddo as is or top it with whipped cream (coconut or traditional), with a simple chocolate sauce or chocolate zest, or extra sliced berries and lime zest, as desired.
PERSONAL NOTES
Nutrition
Serving:
1
serving
Calories:
126
kcal
Carbohydrates:
2
g
Protein:
1
g
Fat:
13
g
Saturated Fat:
12
g
Polyunsaturated Fat:
0.2
g
Monounsaturated Fat:
1
g
Sodium:
79
mg
Potassium:
113
mg
Fiber:
0.3
g
Sugar:
0.4
g
Vitamin A:
5
IU
Vitamin C:
3
mg
Calcium:
11
mg
Iron:
2
mg