File this Man O' War Cocktail recipe under "bourbon cocktails every home bartender should know."
What Is The Man O'War Cocktail?
The Man O' War is an easy bourbon cocktail recipe beloved by those who know it and very much unknown by those who don't. We know here at Salt & Wind Travel love a good cocktail, and some of our favorites are bourbon-based.
Blame it on the fact we've spent a lot of time in San Francisco, where brown spirits pair perfectly with the fog, but we're always game to add another classic cocktail to our canon.
Often overshadowed by the more mainstream classic bourbon cocktails – like the Old Fashioned, the Whiskey Sour, or the Kentucky Mule — the Man O' War Cocktail cocktail is one of those that you'll make once and then put on repeat. It's a bourbon cocktail that's flavorful enough to stand on its own but food-friendly enough to pair with anything from a cocktail party to Thanksgiving.
When you find someone who knows about the Man O' War Cocktail, ask them when they first had it. We say that because it's a bourbon cocktail you're sure to remember the first time you had it.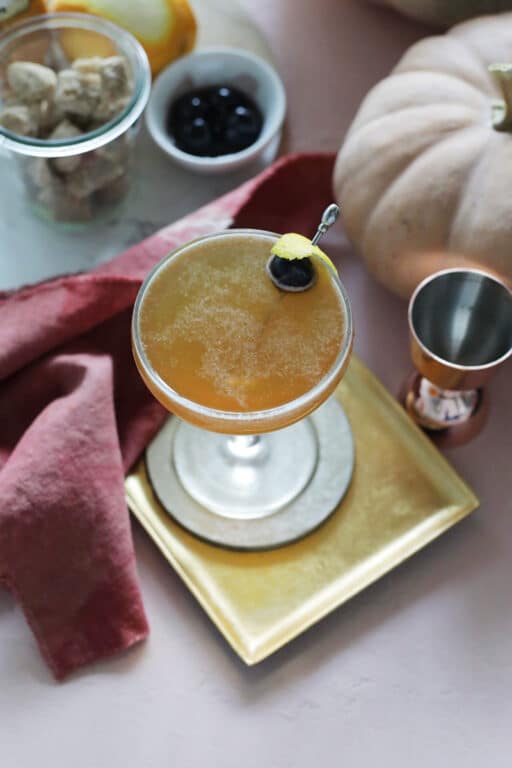 The Origin Of The Man O' War Cocktail
Though not as well known as its cousin, the classic Julep, we categorize this as a Kentucky Derby cocktail because it has a long association with horse racing.
The Man O'War cocktail is named after one of the greatest horses in horse racing history. Like the bourbon used in his namesake cocktail, Man O' War was from Kentucky.
Man O War was a serious horse racing legend, winning 20 of 21 races, including the prestigious Preakness and Belmont stakes in 1920. He likely would've won the elusive Triple Crown, but his owner never let him run it. Another fun racing fact: the other uber-famous racehorse, Secretariat, was a relative!
But let's get back to his namesake bourbon cocktail, shall we? Because the Kentucky Derby is one of the greatest horse races ever, some purists would claim this cocktail should only be made with Kentucky bourbon and served on Derby Day (when you're not drinking a julep, that is).
Our Take On The Man O' War Cocktail
To make the classic Man O'War cocktail recipe, Bourbon, sweet vermouth, orange liqueur, simple syrup, and lemon are shaken together, then strained and served straight up in a cocktail glass.
It's a fabulous drink when made that way, but we have made a slight tweak over the year. We like to nix the simple syrup and double up on the orange liqueur, so it's a little less sweet and has a more citrus flavor. We sometimes mix it up by making it with high-quality Japanese whiskey or rye. Try it each way and decide your personal preference.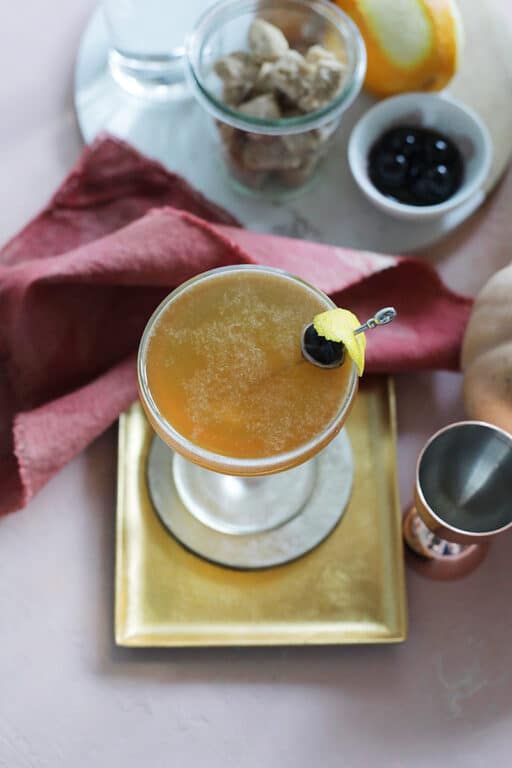 Tips To Make A Great Man O' War Cocktail
Regardless of how you have it, there are a few key tips to help you shake up bourbon cocktail perfection:
Use Great Quality Ice: You know that saying "garbage in, garbage out?" That applies to ice too. Use the best quality filtered water for your ice so you don't have off-flavors in the final drink.
Choose A Quality Vermouth: Somewhere in the history of home bars, it became okay to use subpar vermouth. As you know, we like to do like the Spanish and the Italians and have our vermouth straight or in a variety of vermouth cocktail recipes, so we're always stocked with the good stuff. Try this cocktail with Carpano Antica to see what we mean.
Use Freshly-Squeezed Lemon Juice: Please don't ever use the bottled stuff in any of our recipes — that extra 15 seconds it takes to squeeze fresh juice makes the drink 15 times better!
A Few Of Our Other Favorite Bourbon Cocktails
Once you've added this delicious drink to your bar repertoire, you may search for another bourbon cocktail. Here are more than five other of our favorite bourbon cocktails:
If you need to up your home bar, check out our bar essentials, mix this up, and share the results with us by tagging @saltandwind and #swsociety on social! 
Have Us Plan Your Food Trip
Looking to travel in search of great food and cocktails? Well, we're also a food-first travel company! Our travel planning services are here to help you achieve the ideal vacation. After discussing your preferences during a short consultation, we'll plan your perfect itinerary filled with chic cocktail bars, hands-on food experiences, and more. Contact us today to learn more.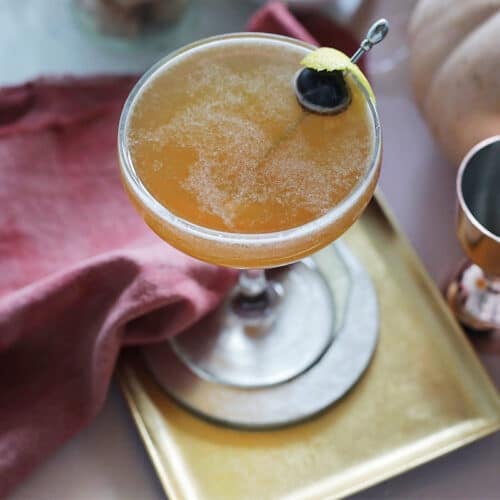 The Man O' War Cocktail Recipe
Bourbon, sweet vermouth, orange liqueur, and lemon get shaken together in this classic Kentucky cocktail, The Man O' War.
Ingredients
For The Man O' War Cocktail:
ice cubes

for chilling the glass and for the shaker

1 1/2

ounces

good-quality bourbon

or your favorite rye whiskey

1

ounce

Cointreau or other orange liqueur

1/2

ounce

sweet vermouth

1/2

ounce

freshly squeezed lemon juice
For Garnish:
Brandied cherry

Lemon peel
Instructions
Make The Man O' War Cocktail: Add the bourbon (or rye or whiskey), Cointreau, sweet vermouth, and lemon juice to a cocktail shaker. Fill halfway with ice.

Close and shake until it is thoroughly chilled (almost too cold to touch), at least 20 seconds. Taste and add more lemon if you want it more tart or more Cointreau if you want it sweeter.

Serve The Man O' War Cocktail: Dump the ice water from the coupe glass. Strain the cocktail into the glass. Spear a brandied cherries and a bit of lemon peel onto a few cocktail toothpicks and garnish the glass. Serve.
PERSONAL NOTES
Nutrition
Serving:
1
g
Calories:
200
kcal
Carbohydrates:
11
g
Protein:
0.1
g
Fat:
0.1
g
Saturated Fat:
0.04
g
Polyunsaturated Fat:
0.03
g
Monounsaturated Fat:
0.01
g
Sodium:
3
mg
Potassium:
24
mg
Fiber:
0.04
g
Sugar:
9
g
Vitamin A:
1
IU
Vitamin C:
5
mg
Calcium:
1
mg
Iron:
0.1
mg